CompTIA Server+ (SK0-004) exam is the fundamental credential for those entering the IT industry. CompTIA Server+ certified candidates can operate in any environment because it is the only vendor-neutral certification incorporating the major server programs. It is the only industry certification that covers the latest server technologies including virtualization, security, and network-attached storage.
For CompTIA Server+, the new CompTIA Server+ (SK0-005) exam will be available in May. More information about this exam will be updated on the exam page.
CompTIA Server+ certification exam validates the skills necessary to be a server administrator. The successful candidate will be able to identify environmental issues, understand and comply with disaster recovery and general security procedures, be familiar with industry terminology and concepts, and understand server roles and their interaction in a dynamic computing environment. The preparation is not an easy task. It requires a proper plan and direction to achieve this certification. Hence, we will guide you with our Study Guide to open new realm of opportunities in your career.
Learning Path: CompTIA Server+ (SK0-004)
CompTIA certifications are industry-leading credentials to begin and grow an IT career. Whether the candidate is looking for an entry-level IT certification to get their first IT job, or they want to boost their IT career with an excellent IT certification such as in cybersecurity, CompTIA certifications can help. CompTIA offers various certifications. Certifications are divided into main four regions which are display below:
CompTIA Server+ (SK0-004) Study Guide
The CompTIA Server+ (SK0-004) exam requires learning, understanding, and a lot of practice. This comprehensive study guide works as a CompTIA Server+ (SK0-004) exam guide that provides you with the steps to follow in order to prepare for the exam.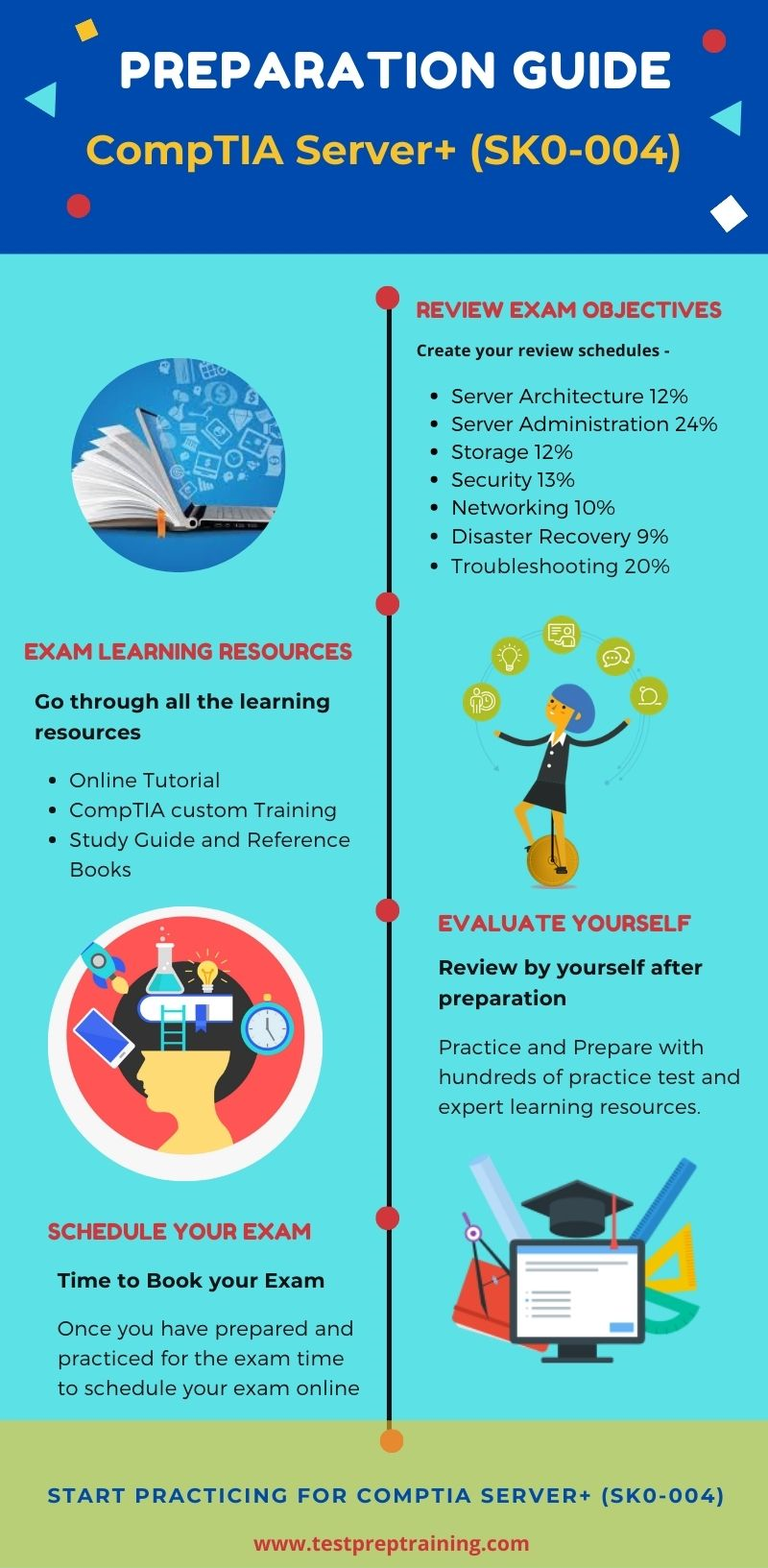 Step 1- Visit the CompTIA Server+ (SK0-004) Official Site
Visiting the Official Site is the most important step in the CompTIA Server+ (SK0-004) preparatory guide. The official site provides reliable information and knowledge regarding every possible thing such as the CompTIA Server+ (SK0-004) exam objectives, details, training programs, etc. Moreover, you must familiarise yourself with the exam domains before beginning your preparations. This exam covers the following domain:
Domain 1: Server Architecture 12%
Firstly, the CompTIA Server+ (SK0-004) service architecture domain covers the concepts to explain the purpose and function of server form factors and install, configure and maintain server components. Also, compare and contrast power and cooling components.
Domain 2: Server Administration 24%
Secondly, this domain covers the topics to install and configure server operating systems. Further, compare and contrast server roles and requirements. Also, user access and control methods to administer a server. Perform proper server maintenance techniques. Moreover, explain the importance of asset management and documentation and explain the purpose and operation of virtualization components.
Domain 3: Storage 12%
Subsequently, this domain covers the concepts to install and deploy primary storage devices based on given specifications and interfaces. Also, configure RAID using best practices. Further, summarize hardware and features of various storage technologies and calculate appropriate storage capacity and plan for future growth.
Domain 4: Security 13%
Additionally, this domain aims at building the understanding to compare and contrast physical security methods and concepts. Then, apply server hardening techniques and explain basic network security systems and protocols. Also, implement logical access control methods based on company policy and implement proper environmental controls and techniques.
Domain 5: Networking 10%
This domain is much focused on concepts to configure servers to use IP addressing and network infrastructure services. Additionally, compare and contrast various ports and protocols. Then, install cables and implement proper cable management procedures .
Domain 6: Disaster Recovery 9%
Topics covered in the CompTIA Server+ (SK0-004) disaster recovery domain are explain the importance of disaster recovery principles and implement appropriate backup techniques.
Domain 7: Troubleshooting 20%
Lastly, this domain is much focused on troubleshooting theory and methodologies. Also, effectively troubleshoot hardware problems, selecting the appropriate tools and methods. Also, effectively diagnose network problems, selecting the appropriate tools and methods. Further, troubleshoot storage problems, selecting the appropriate tools and methods. Lastly, diagnose security issues, selecting the appropriate tools and methods
Step 3- Go for Online Instructor-Led Training
CompTIA provides its Online Instructor-Led Training which is very helpful for those who want to pass the CompTIA Server+ (SK0-004) exam so that they get a badge for themselves. This CompTIA Server+ (SK0-004) training offers a comfortable and flexible environment, live hands-on instructions, and many more. It offers various courses at different prices. The candidate can register themselves on the official site.
CompTIA Custom Training
CompTIA offers custom training solutions to give accelerated programs and completely customized training to meet business needs. With job-focused training that reflects the workplace, learners have higher employment and advancement possibilities. CompTIA custom offerings include access to the entire CompTIA certification catalogue with labs and hands-on training, as well as soft, employability skills training.

Step 3- Explore Study Guides and Books
For preparing the CompTIA Server+ (SK0-004), the candidate can opt for study guides and books. This is also a very necessary step. Gathering some good books and guides will enhance the knowledge and understanding and definitely help in passing the exam.
Here, we are some highly recommended CompTIA Server+ (SK0-004) exam books to include in your preparations
Firstly, CompTIA Server+ Certification All-in-One Exam Guide (Exam SK0-004) by Daniel Lachance
Secondly, CompTIA Server+ Study Guide: Exam SK0-004 1st Edition by Troy McMillan
Step 4- Join Group Study
Joining a group study will also be beneficial for the candidate. It will encourage them to do more hard work. Also, studying in the group will help them to stay connected with the other people who are on the same pathway as them. Also, the discussion of such study groups will benefit the students in their exam.
Step 5- Self Evaluate with Practice Test
Reviewing your preparations is an important step in your journey towards the exam. Through mock tests, you can gain real-time experience of the exam. These timed tests help you assess your weaker areas. Furthermore, they provide you with the self-evaluation of your own preparations and help you in strengthening your domains. So, prepare yourself with the CompTIA Server+ (SK0-004) practice tests. And, Start Practicing to improve your preprations!

Validate your skills and advance your career by qualifying the CompTIA Server+ (SK0-004) exam. Start your Preparations Now!