Certifications are indeed an added advantage in your career. With the increasing demand for Blockchain professionals, this certificate will benefit in terms of job prospects and leads to rampant career growth. Moreover, almost 70% of people agree that certification has improved their earning, and 84% of people have seen better job prospects after getting certified. Let's start learning more about the exam. However, when it comes to Blockchain technology the best course is available in the market Certified Blockchain Expert examination. Furthermore, as demand for Blockchain professionals is soaring, this Blockchain certification will prove to be your competitive advantage giving enterprises confidence in the quick hire.
About Certified Blockchain Expert Examination
Certified Blockchain Expert is a professional who understands Blockchain technology profoundly and can build Blockchain-based applications for businesses. CBE is exhaustive training, an exam-based Blockchain certification aiming to impart in-depth practical knowledge in Blockchain technology. The Certified Blockchain Expert exam includes an exhaustive training program post which the exam is conducted. Additionally, this certification exam will provide you with competitive advantages and boost your confidence. This will definitely raise your level of knowledge. Furthermore, the Certified Blockchain Expert exam includes an exhaustive training program post which the exam is conducted.
Target Audience
This course will be an added advantage for people working as Investment Banker, Advisors & Consultants, Programmers & Developers, Crypto currency Enthusiasts and Angel & Seed Investors.
Exam Format
The Certified Blockchain Expert consists of 100 Mulitple Choice Questions, which need to be completed within a time span of 60 minutes. You need to manage your time accordingly. Furthermore, it advised that since you only have 60 minutes with you to complete then, you should not take more than 30 seconds for each question. Since there are different types of questions, you can complete the case study questions first. Subsequently, they are the most time-consuming ones. Next, you can go for short answers, followed by the multiple-choice.
Keep in mind, that you also, need to achieve a score of 60 marks or above to clear the examination. But, the best part is you get 3 attempts to clear the examination. However, the cost of the examination is $129. Not only this, there is a cherry on the cake, the certification is valid for a lifetime. So there is no need of getting yourself re-certified. Moreover, you also get access to the course material of Blockchain council, for a lifetime.
Blockchain Expert Exam Outline 
Topics and sections help you in getting a clear understanding of the exam. Undoubtedly, for the Certified Blockchain Expert exam, we will learn and understand the important areas that will be useful during exam preparation.
Blockchain Basics
Basic understanding of Blockchain, and also the importance of Blockchain
Points of difference between Blockchain, and Traditional technologies
Benefits of Blockchain technology. Also an understanding of the different Blockchain technologies
Blockchain ecosystem
Relation between Bitcoin, and Blockchain
Blockchain Intermediate
The difference between private, and public blockchain. Also, their advantages, and use
Knowledge of P2P Network
Details about blocks, transactions, private key, and also addresses
Understanding of the execution, and distribution of simple transactions
Knowledge of consensus to resolve conflicts
Understanding when to use blockchain
Introduction to Blockchain mining. Also, types of blockchain mining, and definition of miners
Comparison between Proof of work, stake, importance, and also delegated POS
The Security offered by Blockchain. Consequently, understanding how blockchain can be hacked
Blockchain Advanced
Setting up a private blockchain. Also, building a private blockchain solution
Working with the Blockchain architecture
Introduction to Smart Contracts, and their working
Blockchain Used Case
Supply chain
Healthcare record keeping
Cybersecurity
Digital Marketing
Land Ownership
Finance Industry
Certified Blockchain Expert Study Guide
Preparation is the next important step when it comes to any examination. Here we are providing you with the best learning resources to qualify for the exam. Moreover, here we are going to illustrate a detailed description to help you prepare for the exam. Let's start: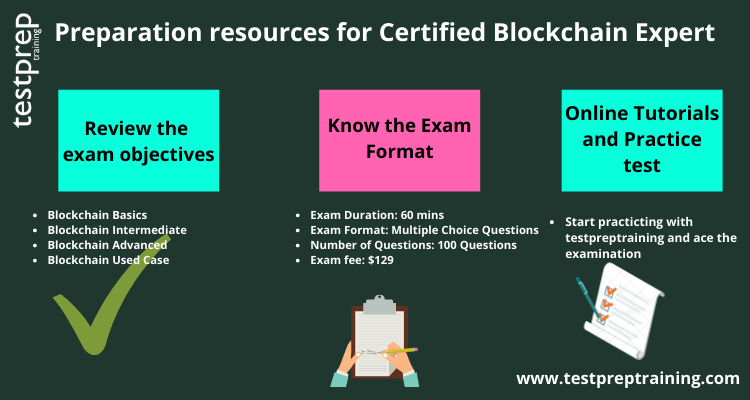 Online Tutorials
Online Tutorials enhance your knowledge and provide a depth understanding of the exam concepts. Additionally, they also cover exam details and policies. Nonetheless, these online tutorials provide and in-depth information related to the examination. This in turn will help you prepare well for the examination. Therefore learning with Online Tutorials will result in strengthening your preparation.

Expert Corner
When you begin your preparation journey, it becomes essential to review all exam objectives. Furthermore, by doing so it will provide you with a clear idea about all the different topics and skills that you need to be proficient in. Also, reviewing the exam objectives will leave no space for confusion in your head and you can focus on your preparation. Exam objectives can help you strengthen the modules and the respective subtopics. Furthermore, there are various books and you should also join the Microsoft community which will help you connect with like-minded people.
The final step to success is to practice what you have learned. Additionally, taking a practice test is a great way to diversify your study strategy and ensure the best possible results for the real thing. Furthermore, analyzing the practice test is very important so as to ensure complete preparation. We provide you with free sample papers to help you excel in the examination. Moreover, these free practice exam papers will give you a real-time examination feel. Therefore, start preparing now!