Being a beginner in the field of cloud security it is very important to validate your skills and knowledge using certification exam and online courses. Moreover, given the security concerns faced by organizations, the need for cloud security professionals is sky-high. Cloud Security Alliance offers Certificate of Cloud Security Knowledge (CCSK) V.4 exam for professionals seeking to upgrade awareness of critical cloud security concerns and its importance. To add on, it is a knowledge-based certification exam, created by the world's thought leaders to develop the competency to face the challenges related to cloud security. Further, the certification exam does not require any formal experience but only a thorough knowledge of the cloud security topics covered in the certification guideline.
About Certificate of Cloud Security Knowledge (CCSK) V.4
The Certificate of Cloud Security Knowledge (CCSK) is a widely recognized standard of expertise that was launched in 2010 by the Cloud Security Alliance (CSA). The CCSK exam is the industry's primary benchmark for measuring cloud security skillsets. Recently, the CCSK is seen as the most valuable IT certification. CSA provides the best guidance possible to its members and the greater information security community. It reflects the changing landscape of cloud computing security.
CCSK Exam Format
The Certificate of Cloud Security Knowledge (CCSK) V.4 exam comprises 60 questions that need to be completed within a time span of 90 minutes. You need to manage your time accordingly. Furthermore, it advised that since there are 60 questions in total, then, you should not spend more than 1 minute seconds on each question. On average, if you finish your examination in 60 minutes, you will still have 30 minutes to revise and recheck your answers.
Moreover, given the different types of questions included in the exam like case studies, short answers, multiple-choice, mark review, you need to be all the more vigilant. At first, you can go for multiple-choice questions, followed by short answers, followed by case studies. Since they are the most time-consuming ones. Keep in mind that you need to score a minimum of 80% or more points to pass the exam.
How to schedule the exam?
Since you have already scrolled down here. The next important step post knowing about the examination is to register for it. Let's learn the simple ways to get you registered:
Firstly, go to the official page of Certificate of Cloud Security Knowledge.
Secondly, Click on take an examination option.
Thirdly, you will be on the registeration page.
Subsequently, click on Login to buy option.
Last but not the least, follow the prompt and make the payment.
Course Structure
Topics and sections help you in getting a clear understanding of the exam. Undoubtedly, for the Certificate of Cloud Security Knowledge (CCSK) V.4 exam, we will learn and understand the important areas that will be useful during exam preparation.
Cloud Architecture
Firstly, Introduction to Cloud Computing
Secondly, Cloud Essential Characteristics
Thirdly, Introduction & Cloud Architecture
Cloud Service Models
Shared Responsibilities
Cloud Deployment Models
Infrastructure Security for Cloud
Module Intro
Intro to Infrastructure Security for Cloud Computing
Software Defined Networks
Cloud Network Security
Securing Compute Workloads
Management Plane Security
BCDR
Managing Cloud Security and Risk
Module Introduction
Governance
Managing Cloud Security Risk
Legal
Legal Issues In Cloud
Compliance
Audit
CSA Tools
Data Security for Cloud Computing
Module Introduction
Cloud Data Storage
Securing Data In The Cloud
Encryption For IaaS
Encryption For PaaS & SaaS
Other Data Security Options
Data Security Lifecycle
Application Security and Identity Management for Cloud Computing
Module Introduction
Secure Software Development Life Cycle (SSDLC)
Testing & Assessment
DevOps
Secure Operations
Identity & Access Management Definitions
IAM Standards
IAM In Practice
Cloud Security Operations
Module Introduction
Selecting A Cloud Provider
SECaaS Fundamentals
SECaaS Categories
Incident Response
Domain 14 Considerations
CCSK Exam Preparation
Certificate of Cloud Security Knowledge (CCSK) V.4 Learning Resources
Hopefully, by the end of this article, you will have all the details including format, scheduling process as well as the learning resources to prepare for the exam. Here we are providing you with the best study resources to prepare for the exam. Now, we are going to illustrate a detailed description to help you prepare for the exam. Let's get started.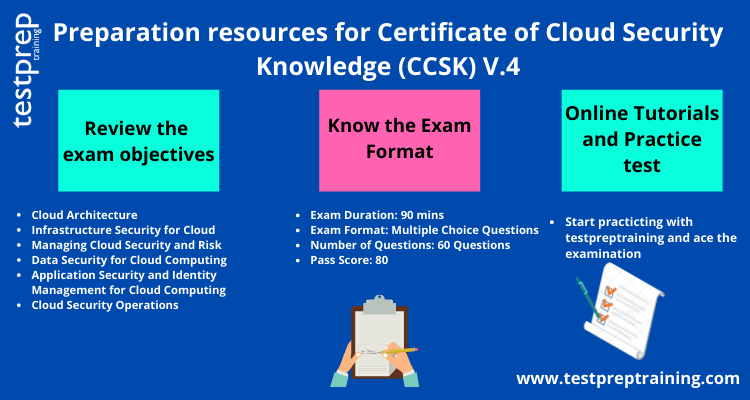 Online Tutorials
Online Tutorials enhance your knowledge and provide a depth understanding of the exam concepts. Additionally, they also cover exam details and policies. Nonetheless, these online tutorials provide and in-depth information related to the examination. This in turn will help you prepare well for the examination. Therefore learning with Online Tutorials will result in strengthening your preparation.

Expert's Corner
When you begin your preparation journey, it becomes essential to review all exam objectives. Furthermore, by doing so it will provide you with a clear idea about all the different topics and skills that you need to be proficient in. Also, reviewing the exam objectives will leave no space for confusion in your head and you can focus on your preparation. Exam objectives can help you strengthen the modules and the respective subtopics. Also, there are various books and you should also join the community which will help you connect with like-minded people.
The final step to success is to practice what you have learned. Additionally, taking a practice test is a great way to diversify your study strategy and ensure the best possible results for the real thing. Furthermore, analyzing the practice test is very important so as to ensure complete preparation. We provide you with free sample papers to help you excel in the examination. Moreover, these free practice exam papers will give you a real-time examination feel. Therefore, start preparing now!