The Certificate of Cloud Security Knowledge (CCSK) is a widely recognized standard of expertise that was launched in 2010 by the Cloud Security Alliance (CSA). The CCSK exam is the industry's primary benchmark for measuring cloud security skillsets. Recently, the CCSK is seen as the most valuable IT certification.
CSA provides the best guidance possible to its members and the greater information security community. It reflects the changing landscape of cloud computing security.
Certificate of cloud security knowledge (CCSK) is a knowledge-based certification, created by the world's thought leaders to ensure that the certificate holder i.e. the CCSK professional is credible to face the challenges related to cloud security. Subsequently, the certification exam does not require any formal experience in the domain. Not to mention, the only prerequisite to this exam is the knowledge on the cloud security topics covered in the certification guideline of the CCSK exam.
Skills Measured
The CCSK Certification Difficulty is quite high. So you must be thorough with the exam topics to prepare better for the exam. CSA spells out in the exam objectives clearly and outlines the topics that candidate has to understand before taking the Microsoft exam. Also, the CCSK exam provides a learning path specifically designed for professionals seeking to build a career in the Cloud industry. As the name suggests is a basic fundamental exam that covers general concepts of CCSK. The CCSK Certification Syllabus covers the following domains:
Cloud Architecture
Infrastructure Security for Cloud
Managing Cloud Security and Risk
Data Security for Cloud Computing
Application Security and Identity Management for Cloud Computing
Cloud Security Operations
As organizations are migrating to the cloud, they need information security professionals who are cloud-savvy.
Target Audience
The CCSK provides an understanding of security issues and best practices over a broad range of cloud computing domains. As a result, it's most ideal for the following candidates –
Strongly recommended for IT auditors, and CSA Security, Trust & Assurance Registry (STAR) program.
IT Consultants, IT Engineers, IT architects, Security Architects, Security Analysts, Solution Architects, SR cloud.
Information Security

The Ultimate Study Guide: CCSK v4
To succeed in your journey, and achieve your desired goal, preparation resources always come in handy. All the resources mentioned here will allow the candidate to build a stronger foundation for the exam. This way there are more chances of them to qualify with the desired result. If you yearn for the perfect score, below mentioned CCSK Exam preparation resources is all you need to qualify the CCSK exam.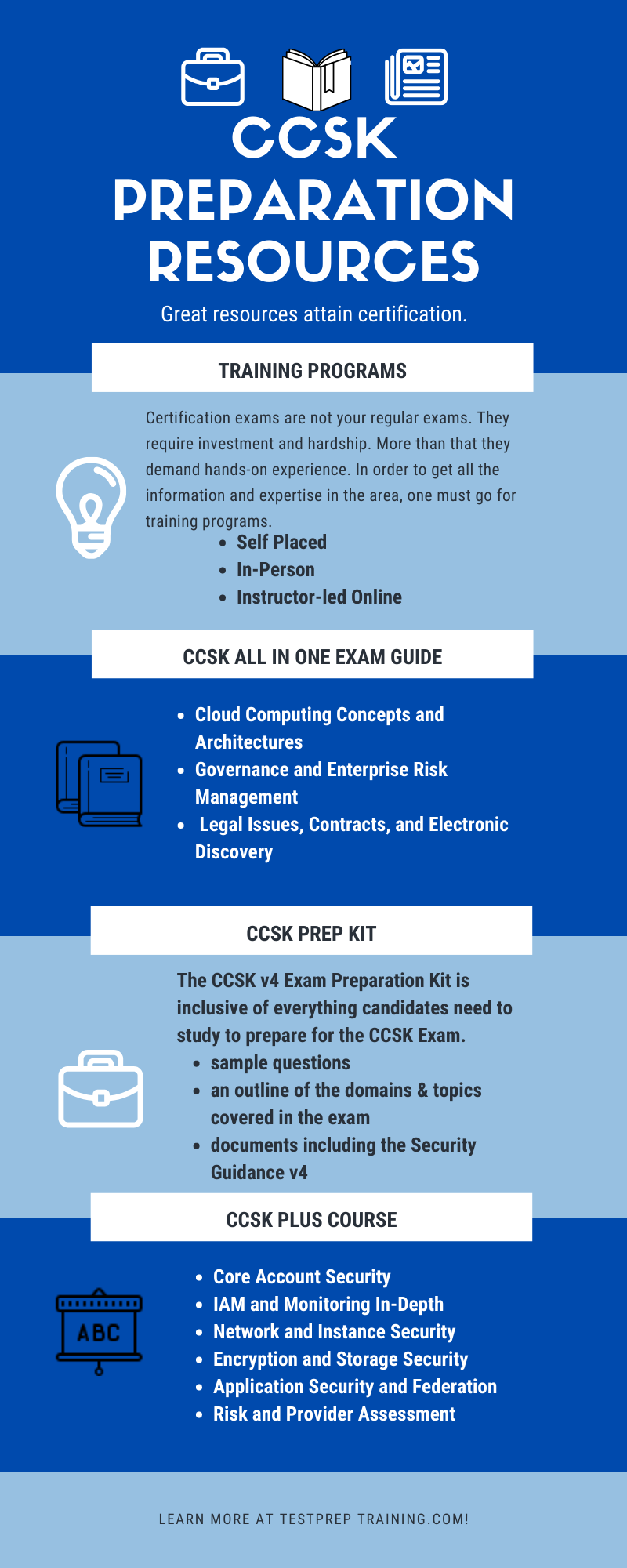 CCSK Certification Training
Certification exams are not your regular exams. They require investment and hardship. More than that they demand hands-on experience. In order to get all the information and expertise in the area, one must go for training programs. For the same, Cloud Security Alliance (CSA) provides candidates with three types of training programs to enrol with. These include:
Self-Placed
In-Person
Instructor-led online training
Self Placed
As the name suggests, the self-paced training program works according to the learner. This may sound a little different, but works wonders for candidates. Since every individual is different, hence it works well with all. This program has no pre-determined schedule rather it follows the pace of the learner/candidate. In this training, the candidate finishes the programs when it's most convenient for them. For the same, CCSK has the following training programs.
Certificate of Cloud Security Knowledge – Exam Bundle
This course involves the CCSK exam token and illustrates the fundamentals of cloud security including architecture, data security, managing risk and more.
Topics Covered:
Introduction to CSA's governance, risk and compliance tools for the CCM.
develop a holistic cloud security program relative to globally accepted standards using the CSA Security Guidance V.4 and recommendations from ENISA.
After finishing this course you will receive a certificate for 16-course hours that can be offered for possible CPE credits.
In-Person
As the name suggests, an In-person training program is one where the trainer delivers the training to the candidate on an individual basis. That too, whenever the candidate asks for it. So, if you wish to undertake an In-person training program, you will have to schedule it for yourself by going on the CSA portal.
For the CCSK examination, you may come across the following two training:
CCSK Foundation (Lectures) v4.1 by Club Cloud Computing
CCSK Foundation (Lectures) v4.1 by Intrinsec Security
As, mentioned earlier, to enrol for these training programs, you must register yourself.
Instructor-led Online
When it comes to Instructor-led Training programs, they are considered best for the certification exams like CCSK. One can also say that Instructor-led Training is the gold standard of the industry. So, to get yourself enrolled in the Instructor-led training, you can visit the CSA official website and find what best suits you. There are various CCSK Certification Training Online to choose from here, so make sure to choose one that best fits you.

CCSK all in one exam guide
When it comes to the CCSK exam, this is the guide to follow. Every module of the course outline is mentioned here. Each and every topic is brief in detail in this guide.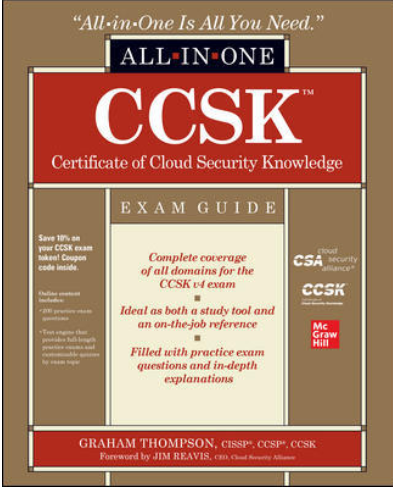 Cloud Computing Concepts and Architectures
Governance and Enterprise Risk Management
Legal Issues, Contracts, and Electronic Discovery
Compliance and Audit Management
Information Governance
Management Plan E and Business Continuity
Infrastructure Security
CCSK Prep Kit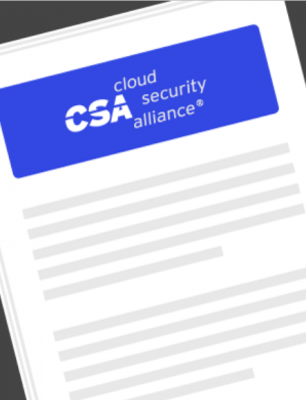 The CCSK v4 Exam Preparation Kit is inclusive of everything candidates need to study to prepare for the CCSK Exam. Most importantly, it comprises sample questions. Other than that, an outline of the domains & topics covered in the exam, and the documents you will be tested on including the Security Guidance v4, Cloud Controls Matrix, and the ENISA risk recommendations.
Moreover, This kit will definitely help you prepare for the CCSK exam.
CCSK Certification Book
Books are always a great resource to learn and understand new topics. We are familiar with the concept of books and therefore, CCSK recommends the following books to prosper the exam.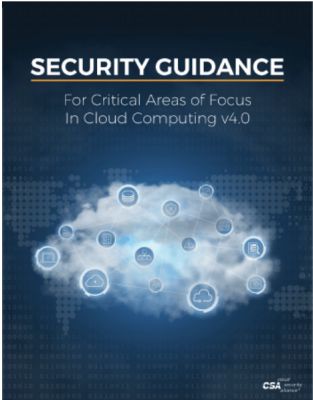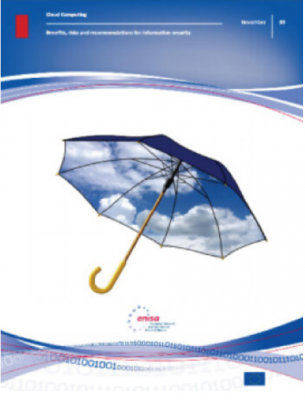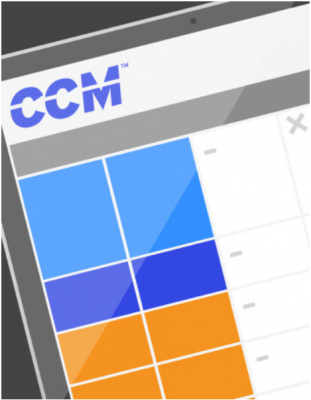 CSA Security Guidance v.4
ENISA Recommendations
CSA Cloud Controls Matrix
You can easily download these books for the portal itself.
CCSK Plus Course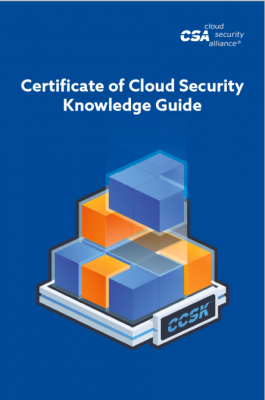 The CCSK Plus Course covers all the modules in the CCSK Foundation course with additional material. Now, what's that additional material you ask. Besides the regular course outline, here you will encounter various extra modules to prepare for. This will strengthen your preparation. The extra modules include:
Core Account Security
IAM and Monitoring In-Depth
Network and Instance Security
Encryption and Storage Security
Application Security and Federation
Risk and Provider Assessment
Join an Online Forum/Community
Online forums and study groups are a great way to prepare for the CCSK exam. Therefore, feel free to get in touch with other candidates through study forums or online groups to ask a question related to the topic you're having difficulty with.
However, it's not something you have to join. It's just something very subjective. Not to mention, these online groups help you stay equated with the other people who are also walking through the same path as yours. Moreover, you can also ask a question related to the topic you're having difficulty with.
Practice Sets
With all the mentioned training courses and documentation, your last step in preparation must be going through CCSK Mock Exam. Now, the internet is filled with so much noise. Therefore, for your convenience, we at Testprep Training are proud to announce, we provide free practice tests for you. Yes, all you ever asked for, we have got you covered. Since practice tests are one of the crucial steps you must not skip while appearing for the exam. We recommend going through as many practice tests as you can. FOR MORE PRACTICE TESTS, CLICK HERE.

Escalate your career with advanced learning skills and expert tutorials on CCSK V.4 Exam. Prepare and become a Certified CCSK V.4 Professional Now!