CCC Cloud Technology Associate Exam is a foundation-level certification that qualifies candidates the background, concepts, ideas, and terminology of Cloud Computing. Professionals benefit from studying technical challenges, mitigation measures, and the steps required for successful cloud adoption. This certification is a significant step to advance the candidate's career as organizations look for qualified Cloud Technology Associates. Since you have made up your mind to appear for the CCC Cloud Technology Associate Exam it is extremely important to have complete information with all the study resources to successfully pass the exam. So before you proceed with the steps to prepare for the exam it is better to go through the exam details again.
Who should take the exam?
The CCC Cloud Technology Associate certification intends to strengthen fundamental knowledge of Cloud Computing concepts. The exam is intended for –
IT Specialists (Analysts, Developers, Architects, Testers, etc.)
IT Administrators (Network, System, Database, etc.)
Solution Consultants
IT Provisioning and Maintenance (Hardware, Network, Storage, etc.)
IT Managers
Other functions affected by cloud (Sales, Purchase, Audit, Legal, etc.)
What are the Exam Learning Objectives?
Identify the fundamental concepts of cloud computing and virtualization including business benefits of cloud computing and technical aspects (high-level) of virtualization.
Identify the technical challenges and the mitigation measures involved in cloud computing and virtualization.
List the steps to successfully adopt cloud services.
Identify the characteristics of cloud applications.
Define cloud security and identify the risks involved in cloud computing as well as risk mitigation measures.
List the factors involved for the implementation of different cloud models.
If in case you still wish to view and each and every exam information, you can visit our tutorial page here! Every information regarding the CCC Cloud Technology Associate is available here.

CCC Cloud Technology Associate Exam Study Guide
Prepare like a pro.
It's rightfully said work smarter not harder. In this study guide, we have provided you with step by step list of all the learning resources for achieving the CCC Cloud Technology Associate certification.We will be providing the learning resources to get the most from your efforts in the Cloud Technology Associate exam preparation.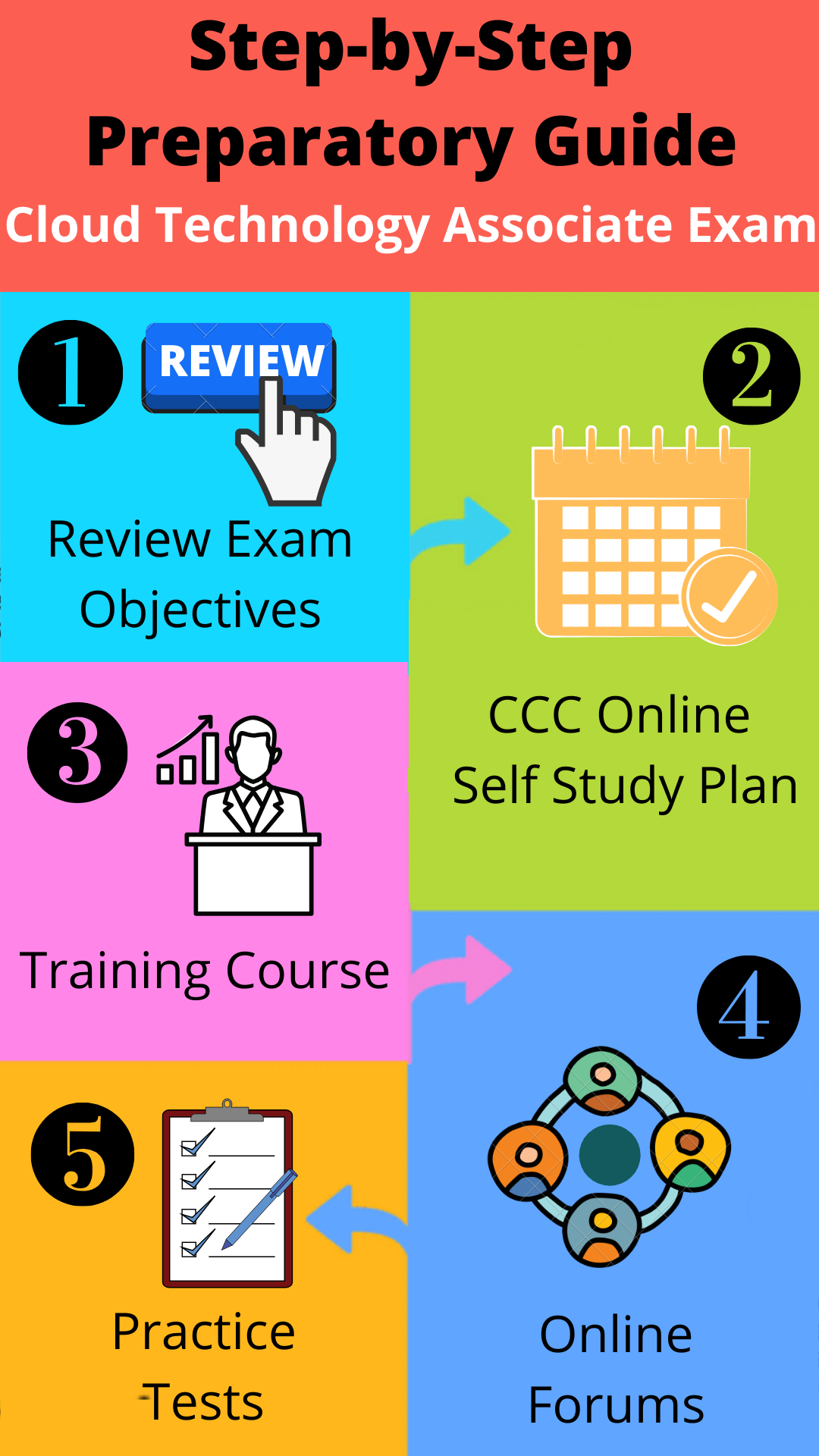 Review Exam Objectives
Before, venturing on any journey, one must have a clear idea of what he/she is putting themselves into. With that being said, reviewing each and every exam objective becomes the most important part of your preparation. So, make sure you visit the Official website of CCC, to have a clear view. Since it is the most authentic site to provide any information regarding the CCC Cloud Technology Associate exam. After you've gone through the basic exam details. It's time to hit the exam guide. The objectives include:
Introduction to Cloud Services Model
Introduction to Virtualization: The Backbone Technology of Cloud Computing
Overview of Cloud Technologies and Applications
Cloud Security, Risk, Compliance, and Governance
Preparing for Cloud Adoption
Cloud Service Management
CCC Online Self Study Plan
Candidates can purchase any study plan in accordance with their examination using the CCC self-study plan. CCC self-study plan not only fosters your preparation process, but it also boosts your confidence. You'll be able to buy self-study modules and then prepare yourself very easily. Short and simple, it's one of the best ways to get yourself acquainted with the Cloud Technology Associate exam syllabus.
Training Course
Getting hands-on experience is the most important experience for exams like the Cloud Technology Associate exam. And, the only way you can achieve is through Training Course. You can easily begin with training courses. Nonetheless, many vendors offer the candidate with quite a few options to choose from. We highly recommend CCC Cloud Technology Associate training courses. The understanding here is not one dimensional but rather viewing a problem from every angle possible. 
Online Forums
Online forums and study groups are a great way to prepare for the Cloud Technology Associate exam. Therefore, feel free to get in touch with other candidates through study forums or online groups to ask a question related to the topic you're having difficulty with. But the idea to join is something very subjective which means there is no compulsion. These online groups help you stay equated with the other people who are also walking through the same path as yours. Moreover, you can also ask a question related to the topic you're having difficulty with.
Official Study Resources
There is nothing more genuine and authentic than the official study resources if you are preparing for the CCC Cloud Technology Associate exam. Study resources such as whitepapers, podcast and webinars are considered important to strengthen your preparation process. Also, candidates preparing for the exam can refer to Self-study PDF. This particular PDF is a concise collection of all the pertinent details of the exam which candidates ought to know.
Practice Tests
This final step will give the candidate the exact insight of the topics in which they're lacking. So, make sure you're going through CCC Cloud Technology Associate practice exam tests after you have gone through the entire syllabus. Most importantly, all the practice tests are designed to encounter the real exam environment. CCC Cloud Technology Associate practice exam tests can be from various sources so make sure you find the most authentic and genuine one. Remember the more you test yourself the better you're going to become.

Elevate your career with the all-new study guide. Get ready to Practice and Prepare for CCC Cloud Technology Associate Exam