Given the enhanced competition in the industry, it is important to update your skills and stay ahead. The CCC Big Data Foundation Certification (CCC-BDF) is essential for everyone working with Big Data. This certification provides an understanding of Big Data, potential data sources that can be used to solve real-world problems, and an overview of data mining and its capabilities. Moreover, this certification will help you become a Big Data Ready Professional. It is a fundamental course with practical, hands-on, exercises to experience using two of the most popular technologies in big data processing – Hadoop and MongoDB.
This exam is definitely a hard nut to crack. It requires high levels of determination and consistency for preparations. Resources from authentic and genuine sources and expert guidance are also preferred. Just strap in as we present you our Study Guide to help you pass this exam with flying colours.
Learning Objectives: CCC Big Data Foundation exam
After the successful completing of the CCC Big Data Foundation exam you will be able to-
Firstly, explain Big Data, its origin, and its characteristics.
Secondly, discuss the tools applicable to Big Data processing.
Subsequently, explain data mining.
Also, discuss the popular Big Data technologies – Hadoop and MongoDB.
Thereafter, discuss the Big Data projects and the main players involved.
Further, identify and obtain relevant datasets when looking at a business problem.
Moreover, install and manage Big Data processing environments based on Hadoop or MongoDB at a departmental level.
Target Audience :CCC Big Data Foundation
This course is best suited to IT professionals who possess intermediate to advanced programming, system administration, or relational database skills and are looking to move into the area of big data. These include:
Firstly, Software Engineers
Secondly, Application Developers
Thirdly, Marketing Experts
Also, Finance Specialists
Moreover, IT Architects
Further, System Administrators
Not to mention, Technical Recruiters
Then, Business Analysts
Additionally, Technical Support Specialists
CCC Big Data Foundation Study Guide
The CCC Big Data Foundation certification exam requires constant preparation and consistency. This step by step study guide will offer a closer view on how to embark on your journey for the exam. Moreover it will help you move in the right direction.  Follow this CCC Big Data Foundation study guide and the exam will become a cakewalk for you.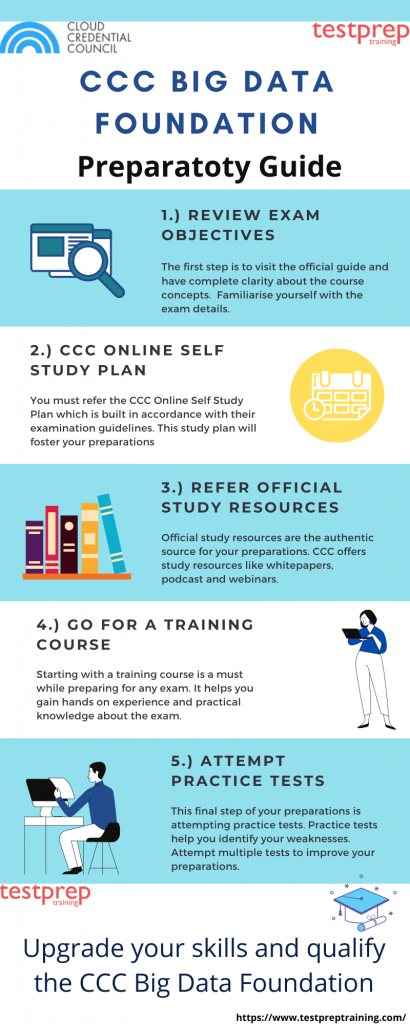 Step 1- Review Exam Objectives
The first and the foremost step is to review exam objectives. You must have a clear idea about the exam policies and course structure. Make sure you visit the Official Website of CCC to have clarity about the same. You must also download the course outline and review all the exam objectives. Further, this will help you prepare better for the exam.
Module 1. Big Data Fundamentals-This domain covers the concepts of Big Data – History, Overview, and Characteristics. Then, Big Data Technologies – Overview and Success Stories. Also, Big Data – Privacy and Ethics, Big Data Projects.
Module 2. Big Data Sources-This domain includes Enterprise Data Sources, Social Media Data Sources and Public Data Sources.
Module 3. Data Mining – Concepts and Tools-This domain is much focused on Data Mining – Introduction and Data Mining – Tools.
Module 4. Big Data Technologies – Hadoop-Further, this domain covers Hadoop Fundamentals. Also, Install and Configure, MapReduce and Data Processing with Hadoop
Module 5. Big Data Technologies – MongoDB –Lastly, this domain covers the MongoDB Fundamentals. Also, Install and Configure and Document Databases. Moreover, Data Modelling with Document Database.
Step 2- CCC Online Self Study Plan
You must refer the CCC Online Self Study Plan which is built in accordance with their examination guidelines. This study plan will not only foster your preparations but also boost your confidence. CCC offers you self-study modules that make preparations easier. This plan is certainly the best way to get acquainted with the CCC Big Data Foundation exam syllabus.

Step 3- Explore Official Study Resources
Official study resources are the authentic source for your preparations. CCC offers study resources like whitepapers, podcast and webinars to strengthen your preparations. Also, these resources are the best method to understand the exam as it's the concise collection of all the exam details you must know.
Step 4- Go for a Training Course
Starting with a training course is a must while preparing for any exam. It helps you gain hands on experience and practical knowledge about the exam. You can easily begin with CCC Big Data Foundation training courses. There are ample options in the market to choose from. We recommend you to go for the official course offered by CCC. The training course will help you gain better insights about this practically oriented exam.  
Step 5- Join Online Forums
Online forums and study groups are a great way to prepare for the Big Data Foundation exam. Therefore you must join online forums and communities to gain better understanding about the exam. Not to mention, these online groups help you stay equated with the other people who are also walking through the same path as yours. Moreover, you can also ask a question related to the topic you're having difficulty with.
Step 6- Attempt Practice Tests
You must take practice tests to build your own exam-taking endurance. The more you practice, the easier you'll find taking the actual exam. Solving practice tests will help you learn the quirks of the actual exam. As the CCC Big Data Foundation practice tests are designed to identify what you know and what you don't. This will help you become more comfortable with the process, and also helps you prepare your own study strategies. The results of practice tests can confirm that you're as knowledgeable as you think, or that you need to step up your studying game. Start using CCC Big Data Foundation practice tests Now!

Advance your skills by qualifying the CCC Big Data Foundation Exam. Start your preparations Now!