The C_TS413_1809 – SAP S/4HANA Asset Management examination ascertains that the candidate possesses the basic knowledge and the integral skills that are mandated in the field of SAP S/4HANA Asset Management. The examination validates that the candidate possesses an overall comprehension and knowledge within this consultant profile. Also, the candidate must be able to pertain to his acquired knowledge practically in the assignments and projects to exemplify his skills under the recommendation of an experienced consultant. This certification substantiates that the candidate has in-depth understanding and technical skills to participate as a member of an SAP S/4HANA on-premise implementation project team with an emphasis on Asset Management.
Who should take the exam?
The exam mainly intends for those of the aspirants who belong to SAP S/4HANA and business consulting background. The candidates must be striving to build their career as an SAP S/4HANA Asset Management consultant.
Recommended Knowledge
The candidate undergoing this examination must have sufficient knowledge in the areas like corrective supervision of web and SAP GUI, technical objects, mobile maintenance, project-oriented maintenance, refurbishment of spare parts, organizational units and master data, breakdown maintenance, maintenance processing, analytics, user interface, and user experience and an overview of SAP S/4HANA OP.

C_TS413_1809 Study Guide
To succeed in your journey, and achieve your desired goal, preparation resources always come in handy. All the resources mentioned here will allow the candidate to build a stronger foundation for the exam. This way there are more chances of them to qualify with the desired result. If you yearn for the perfect score, below mentioned preparation resources is all you need to qualify the C_TS413_1809, SAP S/4HANA Asset Management exam.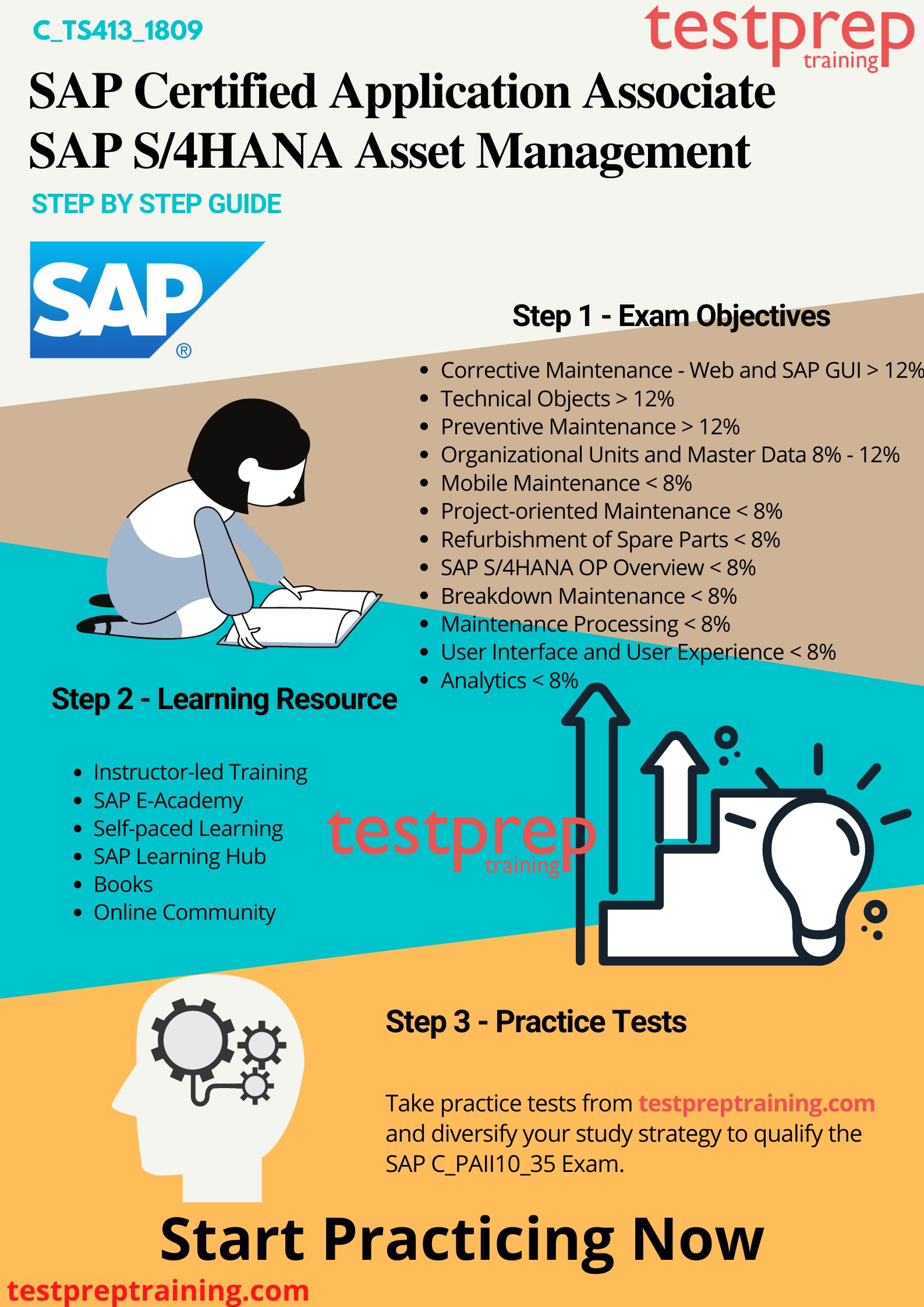 Instructor-led Training
You can opt for C_TS413_1809 training courses. SAP offers you the following training courses:C_TS413_1809 Training
Classroom training – Candidates can get in-person teachings and recommendations from the SAP experts. This is a fully hands-on learning experience with a subject matter expert to counsel the aspirant through each exercise and clearing their doubts.
Virtual Live classroom – Candidates can get thorough live training from SAP experts without the necessity to travel by using the Internet connectivity facility. This training provides the candidates access to live SAP systems and materials throughout the course.
Customer Specific Training – This training provides the same extensive live training from the SAP experts but for the company.
Self-paced Learning
SAP's self-paced curriculum caters to a wide variety of learning styles and subject-matter requirements. Experienced consultants, project team members, support professionals, end-users, power users, and executives will help the learner to meet their needs.
SAP E-Academy
The SAP E-Academy supports learners to gain expertise in definite SAP solution areas and also educate for a certification exam. The learners can access to live support accessible through web conferencing and instructor sessions; e-version of the academy course manual; SAP training systems for the fulfillment of exercises and viewing demonstrations; help desk support.
SAP Learning Hub
SAP Learning Hub is an emerging community of learners who get to access self-paced e-learning courses, expert-led live sessions, and collaborative learning rooms from practically everywhere. Also, it charges an affordable annual subscription fee. The subscribers of this and the recommended classroom training offered by SAP authorized training centre will help a candidate out.
Books
Candidates can refer to the following authorized SAP certification manuals for preparing well for the C_TS413_1809 certification exam –
Firstly, S4130 (SAP S/4HANA 1809)
Secondly, S4133 (SAP S/4HANA 1809)
Join Online Community
A healthy discussion is always beneficial, no matter where it is done. The prospects of getting resolutions to an issue increase steeply when a greater number of people are involved. Also, multiple viewpoints make the stuff more dynamic. These discussions make the studies more comprehensive. Not to mention, introverts get a chance to express themselves, who might otherwise prefer staying out of discussions. Moreover, forums work really well to build a community that is essential for understanding others.
Attempt C_TS413_1809 Practice Test
Mistakes are inevitable, but surely, they can be limited. When it comes to exams, practice papers help a lot in limiting the mistakes. Moreover, training the brain is very essential. Practice papers give that simulation in which the brain needs to get used to the actual exam. Other than knowledge, there are many factors that can affect your performance in the exam. Also, These include confidence, speed, understanding the marking scheme, physical and mental alertness and concentration, and more. C_TS413_1809 practice exam helps in all these aspects.

Enhance your skills to crack the SAP – C_TS413_1809 Exam with hundreds of Practice Exams. So, start Preparing now!