Indeed Amazon Web Services (AWS) has grown from a small niche company to a multibillion-dollar cloud behemoth. AWS has a huge market share in the cloud and has grown into a cloud behemoth. As a result, market demand for associated qualifications has increased. The biggest issue, though, is with the exam preparation process. In other words, applicants are frequently spotted jumping between websites since the content does not resonate with them.
Well, this issue is of no more concern, as we have got covered completely. Yes, you heard it right. We will be supporting you with your AWS Cloud Practitioner Certification journey. To make things easy, we have taken no shortcuts in putting together the exam-specific Cheat Sheet for the AWS Cloud Practitioner exam. The Cheat Sheet will be provided to give a birds-ey view to the latest AWS products and services.
In this blog, we have a bold disclaimer about AWS Cloud Practitioner – Cheat Sheet. Since our top concern is to educate, inspire, and empower you with high-quality information, therefore, we feel extremely proud of sharing it with you. We are going to start by looking at the exam overview, and we'll talk about the other major details of the exam. Finally, we will be discussing the AWS Cloud Practitioner cheat sheet which is the sole reason why you made a visit to our article.
AWS Cloud Practitioner Exam: Overview
This certification is an introductory exam and serves as a prerequisite to other specialty certifications. This entry-level certification assesses fundamental Cloud Architecture and AWS expertise. The certification is not dependent on any technical knowledge, which is a key feature in other AWS credentials.
Furthermore, it validates the candidate's skills in terms of their ability to describe AWS cloud architecture principles, AWS cloud value proportions, key services on AWS platform, security and compliance aspects, core aspects of deploying and operating AWS, etc.
Exam Details
The Certification exam comprises multiple-choice questions that need to be completed in a time frame of 90 minutes. However, these 65 questions within the format can be of two types.
Those with a singular correct answer with three incorrect answers and those with multiple correct responses to a particular question. There is no negative marking but unattempted questions count as incorrect in any case.
Also, the exam costs $100 USD. Most importantly the exam is available in English, Japanese, Korean, and Simplified Chinese.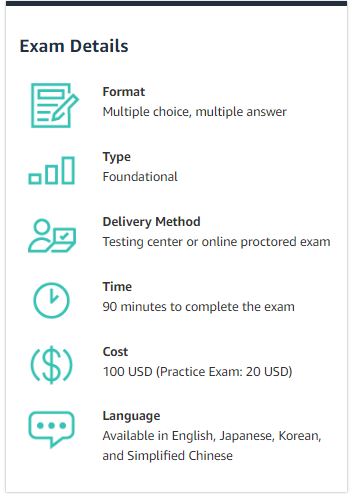 Exam Prerequisites
AWS Cloud Practitioner exam prerequisites are as follows-
First things first, candidates should have at least six months of experience with the AWS Cloud, including technical, managerial, sales, or financial.
Moreover, the candidates should have a basic understanding of IT services and knowledge in using the AWS Cloud platform.
Course Structure
Course Structure refers to the blueprint of the exam which sets out the areas that are covered in the exam. It is basically the inclusion of both topics and its related subtopics that play a major role in the exam. The course outline for AWS Cloud Practitioner is given below-

Domain 1: Cloud Concepts
Firstly, defining the AWS Cloud with its value proposition.
Then, identifying aspects of AWS Cloud economics.
Lastly, listing the different cloud architecture design principles.
Domain 2: Security and Compliance
Firstly, defining the AWS shared responsibility model
Then, defining AWS Cloud security and compliance concepts
Also, identifying AWS access management capabilities
Lastly, identifying resources for security support
Domain 3: Technology
Firstly, defining methods of deploying and operating in the AWS Cloud
Secondly, defining the AWS global infrastructure
Then, identifying the core AWS services
After that, identifying resources for technology support
Domain 4: Billing and Pricing
Firstly, comparing and contrasting the various pricing models for AWS
Then, recognizing the various account structures in relation to AWS billing and pricing
Subsequently, identifying resources available for billing support
AWS Cloud Practitioner Cheat Sheet
The AWS cheat sheet incorporates the list of basic terms in the AWS landscape. The basic terms include AWS services and information about AWS and cloud computing. Any AWS terminology cheat sheet would include details about AWS (Amazon Web Services) and cloud computing.
Learn with AWS Cloud Practitioner White Papers
Cloud Computing and Services
AWS cheat sheet lists out the information about cloud computing and the types of cloud. Cloud computing is basically an internet-based computing service, involving a wide network of various remote servers. It helps in centralized data storage and accessing computer services and resources. Cloud computing majorly falls under three different types, namely public, private, and hybrid cloud.
First things first, the public cloud comprises a third-party service distributor giving resources and services to customers through the internet.
After this, the private cloud involves the provision and management of resources and services specifically for a particular company.
Subsequently, a hybrid cloud is an amalgamation of both public and private cloud traits.
AWS Influence
AWS influence plays an essential role in the formation of the AWS Cloud Practitioner cheat sheet. This helps in gaining a clearer and more accurate understanding of AWS's current state and anticipated trends in the near future. Almost any association with a computer nowadays potentially have a use case for AWS services. This is clear evidence that AWS is a reliable alternative to traditional options like S3 Glacier.
Initially started as a cloud-based solution for storage and computing services, AWS is now applicable to almost every area such as databases, business productivity, virtual desktops, IoT development, machine learning, and analytics. Furthermore, AWS offers better adaptability for the growth of startups with limited resources for funding traditional datacenter deployments.
AWS Region, AZs, Edge locations
One of the essential phrases in the AWS glossary is the AWS regions. These entries in the AWS cheat sheet notify about all crucial aspects of the AWS landscape.
First thing first, every region is a separate geographic area, completely independent, isolated from the other regions. Also, helps in achieving the greatest possible fault tolerance and stability.
Secondly, the interaction between regions is across the public Internet.
Subsequently, all-regions have multiple Availability Zones.
After this, each and every AZ is actually isolated, geographically separated from each other and outlined as an independent failure zone
Moreover, AZs are united with low-latency private links (not public internet)
AWS Services
Compute
Storage
Database
Developer Tools
Security, Identity, & Compliance
Cryptography & PKI
Machine Learning
Management & Governance
Migration & Transfer
Mobile
Networking & Content Delivery
Media Services
End-User Computing
Analytics
Application Integration
Business Applications
Satellite
Robotics
Blockchain
Game Development
Internet of Things (IoT)
Customer Enablement Services
Customer Engagement
AR & VR
SDKs & Toolkits
General Reference
AWS Management Console
Additional Resources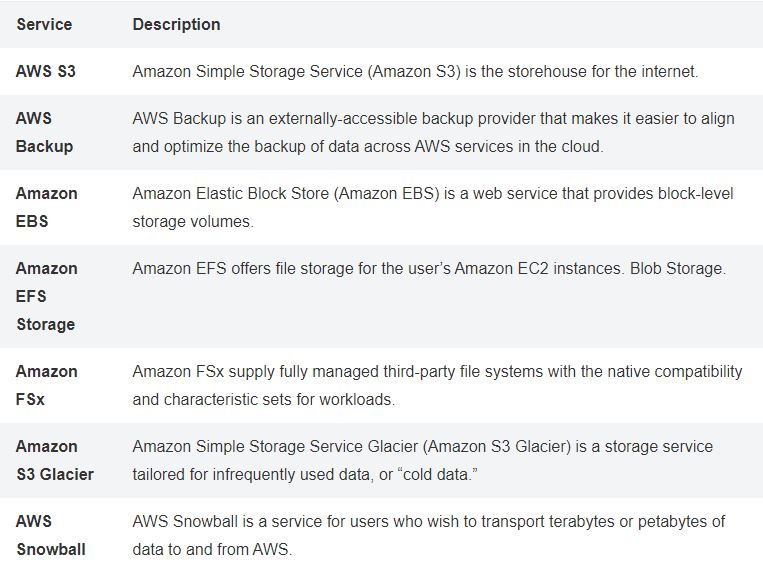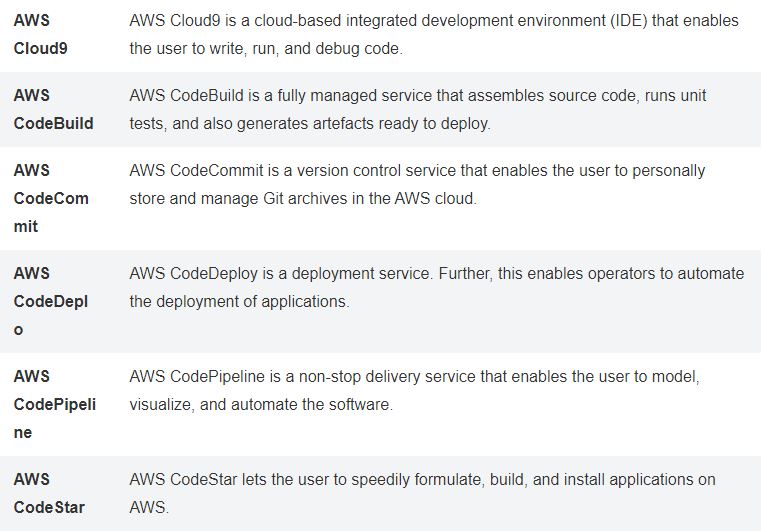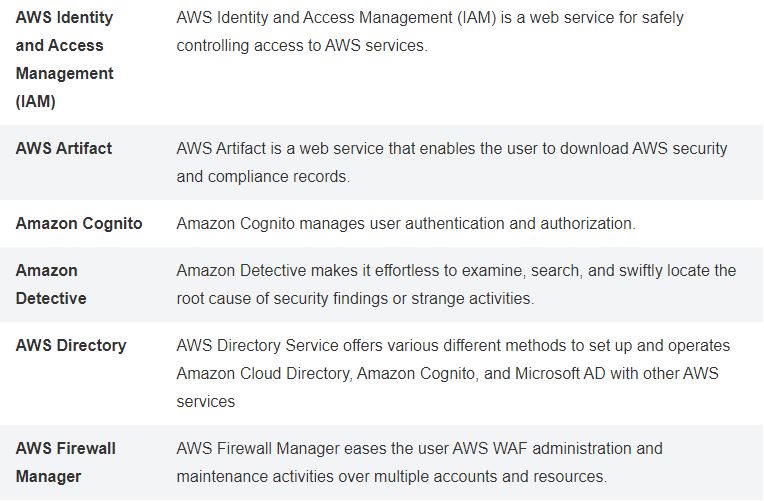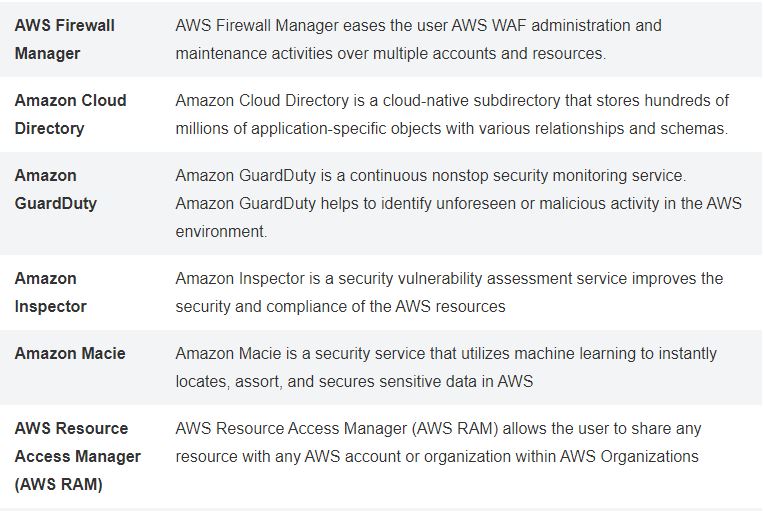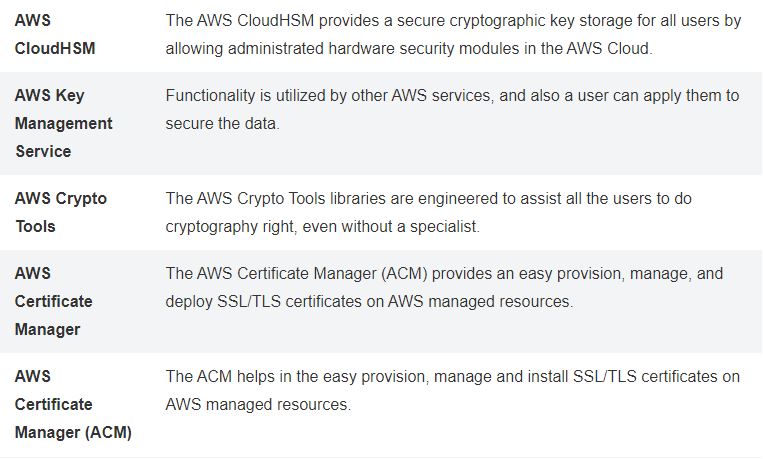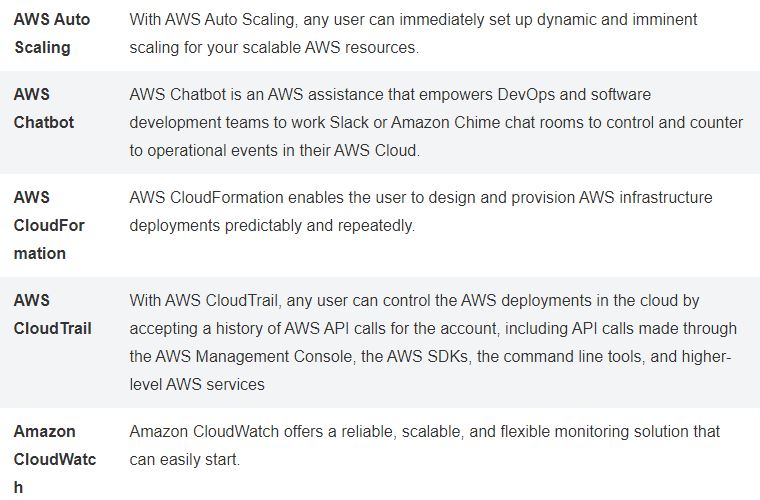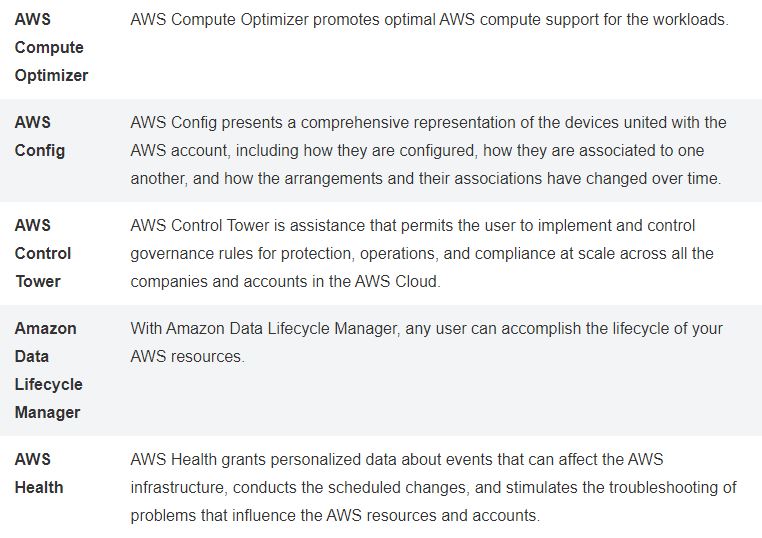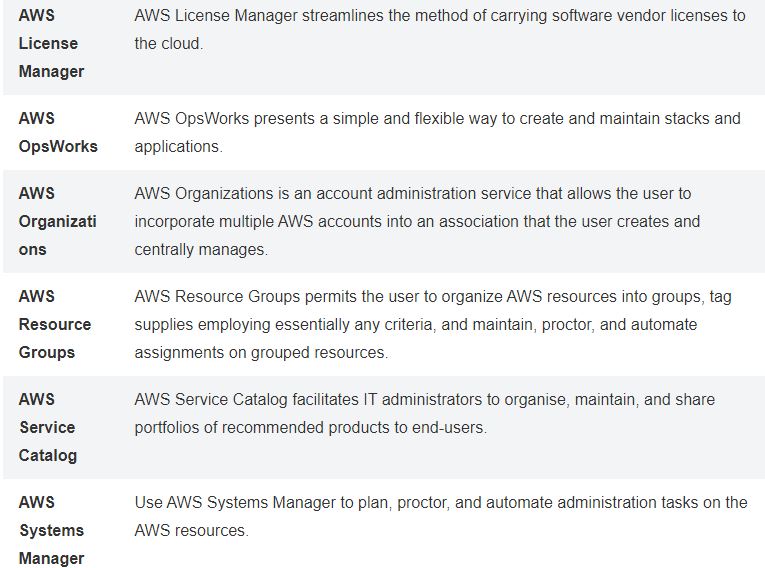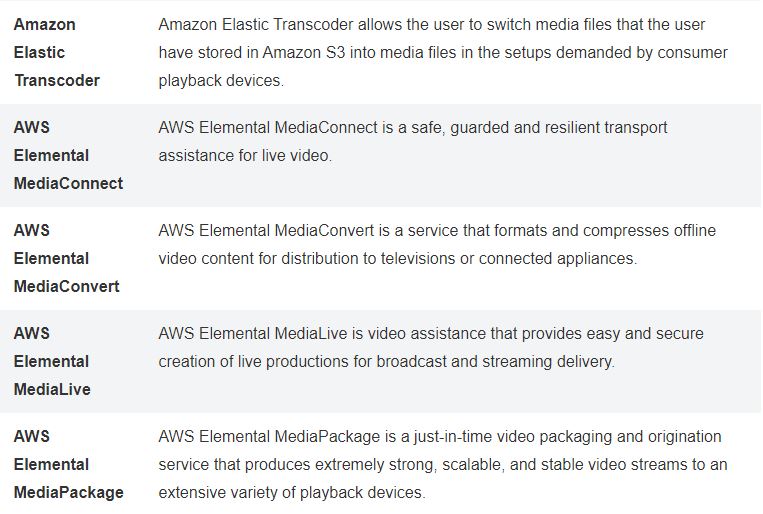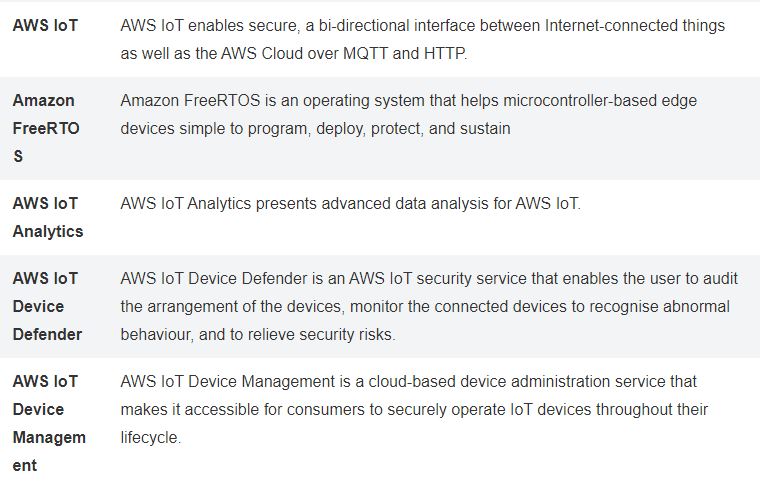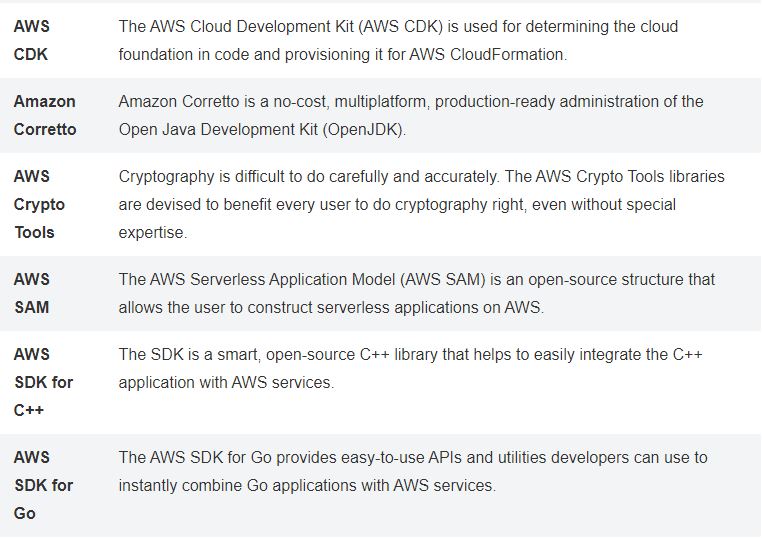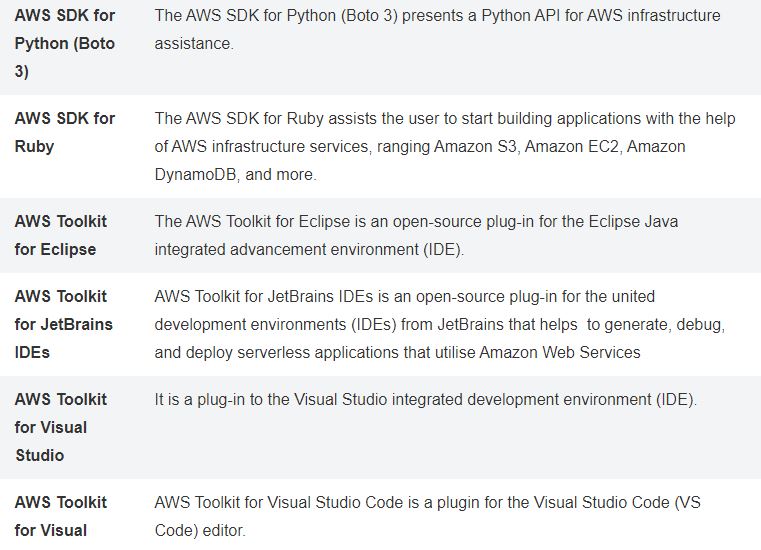 Learn with AWS Cloud Practitioner Training and Online Course
Final Thoughts
To conclude, the above mentioned AWS Cloud Practitioner Cheat Sheet is demonstrated in such a manner that it is easy to digest and easy to make notes of different AWS services. With this cheat sheet, you will be able to save your time from going through all the AWS documentation. Moreover, you can invest your time in other preparation processes. However, we highly recommend you to these those documentations as well as whitepapers to supplement your exam preparation.
Lastly, we would like to suggest you perform as many as AWS Cloud Practitioner Practice Exam, as these practice tests will certainly increase your chances of passing the exam.
We hope that you get tremendous value from these resources and wish you all the luck with your AWS Cloud Practitioner Certification exam.

Accelerate your cloud journey and develop the skills to design, deploy, and operate on the cloud. Prepare and become an AWS Certified Cloud Practitioner Now!