Amazon Web Services (AWS), houses a collection of cloud computing services, that have opened up hot career prospects in the world of cloud computing. And, in this article, we are providing you with yet another AWS Certified Solutions Architect Associate exam guide. This exam is your ticket to a golden career. Moreover, it increases your earning potential as the AWS Certified Solutions Architect Associate salary is at an average annual of $118,266. But before that lets understand the AWS Certified Solutions Architect Associate certification exam details.
Target Audience
The AWS Certified Solutions Architect Associate has been designed for those with some experience in designing distributed applications. To design, manage, and implement applications using tools and services on the AWS platform candidates will need to be able to demonstrate their ability. This is the exam to start with if you want to prove you know how to build and deploy systems in the AWS cloud. Moreover, you will be asked about cloud-based solutions for deployments that follow strict requirements in the AWS Certified Cloud Practitioner exam and called on to demonstrate knowledge of architectural best practices. So to qualify you will want to have had plenty of experience deploying, network, storage, configuring, and managing computes, and database services in AWS. Also, working knowledge of security and compliance policies is critical.
The AWS Certified Solutions Architect – Associate (SAA-C01) exam is intended for professional with the ability to perform a Solutions Architect role. This exam has been built to validate your ability to effectively demonstrate knowledge to architect and deploy secure and robust applications on AWS technologies.
Learning Objectives
Firstly, they should know how technology is useful to solve a given business problem.
Secondly, they are responsible to create a solution according to the required framework, platform, or tech-stack.
Subsequently, they focus on how the application will look, what the modules will be, and how they interact with each other.
Further, they are responsible for how things will scale for the future and how they will be maintained.
In addition, they are the ones responsible for figuring out the risk in third-party frameworks/platforms
Lastly, they also focus on discovering a solution to a business problem
If in case you still wish to view and each and every exam information, you can visit our tutorial page. Every information regarding the AWS Solutions Architect Exam is available here.

AWS Solutions Architect Study Guide
Let's prepare you as you've never prepared before!
It's rightfully said work smarter not harder. So, we've processed a study guide that will help you qualify the certification with flying colours. We are providing a detailed study guide which is the right methodical approach for preparation. So, the below illustration showcases the roadmap to success.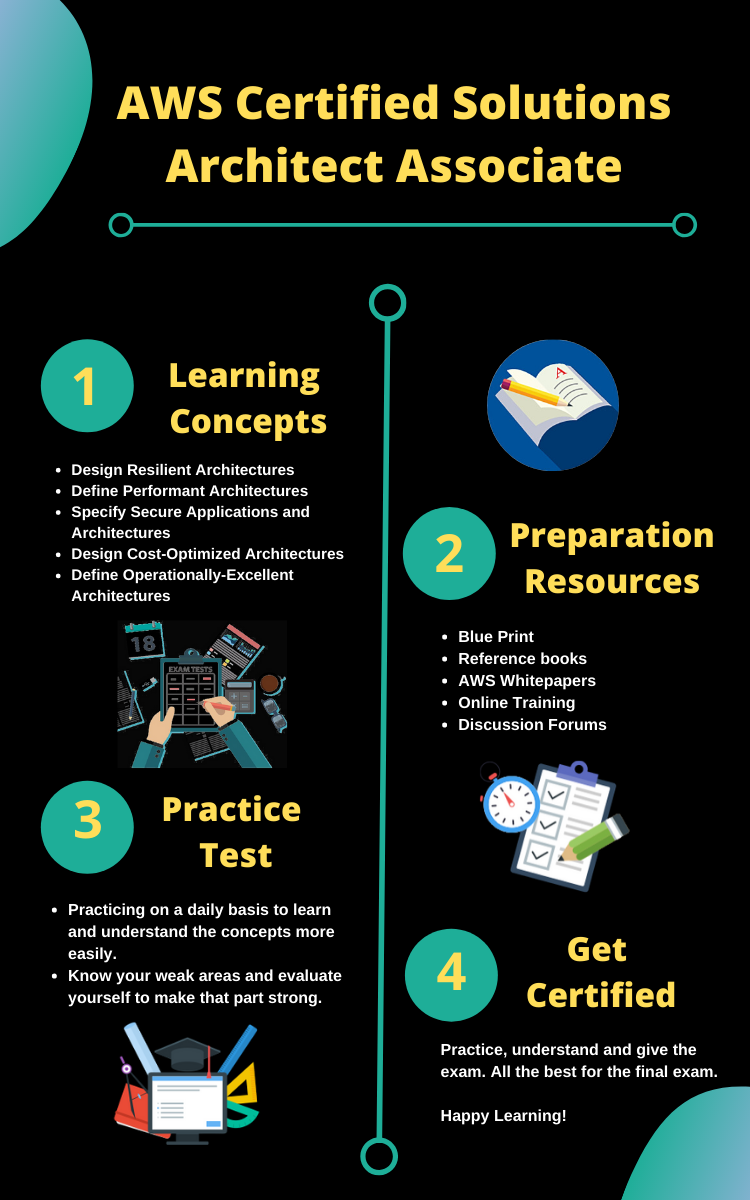 AWS Architect Learning Path
AWS has designed Architect learning path for solution architect, solution design engineers and individuals who wants to learn designing applications and system on AWS.
Download the Course Outline
The Solutions Architect Associate exam guide demonstrates the weightings, test domains, and objectives only. The table of content lists the main content domains and their weightings. This exam covers the following domains:
Domain 1: Design Resilient Architectures 30%
Domain 2: Design High-Performing Architectures 28%
Domain 3: Design Secure Applications and Architectures 24%
Domain 4: Design Cost-Optimized Architectures 18%
Reference Books
First of all, let's start with books. As we all know, reference books are an important resource. Also, the AWS Certified Solutions Architect Associate books help you dive deep into the exam concepts. There are various books available for AWS exam, but the ones that you must refer are:
AWS Certified Solutions Architect Official Study Guide: Associate Exam (Aws Certified Solutions Architect Official: Associate Exam) by Joe Baron
AWS Certified Solutions Architect Study Guide: Associate SAA–C01 by Ben Piper and David Clinton
Amazon Web Services (AWS) Training
Formal training plays an essential role in preparation. As it increases the probability of qualifying the exam with a pleasing score. Not to mention, there are various free training by AWS. The AWS Certified Solutions Architect Associate training has mandatory registration and is available at zero cost. Not to mention, it also is accessible to various learning libraries to know more about AWS services. Moreover, it also includes AWS APN partner which assists you to speed up your business on AWS.

AWS Whitepaper
You must have heard about white papers. Also, AWS whitepaper is a great source of information which covers the basic topic such as security, architecture, as well as economics. Therefore, for your convenience, we're providing popular AWS whitepapers-
Firstly, Architecting for the Cloud: AWS Best Practices whitepaper, Feb 2016.
Secondly, AWS Well-Architected web page (various whitepapers linked).
Exam Practice sets
Self-study is the most important aspect when preparing for any exam. So, make sure to go for self-evaluation. In order to that make sure to practice as much as you can. Subsequently, practising AWS Certified Solutions Architect Associate practice tests will help you understand where you need to work in your preparation. However, practice papers can be from various sources. So, remember the more you test yourself the better you're going to become. Boost your confidence with AWS Certified Solutions Architect Associate free practice tests!
Now that we've provided the preparatory guide. Make sure to prepare well for the exam. We are rooting for your success. And, in case you are the kind of person who gets anxious before the exam. Then, make sure to check out the below section. We're sure it will be helpful.