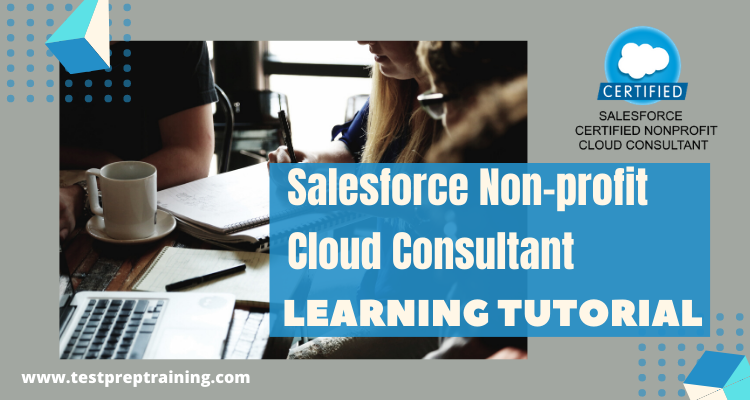 The Salesforce Nonprofit Cloud Consultant Certification is reliable to successfully design and implement Nonprofit Cloud solutions that meet customer business requirements. Also, maintaining and scaling, and contributing to long-term customer success.
A Salesforce Nonprofit Cloud Consultant helps customers with their business operations by designing and deploying solutions. They also assist with Salesforce application requirements. All of these professionals have experience creating solutions that make use of the Nonprofit Cloud's features. This leads to the adoption of these solutions within a customer's company. In addition, the consultant has experience dealing with charitable organizations as well as Salesforce application skills. providing the skills required to implement several apps in typical client scenarios.
LEARNING OBJECTIVES

:
Designing and implementing successful solutions
Anticipating and mitigating risk
Meeting and managing customer expectations
Increasing customer confidence
Consistently delivering effective business results
Managing solution delivery and any issues that arise
Building solutions that are scalable and maintainable
Setting up change management practices to ensure long-term solution success
Troubleshooting and resolving issues
Prioritizing and escalating customer issues
Training the customer on new business processes in the solution
Target Audience: Salesforce Nonprofit Cloud Consultant
Now, that you have a rough idea, what the exam expects out of you, it's time for you to double-check if you really are an eligible candidate for the examination.
Firstly, the consultants who have expertise implementing Salesforce Nonprofit Cloud solutions in a customer-facing role.
Secondly, the proposed audience must have demonstrated experience with installing and configuring Salesforce Nonprofit Cloud.
Prerequisites

:
After, being sure that you're an eligible candidate for the exam, it's time for the second eligibility check. Understanding and getting hold of prerequisites will lead you to form a  stronger base. So, check out, if you have it all to hit the goal. You know, what they say, the stronger the base, the better the future. Most importantly, make sure you have a Salesforce Administrator credential. And, beside that, a candidate must have prior experience and knowledge in the following areas-
Implement multiple applications in common customer scenarios
Expertise as cloud computing implementation consultants with a speciality in nonprofits. 
2 to 5 years of experience as a senior business analyst 
Experience managing implementation projects
Strong analytical and problem-solving skills
Working knowledge of Salesforce product lines
A solid understanding of internet technologies and cloud computing
A solid understanding of data management and database concepts
Familiarity with the software development lifecycle
Nonprofit domain expertise
Basic Details
Basic details are an essential part of the exam. Going through them once will allow you to understand the format and many common details of the examination.
Not to mention, getting familiar with them help you to perform better on the exam day. Moreover, who wants to get shocked on the D-DAY. In the same vein, we suggest not to skip basic exam details. 
The Salesforce Certified Nonprofit Cloud Consultant Exam Questions are in multiple-choice/multiple-select format.
Candidates need to complete the exam within 105 minutes. One has to score a minimum of 63% and above to qualify.
As for registration fee, its USD 200, plus applicable taxes. And, the retake fee is  USD 100, plus applicable taxes. 
In addition, the exam is a proctored exam 
Exam Outline
Finally, we have arrived at the most important stop of your exam preparation i.e. Exam Outline. Now, Exam Outline is not something ordinary that you skip. We want to make it clear that the test outline represents your examination syllabus. This means that the Exam Outline will be included in every question on the exam. So concentrate and give it your all while studying and comprehending the modules listed below.
1. Domain Expertise: 20%
Identify the appropriate Salesforce solutions for fundraising and donor management.
Identify the appropriate Salesforce solutions for marketing and engagement.
Identifying the appropriate Salesforce solutions for program and/or volunteer management.
Distinguish and rationalize the purpose for resource sites like the Power of Us Hub, Trailblazer Community, Trailhead, and AppExchange, etc.(Documentation: Explore Your Customization Options )
2. Nonprofit Cloud Product Configuration: 22%
Given a set of requirements, modify NPSP Settings for people management (Leads, Contacts, Accounts, Affiliations, Relationships, Addresses) defaults. (Documentation: Import Data )
Given a set of requirements, configure fundraising features (Opportunities, Payments, Allocations, Gift Entry and Recurring Donations) and batch process handling.
Given an error message through a Nonprofit Cloud application, determine whether it is a Nonprofit Cloud application issue and appropriate next steps.
Explain the differences between the Nonprofit Cloud release schedule and the Salesforce release schedule, including considerations for declarative and custom development during the deployment stage of implementation.
Install Nonprofit Cloud applications and/or solutions.
Configure the Nonprofit Cloud application security model to meet customer requirements.
3. Implementation Strategies and Best Practices: 18%
4. Solution Design: 20%
Identify the appropriate Salesforce solution(s) to meet customer requirements.
Distinguish when it is appropriate to use declarative development (low code), custom code development, or a third-party solution. (Documentation: Selecting Low Code Application Development Frameworks )
Analyze customer requirements to determine appropriate solution design considering capabilities, limitations, and design trade-offs.
Determine the appropriate security features to use following Salesforce best practices. (Documentation: Salesforce Security Guide )
5. Integration and Data Management: 15%
Given a specific data requirement, explain the use cases and considerations for using Salesforce native, third party, or Nonprofit Cloud application data tools.
Given customer requirements, articulate and implement data migration and/or integration strategies for a Nonprofit Cloud implementation.
Identify which duplicate management tools to use for a Salesforce implementation.
6. Analytics: 5%
Given a scenario, determine the appropriate analytics solution (Reports, Dashboards, Einstein Analytics, Tableau, third-party solutions, etc.) in Nonprofit Cloud.

Exam Policies
Salesforce Certification provides exam policies to support the candidates by providing every detail related to the certification program. However, candidates during studying for the Salesforce Nonprofit Cloud Consultant Exam should first go through and understand the Salesforce Certification exam policies. On this page, the candidates will get information about after the exam or before exam procedures. This includes the exam retaking process, rules to be followed during the exam time, and other information about the exams and its testing centres.
While preparing for the Salesforce Nonprofit Cloud Consultant Exam you will be solely responsible for understanding and complying with Salesforce Nonprofit Cloud Consultant Exam policies, together with the specified exam delivery provider's policies and procedures.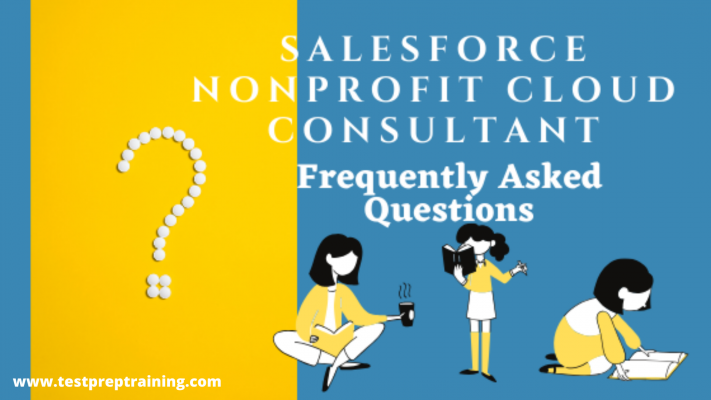 Preparation Guide: Salesforce Nonprofit Cloud Consultant
The whole point of having a preparation Guide is to direct in the right direction. Keeping that in mind, we assure you, this study guide will offer you exactly what you need to qualify the exam. This will allow you to evaluate your readiness to successfully complete the Salesforce Certified Nonprofit Cloud Consultant exam.
Also, this Salesforce Certified Nonprofit Cloud Consultant Study Guide presents information about the recommended training and documentation, hands-on experience, training course completion, Trailhead trails, and self-study- all with the intent of helping you achieve a passing score.
1. Review the Exam Objectives
First and foremost before you begin with the preparation for the certification exam, make sure you are up to date with all exam info. What happens if, certification exams keep on updating with new technology coming every day. As a result, your initial step should be to visit Salesforce's Official website and see if you and the website are on the same page. If not, make sure you're up to date on all of the latest exam information. Learn about the Salesforce Nonprofit Cloud Consultant Exam Objectives as well.
2. Download the Exam Outline
After reviewing all the Exam Objectives, it becomes obvious to download the Pdf file for exam Outline. Make sure, you don't skip this part. The Exam Outline is the most crucial portion of any certification exam, as previously stated. The exam outline is also freely accessible on the official website. Also, check to see if any critical notices have been posted; you must be aware of any new developments.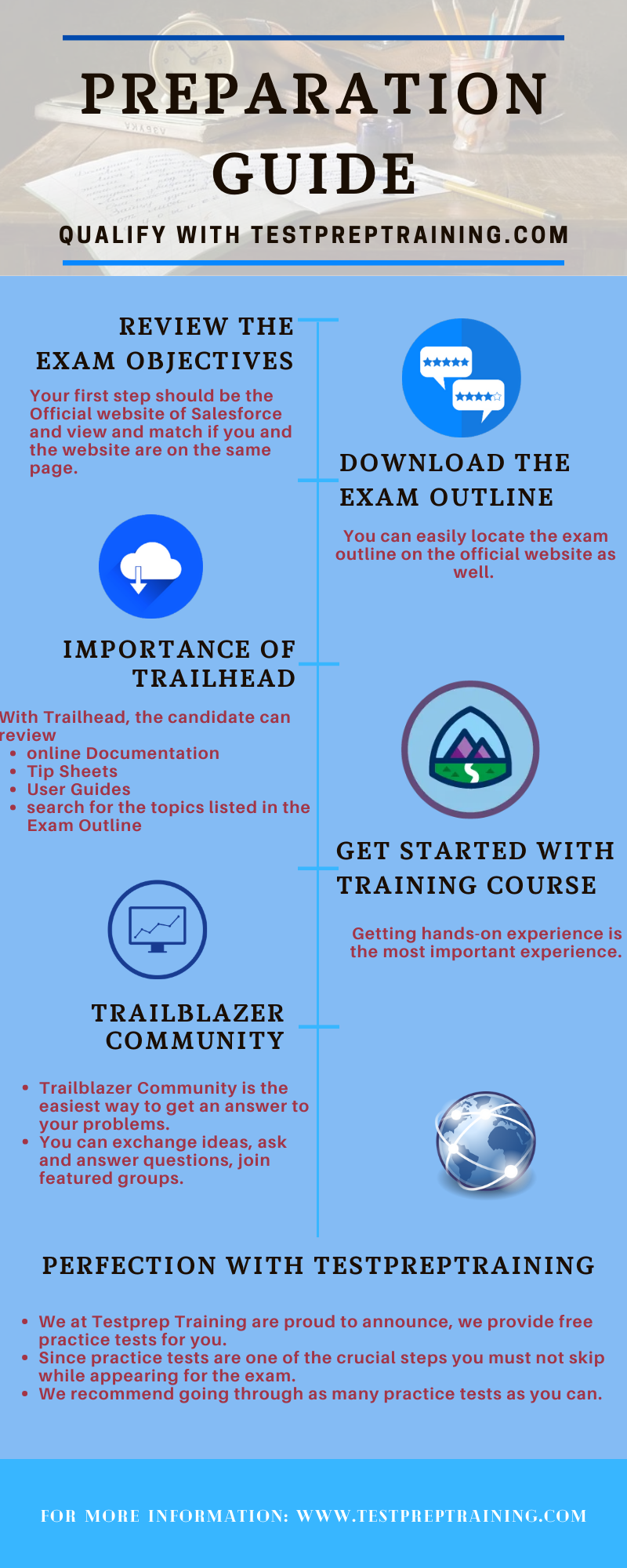 3. Importance of Trailhead
If you are someone who has already qualified and attained credentials with Salesforce, then you might know the importance of Trailhead. On the other hand, if you are a newbie, then let's put it out there. Trailhead is the most important aspect of your preparation guide when it comes to Salesforce.
With Trailhead, the candidate can review online Documentation, Tip Sheets, and User Guides, search for the topics listed in the Exam Outline section of this guide and study the information related to those topics. 
4. Get started with Training Course
Getting hands-on experience is the most important experience for exams.And, the only way you can achieve is through Salesforce Certified Nonprofit Cloud Consultant Training. You can easily get acquainted with training courses for the same. Nonetheless, Salesforce offers the candidate with quite a few options to choose from. So, head to their website, if you want to master your skills. We highly recommend training courses. The understanding here is not one dimensional but rather viewing a problem from every angle possible.
5. Join the Community- Trailblazer Community
You know sometimes, we're stuck with some problem or the other. Well, we all are humans, so that an obvious fact. However, what if you're stuck somewhere with your preparation and need an answer from some expert oo any adviser. Don't know what to do then?
Take it from us, join a community, and in this case join Trailblazer Community. You'll thank us later, but this is the easiest way to get an answer to your problems. On joining the community, you can exchange ideas, ask and answer questions, join featured groups.
3. Practice Tests for Perfection
With all the mentioned training course and documentation, your last step in preparation must be going through Salesforce Certified Nonprofit Cloud Consultant Practice Exam. Now, the internet is filled with so much noise. Therefore, for your convenience, we at Testprep Training are proud to announce, we provide free practice tests for you. Yes, all you ever asked for, we have got you covered. Since practice tests are one of the crucial steps you must not skip while appearing for the exam. We recommend going through as many practice tests as you can. FOR MORE PRACTICE TESTS, CLICK HERE.  

100% Exam Pass Guarantee
Want to become a Certified Salesforce Nonprofit Cloud Consultant?
Learn More
Are you preparing to become a Certified Salesforce Nonprofit Cloud Consultant?
Take a Quiz