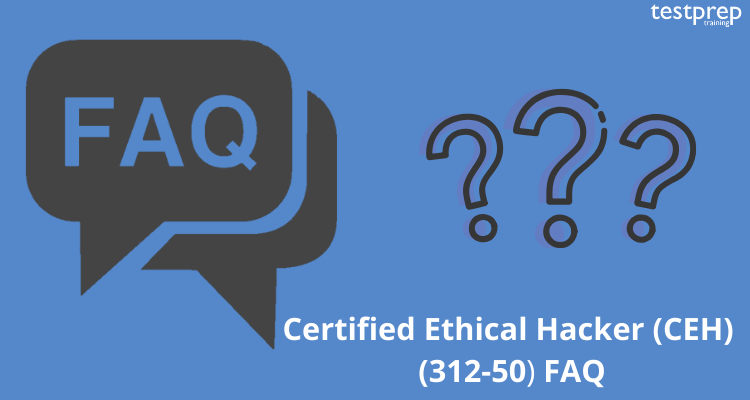 What is the Certified Ethical Hacker (CEH) (312-50) exam?
The Certified Ethical Hacker (CEH) program is the core of the most desired information security training system any information security professional will ever want to be in. The CEH is the first part of a 3 part EC-Council Information Security Track which helps you master hacking technologies.
What is the purpose of the CEH credential?
Establish and govern minimum standards for credentialing professional information security specialists in ethical hacking measures.
Inform the public that credentialed individuals meet or exceed the minimum standards.
Reinforce ethical hacking as a unique and self-regulating profession.
Who should take the Certified Ethical Hacker (CEH) (312-50) exam?
The Certified Ethical Hacking training course will significantly benefit security officers, auditors, security professionals, site administrators, and anyone who is concerned about the integrity of the network infrastructure.
What jobs can a hacker get?
Ethical Hacking Career: Job Profiles
Information Security Analyst.
Security Analyst.
Certified Ethical Hacker (CEH)
Ethical Hacker.
Security Consultant, (Computing / Networking / Information Technology)
Information Security Manager.
Penetration Tester.
What do certified ethical hackers do?
A certified ethical hacker is a skilled individual who uses the same knowledge and tools as a malicious hacker, but who does so in a lawful and legitimate manner to assess the security risks of a network or system.
How many questions are there in the Certified Ethical Hacker (CEH) (312-50) exam?
There are 125 questions in the Certified Ethical Hacker (CEH) (312-50) exam.
How much time do I get to complete the Certified Ethical Hacker (CEH) (312-50) exam?
The candidate will get 240 minutes to complete the CEH exam.
What is the passing marks for the Certified Ethical Hacker (CEH) (312-50) exam?
The candidate should get 70% marks in order to pass the CEH exam.
Where can I register the EC-Council exams?
The candidate can register the EC-Council exam at Pearson VUE.
What is the registration fee for the 312-50 exam?
The registration fee for the EC-Council is $950 (USD).
What are the objectives for the 312-50 exam?
The objectives for the 312-50 exam are:
Module 01: Introduction to Ethical Hacking
Module 02: Footprinting and Reconnaissance
Module 03: Scanning Networks
Module 04: Enumeration
Module 05: Vulnerability Analysis
Module 06: System Hacking
Module 07: Malware Threats
Module 08: Sniffing
Module 09: Social Engineering
Module 10: Denial-of-Service
Module 11: Session Hijacking
Module 12: Evading IDS, Firewalls, and Honeypots
Module 13: Hacking Web Servers
Module 14: Hacking Web Applications
Module 15: SQL Injection
Module 16: Hacking Wireless Networks
Module 17: Hacking Mobile Platforms
Module 18: IoT Hacking
Module 19: Cloud Computing
Module 20: Cryptography
How can I prepare for the 312-50 exam?
The candidate has to follow some preparatory step which is mentioned in our tutorial i.e. visiting the official, reading and understanding related books and guides, learning objectives, trying their hands-on practice test etc.
Is learning to hack illegal?
It is fully legal to learn Ethical Hacking training course, until and unless you are authorized to hack any website/System/Server/Computer. DO NOT hack into others computer/phone or any other device without authorization.
Does CEH expire?
For instance, if you have CEH certification from EC-Council, according to EC-Council ECE Policy, you must obtain ECE credits every three years for CEH revision. Otherwise, your EC-Council certification will expire, and you will have to re-take the certification exam to earn the certification.
What happens if you fail the CEH exam?
If a candidate does not successfully pass an EC-Council exam, they can purchase the ECC Exam centre voucher to retake the exam at a discounted price. If a candidate is not able to pass the exam on the first attempt, no cooling or waiting period is required to attempt the exam for the second time (1st retake).
How long does the application process take?
On average, application processing time would be between 5-10 working days once the verifiers on the application respond to EC-Council's requests for information.
Prepare for Assured Success
Want to become Certified Ethical Hacker?
Learn More
Are you preparing for Certified Ethical Hacker (CEH) (312-50) exam?
Take a Quiz