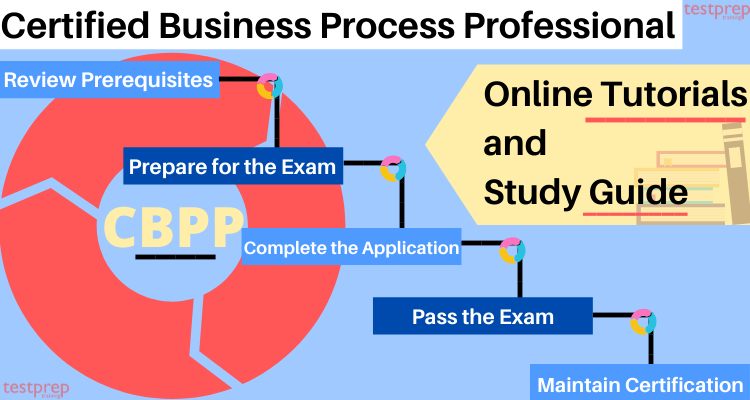 Certified Business Process Professional (CBPP) is an associate-level Business Process Management (BPM) practitioner certification by Association of Business Process Management Professionals International (ABPMP). This exam is specifically designed to challenge a candidate's knowledge and ability to apply the BPM CBOK® concepts and techniques used to improve business operations and enable organizational transformation. However, the Certified Business Process Professional (CBPP) is for individuals who are advanced BPM Practitioners and have proficiency that can lead to the Certified Business Process Leader (CBPL).
CBPP certification provides candidates with outstanding knowledge of business process management. It offers the opportunity to learn new concepts /best practices, and benefit from the experience of trainers/mentors.
Eligibility Requirements for the Exam
Candidates who are willing to earn CBPP certification must have at least 4 Years of Process management, Process improvement, or Process transformation experience. They should have documented experience and qualifications and references.
However, candidates can substitute education credits with:
Undergraduate degree. For this, there is no additional credit.
Graduate degree. It will give 6 months' credit.
Credits for other Professional Certifications such as PMP, CBAP, CBA, CSA, CDMP, CPIM, CBIP, CCP where you will get 6 months credit.
Learning Areas
The BPM Certifications are based on a set of knowledge areas and skills from the BPM CBOK®, and a set of competencies from the ABPMP BPM Competency Model, plus work experience. Candidates have to demonstrate a few practice, experience and knowledge in the various subject matter areas, that are as follows-
Process modeling
Analysis of Process
Process design
Transformation of Process
Process performance management
Business process management technologies
Process management organization
Enterprise process management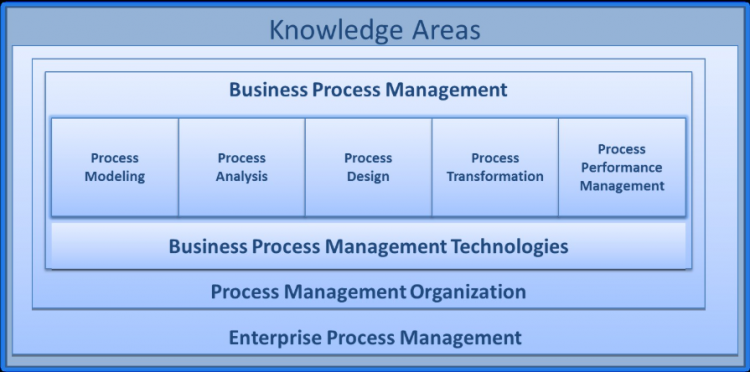 Exam Details
The Certified Business Process Professional CBPP exam questions will be in a number that is 130 multiple-choice questions. Candidates will get a time duration of 3 hours for the exam. However, the exam includes a non-refundable application fee of $75 USD. During the exam registration process, candidates who are members of the ABPMP have to pay an exam fee of $500 USD. And, for non-members, the exam fee is $650 USD.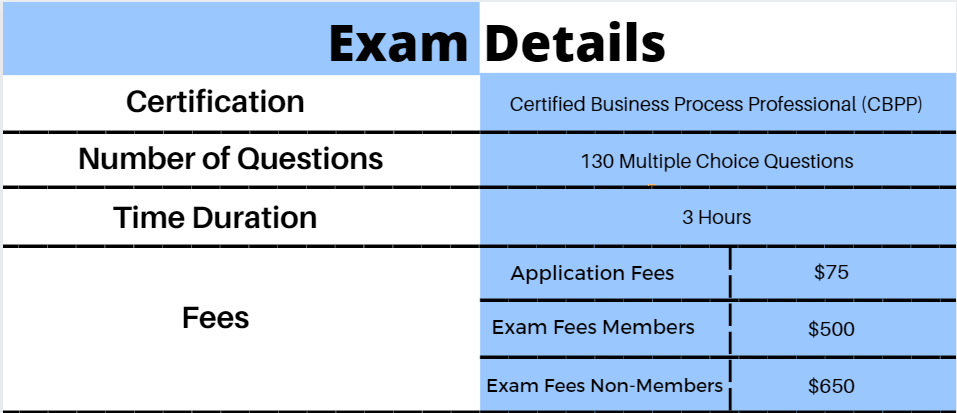 Exam Registration
After completing the application process, candidates have to wait for the application to be approved. Once the application is approved then, candidates will be sent the URL to register and pay for the exam. However, candidates can take the exam with an online proctor or at one of the hundreds of testing locations throughout the world. They have two options to take the exam either take exams at onsite testing locations or online proctored exams. Not to mention, for an online proctored exam, candidates must register 2-3 weeks in advance. As, with the closing of all testing centers for COVID-19 pandemic, demand is high for the available exams and availability will vary by region. Exam scheduling can be done at Kryterion certified testing centers.

Course Structure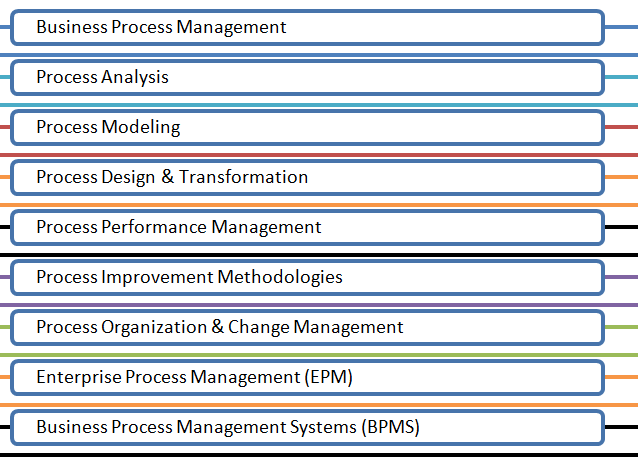 Topic 1: Business Process Management
1.1 Business Process Principles
Articulating the definition of Business Process Management and why organizations implement BPM with process of applying the philosophy and the goal for BPM projects
Describing the drivers and the impact on the organization
1.2 BPM Lifecycle
Describing the phases of BPM implementation, the methodology and the projects impacting the goals of the organization
Understanding the BPM lifecycle and the various activities at each phase
1. 3 BPM Professionals
Understanding the principles of change with the shift from an organizational and hierarchical focus changing to a process based focus
Describing the roles required for moving to a process centric organization
Topic 2: Process Analysis
2.1 Process Analysis
Defining the term process analysis
Recognizing the processes across various functional areas and the challenges that result for process improvement efforts.
Describing the various methods to collect information
2.2 Techniques of Process Analysis
Defining and describing model types and components
Recognizing processes across various functional areas and the challenges that result for process improvement efforts.
Describing the benefits of capturing process documentation
2.3 Approaches of Process Analysis
Defining the role of the process analyst for capturing process documentation
Understanding the use of varied levels of detail used to capture process activities and procedures
Describing the various methods to collect information
Topic 3: Process Modeling
3.1 Process Modeling Notations
Understanding the origin and the types of business process modeling
Distinguishing between the Value Stream, Activity Based Costing methods and other approaches for modelling business process information
Identifying the types of process models
Describing the common standards of process modeling
Identifying the key components of an effective symbols charts and functions
3.2 Using Process Models
Business Process models are for identifying process activities with addressing the various ways process models can facilitate process change
Incorporating the role and the added value of modeling
Understanding how data collection from process analysis is used to propose changes to the process
Topic 4: Process Design & Transformation
4.1 Process Design
Understanding the impact of the logical and physical aspects on the process design
Identifying the reasons for process design and opportunities for transformation
Describing how the gaps in the current state are leveraged for business process information
Explaining common process analysis elements required for effective process design considerations
Identifying the elements considered to design an effective process flow
4.2 Critical Success Factors for Process Transformation
Identifying the critical success factors required to identify process activities and facilitate process change
Describing the role process owners, executive sponsors and analysts provide for successful process transformation
Understanding how process methodologies and frameworks help guide the process analysis required for process transformation
Understanding how data collected from process analysis is used to propose changes to the process
Topic 5: Process Performance Management
5.1 Effective Process Measures
Understanding the role and objectives of measurements and metrics in the Process Performance Management
Describing fundamental metrics dimensions and characteristics of effective metrics
Describing the concept of "value added" versus "non-value added" measurement approaches
5.2 Importance and benefits of process performance management
Understanding the benefits of cross-functional process improvement efforts versus isolated functional area improvements
Understanding the reasons for continuous process monitoring and control
Describing the role of business intelligence in decision support for process owners and managers
Topic 6: Process Improvement Methodologies
6.1 Alignment of business process and enterprise performance
Understanding the various methodologies used to assess process performance and to support continuous improvement
Understanding the difference between the key approaches to process improvement methods
Explaining the key differences in the tools used by each
6.2 Modeling and simulation
Describing the difference between Process Measuring and Modeling and Simulation
Understanding the process of Modeling and Simulation and describe its objectives and benefits
6.3 Decision support for process owners and managers
Familiarizing with common decision support frameworks and their benefits
Describing the reasons for planning for monitoring and controlling of business processes
7.0 Process Organization & Change Management
7.1 Process Orientation
Distinguishing between the horizontal focus of the organization versus the traditional vertical focus
Understanding the definition of a process centric enterprise and the impact it can have on management's accountability for performance
7.2 Characteristics of the process culture
Understanding what the characteristics of an enterprise process culture are and how they support the process centric strategies
7.3 Process Management and Governance Roles
Defining the role of the process owner
Describing how the process owner's responsibilities differ from those of the functional manager.
Explaining and distinguishing the different roles of the process owner, the project manager, the process analyst and the process governance team to accomplish their main responsibility
7.4 Organizational Change Management
Understanding how process integration will impact to the traditional organizational structure and management roles
Defining the change management issues encountered in implementing process changes and role definition.
Topic 8: Enterprise Process Management (EPM)
8.1 Enterprise Process Governance
Understanding concepts of the Enterprise Process Management as a way of expressing strategy in terms of cross-functional activity
Identifying main factors that impact cross-functional enterprise decision making
Describing reasons and objectives of Enterprise Process Governance
Describing benefits of EPM and importance of business knowledge, roles and responsibilities, goals and priorities
Explaining aspects of the Customer Centric Measurement Framework
Defining activities of process assessment
8.2 Process Frameworks
Uses and benefits of different frameworks to achieve and establish of common definitions and standardized processes
Describing major elements of an Enterprise Framework Model
9.0 Business Process Management Systems (BPMS)
9.1 BPM System Architecture
9.2 BPM System Components
Exam Policies
There are various exam policies provided by ABPMP for CBPP exams that will help candidates to understand the procedures and the terms. Some of them include:
Exam Retake Policy
This states that if a candidate fails in the certification exam then they are eligible for a 50% discount when they retake the exam within 45 days of their original test date. However, candidates must wait at least 30 days before retaking the exam to allow sufficient time to prepare. And, the Members will receive a voucher code by email and can enter the code during the checkout process when purchasing their exam online.
Cancellation Policy
Candidates who want to cancel their exam must do it within 72 hours of the scheduled testing date. However, the cancellation fees are now $105.00, which covers the testing center costs and administration fees. If you reschedule your exam 72 hours prior to the exam date, there will be no fee.
Re-certification Policy
Candidates must keep their certification up to date by participating in BPM-related training and/or activities and paying a non-refundable $75.00 (USD) application fee. To complete CBPP recertification, they must complete all of the following:
Maintaining an ABPMP Professional Membership
Completing and logging 60 hours of continuing professional education activities
Paying the non-refundable recertification fee
Updating their current mailing address to include street address, city, state/province, postal code, and country.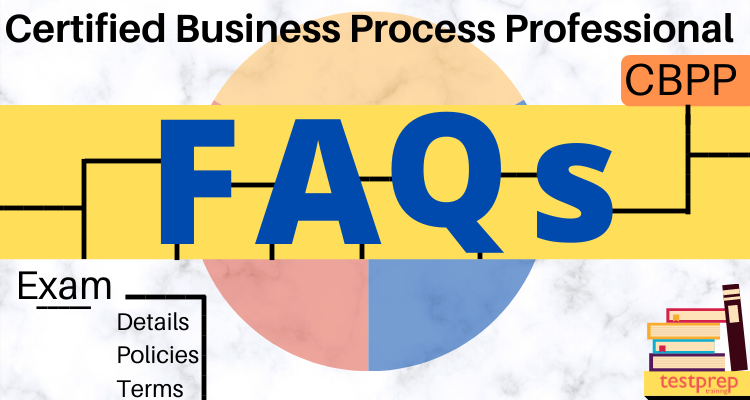 Certified Business Process Professional CBPP Study Guide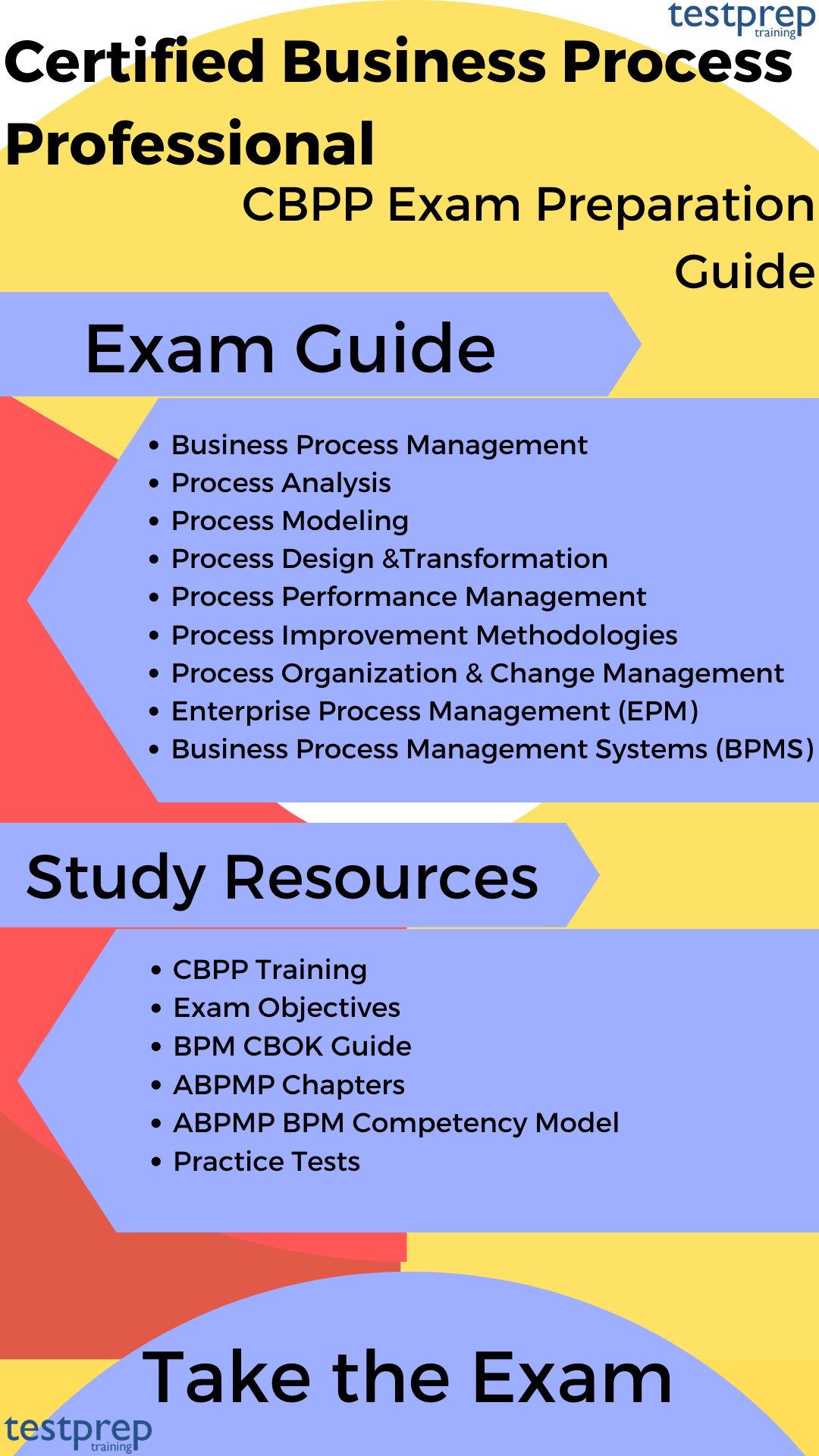 CBPP Training
CBPP Training is the best training offered to candidates by ABPMP. With the help of training, you'll be able to conduct online on-demand classes. So, make sure to enroll yourself in the training program to have a better CBPP exam preparation. This training will provide BPM knowledge areas that are in alignment with ABPMP International's BPM Common Body of Knowledge (CBOK).
Exam Objectives
Candidates must understand the CBPP exam objectives and the knowledge areas to understand the concept better. They can visit the Official website of CBPP, to have a clear view. There they will get every information regarding the CBPP Exam with the basic exam details.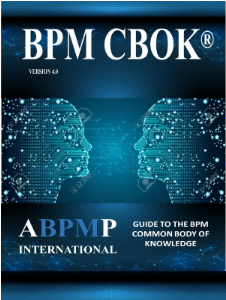 BPM CBOK Guide
The BPM CBOK guide helps candidates to get the fundamental knowledge, skills, and competencies required for all BPM practitioners. However, the purpose of this guide is to provide an overview of the Knowledge Areas that are generally recognized and accepted as good practice in the BPM profession. This Guide provides a foundational overview of each Knowledge Area and outlines the additional skills and competencies needed for each Knowledge Area.
ABPMP Chapters
The Chapter activities provide unique opportunities for the interaction with other business process management professionals However, the ABPMP chapter main objectives are to:
Provide local educational forums for business process management professionals
Proctoring the CBPP exam
Providing study groups for the CBPP exam
Partnering with Universities for delivering programs to continue BPM professional education leveraging the BPM Model Curriculum.
Promoting business process management as a professional discipline to local companies and Universities.
Providing a forum for networking for BPM professionals
BPM Competency Model
The ABPMP BPM Competency Model refers to a career path architecture that outlines the knowledge, skills, competencies, and experience levels for individuals pursuing a career in Business Process Management. This aligns the ABPMP BPM CBOK knowledge, skills, competencies with the ABPMP BPM Certification levels.

Practice Tests
This can be a very essential part that can help you to prepare better for the exam. That is to say, CBPP practice exam tests are important as by assessing yourself with these tests you will know about your weak and strong areas. However, by using CBPP practice tests you will be able to improve your answering skills that will result in saving a lot of time. Moreover, the best way to start doing practice tests is after completing one full topic as this will work as a revision part for you. So, make sure to find the best practice sources.

Start Preparing for Certified Business Process Professional Exam Now!
100% Exam Pass Guarantee
Want to pass Certified Business Process Professional (CBPP) Exam?
Learn More
Are you preparing for Certified Business Process Professional (CBPP) Exam?
Take a Quiz