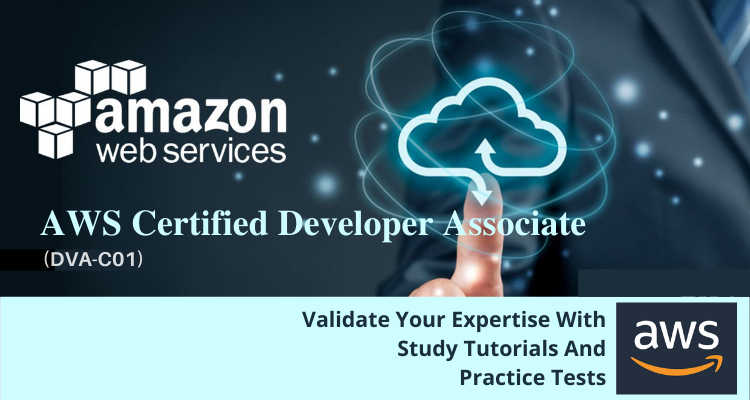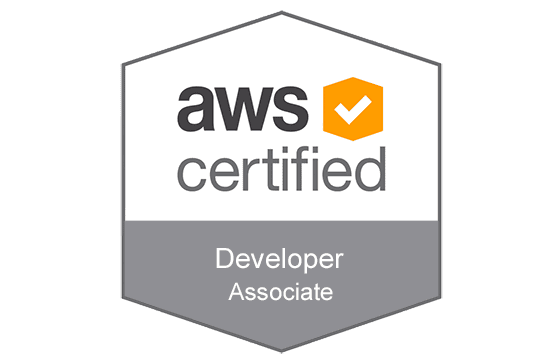 AWS Certification helps learners build credibility and confidence by validating their cloud expertise with an industry-recognized credential and organizations identify skilled professionals to lead cloud initiatives using AWS. AWS Certified Developer Associate (DVA-C01) Exam demonstrates your expertise in core AWS services, their uses, and basic AWS architecture's best practices.
This certification will elevate your proficiency in developing, deploying, and debugging cloud-based applications using AWS. This AWS Certified Developer-Associate Examination (DVA-C01) is primarily intended for individuals who perform a Developer role. This certification enhances your earning potential. The AWS Certified Developer Associate Salary is somewhere around Rs. 7,25,000 per annum.
Abilities Validated by the Certification
Demonstrate an understanding of core AWS services, uses, and basic AWS architecture best practices
Demonstrate proficiency in developing, deploying, and debugging cloud-based applications using AWS
Recommended Knowledge and Experience
Before proceeding further lets understand the AWS Certified Developer Associate prerequisites:
In-depth knowledge of at least one high-level programming language
Understanding of core AWS services, uses, and basic AWS architecture best practices
Proficiency in developing, deploying, and debugging cloud-based applications using AWS
Ability to use the AWS service APIs, AWS CLI, and SDKs to write applications
Ability to identify key features of AWS services
Understanding of the AWS shared responsibility model
Understanding of application lifecycle management
Ability to use a CI/CD pipeline to deploy applications on AWS
Ability to use or interact with AWS services
Ability to apply a basic understanding of cloud-native applications to write code
Ability to write code using AWS security best practices (e.g., not using secret and access keys in the code, instead using IAM roles)
Ability to author, maintain, and debug code modules on AWS
Proficiency writing code for serverless applications
Understanding of the use of containers in the development process
Who Should Take the AWS Certified Developer Associate (DVA-C01) Exam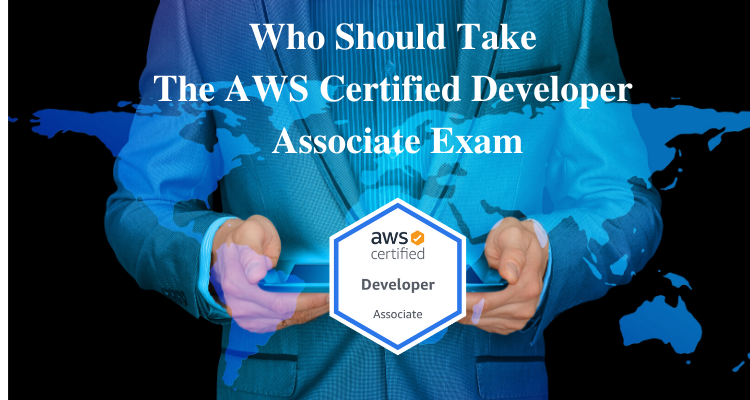 AWS Certified Developer Associate exam (DVA-C01) is labeled as one of the most important exams when it comes to any associate-level certification. So if you are a system developer, then this AWS certification will serve as an icing on the cake. Amazon Web Services (AWS) comes under the top cloud services with having a good impact on individuals and companies globally.
The course is primarily focussed on the ones having professional knowledge in the technical field. This AWS Developer – Associate certification will demonstrate your expertise in handling the various concepts and tactics of the AWS platform. Taking this certification exam will help you gain expertise in the practical knowledge of the following –
Application of AWS services and understanding the cloud-native applications in coding
Knowledge in maintaining and debugging code modules on AWS
Understanding the AWS core services, its use, and having the best practice in AWS architecture
Using AWS security best practice which includes IAM roles in coding
AWS Certified Developer Associate Interview Questions
Practice with AWS Certified Developer Associate Interview Questions and clear your interview with flying colors.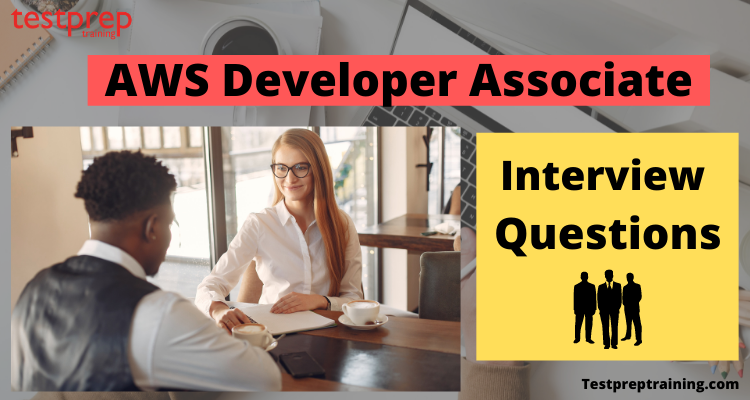 About AWS Certified Developer Associate (DVA-C01) Exam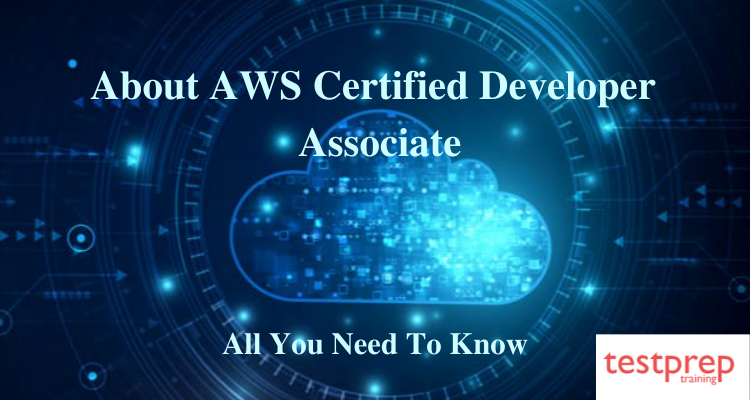 Exam Prerequisites
For AWS Developer Associate exam,
1-year hands-on experience in the maintenance and development of AWS based applications
Knowledge of at least one advanced-level programming language with knowledge in AWS core services
Knowledge of writing codes for serverless applications and the use of AWS service APIs, SDKs and AWS CLI in writing applications
Exam Retake Policy
If you want to retake the AWS Developer Associate certification exam then you must wait for 14 days before becoming eligible for retaking the exam. You can give the exam as many times until you have passed the certification. However, you must pay the full exam fee for each attempt you take.
Exam Details
AWS Certified Developer Associate exam questions are in multiple choice format. You get 130 minutes to pass the 65 questions of the exam. Moreover, you can take the exam in English, Japanese, Korean and Chinese. Also, the AWS Certified Developer Associate Cost is $150 plus taxes.
Course Outline
AWS Certified Developer Associate Course Outline covers descriptive details about the exam concepts. They are: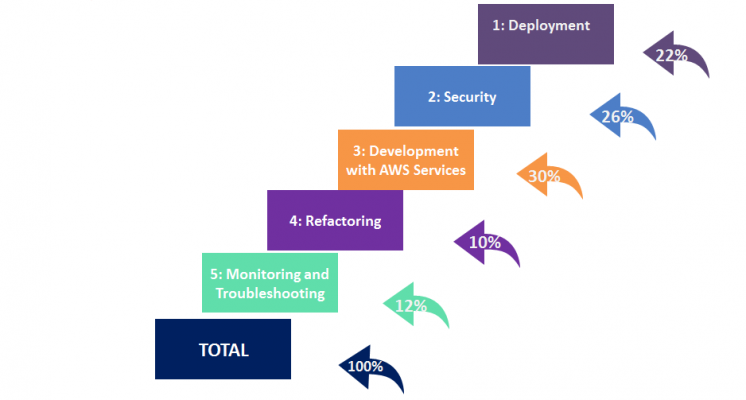 Domain 1: Deployment
1.1 Deploy written code in AWS using existing CI/CD pipelines, processes, and patterns (AWS Documentation: Continuous Deployment Pipeline, Setting Up a CI/CD Pipeline on AWS)
1.2 Deploy applications using Elastic Beanstalk (AWS Documentation: Deploying applications to Elastic Beanstalk environments, AWS Elastic Beanstalk)
1.3 Prepare the application deployment package to be deployed to AWS (AWS Documentation: Deploying Serverless Applications, Deploying Code to a Virtual Machine)
1.4 Deploy serverless applications (AWS Documentation: Deploying Serverless Applications)
Domain 2: Security
2.1 Make authenticated calls to AWS services (AWS Documentation: Signing and authenticating REST requests, Authenticating requests using the REST API)
2.2 Implement encryption using AWS services (AWS Documentation: AWS cryptographic services and tools, AWS Encryption SDK, Encrypt and Decrypt Your Data with the AWS Encryption CLI)
2.3 Implement application authentication, and authorization (AWS Documentation: Authenticate Users into Your Apps Using Application Load Balancer and Centrify)
Domain 3: Development with AWS Services
3.1 Write code for serverless applications (AWS Documentation: Building a Serverless Application)
3.2 Translate functional requirements into application design (AWS Documentation: Amazon Translate, Translating your website or application automatically with Amazon Translate)
3.3 Implement application design into application code (AWS Documentation: Modern Application Development on AWS)
3.4 Write code that interacts with AWS services by using APIs, SDKs, and AWS CLI (AWS Documentation: Building with SDKs and tools, AWS SDK for Java, Using the AWS CLI, Tools to Build on AWS)
Domain 4: Refactoring
4.1 Optimize application to best use AWS services and features (AWS Documentation: AWS Compute Optimizer, Optimizing application performance with Amazon CodeGuru Profiler)
4.2 Migrate existing application code to run on AWS (AWS Documentation: Migrating your Existing Applications to the AWS Cloud, AWS Migration)
Domain 5: Monitoring and Troubleshooting
5.1 Write code that can be monitored (AWS Documentation: Automated and manual monitoring)
5.2 Perform root cause analysis on faults found in testing or production (AWS Documentation: Root cause analysis (RCA), RCA: troubleshooting defects faster)
AWS Services






Preparation Guide For The AWS Certified Developer Associate Exam
Preparing for an exam is difficult. You need a AWS Certified Developer Associate Study Guide that will provide access to the best resources to pass the exam.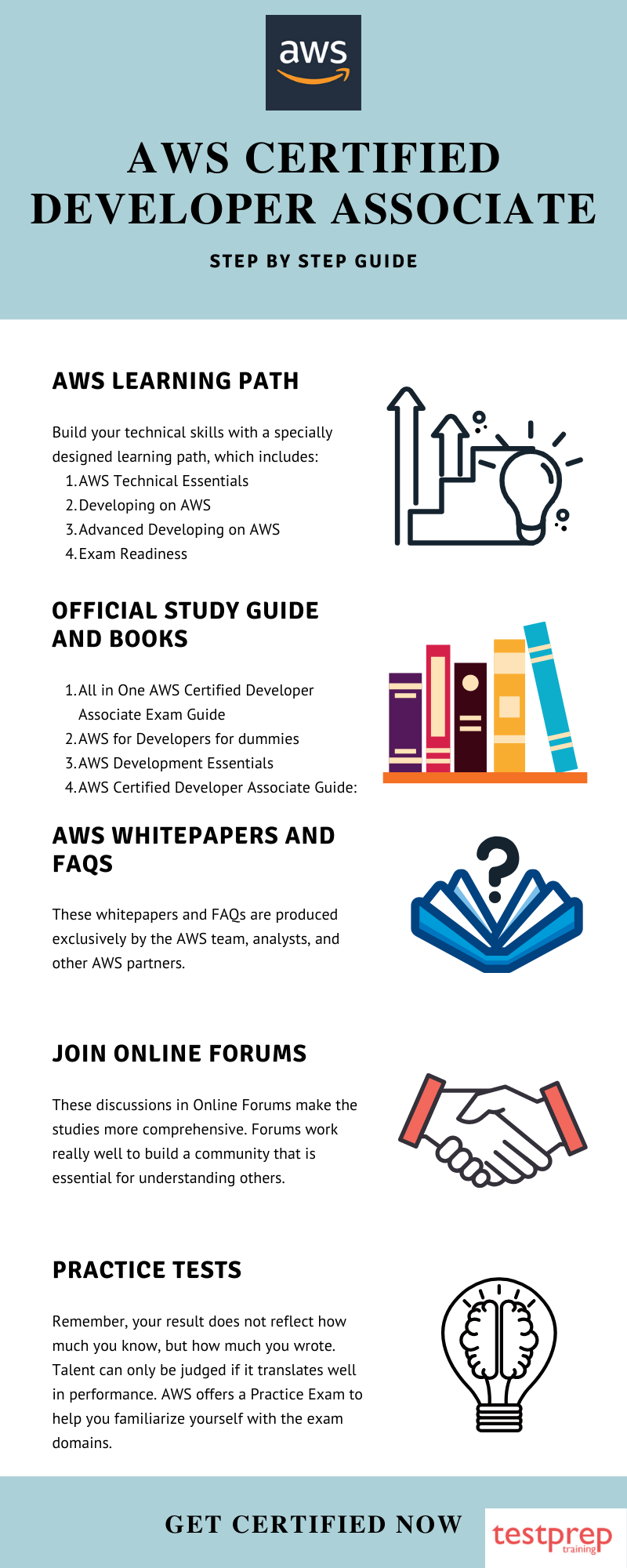 AWS Learning Path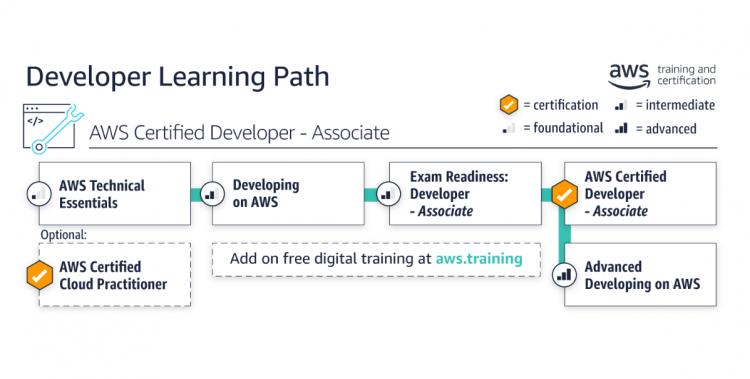 AWS Technical Essentials
The AWS Technical Essentials introductory course will help you gain an understanding of the AWS products, services, and common solutions. Moreover, you will also gain hands-on expertise on the fundamentals of identifying AWS service. This will make you efficient in making informed decisions about IT solutions based on the requirements of your business.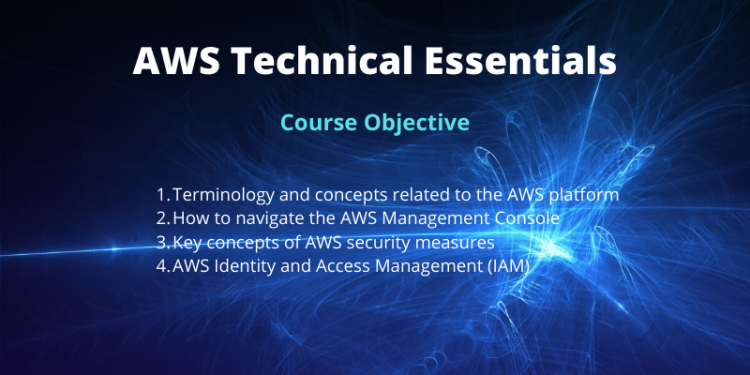 Key AWS Services Included
Foundational services: Amazon Elastic Compute Cloud (EC2), Amazon Virtual Private Cloud (VPC), Amazon Simple Storage Service (S3), and Amazon Elastic Block Store (EBS)
Database services: Amazon DynamoDB and Amazon Relational Database Service (RDS)
Management services: AWS Auto Scaling, Amazon CloudWatch, Elastic Load Balancing (ELB), and AWS Trusted Advisor
Developing on AWS
Developing on AWS is a 3-day course, designed by AWS for the candidates seeking to take the AWS Developer Associate exam. This course aims to help candidates gain knowledge of using the AWS SDK in developing secure and scalable cloud applications.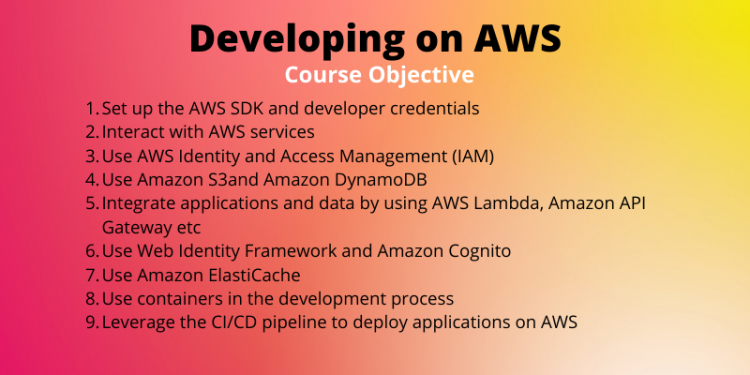 With this course, you'll gain command of interacting with AWS by using code. Also, the course discusses the key concepts, best practices, and troubleshooting tips in AWS.
Advanced Developing on AWS
The Advanced Developing on AWS course is also designed by AWS experts to familiarize candidates with the real-world scenario of taking a legacy, on-premises monolithic application, and refactoring it into a serverless microservices architecture. This is a three-day advanced course that covers advanced development topics including architecting for a cloud-native environment; deconstructing on-premises, legacy applications, and repackaging them into cloud-based, cloud-native architectures. Also, this course trains you with the application of the tenets of the Twelve-Factor Application methodology.
Exam Readiness
AWS offers Exam Readiness for theAWS Certified Developer Associate Training in three different formats –
Official Study Guide For AWS Developer Administrator Exam
AWS provides a well-elaborate study guide, prepared and validated by AWS experts. This guide trains you to showcase your skills in networking in an examination setting. It covers all the exam objectives and enables you to receive hands-on expertise based on the situations you are likely to encounter as an AWS Certified Developer Administrator (DVA-C01). This Study Guide will assist you in internalizing the AWS processes and the best practices associated with AWS.
AWS Whitepapers
AWS team offers several whitepapers, in order to enhance your technical knowledge. These whitepapers are produced exclusively by the AWS team, analysts, and other AWS partners.
Here is a list of some highly recommended AWS Certified Developer Associate White Papers
AWS FAQs
AWS team also provides many FAQs, to help you familiarize yourself with the common queries of other candidates, and professionals. Here is a list of some FAQs by AWS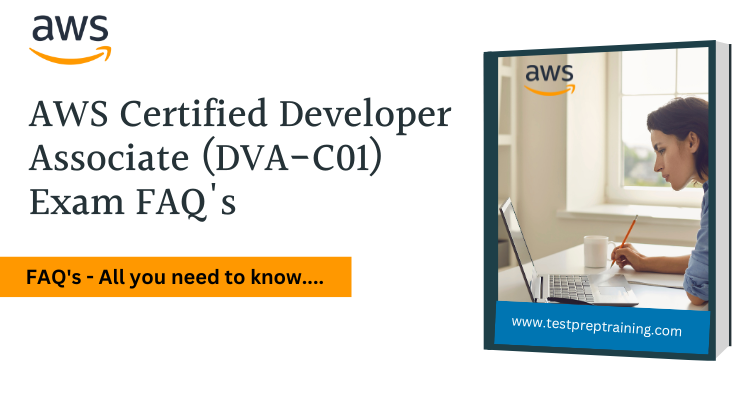 Refer AWS Recommended Books
AWS recommends some verified books for the ones seeking to take its certification exam. These books are designed to help you grasp a firm proficiency in AWS administration.
All in One AWS Certified Developer Associate Exam Guide
AWS for Developers for dummies
AWS Development Essentials
AWS Certified Developer Associate Guide: An Effective Guide for Developers
Join Online Forums
The prospects of getting resolutions to an issue increase steeply when a greater number of people are involved. Also, multiple viewpoints make the stuff more dynamic. These discussions in Online Forums make the studies more comprehensive. Introverts get a chance to express themselves, who might otherwise prefer staying out of discussions. Forums work really well to build a community that is essential for understanding others.
Solve Practice Tests
AWS Certified Developer Associate Practice Exams is all you need to check yourself. Practice paper helps in various aspects. The more answers you get right in a practice paper, the more confident you'll feel for the examination. Also, you will know exactly how much time and effort needs to be invested in a different section of the question paper. Your brain will get trained to be at its highest potential for the duration of the exam. All of these factors can make a huge difference. Remember, your result does not reflect how much you know, but how much you wrote. Talent can only be judged if it translates well in performance. AWS offers a Practice Exam to help you familiarize yourself with the exam domains.
So Solve Our Practice Tests and Level Up Your Expertise
Get AWS Official Sample Paper Here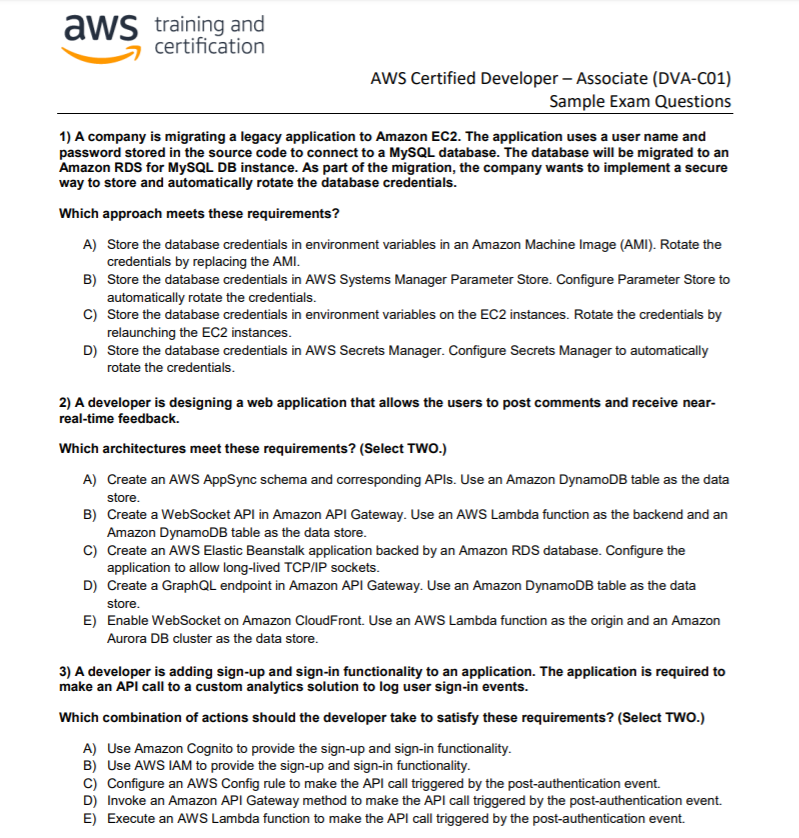 Amazon EC2
VPC
ELB (Elastic Load Balancer)
Storage
Deployment
Application Services
Monitoring
100% Exam Pass Guarantee
Want to pass AWS Certified Developer Associate (DVA-C01) Exam
Learn More
Are your preparing for AWS Certified Developer Associate (DVA-C01) Free Practice Tests
Take a Quiz