AWS Certified Advanced Networking Specialty Exam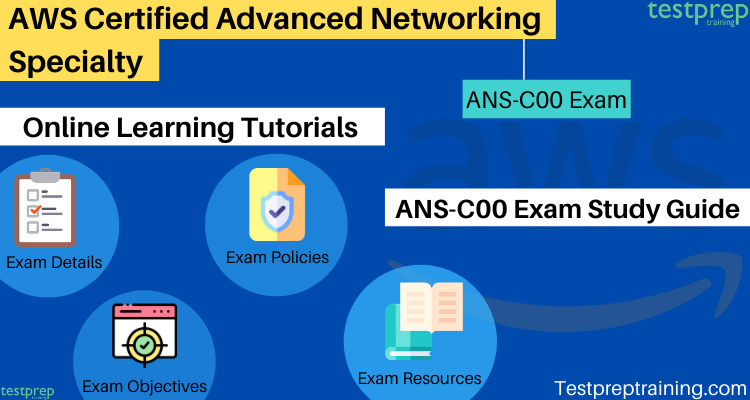 Are you wondering which certification is best in AWS. Then you are at the right place as we present to you the perfect tutorial on how to validate you skills and advance your career with the AWS Certified Advanced Networking – Specialty ( ANS-C00) exam. This exam will open new opportunities and take your career to a next level. Moreover, we provide to you our AWS Certified Advanced Networking – Specialty study guide to pass the exam in your first attempt. But before diving into your preparations, lets understand the exam in detail.
AWS Certified Advanced Networking Specialty exam is designed for candidates who have knowledge and skills to perform complex networking tasks. This exam validates candidates abilities in:
Designing, developing, and deploying cloud-based solutions using AWS
Implementing AWS core services with basic architecture best practices
Maintaining and designing network architecture for all AWS services
Leveraging tools to automate AWS networking tasks
Prerequisite for the exam
There are a few AWS Certified Advanced Networking – Specialty prerequisites. Candidates applying for the exam need to have knowledge and experience that include:
Candidates are recommended to hold an AWS Certified Cloud Practitioner or a current Associate-level certification: AWS Certified Solutions Architect – Associate, AWS Certified Developer – Associate or AWS Certified SysOps Administrator – Associate.
They must have advanced knowledge of AWS networking concepts and technologies.
Candidates should have a minimum of five years of hands-on experience in architecting and implementing network solutions.
They should know about advanced networking architectures and interconnectivity options (e.g., IP VPN, MPLS/VPLS) including networking technologies within the OSI model, and how they affect implementation decisions.
It is recommended to have knowledge of CIDR and subnetting (IPv4 and IPv6) with an understanding of IPv6 transition challenges.
Candidates must be familiar with the generic solutions for network security features, including WAF, IDS, IPS, DDoS protection, and Economic Denial of Service/Sustainability (EDoS).
They should know about developing automation scripts and tools that include routing architectures (including static and dynamic), multi-region solutions for a global enterprise, and highly available connectivity solutions (e.g., DX, VPN).
Learning Path
AWS provides an Advanced Networking Specialty learning path that is designed for individuals who want to validate their advanced networking technical skills and experience in designing and implementing AWS and hybrid IT network architectures at scale. Candidates with this will learn how the network impacts infrastructure performance, security, availability, and integration with AWS services. However, it is recommended that individuals should have technical AWS Cloud experience related to advanced networking before beginning this learning path.

Exam Details: AWS Certified Advanced Networking Specialty
In the AWS Advanced Networking Specialty (ANS-C00) Exam there will be multiple-choice questions or multiple answer types of questions. To complete the exam, candidates will only have 170 minutes. This exam will cost USD 300 and can be given in English, Japanese, Korean, and Simplified Chinese languages. However, the validity of the AWS certification is three years.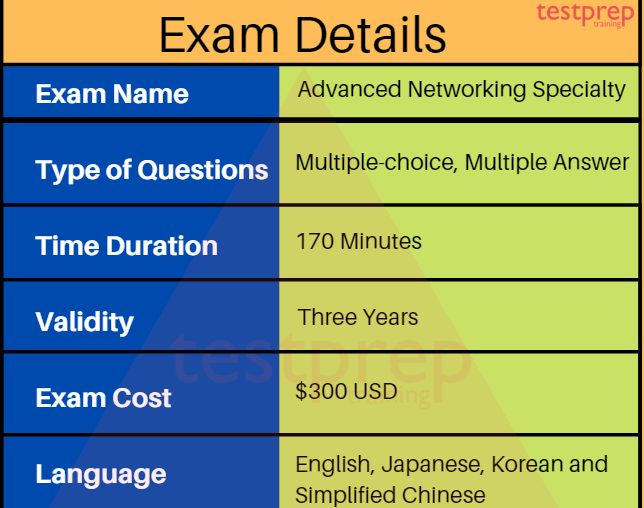 Exam Scheduling
Candidates applying for AWS Advanced Networking Specialty exam can register by signing in to aws.training and click Certification in the top navigation. Then, they have to click the AWS Certification Account button, followed by Schedule New Exam. There the candidates have to select the Advanced Networking Specialty exam and click either the Schedule at PSI or Schedule at Pearson VUE button. Then, you will then be redirected to the test delivery provider's scheduling page, where you will complete your exam registration.
Course Structure | AWS Certified Advanced Networking Specialty
Domain 1: Design and Implement Hybrid IT Network Architectures at Scale
1.1 Implementing connectivity for hybrid IT (AWS Documentation: Hybrid Cloud with AWS, Build a Hybrid Cloud Strategy with AWS)
1.2 Given a scenario for deriving an appropriate hybrid IT architecture connectivity solution (AWS Documentation: Networking Solutions, Hybrid Cloud use cases, connectivity solution)
1.3 Explaining the process to extend connectivity using AWS Direct Connect (AWS Documentation: AWS Direct Connect)
1.4 Evaluating design alternatives that leverage AWS Direct Connect
1.5 Defining routing policies for hybrid IT architectures (AWS Documentation: Internet Routing and Traffic Engineering)
Domain 2: Design and Implement AWS Networks
2.1 Applying AWS networking concepts (AWS Documentation: AWS networking concepts)
2.2 Given customer requirements for defining network architectures on AWS (AWS Documentation: The Journey to Cloud Networking)
2.3 Proposing optimized designs based on the evaluation of an existing implementation (AWS Documentation: The 5 Pillars of the AWS Well-Architected Framework)
2.4 Determining network requirements for a specialized workload (AWS Documentation: AWS Competency Program, How do you configure your networking solution)
2.5 Deriving an appropriate architecture based on customer and application requirements (AWS Documentation: AWS Architecture Center)
2.6 Evaluating and optimizing cost allocations given a network design and application data flow
Domain 3: Automate AWS Tasks
3.1 Evaluating automation alternatives within AWS for network deployments (AWS Documentation: Automate Cloud Governance to Achieve Safety)
3.2 Evaluating tool-based alternatives within AWS for network operations and management (AWS Documentation: Design Principles)
Domain 4: Configure Network Integration with Application Services
4.1 Leveraging the capabilities of Route 53 (AWS Documentation: Amazon Route 53)
4.2 Evaluating DNS solutions in a hybrid IT architecture (AWS Documentation: Hybrid Cloud DNS Options for Amazon VPC)
4.3 Determining the appropriate configuration of DHCP within AWS (AWS Documentation: DHCP options sets)
4.4 Given a scenario for determining an appropriate load balancing strategy within the AWS ecosystem (AWS Documentation: Getting Started with Amazon EC2 Spot Instances)
4.5 Determining a content distribution strategy to optimize for performance (AWS Documentation: Improve your website performance with Amazon CloudFront)
4.6 Reconciling AWS service requirements with network requirements (AWS Documentation: Amazon WorkSpaces Client Network Requirements)
Domain 5: Design and Implement for Security and Compliance
5.1 Evaluating design requirements for alignment with security and compliance objectives (AWS Documentation: Amazon Web Services: Risk and Compliance)
5.2 Evaluating monitoring strategies in support of security and compliance objectives (AWS Documentation: AWS Cloud Security)
5.3 Assessing AWS security features for managing network traffic (AWS Documentation: Amazon Web Services:
Overview of Security Processes)
5.4 Utilizing encryption technologies to secure network communications (AWS Documentation: protect your data in transit)
Domain 6: Manage, Optimize, and Troubleshoot the Network
6.1 Given a scenario for troubleshooting and resolve a network issue (AWS Documentation: Troubleshooting AWS Direct Connect)
Exam Policies
Amazon Web Services (AWS) provides exam policies for candidates to help them understand about the terms and procedures of the certifications exam. These exam policies include general information, training, and certification details that are required before and after the exam. Some of them are:
Exam Retake Policy
Candidates who do not pass an exam or got failed must have to wait for 14 days before they are eligible to retake the exam. However, there is no limit on exam attempts until the test taker has passed. And, for every exam attempt, the full registration price must be paid.
Exam Reschedule Policy
AWS provides candidates to cancel or reschedule an exam up to 24 hours before your scheduled appointment without additional fees. However, for rescheduling candidates have to go on their AWS Certification Account and click the Manage PSI Exams or Manage Pearson VUE exams button. And, if scheduled with PSI, then click the "View Details" button on the scheduled exam you wish to manage, else for Pearson VUE, you can select the scheduled exam you wish to manage. And, once you reach the 24-hour window before your scheduled appointment, you will not be able to cancel or reschedule your exam.
AWS Re-certification Policy
AWS Certifications are only valid for three years. So, in order to maintain AWS Certified status, Candidates have to go through the recertification process. Recertification helps candidates to strengthen the overall value of AWS Certification and show employers that they have credentials that cover the latest AWS knowledge, skills, and best practices.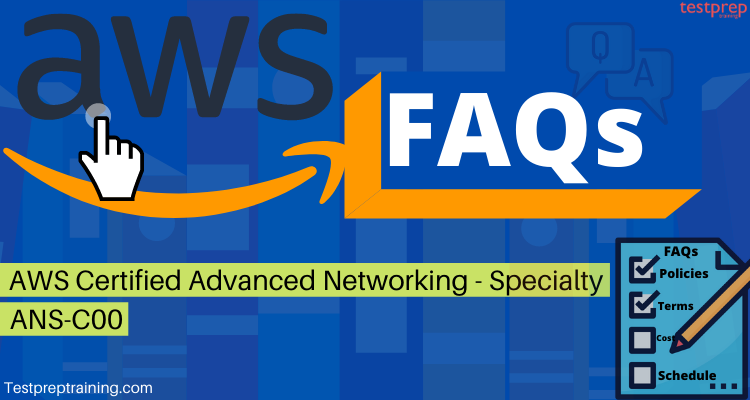 AWS Learning Resources
Networking Fundamentals
VPC
ELB (Elastic Load Balancer)
Route53
RDS
Cloud Front
Direct Connect
AWS Security
Preparation Guide for AWS Advanced Networking Specialty Exam
Preparing for the exam is no child's play. You need access to the right resources and strategy to pass the exam. To help you ace the exam, we present to you our AWS certified advanced networking – specialty exam guide. This preparatory guide will set you on the right path to earn this much-valued certification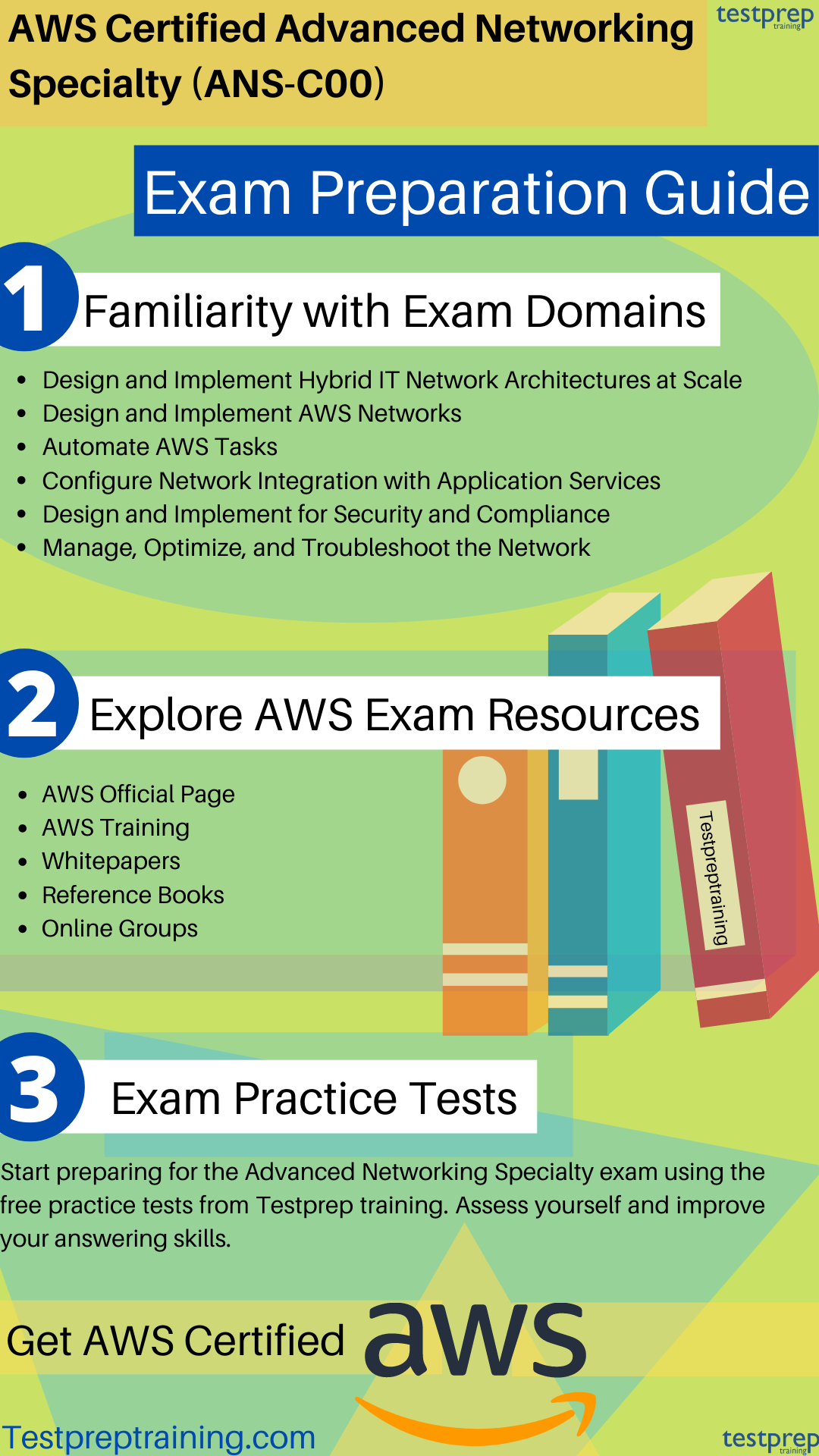 AWS Official Page
Amazon recommends that before taking the AWS certification exam candidates should have enough hands-on experience with relevant AWS products and services. As Amazon offers its own courses for preparation and sample tests too. Candidates can take readiness training and practice exams in order to test your knowledge in a timed environment. These are also available on the official site. However, candidates should gather all the information about the exam using the official site.
AWS Training
AWS provides candidates with training that helps them to build competence, confidence, and credibility through practical cloud skills. In this, candidates can choose to learn online at their own pace or they can learn from an accredited AWS instructor built by experts at AWS. This will be beneficial for both beginners who are building on existing IT skills, or professionals with cloud knowledge. AWS offers three types of training that include:

The free digital training is an On-demand digital course that helps candidates to learn new cloud skills and services when and where it's convenient for you.
In classroom training, there are live classes delivered virtually or in-person with accredited AWS instructors who teach in-demand cloud skills and best practices using a mix of presentations, discussion, and hands-on labs.
In private training, there are virtual or in-person classes with accredited AWS instructors that teach in-depth AWS Cloud skills in a private environment.
Whitepapers
Candidates preparing for the AWS can take the help of AWS whitepapers for preparation. These are the authentic study resources which can help candidates during understanding about the AWS services. However, whitepapers are basically the pdf formats of the topics which you can find on the official page of amazon certifications. Whitepapers not only strengthen your preparation process but also helps you build a strong strategy to lay your focus on. AWS offers sample papers to assist the candidates with acquiring additional knowledge and skills to prepare for the certification exams.
Reference Books
Books can provide an advantage to learn and understand things more accurately. There are various books available in the market . The AWS certified advanced networking – specialty books that you must refer are:
Firstly, AWS Certified Advanced Networking Official Study Guide: Specialty Exam
Secondly, AWS Certified Advanced Networking – Specialty Exam Guide for Building knowledge and technical expertise as an AWS-certified networking specialist
Joining Study Groups
One thing that will be beneficial during the exam preparation time is to join study groups. These groups will help you to stay connected with the other people who are on the same pathway as yours. Moreover, here you can start any discussion about the issue related to the exam or any query. By doing so, you will get the best possible answer to your query.
Exam Practice Tests
Finally, we come to the most important part of your preparations- The AWS Certified Advanced Networking – Specialty Practice Tests. This can be a very essential part that can help you to prepare better for the exam. That is to say, practice tests are important as by assessing yourself with these tests you will know about your weak and strong areas. So, by practicing you will be able to improve your answering skills that will result in saving a lot of time. Moreover, the best way to start doing practice tests is after completing one full topic as this will work as a revision part for you. So, make sure to find the best practice sources. Start practising with free AWS certified advanced networking – specialty practice exam now!

100% Exam Pass Guarantee
Want to pass AWS Certified Advanced Networking - Specialty Exam?
Learn More
Are you preparing for AWS Certified Advanced Networking Specialty Exam?
Take a Quiz