Salesforce Pardot Specialist Interview Questions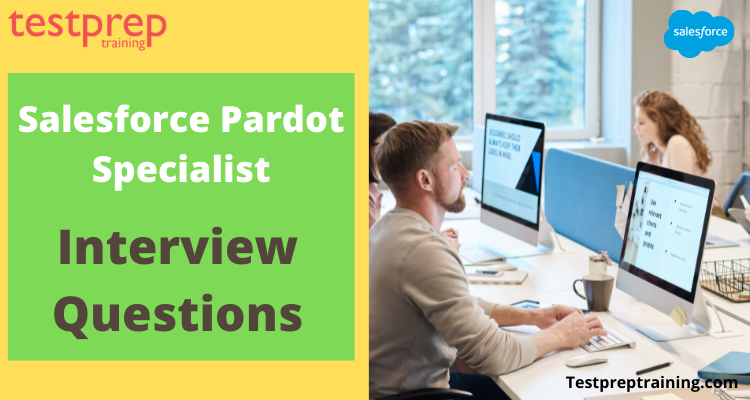 Industry recognised certification from Salesforce help you gain a competitive edge over other candidates. Moreover, earning a professional certification enhances your employability and demonstrates your capability. The Salesforce Certified Pardot Specialist exam is designed primarily for digital marketers looking to build and hone their marketing automation skillset using the Pardot platform. This certification proves your skills and knowledge in building strategic marketing processes while incorporating tools such as lead scoring, email marketing, lead generation, and reporting.
Salesforce Pardot Specialist Interview Questions
1. What Causes a Prospect to Sync from Pardot to Salesforce?
For a prospect to sync from Pardot to Salesforce, the prospect record must meet the prerequisites and then an activity must trigger the sync.
2. How do you configure default and custom prospect field sync behavior?
Edit the prospect field.
From the Sync Behavior dropdown, select the desired behavior.
Save the field.
3. In Prospect Audits, what are Form Errors?
The prospect attempted to submit a form and received an error. The audit displays the field name and error.
4. What do you mean by Prospect Created — Form Submission?
Prospect Created — Form Submission means that the prospect was converted from a visitor via a form submission.
5. How Email Address Changes Sync to Pardot
When you change contact or lead email address in Salesforce, it can sync the new address to the corresponding prospect record in Pardot. This functionality is used if the sales team updates email addresses manually or via a data append service like Data.com, or if you merge lead records.
6. What happens when you delete leads and contacts?
When a synced lead or contact is deleted in Salesforce, Pardot flags it as [[crm_deleted]] and sends it to the recycle bin. Pardot does not recreate the lead or contact in Salesforce.
7. How can you remove the [[crm_deleted]] flag and make the prospect eligible for syncing?
The following actions remove the [[crm_deleted]] flag and make the prospect eligible for syncing:
Undeleting the record in Salesforce
Creating a record with the same email address in Salesforce Automatically create prospects in Pardot if they are created as a Lead or Contact in Salesforce is enabled.
Using one of these Salesforce functions: Send to Pardot, Send Pardot Email, Add to Pardot List, or Send Engage Email. In Pardot accounts that allow multiple prospects with the same email address, the Send to Pardot button doesn't clear the [[crm_deleted]] flag. Instead, it creates a prospect record.
Creating a Pardot automation rule with an action to Allow Deleted CRM Lead or Contact to Recreate from Pardot.
8. How can you Prevent a Prospect from Syncing with Salesforce?
If Salesforce doesn't have a record with the same email address as the prospect record, don't assign the prospect in Pardot. Unassigned prospects don't sync when there isn't a matching record in Salesforce.
However, if you have a prospect in Pardot, and a record with a matching email address exists in Salesforce, the records sync unless you disable CRM syncing. To disable CRM syncing for an individual prospect, navigate to the prospect's record and click on the Disable CRM Syncing. To disable CRM syncing for multiple prospects, you need to set up an automation rule that targets the prospects and then select the Do not sync with CRM action.
9. What happens when you import a prospect?
Importing the prospects triggers full sync with Salesforce. When syncing many prospects, we recommend initiating an import outside of business hours to prevent any issues with syncing between Pardot and Salesforce.
10. What is the importance of Validating prospect field values during import?
Validating your values on import ensures that your data is as clean and uniform as possible.
Uniform values help keep your data consistent when syncing with Salesforce.
Consistent field values make it easier to implement automation that uses these values
11. What does the metric, Unique Submissions mean?
The total number of unique submissions. Removes multiple submissions from the same prospect.
12. What are Pardot Campaigns?
Pardot campaigns are thematic touchpoints that automatically track the first touch a prospect has with your Pardot assets.
13. What is the other channel for tracking lead source in Pardot beside Pardot Campaigns?
The other channels for tracking lead source is Source field. The Source field is often set through manual updates to CRM records or through Google Analytics UTM parameters. It may also be populated by Pardot automatically in some scenarios.
14. When does Pardot populate the source field automatically?
Pardot populates the Source field automatically based on the prospect's referring URL. The referring URL is the page the visitor was on prior to visiting a page with Pardot tracking code for the first time. Sometimes, Pardot does not receive the referring information it needs to populate the Source field automatically. In those scenarios, the Source field will be blank.
15. If you don't use Google Analytics. Can you still populate the Source field using your own custom URL parameters?
Yes. You can use your own URL parameters to populate the Source field with any custom value you'd like. Append the value to the end of your referring URL like so: http://www.yoururl.com?utm_source=SourceValue
16. Are there other ways to manually set the Source field value?
Yes. You can update values using imports, automation rules, completion actions, segmentation rules, and engagement programs. You can also edit prospect records manually or populate the Lead Source field on the related lead in Salesforce.
17. What are the advantages of using source fields in Pardot?
Using the source field in Pardot has some advantages.
You have more flexibility in populating the field automatically through the UTM source parameter.
You can add UTM parameters to Pay Per Click links or links on partner websites that drive prospects to your site.
You can use Pardot custom redirects and the UTM source parameter to set a prospect's source.
You can update the lead source in Salesforce.
Run reports in Pardot by filtering prospects by their specific source values and exporting the data to a .csv file.
18. When are custom redirects used?
Custom redirects are used with visitors in mind to track banner ad clicks, links to third-party sites, links on social media, and access to files hosted outside of Pardot. When the custom redirect is clicked, the click is recorded in the Custom Redirect Statistics table as long as they have accepted the cookies or the tracking opt-in is disabled.
19. How do you test the custom redirect tracked URL?
To generally test the custom redirect tracked URL:
1. Note the 'Total clicks' on the custom redirect report.
2. Click the custom redirect tracked URL in a new Incognito/ private browsing window.
3. Refresh the custom redirect report and you should see the number increase.
20. What is Pardot Advanced Email Analytics?
The Advanced Email Analytics package expands on Pardot's standard email marketing functionality. It adds spam analysis of email content, subject line preview, and email rendering previews to see how your emails look across email clients and browsers.
21. What is the difference between email marketing and marketing automation?
Email marketing is a tool that helps you send mass email, track replies, and report on them.
Marketing automation is a solution that allows you to more effectively market on multiple channels online (such as email, social media, websites) and automate repetitive tasks.
To put it simply, email marketing is a tool, while marketing automation is a comprehensive strategy.
22. What is the reason behind Unique Click mismatch?
Typically, the reason for the Unique Click mismatch is filtered activity.Pardot will automatically filter clicks that it deems were not performed by the prospect – clicks caused by bots or over-aggressive spam filters, for example, are filtered. The number you see on the main report page is the number of filtered unique clicks, where as the number you see when you drill down is the number of unfiltered unique clicks.
It could also be caused by deleting prospects. When a prospect who clicked a link is deleted in Pardot, the unique click reporting number will not change (as it still accurately reflects the number of clicks that happened) but the prospect would no longer show in the reporting table.
23. How do you Send Emails in Pardot?
Click the Sending tab.
In the To section, select your recipient lists (1) and suppression lists (2)
In the From section, select a sender (3).
To get replies at an email address other than the sender's, select a custom reply-to address (4).
View the number of mailable prospects on your lists, and schedule or send your email (5).
Enter a subject line for the email (1) or use the Advanced Subject Composer (2) to add variable tags and dynamic content to your subject.
Select and configure completion actions (3).
24. How do you build an Engagement Programme?
Navigate to Marketing | Engagement Studio.
Click + Add Engagement Program.
Create a New Program

From the main Engagement Studio page, click Add Engagement Program to create a new program.
Enter basic information for the program including Name (required), Folder (required), Recipient Lists, and Suppression lists.
Select Send emails during business hours only

This functionality is specific to each program, not the account, so it is possible to have different business hours on different programs.

Define your Business Days and the time each day should begin and end.
Set the time zone of choice for your program.
25. How are clicks counted in Pardot's Social Posts reports?
Pardot counts every click in the total click number. The uniqueness of the click is based on the visitor's cookie. If the visitor is using the same cookies browser, subsequent clicks aren't counted as unique
FOR EXAMPLE
Visitor A visits Twitter and clicks a social post link for the first time. Pardot records one click and one unique click.
Visitor A clicks the same social post link again 20 minutes later. Pardot records one click and no unique click.
Visitor A clicks the same social post link again after another 20 minutes. Pardot records one click and no unique click.
The social post shows three clicks and one unique click.
26. What is Branching Logic?
When you use a rule or trigger option as a step in your logic, Pardot provides "yes" and "no" branches. The branches let you build out different paths for prospects who take different action. For example, if a prospect clicks a link in an email, your engagement program might tell Pardot to notify the sales rep. If they don't, the program tells Pardot to send them a second email to try to get them to engage. Branching logic enables you to create all of these custom journeys within the same program.
27. What are Action Steps?
Action steps are straightforward. They let you do something, like send prospects an email or change a field value at a given point in time. It is recommended that you start your engagement program with an action as this step forms the backbone of your engagement program strategy.
28. What is the use of Trigger Steps?
Trigger Steps are used to define paths in your engagement program based on prospect actions. Triggers listen for an event to occur within a specified period of time. This means that Trigger logic doesn't evaluate a prospect's actions for all time. Instead, during the window of time you've chosen for the step, the program looks to see if that event has occurred at any time since the prospect entered the program. A trigger is a branch point, so whether a prospect has taken an action or not determines the branch they will continue down.
29. What is RULE in Pardot?
In engagement programs, you use rule steps to define criteria-based paths for prospects. Rules check for specified criteria or values in the system over the life of the prospect. For example, a Prospect Default Field rule of Title contains CMO would check the Prospect's title when they hit that step. Rules are flexible and allow you to proactively define the kinds of prospects you want to take specific paths inside your engagement program.
30. When do you add the end step?
When you're ready to stop a branch, you add the end step. This designates the end of the nurture path. You can choose to feed all program paths into one end step, or you can place a separate end step at the completion of each unique path.
Prepare for the Salesforce Pardot Specialist exam Now!
Try the Salesforce Pardot Specialist Free Practice Test by clicking on the image below and clear your exam with flying colors!

Enhance your skills and knowledge and become a Salesforce Certified Pardot Specialist. Start Preparing Now!
100% Exam Pass Guarantee
Want to pass the Salesforce Certified Pardot Specialist?
Learn More
Are you preparing for the Salesforce Certified Pardot Specialist exam?
Take a Quiz