HCISPP- HealthCare Information Security and Privacy Practitioner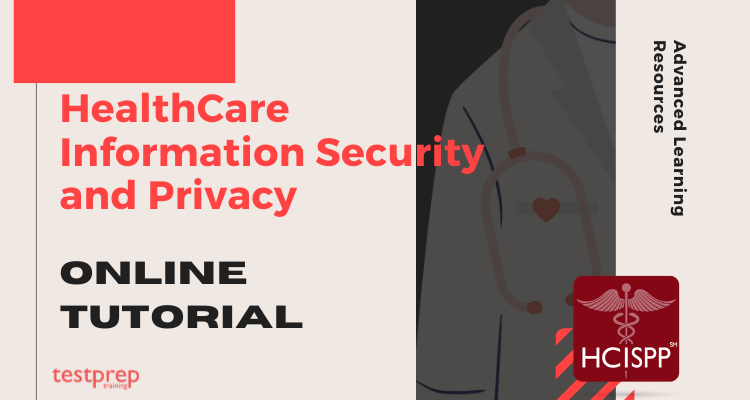 The HealthCare Information Security and Privacy Practitioner (HCISPP) is the most suitable certification for candidates with core understanding and experience required to implement, maintain the relevant security and privacy controls of a healthcare establishment. HCISPP presents confirmation of a practitioner's experience of best practices and methods to guard organizations and sensitive data against emerging warnings and breaches.
The HCISPP exam is a certification from the International Information Systems Security Certification Consortium. Further, the certification exhibits expertise in the chief areas of knowledge on privacy and security of healthcare information.
HCISPP is one of the recent (ISC)2 credentials introduced in 2013. 
Lastly, HCISPP exam puts higher emphasis on healthcare regulatory issues, data governance and risk management. Most of the principles in the HCISPP exam are specific to healthcare. In other words, there is also a lot more emphasis placed on privacy rather than security.
Intended Audience

:
The HCISPP is excellent for information security professionals entrusted with guarding protected health information (PHI), including those in the following positions:
Compliance Officer
Information Security Manager
Privacy Officer
Compliance Auditor
Risk Analyst
Medical Records Supervisor
Information Technology Manager
Privacy and Security Consultant
Health Information Manager
Practice Manager
Prerequisites

:
Prerequisites are an important part of any exam. Therefore, make sure that you go through the following:
Firstly, the candidate must have a minimum of two years of work experience in knowledge areas of the HCISPP.
Secondly, a candidate that doesn't have the required experience may become an Associate of (ISC)² bypassing the HCISPP examination. After that, the Associate of (ISC)² will have three years to earn the two years of the required experience.
Experience Required: 
Candidates must have a minimum of two years combined paid work expertise in one or more knowledge areas of the HCISPP Common Body of Knowledge (CBK) that includes security, compliance and privacy.
The legal practice may be replaced for compliance and information management background may be substituted for privacy. Of the two years of expertise, one of those years must be in the healthcare business.
HCISPP Exam Format
HCISPP is the ideal examination with the core information to implement security and privacy controls of a healthcare organization. In addition, HCISPP exam offers confirmation of a practitioner's knowledge of best practices and methods.
The HCISPP exam comprises 125 multiple choice and multi-responsive questions.
A candidate needs to score 700 or more points in a time period of 3 hours. Further, the HCISPP Exam Questions are available in English language only.
Above all, the HCISPP Exam Fee is 195 USD.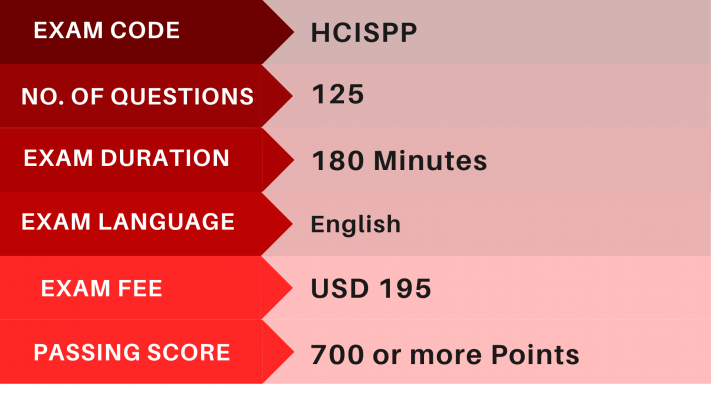 HCISPP Exam Outline
HCISPP exam includes a broad spectrum of topics which ensures its relevancy across all disciplines in the field of information security. Therefore, the HCISPP Exam Difficulty is quite high. Moreover, successful candidates are competent in the following seven domains: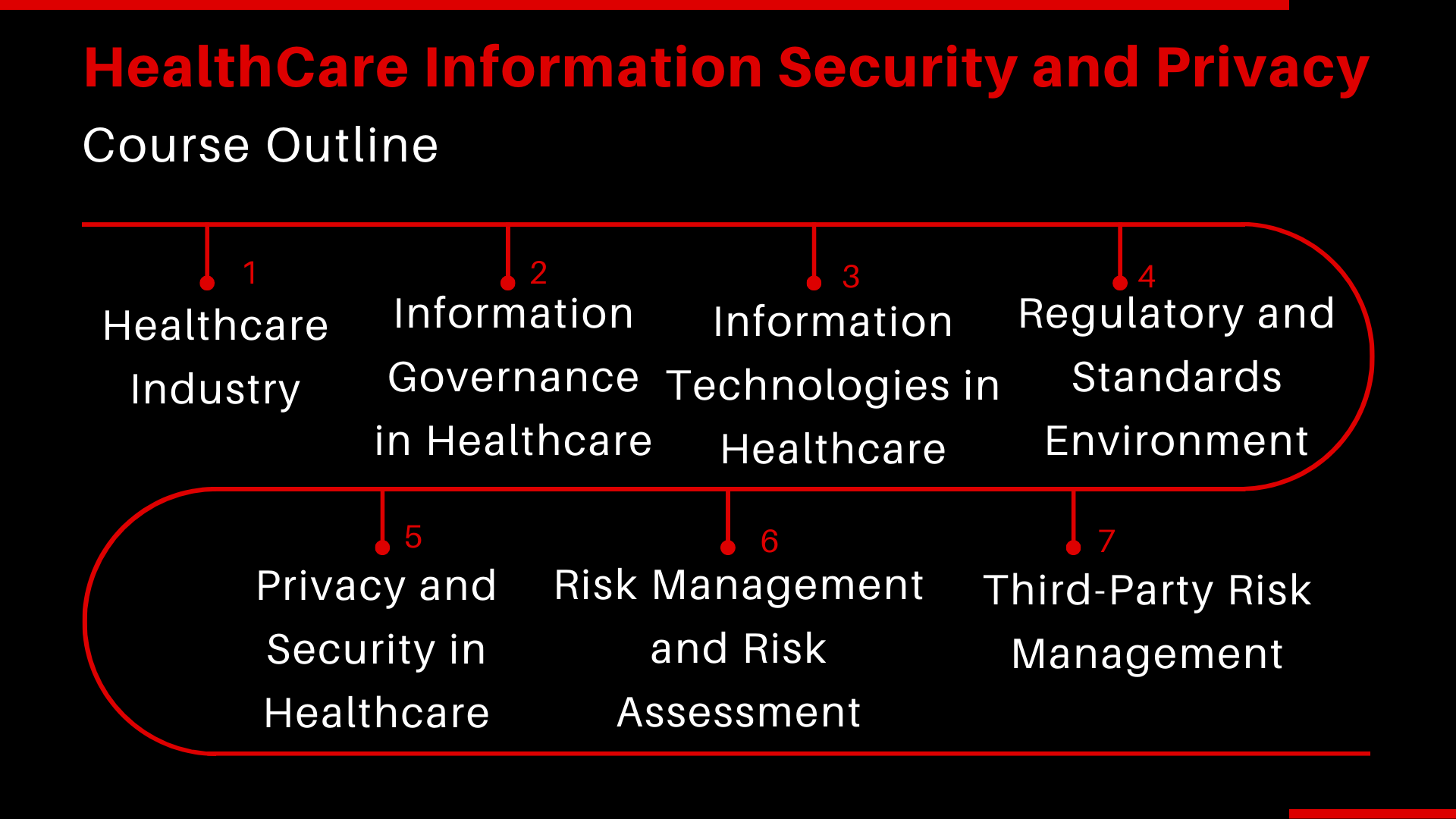 Domain 1: Healthcare Industry
Understanding the Healthcare Environment Components

Types of Organizations in the Healthcare Sector
Health Insurance
Coding International Classification of Diseases (ICD) 10)
Revenue Cycle
Workflow Management
Regulatory Environment
Public Health Reporting
Clinical Research
Healthcare Records Management

Understanding Third-Party Relationships

Vendors
Business Partners
Regulators
Other Third-Party Relationships

Understanding Foundational Health Data Management Concepts

Information Flow and Life Cycle in the Healthcare Environments
Health Data Characterization
Data Interoperability and Exchange, International Health Exchange (IHE), Digital Imaging and Communications in Medicine (DICOM))
Legal Medical Records
(ISC)2 Reference: Healthcare Security and Privacy
Domain 2: Information Governance in Healthcare
Understanding Information Governance Frameworks

Security Governance
Privacy Governance

Identifying Information Governance Roles and Responsibilities
Aligning Information Security and Privacy Policies, Standards and Procedures

Policies
Standards
Processes and Procedures

Understanding and Comply with the Code of Conduct/Ethics in a Healthcare Information Environment

Organizational Code of Ethics
(ISC)² Code of Ethics
(ISC)2 Reference: HCISPP Experience Requirements
Domain 3: Information Technologies in Healthcare
Understanding the Impact of Healthcare Information Technologies on Privacy and Security

Increased Exposure Affecting Confidentiality, Integrity and Availability (e.g., threat landscape)
Oversight and Regulatory Challenges
Interoperability
Information Technologies

Understanding Data Life Cycle Management (e.g., create, store, use, share, archive, destroy)
Understanding Third-Party Connectivity

Trust Models for Third-Party Interconnections
Technical Standards (e.g., physical, logical, network connectivity)
Connection Agreements (e.g., Memorandum of Understanding (MOU), Interconnection Security Agreements (ISAs))
(ISC)2 Reference: CYBER THREATS TO HEALTHCARE

Domain 4: Regulatory and Standards Environment
Identifying Regulatory Requirements

Legal Issues that Pertain to Information Security and Privacy for Healthcare Organizations
Data Breach Regulations
Protected Personal and Health Information (e.g., Personally Identifiable Information (PII), Personal Health Information (PHI))
Jurisdiction Implications
Data Subjects
Research

Recognizing Regulations and Controls of Various Countries

Treaties
Laws and Regulations (e.g., European Union (EU) Data Protection Directive, Health Insurance Portability and Accountability Act /Health Information Technology for Economic and Clinical Health (HIPAA/HITECH), General Data Protection Regulation (GDPR), Personal Information Protection and Electronic Documents Act (PIPEDA))

Understanding Compliance Frameworks

Privacy Frameworks (e.g., Organization for Economic Cooperation and Development (OECD) Privacy principles, Asia-Pacific Economic Cooperation (APEC), Generally Accepted Privacy Principles (GAPP)) »
Security Frameworks (e.g., International Organization for Standardization (ISO), National Institute of Standards and Technology (NIST), Common Criteria (CC))
(ISC)2 Reference: RESEARCH REGULATORY REQUIREMENTS
Domain 5: Privacy and Security in Healthcare
Understanding Security Objectives/Attributes

Confidentiality
Integrity
Availability

Understanding General Security Definitions and Concepts

Identity and Access Management (IAM)
Data Encryption
Training and Awareness
Logging, Monitoring and Auditing
Vulnerability Management
Segregation of Duties
Least Privilege (Need to Know)
Business Continuity (BC)
Disaster Recovery (DR)
System Backup and Recovery

Understanding General Privacy Definitions and Concepts

Consent/Choice
Limited Collection/Legitimate Purpose/Purpose Specification
Disclosure Limitation/Transfer to Third-Parties/ Trans-border Concerns
Access Limitation
Accuracy, Completeness and Quality
Management, Designation of Privacy Officer, Supervisor Re-authority, Processing Authorization and Accountability
Training and Awareness
Transparency and Openness
Proportionality, Use and Disclosure, and Use Limitation
Access and Individual Participation
Notice and Purpose Specification
Events, Incidents and Breaches

Understanding the Relationship Between Privacy and Security
Understanding Sensitive Data and Handling

Sensitivity Mitigation
Categories of Sensitive Data
(ISC)2 Reference: Privacy
Domain 6: Risk Management and Risk Assessment
Understanding Enterprise Risk Management

Information Asset Identification
Asset Valuation
Exposure
Likelihood
Impact
Threats
Vulnerability
Risk
Controls
Residual Risk
Acceptance

Understanding Information Risk Management Framework (RMF)
Understanding the Risk Management Process

Definition
Approach (e.g., qualitative, quantitative)
Intent
Life Cycle/Continuous Monitoring
Tools/Resources/Techniques
Desired Outcomes
Role of Internal and External Audit/Assessment

Identifying Control Assessment Procedures Utilizing Organization Risk Frameworks
Participating in Risk Assessment Consistent with the Role in Organization

Information Gathering
Risk Assessment Estimated Timeline
Gap Analysis
Mitigating Actions
Avoidance
TransferAcceptance
Communications and Reporting

Understanding Risk Response
Utilizing Controls to Remediate Risk

Administrative
Physical
Technical

Participating in Continuous Monitoring
(ISC)2 Reference: Risk Assessment Clarification

Domain 7: Third-Party Risk Management
Understanding the Definition of Third-Parties in the Healthcare Context
Maintaining a List of Third-Party Organizations

Third-Party Role/Relationship with the Organization
Health Information Use

Applying Management Standards and Practices for Engaging Third-Parties
Determining When a Third-Party Assessment Is Required

Organizational Standards
Triggers of a Third-Party Assessment

Supporting Third-Party Assessments and Audits

Information Asset Protection Controls
Compliance with Information Asset Protection Controls
Communication of Results

Participating in Third-Party Remediation Efforts

Risk Management Activities
Risk Treatment Identification
Corrective Action Plans
Compliance Activities Documentation

Responding to Notifications of Security/Privacy Events

Internal Processes for Incident Response
Relationship Between Organization and Third-Party Incident Response
Breach Recognition, Notification and Initial Response

Responding to Third-Party Requests Regarding Privacy/Security Events

Organizational Breach Notification Rules
Organizational Information Dissemination Policies and Standards
Risk Assessment Activities
Chain of Custody Principles

Promoting Awareness of Third-Party Requirements

Information Flow Mapping and Scope
Data Sensitivity and Classification
Privacy and Security Requirements
Risks Associated with Third-Parties
(ISC)2 Reference: Third-Party Risk Management in Healthcare
The Whole Certification Process
1. Book the Exam
Booking your (ISC)² exam is the first step in building a successful and long-term security career. Moreover, earning an (ISC)² certification validates your skills as a security professional in the eyes of hiring managers and your peers.
Registering for your (ISC)² exam is easy. Follow the steps below:
Firstly, create an account with Pearson VUE, the exclusive global administrator of all (ISC)² exams.
Secondly, select the (ISC)² certification exam you are pursuing.
Thirdly, schedule your exam and testing location with Pearson VUE.
2. Request for Special Accommodation
For instance, if you require special accommodations for the exam, you can request one through (ISC)².
Reasonable and appropriate accommodations for the exam are only provided to people who have demonstrated a need for test accommodations. Therefore, if you wish to request an accommodation, complete the accommodation form and return it to (ISC)² prior to registering for your exam. All you need is a list of the following:
Firstly, an explanation of the accommodations you need
Secondly, documentation supporting the accommodation
Further, the exam you want to take
Lastly, the exam location
3. Reschedule the Exam
You can reschedule your HCISPP exam if you failed to take it on the scheduled date and time. In order to reschedule or cancel your exam appointment, contact Pearson VUE:
Online at least 48 hours before the exam
By phone at least 24 hours before the exam
Above all, Pearson VUE charges a reschedule fee of USD$50 and a cancellation fee of USD$100.
4. Recertification of the Exam
HCISPP certification like every other certification requires maintenance. To clarify, HCISPP certification requires to be recertified in order to maintain its status.
You can recertify the exam if you've become decertified due to:
Firstly, not meeting your required number of continuing professional education credits.
Secondly, having the time limit on your endorsement expires.
Exam Policies
HCISPP provides exam policies to support the candidates by providing every detail related to the certification program. However, candidates studying for the HCISPP exam should first go through and understand the HCISPP Certification exam policies. On this page, the candidates will get information about after the exam or before exam procedures. This includes the exam retaking process, rules to be followed during exam time, and other information about the exams and their testing centers.
While preparing for the HCISPP exam you will be solely responsible for understanding and complying with HCISPP exam policies, together with the specified exam delivery provider's policies and procedures.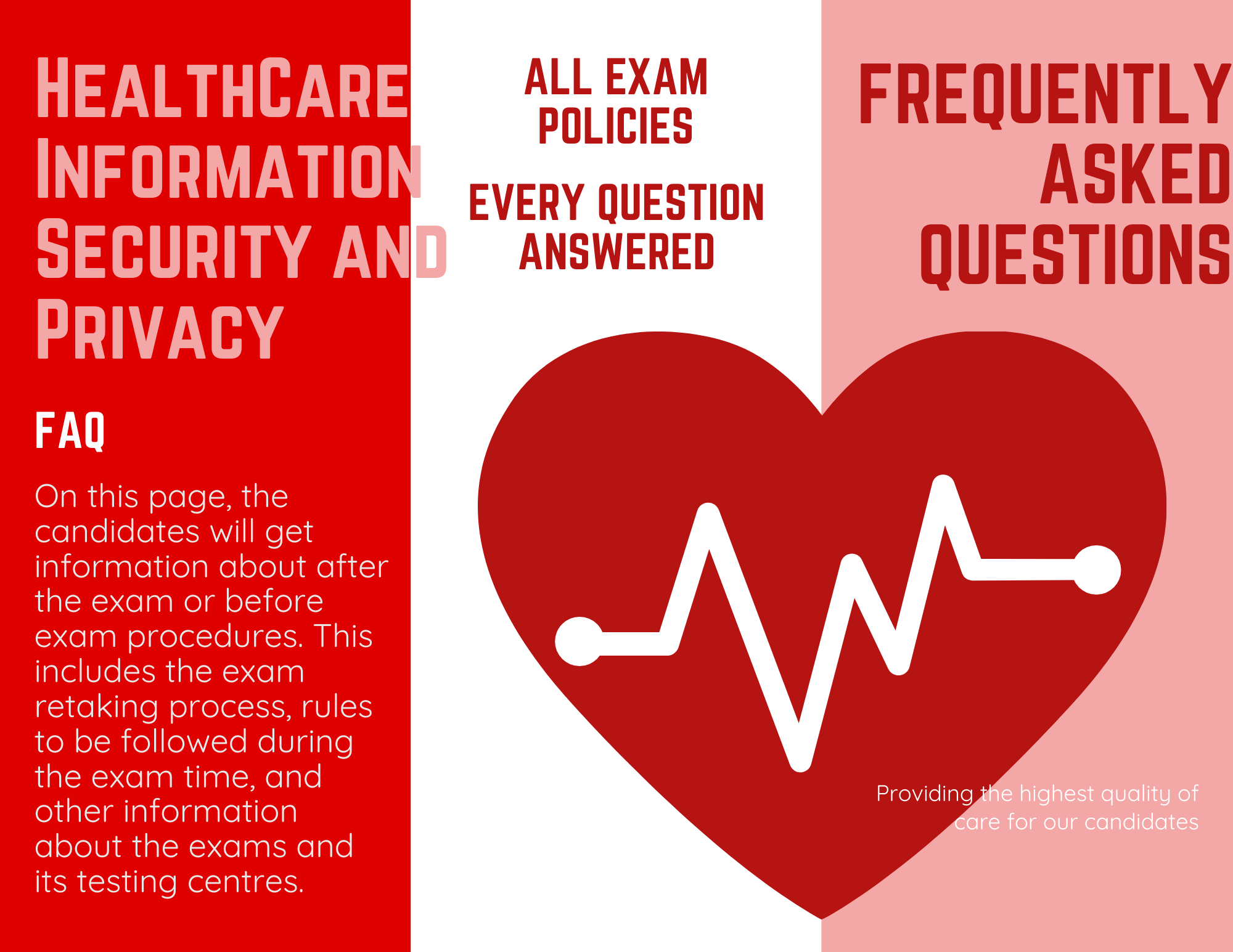 HealthCare Information Security and Privacy (HCISPP) Practitioner Interview Questions
Now, let us look at some HealthCare Information Security and Privacy (HCISPP) Practitioner Interview Questions.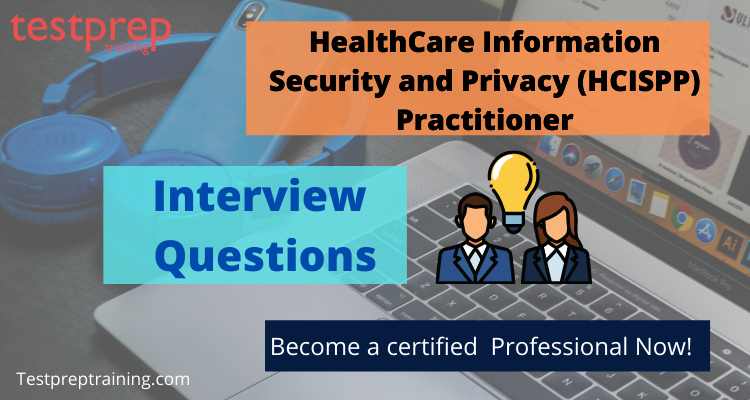 Preparation Guide for the Exam
To succeed in your journey, and achieve your desired goal, preparation resources always come in handy. All the resources mentioned here will allow the candidate to build a stronger foundation for the exam. This way there are more chances of them to qualify with the desired result. If you yearn for the perfect score, below mentioned HCISPP Exam Preparation resources is all you need to qualify the HCISPP exam.  Lets get started with the HCISPP Exam Guide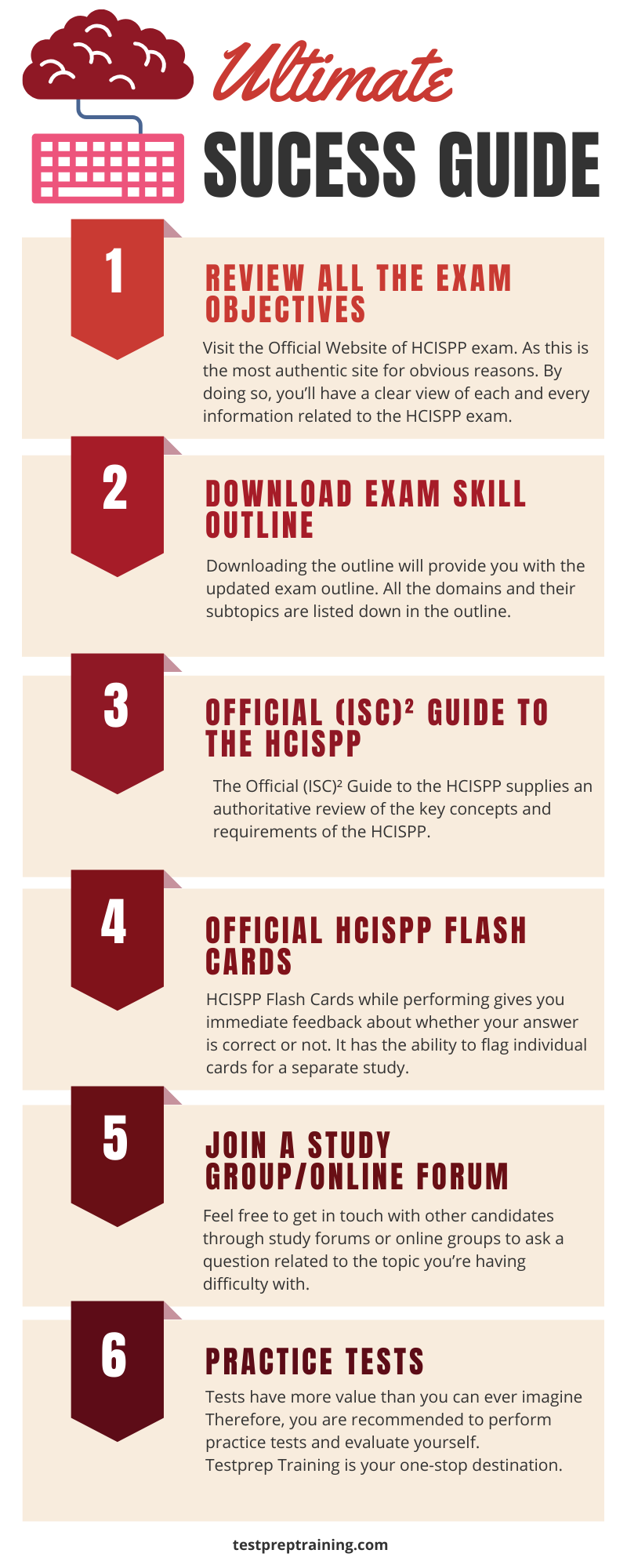 1. Review all the Exam Objectives
Your first step in the preparation guide is to review all the exam objectives. And, to do so, make sure to visit the Official Website of HCISPP exam. As this is the most authentic site for obvious reasons. By doing so, you'll have a clear view of each and every information related to the HCISPP exam. So, make sure, to begin with, this step.
2. Download Exam skill Outline
After this, you must download the exam skill outline available on the official website itself. Downloading the outline will provide you with the updated exam outline. All the domains and their subtopics are listed down in the outline. Keep in mind not to rely on any other website except the official website itself. Since the exam is updated after every few years hence the official website is your door to reliable information.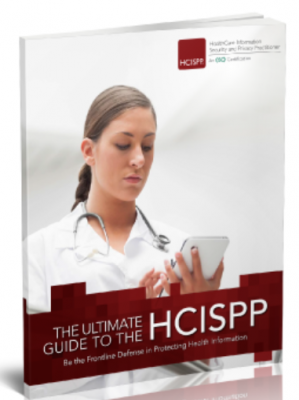 3. Official (ISC)² Guide to the HCISPP
The Official (ISC)² Guide to the HCISPP supplies an authoritative review of the key concepts and requirements of the HCISPP. This guide encompasses all the knowledge elements to demonstrate competency in healthcare security and privacy. Also, covers all the seven domains starting from Healthcare Industry to Third Party Risk Management.
4. Official HCISPP Flash Cards
With Official CCSP Flash Cards, CCSP aspirants can study anytime and anywhere for their exam. Likewise, HCISPPI Flash Cards allows the candidates to study anytime and anywhere. HCISPP Flash Cards while performing gives you immediate feedback about whether your answer is correct or not. It has the ability to flag individual cards for a separate study. Remember, these cards are sectioned for each domain to make learning easier.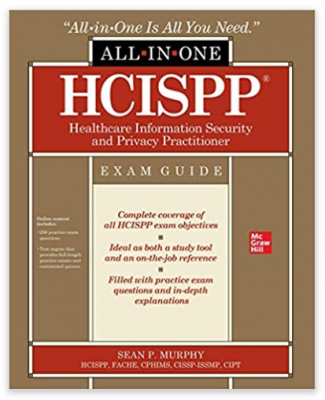 5. Books to consider
Books are always a good learning resource to gain knowledge. Moreover, Microsoft has their own press store. So, never try to limit your knowledge. Therefore, we highly recommend the following-
HCISPP HealthCare Information Security and Privacy Practitioner All-in-One Exam Guide by Sean Murphy
Official (ISC)2 Guide to the HCISPP CBK by Steven Hernandez.
6. Join a Study Group/Online Forum
Online forums and study groups are a great way to prepare for the HCISPP exam. Therefore, feel free to get in touch with other candidates through study forums or online groups to ask a question related to the topic you're having difficulty with. However, it's not something you have to join. It's just something very subjective. Not to mention, these online groups help you stay equated with the other people who are also walking through the same path as yours. Moreover, you can also ask a question related to the topic you're having difficulty with.
7. HCISPP Practice Tests
In the age of the Internet, practice tests have gone digital. In other words, pen and paper have left behind and you can perform practice tests sitting in your living room. Tests have more value than you can ever imagine Therefore, you are recommended to perform HCISPP Practice Exams and evaluate yourself.
Candidates who see their practice tests as learning opportunities make the biggest scoring leaps. Therefore, Testprep Training is your one-stop destination. In other words, Testprep Training provides exclusive practice tests which help you clear the exam with proper preparation and training.

100% Exam Pass Guarantee
Want to become a HealthCare Information Security and Privacy (HCISPP) Practitioner?
Learn More
Are you preparing to become a HealthCare Information Security and Privacy (HCISPP) Practitioner?
Take a Quiz