Professional Cloud Security Engineer is responsible for designing and implementing a secure infrastructure on the Google Cloud Platform. For this, they have an understanding of security best practices and industry security requirements. They design, develop and manage a secure infrastructure leveraging Google security technologies. Candidates who are Cloud Security Professional should be proficient in Cloud Security that includes:
Managing identity and access management
Defining organizational structure and policies
Using Google technologies to provide data protection
Configuring network security defenses
Collecting and analyzing Google Cloud Platform logs
Managing incident responses
Understanding of regulatory concerns
Recommended Experience
Candidates applying for the exam are recommended to have three or more years of industry experience including one or more years of designing and managing solutions experience using GCP.
Skills validation
The Professional Cloud Security Engineer exam assesses the candidates ability in:
Configuring access within a cloud solution environment
Configuring network security
Ensuring data protection
Managing operations within a cloud solution environment
Ensuring compliance
Google Professional Cloud Security Engineer Interview Questions
Practice and Prepare with the latest and updated Google Professional Cloud Security Engineer Interview Questions.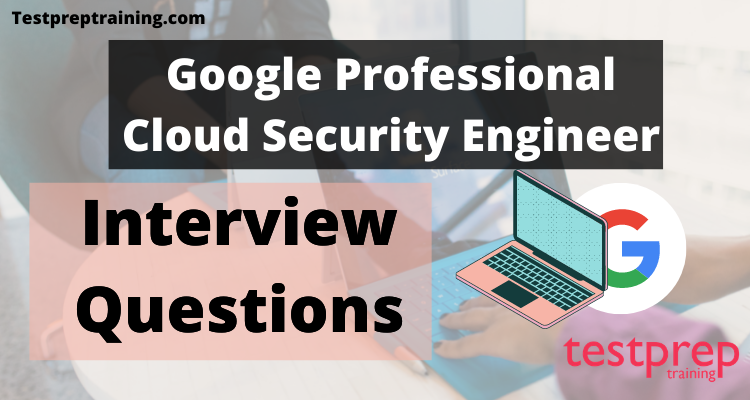 Professional Cloud Security Engineer Exam Details
Google Professional Cloud Security Engineer (Gcp) exam will have both multiple select and multiple-choice type of questions. To complete this candidates will be given 2 hours during the exam. For this exam, candidates have to score 70% to get through the exam. However, the exam is available in the English language and it will cost you $200 USD.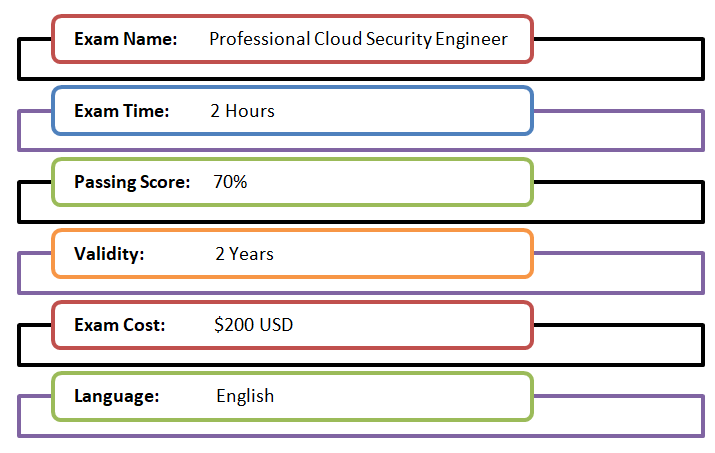 Scheduling the exam
For Google Professional Cloud Security Engineer certification exam candidates have to go on the Official Google Cloud website.
Candidates will need a Web assessor account.
Create the account with your personal email address and not your work address.
Check the catalogue and register for the exam you want to apply for.
Choose the exam centre i.e. Kryterion Testing Centre.
When you register for an exam, you will need to schedule an exam time at a Kryterion testing centre that is convenient for you.
Course Structure
Google Professional Cloud Security Engineer Course covers the following domains:
Topic 1: Configuring access within a cloud solution environment
1.1 Configuring Cloud Identity.
1.2 Managing user accounts.
1.3 Handling service accounts.
1.4 Managing authentication.
1.5 Implementing authorization controls.
1.6 Defining resource hierarchy.
Topic 2: Configuring network security
2.1 Designing network security.
2.2 Configuring network segmentation.
2.3 Establish private connectivity.
Topic 3: Ensuring data protection
3.1 Preventing data loss with the DLP API.
3.2 Managing encryption at rest.
Topic 4: Managing operations within a cloud solution environment
4.1 Building and deploying infrastructure.
4.2 Building and deploying applications.
4.3 Monitoring for security events.
Topic 5: Ensuring compliance
5.1 Comprehension of regulatory concerns.
5.2 Comprehension of computer environment concerns.
Exam Policies
Google Cloud Certification provides exam policies to support the candidates by providing every detail related to the certification program. On this page, the candidates will get information about after the exam or before exam procedures. This includes:
Maintaining Google Cloud Certification
To maintain certification candidates must recertify their certification status. As all Google Cloud certifications are valid for two years from the date certified. So, you may attempt recertification starting 60 days prior to your certification expiration date. Any attempt to recertify or attempt the same exam while currently certified before this time period will result in a rejected attempt, forfeiture of any exam fees paid, possible revocation of your current certification as well as any other Google Cloud certifications, and possible suspension from the Google Certification Program.
Google Cloud Exam Retake Policy
For those candidates who failed and want to retake the Exam, must wait at least fourteen days before doing so. And, if you fail the Exam a second time, you may retake the Exam, but must wait at least sixty days before doing so. However, if you fail the Exam a third time, you may retake the Exam, but you must wait at least one year before doing so.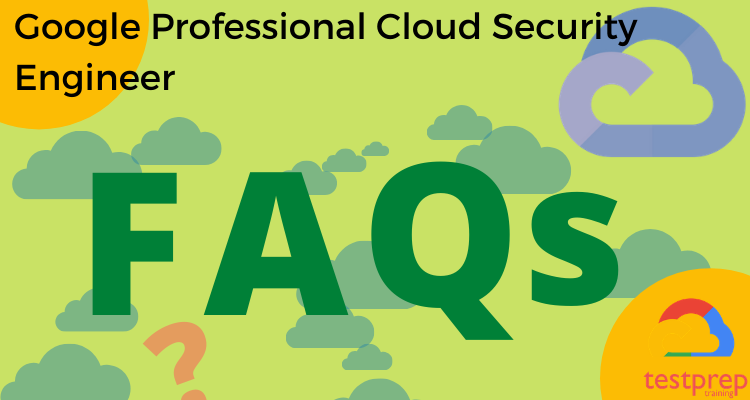 Preparation Guide for Professional Cloud Security Engineer Exam
Preparing for an exam is tough. It gets easy when you follow a guide. Here is the Google Professional Cloud Security Engineer Study Guide to set you on the right track for your certification: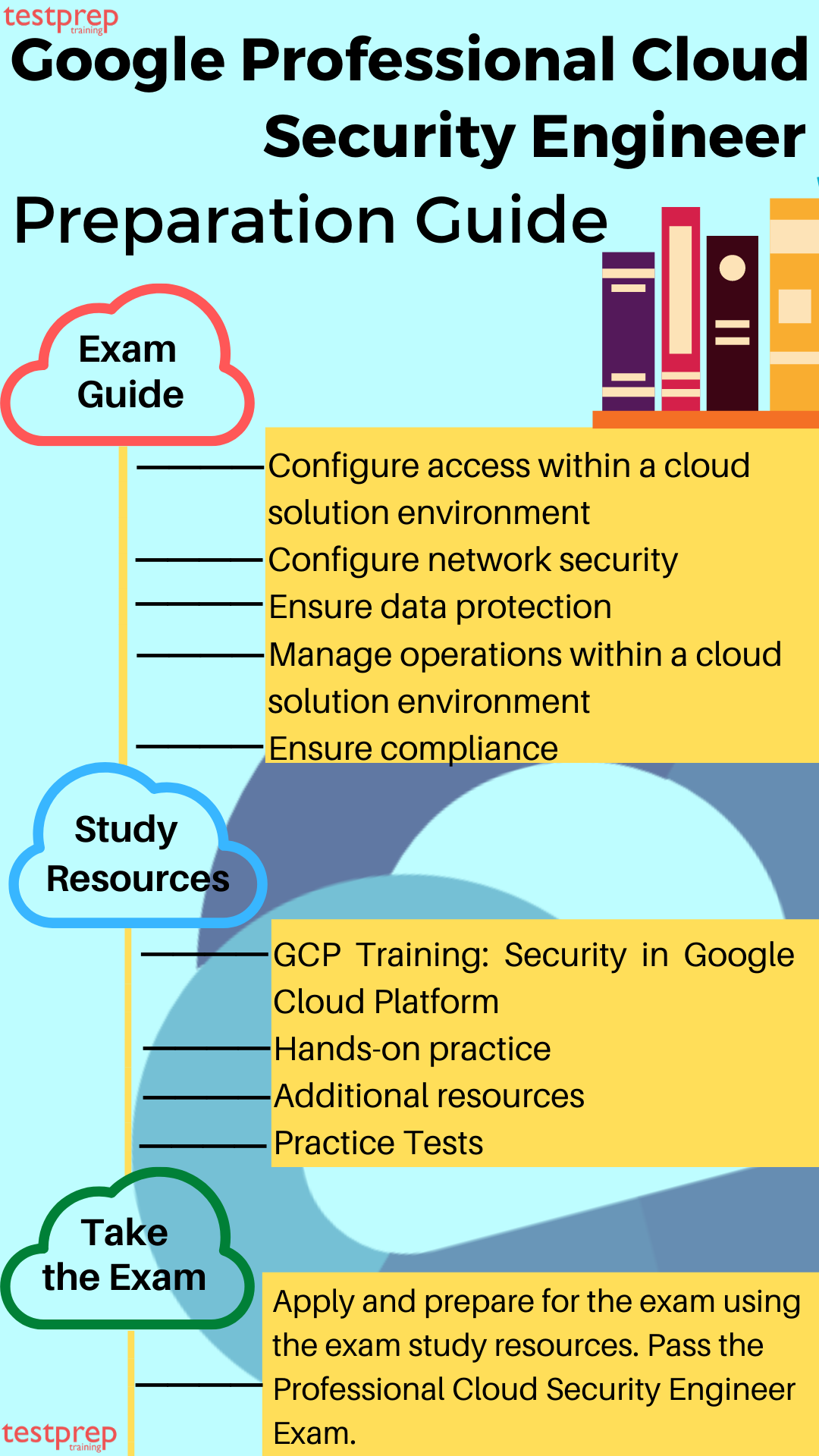 Google Professional Cloud Security Engineer Training
Google provides training to candidates with the Security in Google Cloud Platform course. This course gives candidates a good understanding of the security controls and techniques on Google Cloud Platform. This provides lectures, demonstrations, and hands-on labs and helps candidates to explore and deploy the components of a secure Google Cloud solution. This will also help in learning mitigation techniques for attacks at many points in a Google Cloud-based infrastructure, including Distributed Denial-of-Service attacks, phishing attacks, and threats involving content classification and use. Candidates in this course will:
Understand the Google approach to security Managing administrative identities using Cloud Identity.
Implement administrative access using Google Cloud Resource Manager, Cloud IAM.
They will implement IP traffic controls using VPC firewalls and Cloud Armor.
Hands-on practice
The Professional Cloud Security Engineer exam is designed to test technical skills related to the job role. So, candidates must have hands-on experience to have the best preparation for the exam. Google cloud provides candidates both experience or practice with their hands-on labs available on Qwiklabs. Moreover, to level up their skills and knowledge they include: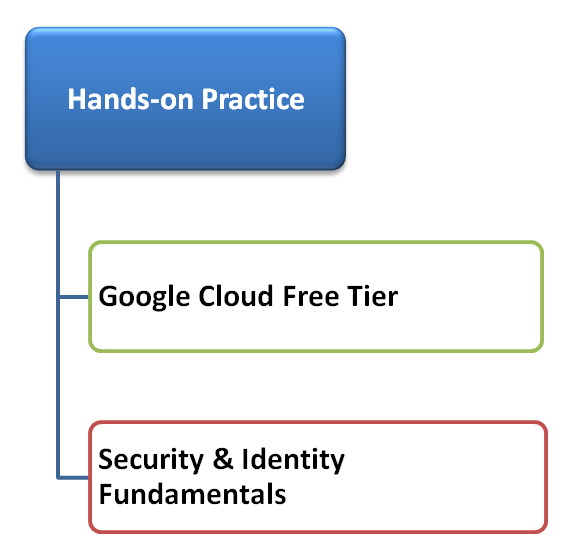 Google Cloud Free Tier
The Google Cloud Free Tier gives candidates free resources to learn about Google Cloud services by trying them on your own. This is for both beginner and professionals who need to learn the basics, or you're an established customer and want to experiment with new solutions, the Google Cloud Free Tier has you covered.
Security & Identity Fundamentals
Security is an inflexible feature of Google Cloud Platform services. However, GCP has developed specific tools for ensuring safety and identity across your projects. In Security and Identity Fundamental, candidates will get hands-on practice with GCP's Identity and Access Management (IAM) service, which is the go-to for managing user and virtual machine accounts. They will get experience with network security by provisioning VPCs and VPNs, and learn what tools are available for security threat and data loss protections.
Additional resources
Hands-on labs: Networking in the Google Cloud
Networking is a principle theme of cloud computing that is the underlying structure of Google Cloud. This connects all resources and services to one another. This covers essential Google Cloud networking services and will give candidates hands-on practice with specialized tools for developing mature networks. Also, they will learn about VPCs, for creating enterprise-grade load balancers. However, Networking in the Google Cloud will give the practical experience needed so you can start building robust networks right away.
Practice Tests
This can be a very essential part that can help you to prepare better for the exam. That is to say, Google Professional Cloud Security Engineer Practice Exams are important as by assessing yourself with these tests you will know about your weak and strong areas. However, by practicing you will be able to improve your answering skills that will result in saving a lot of time. Moreover, the best way to start doing practice tests is after completing one full topic as this will work as a revision part for you. So, make sure to find the best practice sources.

Start preparing for Google Professional Cloud Security Engineer Exam Now!
100% Exam Pass Guarantee
Want to pass for Google Professional Cloud Security Engineer Exam?
Learn More
Are you preparing for Google Professional Cloud Security Engineer exam?
Take a Quiz