FIMMDA-NSE Debt Market Basic Module (Foundation)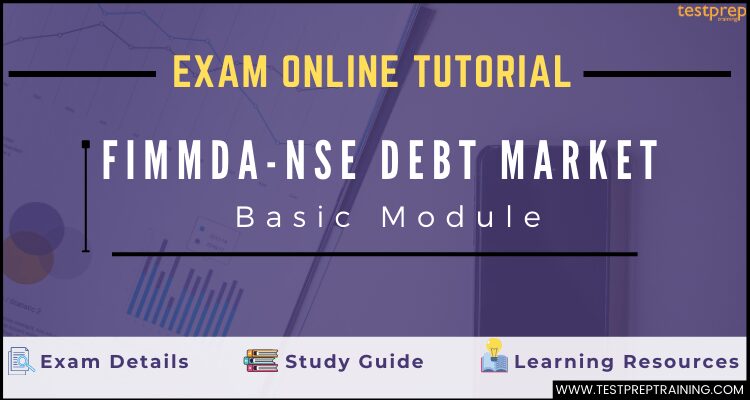 FIMMDA-NSE Debt Market (Basic) Module helps in understanding the basic concepts of different types of debt instruments. This includes G-secs, T-bills, CPs, Bonds, and CDs. Further, this module provides:
Firstly, useful insights into the Indian debt market and its various components
Secondly, the trading mechanism of debt instruments in stock exchanges and bond valuation.
FIMMDA-NSE Debt Market (Basic) Module: Knowledge Enhancement
FIMMDA-NSE Debt Market (Basic) Module can help in gaining the knowledge and skills in various areas. This include:
Firstly, this module will help to understand the fundamental features of debt instruments.
Secondly, it includes concepts related to the trading of the debt instruments on the NSE-WDM Segment.
Thirdly, this helps in understanding the regulatory and procedural aspects related to the debt market.
Lastly, this module helps in learning the concepts of bond valuation, yield curve, bootstrapping, and duration.
Target Audience
For, FIMMDA-NSE Debt Market (Basic) Module, the best suitable audience include:
Firstly, Students
Secondly, Teachers
Thirdly, Debt Market Dealers
Then, Employees of BPO/IT Companies
Lastly, individuals with interest in the Fixed Income Market
NSE FIMMDA Exam Details
NCFM offers online exams and self-study based exams that are conducted across India. FIMMDA NSE Debt Market Module Exam Questions are available in the English language. For the FIMMDA-NSE Debt Market (Basic) Module, Open Office Spreadsheet will be provided with an allowance for all types of calculators during the test. And, there will be a 0.25% negative marking for any incorrect answers.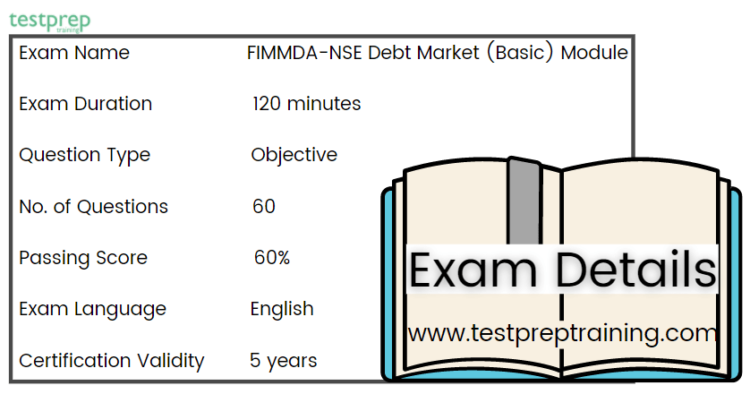 In FIMMDA-NSE Debt Market (Basic) Module:
Firstly, there will be a total of 60 questions in the exam with a time duration of 120 minutes. The questions will be objective type only in which, for every question, you will find four / five alternative answers from which you have to select the correct one.
Secondly, it is necessary to score 60% in order to pass the exam.
Lastly, the FIMMDA-NSE Debt Market (Basic) Module will cost Rs.2006/ inclusive of GST. And, the NCFM certification is valid only for 5 years.
Exam Registration
For the NCFM exam, registration can be done online by accessing the link 'Online Registration'. This is available under Education. After opening the link, click on Certifications and then, Register / Enroll. Once registration is done, you will receive a unique NCFM registration number along with a user id and password. Alternatively, a confirmation will be sent both on your email id and mobile number provided during registration. After logging in you can:
Firstly, have access to make payment for the NCFM exam.
Secondly, enroll for the test.
Thirdly, update the address details.
Lastly, check the status of the study material. And, view the certificates
Point to remember:
Firstly, it is necessary to provide the updated address in an online NCFM profile. However, for updating addresses candidates need to access the link 'Edit Profile' available in their NCFM online login.
Secondly, the NCFM registration number is unique and a candidate has to use the same NCFM registration number while enrolling for any module.
FIMMDA NSE Debt Market Module : Course Structure
NCFM provides a course outline for the FIMMDA-NSE Debt Market (Basic) Module to help in understanding the concepts in a sequential manner. This include: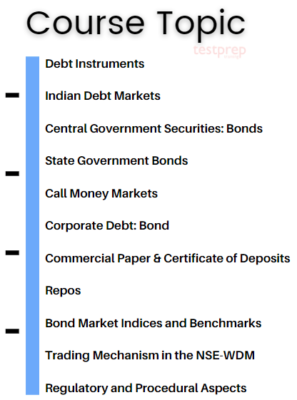 1. Debt Instruments
Basic concepts of debt instruments
2. Indian Debt Markets
Different types of products and participants
The secondary market for debt instruments
3. Central Government Securities: Bonds
Primary issuance process
Participants in Government bond markets
Constituent SGL accounts
Concept of Primary dealers, Satellite dealers
Secondary markets for Government bonds
Settlement of trades in G-Secs
Clearing corporation
Negotiated Dealing System
Liquidity Adjustment Facility (LAF)
4. State Government Bonds
Firstly, the Gross fiscal deficit of State Governments and their financing
Volume, Coupon rates, and ownership pattern of State Government bonds
5. Call Money Markets
Participants in the call markets
Call rates
6. Corporate Debt: Bond
Market segments
Issue process
Issue management and Book building
Terms of a Credit rating
7. Commercial Paper & Certificate of Deposits
Guidelines for CP Issue
Rating notches for CPs
Growth in the CP market
Stamp duty
Certificates of deposit
8. Repos
Repo rate
Calculating settlement amounts in Repo transactions
Advantages of Repos
Recent
Issues in the repo market in India
Secondary market transactions in Repos
Repo accounting
9. Bond Market Indices and Benchmarks
I-Bex: Sovereign bond index
NSE-MIBID/MIBOR
10. Trading Mechanism in the NSE-WDM
Description of the NSE WDM trading system
Order types and conditions
After that, Order entry in negotiated trades market
Order validation and matching
Trade management
Reports
Settlement
Rates of Brokerage
11. Regulatory and Procedural Aspects
G-Sec Act 2006
SEBI (Issue and Listing of Debt Securities) Regulations 2008 and Market Practices and Procedures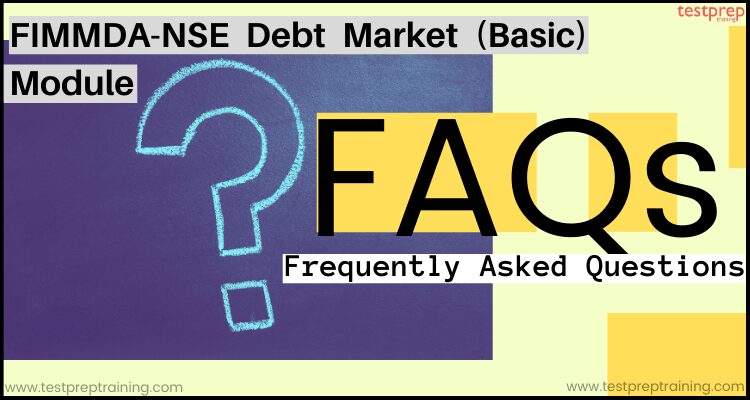 NCFM Procedures
NCFM has various exam procedures to help the individuals in understanding the exam policies as well as the way of taking the exam. Some of them include:
Test Taking Procedure
Firstly, NSE has designated test centers for giving exams that are selected at the time of enrollment.
Secondly, NSE has a policy that candidates need to be present at the test center 30 minutes prior to the test time. If they reach late then they will not get access to take the test. Furthermore, they can also be required to enroll again for the exam.
Thirdly, an original Photo ID proof of verification is necessary on the exam day. This can be, PAN card, Driver's License, Passport, Employee ID, Voter's ID card, or Student ID card.
Next, a backup sheet and rough sheet(s) will be provided during the test that has to be returned after completion of the exam. And, the scientific calculator and a pen are also allowed during the test.
Uploading Photo
Candidates can upload photos by accessing the link 'Upload Photo'. This link is available in their NCFM online login. However, for uploading photo there are certain things you need to check:
Firstly, the photo being uploaded should be passport size (3 X 3 cms or 1 X 1 inch or 150 X 180 pixels).
Secondly, it should be in JPEG format.
Lastly, the photo file size should be below 30 KB.
Issuing Certificate
The certificates for modules will be given to the candidates passing the exam at the test center itself. Those getting failed will receive a scorecard at the test center. However, the candidates need to ensure that they must collect their results before leaving the test center. And, the certificates can be viewed online under the link 'Query/Report' available in their NCFM online login portal.
Preparation Guide for FIMMDA-NSE Debt Market (Basic) Module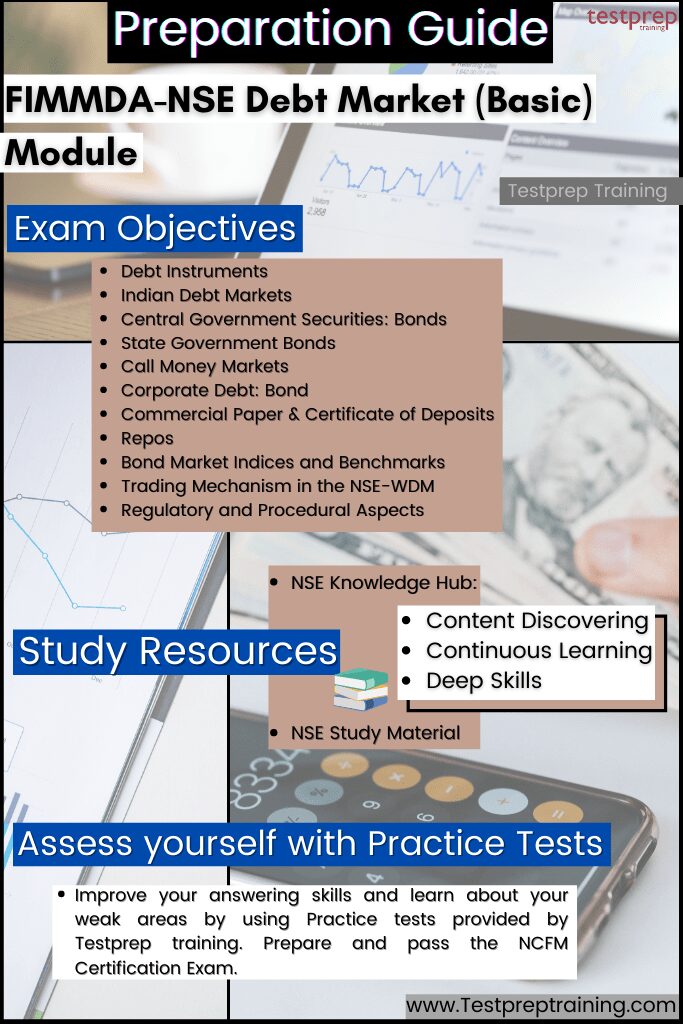 Getting Familiar with Exam Objectives
For FIMMDA-NSE Debt Market (Basic) Module, NCFM provides the course outline. This course outline includes topics categorized into various sections and subsections. Thus, to help candidates to start their preparation in a sequential way. For FIMMDA-NSE Debt Market (Basic) Module, the course outline includes:
Firstly, Debt Instruments
Secondly, Indian Debt Markets
Thirdly, Central Government Securities: Bonds
Then, State Government Bonds
Next, Call Money Markets
After that, Corporate Debt: Bond
Commercial Paper & Certificate of Deposits
Then, Repos
After that, Bond Market Indices and Benchmarks
Trading Mechanism in the NSE-WDM
Lastly, Regulatory and Procedural Aspects
NSE Knowledge Hub
NSE knowledge hub is an AI-First and Mobile-First ecosystem that provides personalized and community-based learning. This knowledge hub provides a unique Artificial Intelligence (AI) powered learning platform to help in financial learning. Further, this also helps academic institutions in preparing advanced future-ready talent for the financial services industry. NSE Knowledge Hub offers candidates:
Firstly, to become a part of a growing learning community.
Secondly, to get access to unlimited content.
Thirdly, to get learning assistance from experts in this field.
Lastly, to learn from anywhere.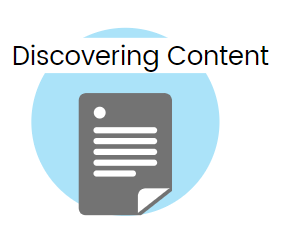 Content Discovering
Get familiarity with banking, insurance and finance topics by discovering content in various domains of finance.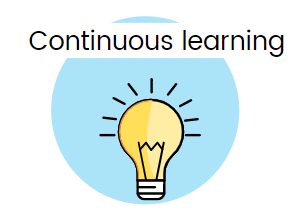 Continuous learning
Use formal and informal learning through hours of arranged content tailored to the individuals areas of interests and goals.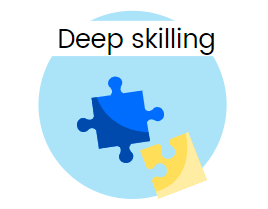 Deep skills
Get free or paid deep skilling pathways at a marketplace with well-known providers of courses, assessments, labs and credentials.
NSE Study Material
NSE provides a workbook for its all certification exam that can be issued only after making payment for the module. This NSE FIMMDA Debt Module workbook can be easily downloaded by logging into your account from the E-Library option. However, NSE also offers candidates to purchase the Workbooks for NCFM modules by sending a request letter. This has to be done along with a demand draft of Rs. 500/- per module per workbook. But, they should remember that the request letter should have:
Firstly, valid candidates name
Secondly, the module name
Thirdly, complete postal address
Lastly, contact details as well as the demand draft details.
Start Taking Practice Tests
FIMMDA NSE Debt Market Module Practice Tests can be really helpful during the preparation of the exam. Assessing yourself after completing a topic/section will not only help you improve your answering skills but also to know about your weak areas. Moreover, these FIMMDA NSE Debt Market Module Sample Questions will enhance your knowledge about the concepts of this module to get more perfection in your revision. So, start doing research to find the unique practice tests and pass the exam with a good score. Try a FIMMDA NSE Debt Market Module Free Test now!

100% Exam Pass Guarantee
Want to pass FIMMDA-NSE Debt Market (Basic) Module Exam?
Learn More
Are you preparing for FIMMDA-NSE Debt Market (Basic) Module Exam?
Take a Quiz