Exam MS-100: Microsoft 365 Identity and Services
Microsoft 365 Identity and Services (MS-100) exam is for candidates who are Microsoft 365 Enterprise Administrators with abilities to evaluate, plan, migrate, deploy, and manage Microsoft 365 services. They are responsible for performing various Microsoft 365 tenant management tasks for an enterprise, including its identities, security, compliance, and supporting technologies.
Knowledge required for the Exam
Candidates applying for the exam should have a working knowledge of Microsoft 365 workloads.
They must have been an administrator for at least one Microsoft 365 workload (Exchange, SharePoint, Skype for Business, or Windows as a Service).
Moreover, they should also have a working knowledge of networking, server administration, and IT fundamentals such as DNS, Active Directory, and PowerShell.
Skills Gained
Candidates in this exam will be able to:
Design, configure, and manage Microsoft 365 tenant
Understand Office 365 product functionality
Configure Office 365
Manage Office 365 ProPlus deployments
Plan and implement identity synchronization
Implement application and external access
Microsoft 365 Learning Path
Microsoft provides exam learning paths that help the candidates to understand and know about the concepts during the preparation. Moreover, these exam concepts are provided with sections and subsections to make you learn about it in depth. Microsoft provides candidates access to the learning path that helps them to understand the concepts in a step by step format. This includes:
Designing and implementing Microsoft 365 services
Managing user identity and roles
Managing access and authentication
Planning Office 365 workloads and applications
Microsoft MS-100 Certification Path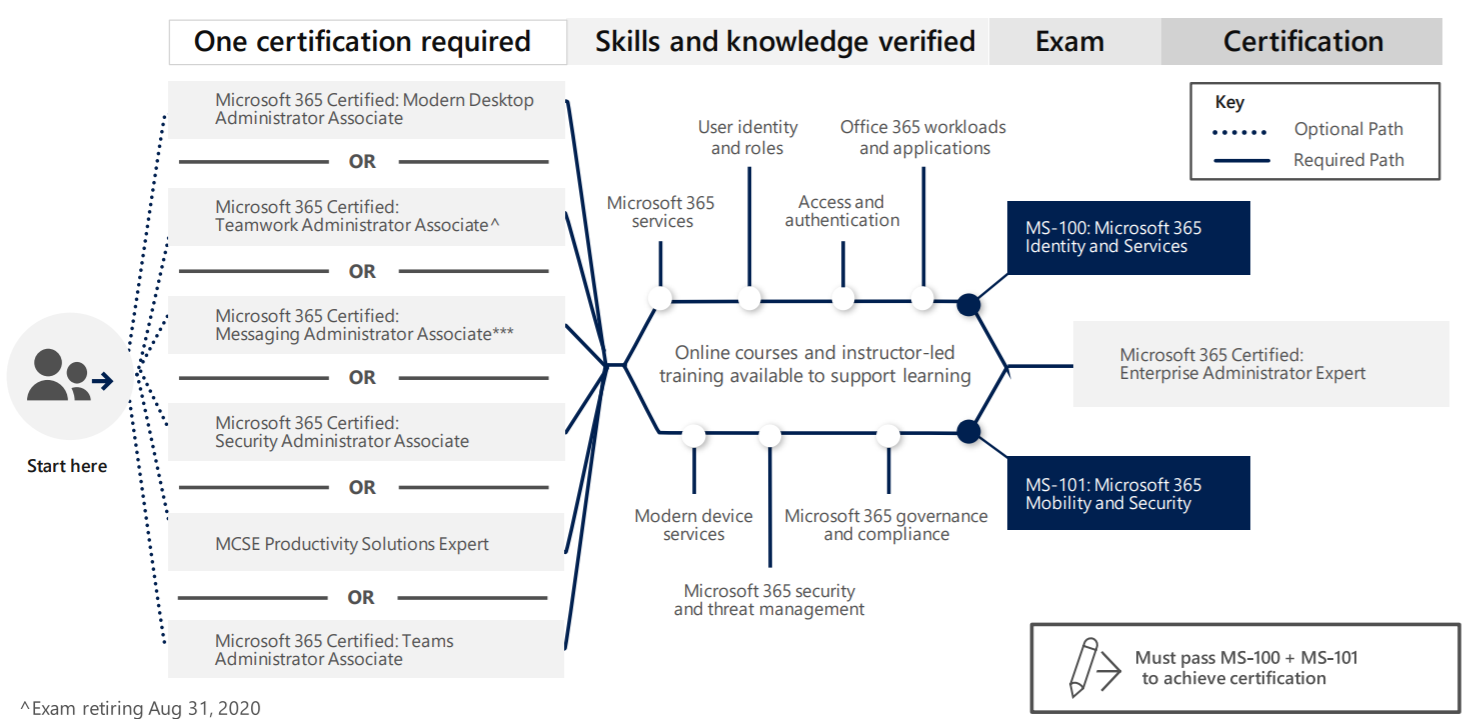 MS-100: Microsoft 365 Identity and Services Interview Questions
Now, let us look at some MS-100: Microsoft 365 Identity and Services Interview Questions.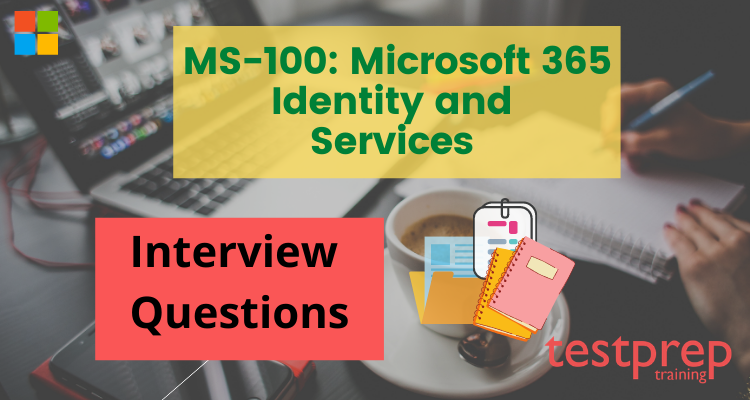 Exam Format
Microsoft MS-100 exam questions will range between 40-60 questions. To complete the exam, candidates will get 180 minutes. The types of questions that candidates can face in the exam include scenario-based single answer questions, multiple-choice questions, arrange in the correct sequence type questions, drag & drop questions, mark review, drag, and drop, etc. However, to pass the exam, a candidate has to score a minimum of 700 or more. To apply for the exam, the examination fee is $165 USD including taxes. And, candidates can give the exam in English and the Japanese language.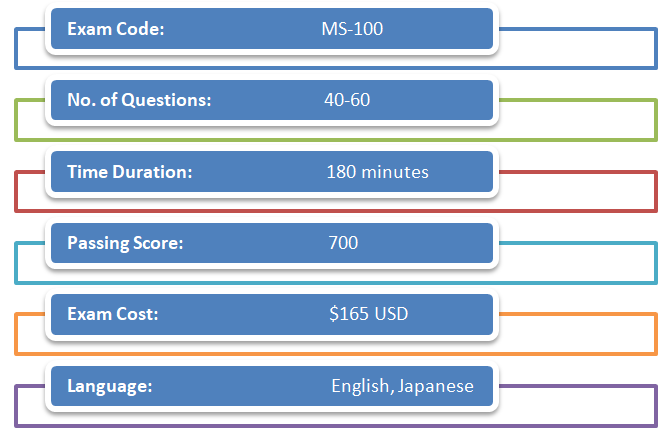 Exam Scheduling
Microsoft MS-100 exam measures the ability to perform technical tasks for designing and implementing Microsoft 365 services with managing access and authentication. Candidates also plan Office workloads and applications. However, candidates can schedule their exam with the

Microsoft 365 MS-100 Exam Course Outline
Course Outline for Microsoft MS-100 exam was updated on February 24, 2021.
Design and Implement Microsoft 365 Services
1.1 Plan architecture
1.2 Deploy Microsoft 365 tenant
1.3 Configure Microsoft 365 tenancy and subscription
1.4 Manage Microsoft 365 subscription and tenant health
1.5 Plan migration of users and data
Manage User Identity and Roles
2.1 Design identity strategy
2.2 Plan identity synchronization by using Azure AD Connect
2.3 Manage identity synchronization by using Azure Active Directory (Azure AD)
2.4 Manage Azure AD identities
2.5 Manage roles
Manage Access and Authentication
3.1 Manage authentication
3.2 Plan and implement secure access
3.3 Configure application access
Plan Office 365 Workloads and Applications
4.1 Plan Microsoft 365 Apps deployment
4.2 Plan for messaging deployments
4.3 Plan for Microsoft SharePoint Online and OneDrive for Business
4.4 Plan for Microsoft Teams infrastructure
4.5. Plan Microsoft Power Platform integration
Exam Policies
Microsoft provides exam policies to help the candidates to plan and manage a positive outcome. Microsoft Certification exam policies give candidates access to all the exam-related details, accompanying the before and after exam procedures. These exam policies are the inclusion of certain rules that need to be followed during the exam time or at testing centers. On this page, the candidates will get information about after the exam or before exam procedures. This includes the exam retaking process, rules to be followed during the exam time, and other information about the exams and its testing centers.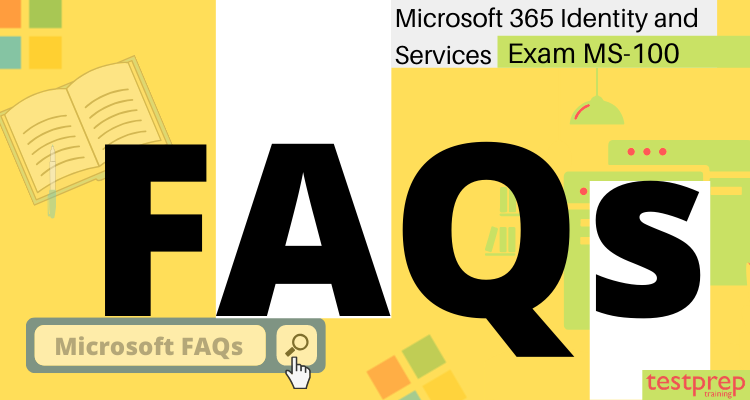 Preparation Guide for Microsoft Identity and Services (MS-100) Exam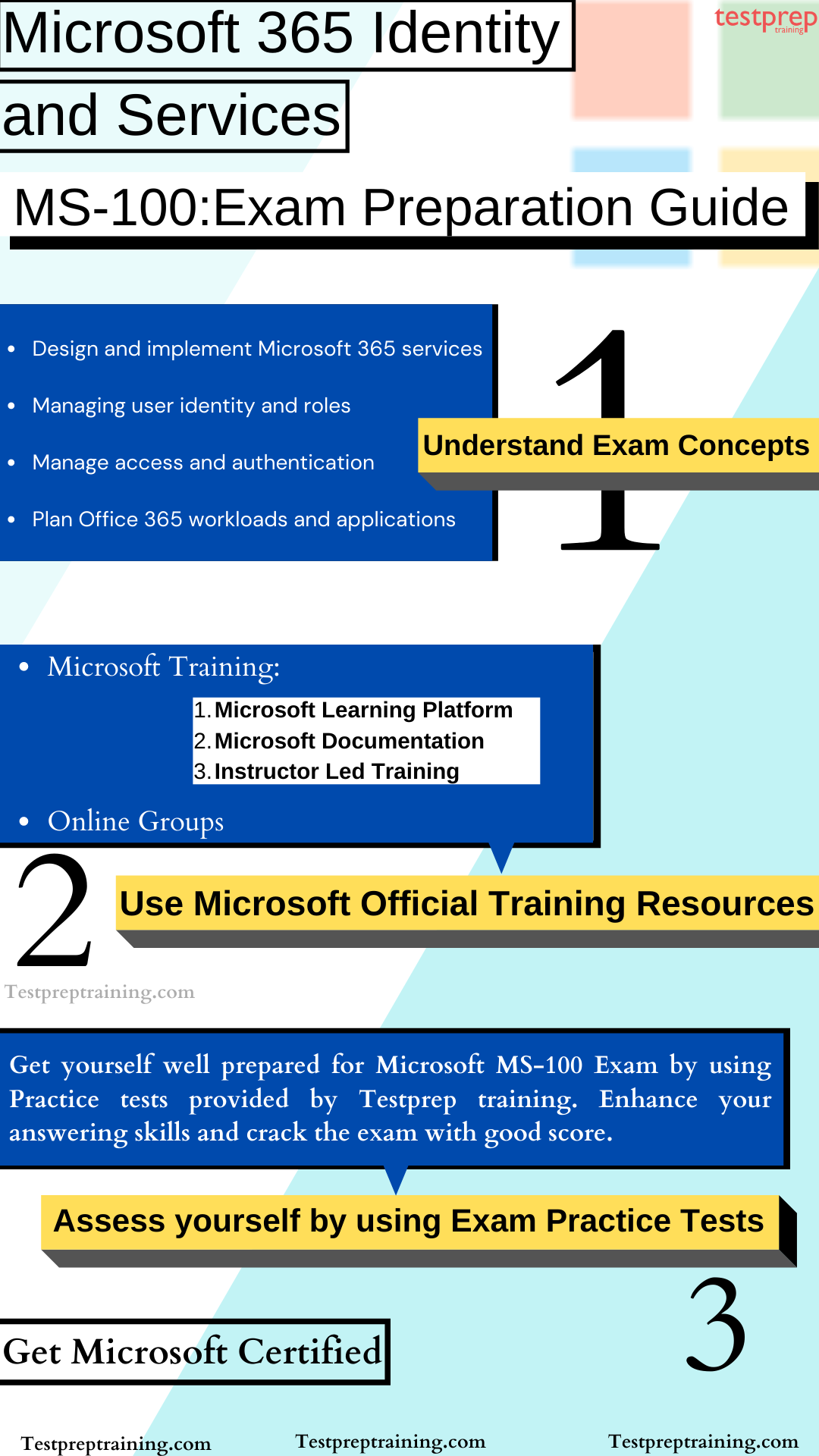 Microsoft Learning Platform
The learning resource that will be beneficial during the exam preparation is the Microsoft learning platform. However, make sure to go through the official website of Microsoft. For the MS-100 exam, it would be best to first go through the Microsoft official website to get authentic information about the exam. You can easily locate the MS-100 page where you can just go through all the necessary information about the MS-100 exam.
Microsoft Docs
After that, you can move on to Microsoft documentation where you can easily understand the concepts. Moreover, you also get to know the different scales of different Microsoft services. Microsoft Docs consists of modules that will help you gain a lot of knowledge about Microsoft 365 and its services. The modules include:
Designing and configuring Microsoft 365 Tenant
Managing Microsoft 365 Tenant
Office 365 Overview
Configuring Microsoft 365 Clients
Capturing User-Driven Data
Planning and Implementing Identity Synchronization
Implementing Application and External Access
Instructor-led Training
Microsoft provides Instructor-led training that covers central elements of Microsoft 365 enterprise administration – Microsoft 365 tenant and service management, Office management, and Microsoft 365 identity management. Candidates in this will examine all the key components that must be planned for when designing your Microsoft 365 tenant. They will learn to manage tenants that include the configuration of tenant roles and managing your tenant health and services. However, this training course is designed for candidates who are aspiring to the Microsoft Enterprise Admin role. And, they must have completed one of the Microsoft 365 role-based administrator certification paths.
Reference Books
Those who are dedicated to passing the exam know the importance of books during the time of preparation. However, while studying for the exam books can be really helpful to understand the core of the topics. Candidates can take the books available in the market that will help in studying for the MS-100 exam.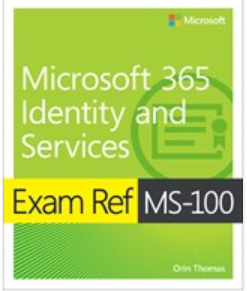 : Microsoft Exam MS-100 Study guide will help candidates to demonstrate the skills and knowledge needed to effectively design, deploy, manage, and secure Microsoft 365 services.
Online Study Groups
One thing that will be beneficial during the exam preparation time is to join study groups. As these groups will help you to stay connected with the other people who are on the same pathway as yours. Moreover, here you can start any discussion about the issue related to the exam or any query. By doing so, you will get the best possible answer to your query.
Practice Tests
This can be a very essential part that can help you to prepare better for the exam. That is to say, practice tests are important as by assessing yourself with these tests you will know about your weak and strong areas. However, by practicing you will be able to improve your answering skills that will result in saving a lot of time. Moreover, the best way to start doing practice tests is after completing one full topic as this will work as a revision part for you. So, make sure to find the best Microsoft MS-100 exam questions for practice.

Prepare and pass the Microsoft Identity and Services (MS-100) Exam.
100% Exam Pass Guarantee
Want to pass Microsoft 365 Identity and Services (MS-100) Exam?
Learn More
Are you preparing for Microsoft 365 Identity and Services (MS-100) Exam?
Take a Quiz