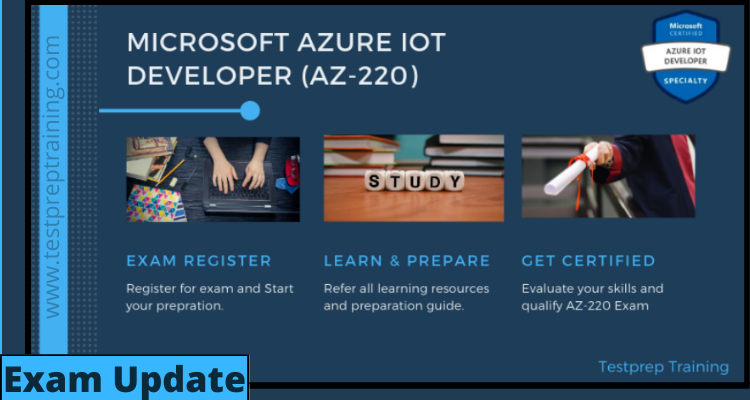 Microsoft's exams have been recognized as a rigorous model to test one's skills, even for masters. The Microsoft Azure IoT Developer (AZ-220) exam is no different. So if you are planning to take the exam then you must have an excellent planner. But, the question only arises, how and from where to begin your preparation? In this preparation guide, we're going to provide you with learning resources and training courses as well as chart out the steps to prepare for AZ-220 Exam. This study guide will provide the solution to every problem or hurdle you are facing in the preparation. In fact, after going through this guide, you will surely find your confidence.
Before we begin the preparation it is very important to ensure that you must first benign with the prescribed exam details and all the skills required. So, we will cover all the exam details, this will allow you to become familiar with the AZ-220 exam. Let's begin to a successful venture.
Why Microsoft Azure IoT Developer (AZ-220) Exam?
Indeed with so many platforms to learn and research, it is difficult to choose when seeking or improving in a specialised career. But the one name stands that out is Microsoft Certification. The certifications offered by Microsoft bestows current and potential employers with the core technical skills they require as per the prescribed standards. Moreover, the certification exam validates the candidate knowledge and understanding of specific tools and applications, and their knowledge gets validated by Microsoft.
As Microsoft Certified Professionals you will be entitled to certain benefits including –
First of all, Microsoft Certificatied Candidate are oftentimes hired more quickly by employers
Secondly, they acquire more responsibility and more opportunities for advancement
Moreover, because of their deeper knowledge and understanding of technologies, They are formulating time savings and higher productiveness.
As per statistics, a Microsoft certified professional earns around USD 80,000 per year on average.
Microsoft Azure IoT Developer (AZ-220) Exam Overview
The Microsoft Azure IoT Developer, AZ-220 exam is accountable for the implementation and the coding required to build and manage the cloud and the edge portion of an IoT solution. In addition to configuring and maintaining the devices by utilising cloud services, the IoT Developer also sets up the physical devices. In addition, the IoT Developer is liable for maintaining the devices throughout the life cycle.
After qualifying the AZ-220 certification exam, As an IoT Developer, you will be responsible to perform the following tasks-
Execute designs for IoT solutions, including device topology, connectivity, debugging and security.
Deploy compute/containers and configures device networking.
Implement designs for solutions to manage data pipelines, including monitoring and data transformation as it relates to IoT.
Works with data engineers and other stakeholders to ensure successful business integration.
Responsible for implementation of Azure services, including data storage options, data analysis, data processing, and platform-as-a-service options.
Recognize Azure IoT service configuration settings within the code portion of an IoT solution and perform specific IoT coding tasks in at least one Azure-supported language, including C#, Node, C, or Python.
But, before you begin preparing for the same, it's convenient to view the prerequisites beforehand.
AZ-220 Exam Prerequisites
The prerequisites for Microsoft Azure IoT Developer AZ-220 exam are,
Thorough knowledge of the implementation of Azure services for developing an IoT solution.
Ability to recognize Azure IoT service configuration settings in the code part of an IoT solution.
Skills for performing particular IoT coding tasks in at least one programming language supported by Azure such as Python, C#, C or Node.
Basic Exam Details
The Microsoft Azure IoT Developer (AZ-220) exam comprises of 40-60 questions, same as any other Microsoft Certification exam. And, all the questions are multiple-choice questions, multiple responses. Unlike, any other certification, this exam is available in only English language. As for the registration fee, it's USD 165. Additionally, the candidate can register their exam, with Microsoft partner Pearson Vue. Lastly, the passing score, one has to achieve 700 or more to pass the exam.
Course Outline: AZ-220 Exam
The course Outline comprises of all the skills a candidate must possess. It allows the candidate to view the Also, you must be acquainted with all the sub-modules of the domains.
Microsoft AZ-220 Exam has updates in the course outline as on April 23, 2021.
The updated Microsoft Azure IoT Developer AZ-220 exam course outline includes the following topics:
Set up the IoT Solution Infrastructure (10-15%)
Creating and configuring an Azure IoT Hub
Building device messaging and communication
Configuring physical IoT devices
Provision and manage devices (15-20%)
Set up Device Provisioning Service (DPS)
Managing the device lifecycle
Managing IoT devices by using IoT Hub
Manage IoT devices by using Azure IoT Central
Create a custom device template by using Azure IoT Central
Configuring rules and actions in Azure IoT Central (Microsoft Documentation: Configure rules and actions for your device in Azure IoT Central)
Customize the operator view
Adding and managing devices from IoT Central (Microsoft Documentation: Manage devices in your Azure IoT Central application)
Troubleshoot device connections and data mapping
Create an application based on an app template for an industry vertical
Export a custom application template
Create and manage a new application based on a custom application template
Upgrade and version a device template
Run IoT Central jobs
Implement IoT Edge (15-20%)
Setting up an IoT Edge device
Creating a device identity in IoT Hub (Microsoft Documentation: az iot hub device-identity)
Set up an IoT device for IoT Edge
Select and install container runtime on IoT devices
Implement module access to the host system
Update IoT Edge runtime
Provision IoT Edge devices by using DPS
Deploy an IoT Edge device
Create and implement a deployment manifest
Create a deployment for a single IoT Edge device
Creating a deployment to target multiple devices
Create a continuous deployment by using Azure DevOps
Develop IoT Edge modules
Create and customize an Edge module
Deploy a custom IoT Edge module to an Edge device
Deploy an IoT Edge module from the Azure Marketplace to an Edge device
Publish an IoT Edge module to an Azure Container Registry
Define module configuration
Configure IoT Edge module routing
Configure an environment for IoT Edge development; debug Edge modules in a development environment
Configure an IoT Edge device
Select an appropriate gateway pattern
Deploy an IoT gateway by using IoT Hub and IoT Edge
Configure IoT Edge certificates
Implement and configure offline support (including local storage)
Implement Business Integration (5-10%)
Integrate with upstream and downstream systems
Set up input and output connections
Set up IoT Hub routing for triggering workflows
Test data interface integration
Integrate third-party solutions
Configure workflows, including rules and alerts
Develop Azure Digital Twins (ADT) solutions
Create a digital twin by using the DTDL
Map IoT device data to ADT models and relationships
Ingest IoT device messages and translate messages to ADT
Configure routes and endpoints to trigger business logic and data processing
Query the ADT graph
Update properties on ADT entities in the graph
Monitor and troubleshoot ADT
Process and manage data (15-20%)
Configuring message routing in Azure IoT Hub
Implementing message enrichment in IoT Hub (Microsoft Documentation: Use Azure IoT Hub message enrichments)
Implement routing of IoT Device messages to endpoints
Defining and testing routing queries (Microsoft Documentation: IoT Hub message routing query syntax)
Configure IoT Hub as an Event Grid source
Reconfigure the default EventHub endpoint when there are multiple endpoints
Configuring stream processing of IoT data
Create ASA queries
Write an ASA query that runs in the IoT Edge
Write an ASA query that runs in the cloud
Process real-time data by using Time Series Insights (TSI)
Create a TSI environment
Connect the IoT Hub and the TSI environment
Create a reference data set for a TSI environment by using the Azure portal
Implement Time Series model hierarchies, types, and instance fields
Consume data by using Time Series Expression syntax
Monitor, troubleshoot, and optimize IoT solutions (15-20%)
Configuring health monitoring
Configuring metrics in IoT Hub (Microsoft Documentation: Set up metrics)
Setting up diagnostics logs for Azure IoT Hub (Microsoft Documentation: Enable the diagnostic logs)
Configure IoT Hub scaling (SKUunit) programmatically
Querying and visualizing tracing by using Azure Monitor (Microsoft Documentation: Query and visualize)
Apply Azure Policy definitions for IoT Hub
Gather IoT Edge metrics
Retrieve diagnostics from Azure IoT Edge
Troubleshooting device communication
Ensure performance and availability
Identify and resolve bottlenecks
Calculate capacity requirements for each service
Create a simulated fleet of devices for performance and stress testing
Troubleshoot message loss
Test manual failover
Implement security (10-15%)
Implement security for IoT devices and services
Implementing device and gateway security
Ensure secure connections
Implement Azure Defender for IoT
Enable Azure Defender for IoT in Azure IoT Hub
Create security modules
Configure custom alerts
Configure the interval at which messages are sent
This marks the end to the course outline. This may seem quite a lot. But, don't worry. Now it's time for your AZ-220 exam preparation guide.
Preparation Guide Microsoft Azure IoT Developer AZ-220 Exam
Microsoft certification is considered to be the strongest factors in advancing in your career as well as help you to seek for any new job opportunities. However, remember: to obtain a Microsoft certification, preparing yourself for the exam will give you the greatest chance of achievement.
Now, the key to prepare for Microsoft Azure IoT Developer exams is to get the right study tools and materials essential for your learning style. It also benefits to go through a practice test of some kind to help prepare and really drill in the memorization of the technical knowledge required.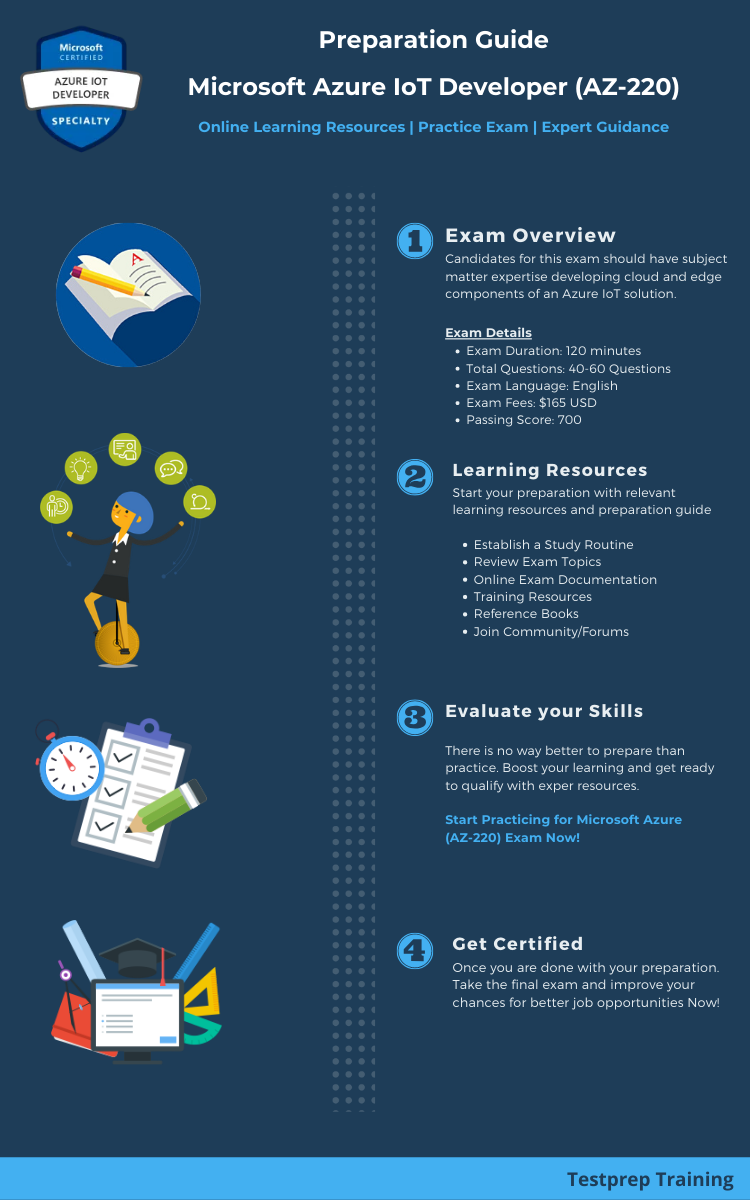 Build a Study Routine
First and foremost it is utmost important to build some structure when it comes to studying, as well as prioritize your study hours. If you don't, it'll be way too easy to procrastinate or ignore what you need to do. You must schedule your learning as per figure out when you can learn and research with least distractions. A quiet environment will help you concentrate and prepare well for the AZ-220 exam.
Review Exam Topics
Microsoft certification exams are highly detailed examinations. So much so that even deeply skilled professionals have failed. So, try not to take it lightly. Each and every question is designed to challenge the candidate's knowledge. Therefore, it's not advisable to just guess and hope for the best.
While you can't comprehend and understand everything. However, you can get a head start with studying if you know the objectives and sub-objectives of each exam. All these are covered in the AZ-220 Course Outline mentioned above. Microsoft advertises the exam descriptions for all exams and lists their objectives. Nonetheless, each sub-objective will also have a set of skills that one will be tested on. So review this Official page as much as possible until you're satisfied.
Gather all Learning Resources
Always, always, always get study materials from legitimate sources that are sanctioned by Microsoft. Microsoft issues its companion content online, and the candidate can seek out online resources and forums from people who have previously taken the exam.
Many certified training companies have access to official Microsoft courseware. Further, this is aligned directly with the objectives of the exams. Role-based certification training courses, such as Azure training, will definitely help you dive deeper into a specific role while preparing for your exam.
Online study guides
There are various sources when it comes to the online Microsoft AZ-220 study guide. These are best suitable for certification exams. These are often one of the cheapest options for study. The product documentation also falls under this section. But, this is one of the least structured methods to follow when studying.
Online Reference Courses
There are many online, on-demand video services and AZ-220 courses that can be viewed. Obviously, the cost can vary depending on the source. These offer a great self-paced learning path to follow using audio and video rather instead of written books. These sources can be more natural to consume while multi-tasking.
There are free video sources available on the Internet. Believe us, the internet is cluttered. Their subscription services may cost between USD10 to USD 50 USD per month. There are many individual courses sold by various vendors as well. These vary in price from around USD10 to USD 300 per course.
Books are your Best Friends
Books are always a good learning resource to gain knowledge. Moreover, Microsoft has its own press store. So, never try to limit your knowledge. Therefore, we suggest going through the following AZ-220 books-
Internet of Things for Architects: Architecting IoT solutions by implementing sensors, communication infrastructure, edge computing, analytics, and security by Perry Lea
AI, IoT & the Intelligent Edge: Building Your Enterprise Tech Strategy by Daniel Sexton
Instructor-led Training (in-person or virtual)
Obviously, the most expensive study pathway to take is to attend in-person, instructor-led training. This Microsoft AZ-220 training will provide the candidate with a classroom full of students to attend along-side and a dedicated trainer for the duration of the class. Certainly, this is the most powerful training method if you can dedicate the time, but it will cost the most amount of money.
Instructor-led training can cost anywhere from around USD 30,000 to USD 50,000. These are intended to train a group of approximately 20 students at a time with an on-site instructor. This allows students to interact directly in-person with the instructor.
These classes will pool many students from many different clients together so that individuals and/or small teams can afford instructor-led training.
On the other hand, virtual delivery of instructor-led classes. Most of which are conducted over the Internet offer big cost savings. These do not require the trainer to travel, and the class can accommodate more than 20 students.
Take Notes While Studying
"If in doubt, write it out." Write down all technical detail you notice while studying for any Microsoft Certification exam. Since Microsoft's exams are notoriously detailed. Hence this method can turn out to be a lifesaver. While what you write down might not be on the exam, it's better to be safe than sorry.
Practice Using the Technology
Hands-on experience will be invaluable as you take the exam. Instead of attempting questions about a theoretical practice you've only read about. With this, you'll have real-life knowledge of what a chore does. But not everyone has access to technology like a sandbox data centre to experiment with.
Taking a course from a Microsoft-certified training corporation allows the candidate to test your knowledge of the product in a lab environment. Moreover, you can sign up for a trial account to get familiar with most Microsoft products, including Azure.
Join Online Forums/Study Groups
Online forums and study groups are a great way to prepare for the AZ-220 exam. Therefore, feel free to get in touch with other candidates through study forums or online groups to ask a question related to the topic you're having difficulty with.
However, it's not something you have to join. It's just something very subjective. Not to mention, these online groups help you stay equated with the other people who are also walking through the same path as yours. Moreover, you can also ask a question related to the topic you're having difficulty with.
Take Practice Exams
One of the most worthwhile things you can do to qualify for your certification exam is to take practice exams. Treat the Microsoft AZ-220 practice exam like real exams so that you understand what your strategy should be when the big day comes. Expect to fail your first practice exam. Afterward, go through each wrong answer to determine your areas of weakness. FOR MORE PRACTICE SETS, CLICK HERE!
100% Exam Pass Guarantee
Want to qualify Microsoft Azure IoT Developer (AZ-220) exam?
Learn More
Are you preparing for Microsoft Azure IoT Developer (AZ-220) Exam?
Take a Quiz