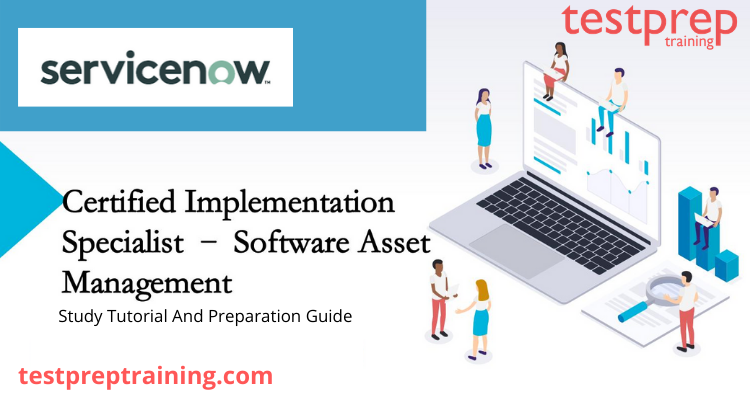 The CIS-Software Asset Management certification exam validates your proficiency in ServiceNow SAM Professional applications. Taking this certification will enhance your experience in configuring, implementing, and maintaining the ServiceNow SAM Professional application.
Target Audience
The Servicenow CIS Software Asset Management (SAM) Professional exam is designed primarily for all ServiceNow customers, partners, sales engineers, employees. This exam aims to boost up the expertise of candidates to become a ServiceNow SAM Certified Implementation Specialist.
Recommended Knowledge & Education
Candidates seeking to take the CIS-Software Asset Management (SAM) Professional exam must have completed the given training and courses –
ServiceNow Fundamentals
ServiceNow Platform Implementation
ServiceNow Platform Subscription Model
ServiceNow Implementation Methodology (SIM) Fundamentals
Scripting in ServiceNow Fundamentals
System Administration Advanced
Discovery Fundamentals
SAM – Getting Started
Entitlement Import Basics for SAM
Discovery Basics for SAM
SAM Reconciliation Troubleshooting
Integration with SCCM for Reclamation and Distribution
SAM Certification Test Prep
Prerequisite ServiceNow Training Path
ServiceNow requires the finishing of the accompanying essential preparing course(s) in groundwork for the Certified Implementation Specialist – Software Asset Management exam.
Additional Recommended Experience
Candidates must have at least six months of field experience in working on ServiceNow deployment projects and also in the maintenance of ServiceNow instances
Candidates must also have participated in at least two ServiceNow deployment projects
Also, candidates must be familiar with the industry concepts, terminology, acronyms, and initialisms

Exam Registration
Candidates must enlist for the test by means of the ServiceNow Webassessor site with the voucher got by finishing the Software Asset Management Professional Fundamentals training prerequisite. During the enlistment procedure, each test taker has the alternative of taking the test at an Approved Testing Center or as an online delegated test.
In both testing scenes, the Ensured Implementation Specialist test is done through a reliable, agreeable client interface customized for ServiceNow tests. The Kryterion testing system is worldwide and all areas offer a secure, and comfortable testing atmosphere.
Exam Result
A passed or failed status is immediately displayed on the testing screens of the candidates, after completing and submitting the exam. However, only the status is displayed, and not the insights into their performance.
Exam Retake Policy
Candidates who fail the exam will be allowed to re-take the exam, after paying a registration fee of $150. However, they may reappear for the exam for not more than three times.
Exam Details
The CIS Software Asset Management Exam Questions are in Multiple Choice and Multi Response format. You get 90 minutes to complete the 60 questions of this exam. Also, the CIS Software Asset Management Questions are available in English Language only.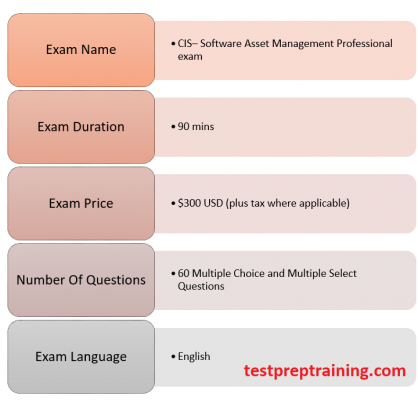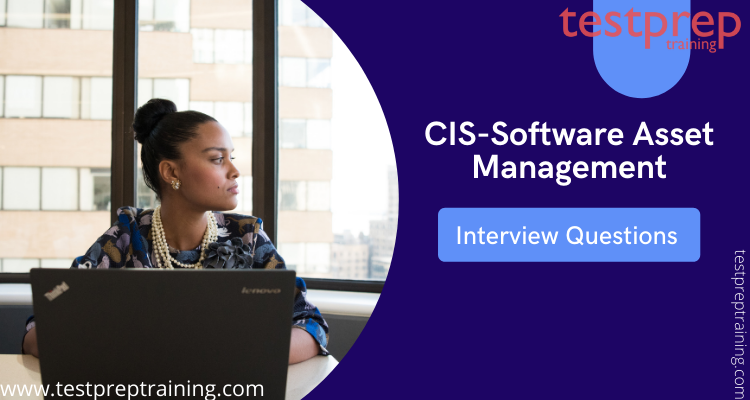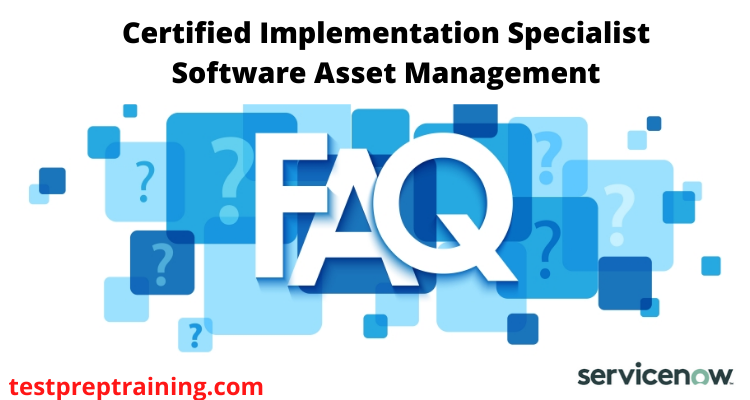 Course Outline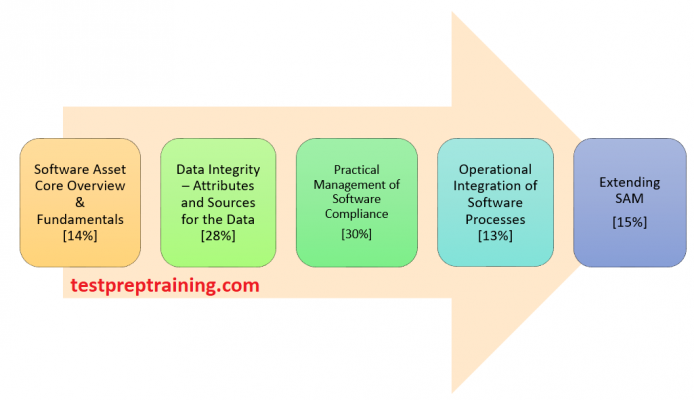 Software Asset Core Overview & Fundamentals [14%]
Data Integrity – Attributes and Sources for the Data [28%]
Practical Management of Software Compliance [30%]
Operational Integration of Software Processes [13%]
Extending SAM [15%]
Preparation Guide – CIS-Software Asset Management Exam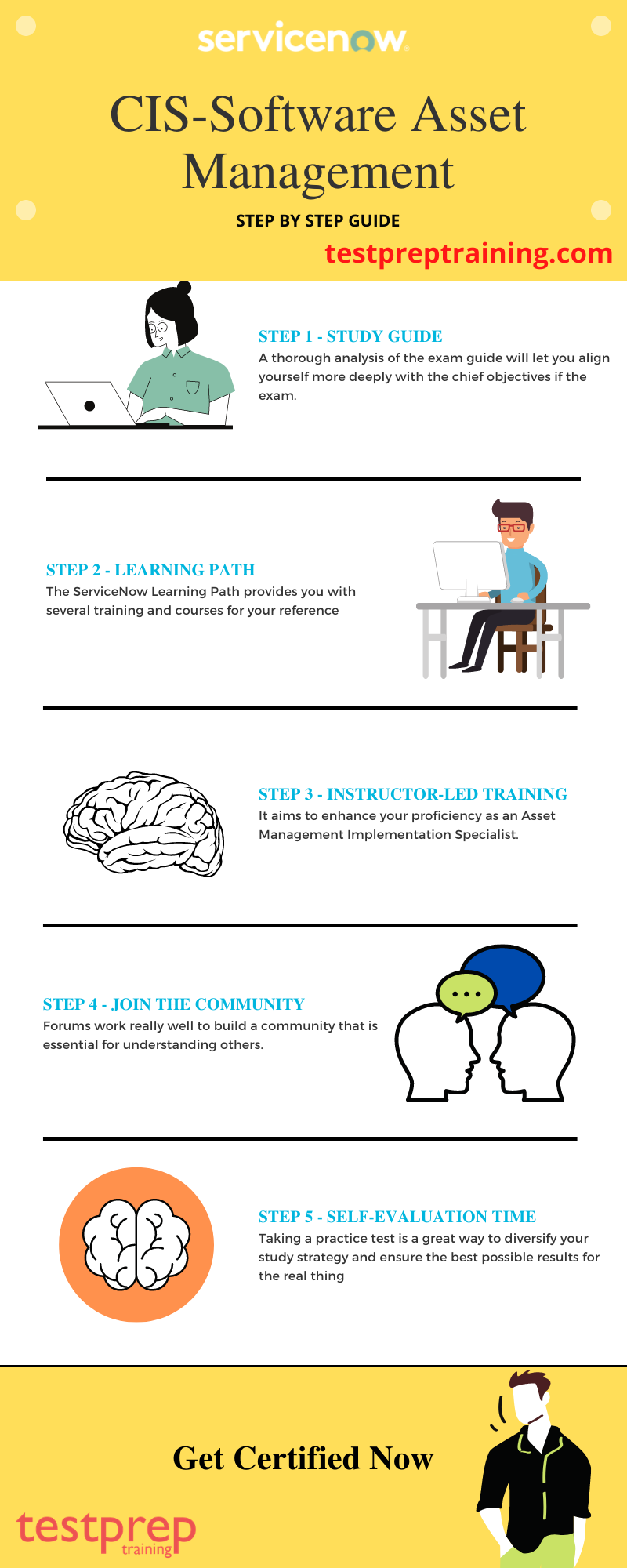 Study Guide
Before heading towards your CIS Software Asset Management Exam Preparation journey, you must get yourself familiar with the main objectives of the CIS-Software Asset Management certification exam. ServiceNow provides the candidates taking it's certification, with a well-structured CIS Software Asset Management Study Guide. Knowing the exam objectives is very important to get an insight into the exam. So visit the Official website of ServiceNow, to have a clearer view of the exam guide. A thorough analysis of the exam guide will let you align yourself more deeply with the chief objectives if the exam. And hence, enabling you to gain the required command to earn your desired certification.
Learning Path
ServiceNow publishes every minute update and details related to the CIS-Software Asset Management certification exam, on its Learning Platform. Here, you can get all the exam related details. The ServiceNow Learning Path will also provide you with several training and courses for the reference of the candidates taking the CIS-Software Asset Management exam.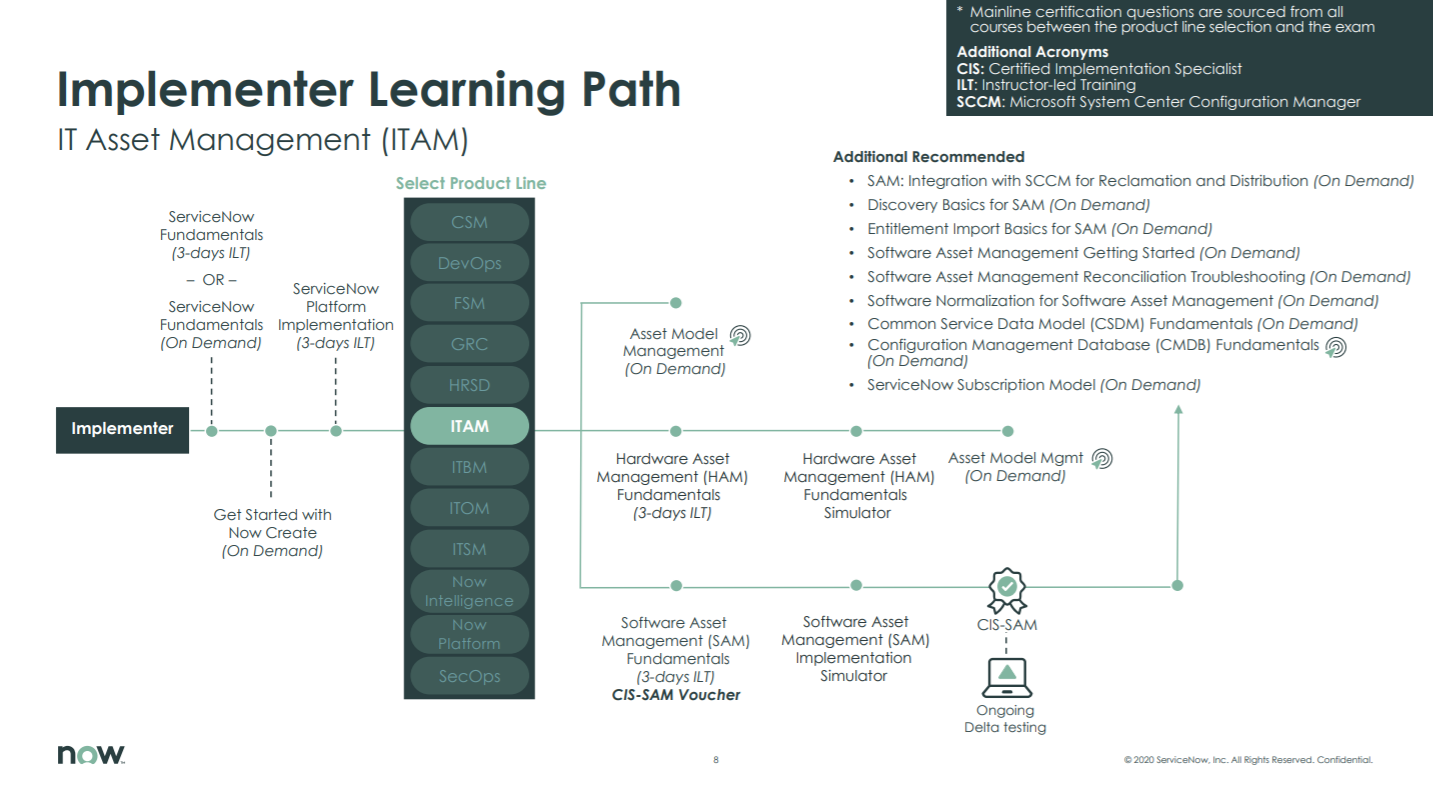 Instructor-led Training
ServiceNow offers Instructor-led Training, with the help of subject matter experts, for the candidates seeking to take the CIS-Software Asset Management certification exam. The CIS Software Asset Management Training course is specifically framed to give candidates, the ability to apply their skills in Asset Management. It aims to enhance your proficiency as an Asset Management Implementation Specialist. This course is primarily for experienced ServiceNow customers, partners, sales engineers, employees, and helps them gain knowledge in the field of assets management.
Join the ServiceNow Community
A healthy discussion is always beneficial, no matter where it is done. The same goes for online discussion forums. This is a nice way for the students to discuss their issues and get insights into how their competitors are going for the exams. One thing which is an advantage for anything that comes online is the scope of people joining it. An offline discussion is restricted to a small number of people, whereas online platforms can reach a wider range.
The prospects of getting resolutions to an issue increase steeply when a greater number of people are involved. Also, multiple viewpoints make the stuff more dynamic. These discussions make the studies more comprehensive. Introverts get a chance to express themselves, who might otherwise prefer staying out of discussions. Forums work really well to build a community that is essential for understanding others.
Self-evaluation Time – Practice Exam
Regardless of how you prepare for the Exam, a Servicenow CIS Software Asset Management Practice Test run or two can help you in more ways than you might expect. Taking a practice test is a great way to diversify your study strategy and ensure the best possible results for the real thing. Analyzing your answers will help you identify the areas where you need to give special attention to, and will also let you know your alignment with the exam objectives. Boost your confidence with CIS Software Asset Management Practice Exams now!
Get The Official Sample Paper Here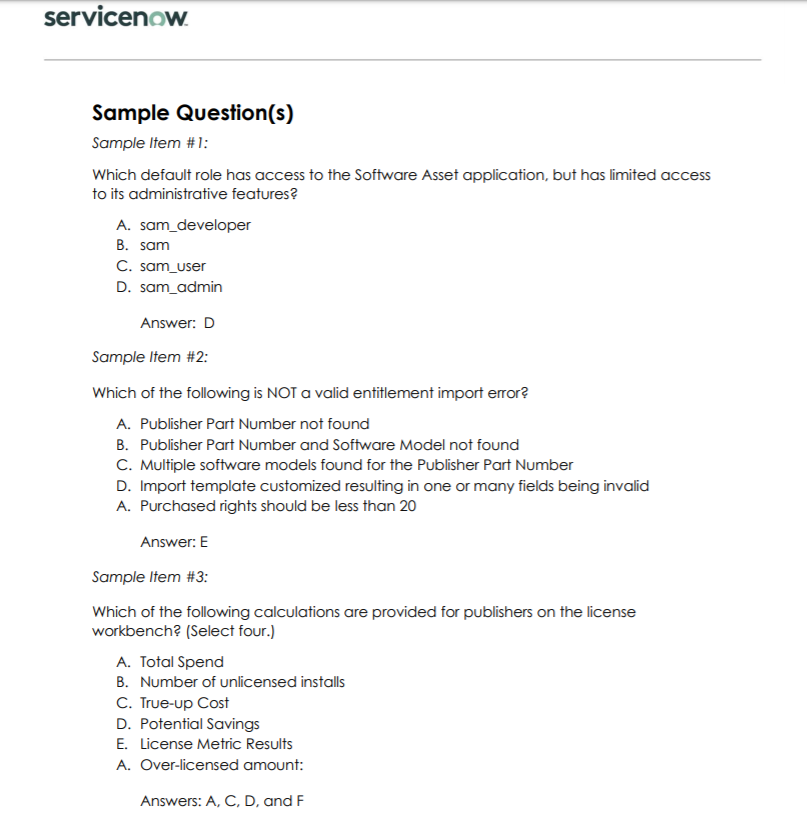 100% Exam Pass Guarantee
CIS-Software Asset Management Exam
Learn More
CIS-Software Asset Management Free Practice Tests
Take a Quiz