CIS-Software Asset Management Interview Questions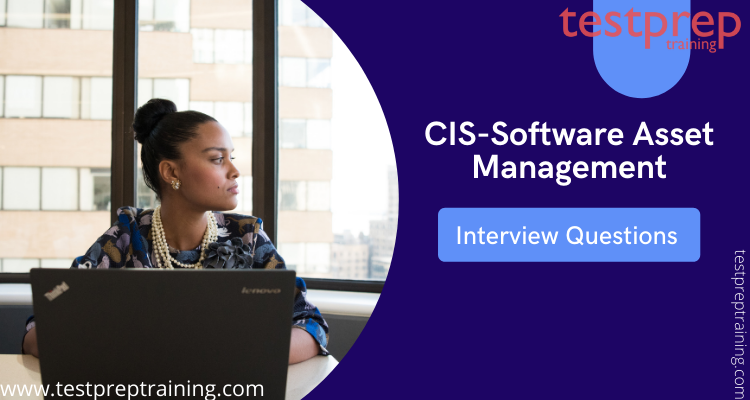 The most critical stage in achieving exam achievement is to prepare for a job interview. One of the most important steps in your career will be the job interview. Because this is your finest chance to impress recruiters and leave an indelible impression by performing at your best. However, it is critical to understand the fundamentals of an interview before attending. As a result, before beginning to prepare for the CIS-Software Asset Management interview phase, keep the following points in mind:
Research about the company
Research about the job roles and responsibilities
Thinking about wearing decent \ formals for the interview
Having good communication skills
Build yourself on confidence
Preparing for questions that will be asked in the interview
Following up with the recruiters.
In addition, the following sections cover the CIS-Software Asset Management Interview questions and answers. As a result, candidates who take this exam often struggle in the interview stage, owing to factors such as a lack of knowledge about the firm, job function, and, most crucially, ignorance of the most common interview questions. So, stick with us to improve your interview abilities and ace the interview.
Now, let's begin with some CIS-Software Asset Management Interview questions.
1. What does Software Asset Management do?
Seamlessly track your software assets through the entire life cycle of the software.
View the licensing position of your software and mitigate potential compliance issues.
Use Software Asset Management dashboards to quickly and accurately report the software usage of your organization.
2. What is a trigger?
The trigger determines when the flow, which might be record-based, schedule-based, or application-based, will begin.
3. What is the use of a record-base trigger?
After a record is created, changed, or destroyed, record-based triggers start a flow. The triggering record can be used as an input for activities in the flow.
4. What is the use of Schedule-based triggers?
Scheduled triggers start a flow at a specific time and date. The execution time can be used as an input for activities in the flow.
5. What is the use of Application triggers?
When the related application is activated, application triggers are added. When the MetricBase application is open, for example, the MetricBase trigger is active.
6. List the steps for Flow processing?
When the flow trigger conditions occur or an API directly calls the flow, the system creates an entry in the event queue to start the flow.
The scheduler processes the event and starts the flow in the background.
The system builds a process plan from the flow.
The system runs the process plan using the record that triggered the flow.
System stores the execution details in a context record.
7. What information does the flow context record holds?
To begin with, Flow outcome state
Flow runtime duration
Flow log messages
Lastly, Flow configuration and runtime values
8. List the applications of Flow?
When working with flows, you can:
Save a flow
Activate a flow
Deactivate a flow
9. What can do with subflows?
When working with subflow, you can:
Save a subflow
Publish a subflow
10. What can you do with Actions?
Save an action
Publish an action
11. How to Create a File type data source?
Navigate to System Import Sets > Administration > Data Sources.
Click New.
Complete the form.
Click submit.
12. List some base system patterns used by Software Asset Management?
Citrix XenApp
Citrix XenDesktop,
VMware vCenter
Microsoft SQL Server
Microsoft Exchange Server
Oracle Database Server
13. Explain the process of Normalization?
The discovered publisher, discovered product, and discovered version and edition data are compared to the ServiceNow repository of normalized equivalents during the normalisation process.
14. What do you understand by Software Asset Management Content Service?
The Software Asset Management Content Service is an IT asset management (ITAM) shared service that provides users with continual software recognition improvements.
15. What are Models?
Models are different versions or configurations of an object. Various ServiceNow platform asset applications, such as Product Catalog, Asset Management, and Procurement, use models to manage and track assets.
16. What does a Contract consist of?
Contract number
Contract start and end dates
Active status
Terms and conditions statements
Documents
Renewal information
Financial terms
17. List some best practices followed by Asset management?
Control inventory that is purchased and used.
Reduce the cost of purchasing and managing assets.
Select the proper tools for managing assets.
Manage the asset life cycle from planning to disposal.
Achieve compliance with relevant standards and regulations.
Improve IT service to end users.
Create standards and processes for managing assets.
18. Mention the Change types?
Standard change
Emergency change
Normal change
19. What do you understand by Standard change?
A standard change is a pre-authorized change that is low risk, relatively common, and follows a specified procedure or work instruction.
20. What is Emergency change?
This modification has such a high priority that it bypasses group and peer review and approval, instead going straight to the Authorization state for CAB approval. Furthermore, in order to remedy a severe event or apply a security patch, a modification must be implemented as soon as possible.
21. What types of emergencies does Emergency change covers?
Emergency changes cover the following types of emergencies:
Fix on fail or retroactive situations where the impact to service has already been experienced.
Fail or fail situations where the impact to service is imminent if action is not taken.
22. What is Normal change?
Normal change requests follow a prescriptive process which requires two levels of approval before implementing, reviewing, and closing.
23. What are the default Asset classes?
The default asset classes are Hardware, Software License, and Consumable. These general classes can manage various assets.
24. How to Create an asset class?
Navigate to System Definition > Tables & Columns > Create Table
Click Submit.
Navigate to the new application (for example, Asset > Vehicle) and click New.
Configure the form to include Model, Model Category, and Quantity.
Create a model category and add the asset class you created to the Asset class field.
Create new models and add them to the model category.
25. How to Create a stockroom?
Navigate to Inventory > Stock > Stockrooms and create a new record.
Click Submit.
26. How to delete a stockroom with no assets?
Navigate to Inventory > Stock > Stockrooms.
Select the check box beside the stockroom Name.
In the Actions choice list below the list, select Delete.
27. List the different types of Stockroom?
Stockroom types are categories of stockroom:
Priority
Shipment Required
28. What are Stock rules?
When the record of a certain asset in a particular stockroom hits a certain threshold, stock rules state that a specific number should be assigned from another stockroom or ordered from a vendor.
29. Define Reconciliation?
The reconciliation process calculates the compliance status of software products regarding discovery and entitlements.
30. What is a bundled model?
A bundled model is a single model comprised of individual models. For example, a laptop, printer, keyboard, and mouse can be combined into a single bundled model.
31. How to form Software models?
As part of the asset management process, software models are generated. You can generate software product models from the product catalogue, but you can't manage all features of the models.
32. What are Bubble charts?
Bubble charts are interactive graphs that help you identify strategies by plotting application indicator scores.
33. How is a risk calculated on a software model?
External ageing risk, internal ageing risk, external stage risk, and internal stage risk are four predefined characteristics that are used to quantify risk in a software model.
34. How to create a data domain?
Navigate to Application Portfolio Management > Information Portfolio > Data Domains.
Click New.
On the form, fill in the fields.
Click submit
35. Define metric?
A value used to evaluate assessable records. Moreover, a metric can measure subjective values in an assessment questionnaire or gather objective values in a database query run by a script.
36. What is the use of Rate models?
A rate model is use to derive date-effective, criteria-driven hourly rates for calculating planned and actual resource costs for a project or demand.

100% Exam Pass Guarantee
Want to qualify CIS-Software Asset Management exam?
Learn More
Are you preparing for CIS-Software Asset Management exam?
Take a Quiz