The U.S.-based Institute of Management Accountants USA offers the Certified Management Accountant (CMA) certification exam. Basically, this is a professional credential in the fields of management accounting and financial management. This certificate validates a candidate's skills and knowledge in the areas of financial planning, control, decision support, analysis, and professional ethics. CMA certified professionals work inside various organizations, industries, and types, management or service type, public and private, not-for-profit organizations, academic institutions, Government entities (USA), and corporations around the world.
Eligibility Criteria for Certified Management Accountant (CMA) exam
In order to earn the CMA certification, you should fulfill the following conditions:
An active IMA membership
Complete and pass both parts of the CMA Exam.
A bachelor's degree from an accredited college/university or a related professional certification.
Abide by IMA's Statement of Ethical Professional Practice.
Professional experience of two years in management accounting or financial management.
For more details, check out the CMA Handbook.
Scheduling the exam
The CMA exams are administered at hundreds of Prometric testing facilities worldwide. You can sit for an exam at the time and place which is convenient for you. Follow the given steps to schedule your exam:
Firstly, enroll in the CMA program.
Secondly, pick your testing window out of January/February, May/June, and September/October.
Then, register for the exam at www.imaonlinestore.com
Get your authorization number and further instructions.
Finally, schedule and confirm your exam appointment with Prometric at www.prometric.com/ICMA
Rescheduling the exam
If you wish to reschedule or cancel the exam then the following apply:
Rescheduling of an exam appointment can be done by calling Prometric at (800) 479-6370 or at www.prometric.com/ICMA
You will have to pay a rescheduling fee to Prometric if you cancel the exam within 30 days of the appointment date
Based on the policies of Prometric, the exam appointment must be canceled 72 hours before the exam date.
Appointments cannot be rescheduled to a different testing window.
Exam Details
| | |
| --- | --- |
| Exam Fees | $311 for students/$415 for professional members |
| Type of questions | Multiple choice questions(100) |
| Passing Score | 360 |
| Exam Language | English and Mandarin Chinese |
| Time Duration | 4 hours per part |
Certified Management Accountant (CMA) Course Outline
The CMA exam has 2 parts which consist of 12 domains. These domains along with their weightage are given below:
Part 1: Financial Planning, Performance, and Analytics
External Financial Reporting Decisions(15%)
Planning, Budgeting, and Forecasting(20%)
Performance Management(20%)
Cost Management(15%)
Internal Controls(15%)
Technology and Analytics(15%)
Part 2: Strategic Financial Management
Financial Statement Analysis(20%)
Corporate Finance(20%)
Decision Analysis(25%)
Risk Management(10%)
Investment Decisions(10%)
Professional Ethics(15%)
Preparation Guide for Certified Management Accountant (CMA) exam
So, to commence the preparation of the exam. Firstly, you need to thoroughly go through the topics and subtopics of the exam. This will help you get a fair idea about the exam and distribute your learning preparation accordingly. Also, it's not just the topics but the deep knowledge and practical application of things that will help you ace the exam. So, analyze the syllabus well and accordingly start studying.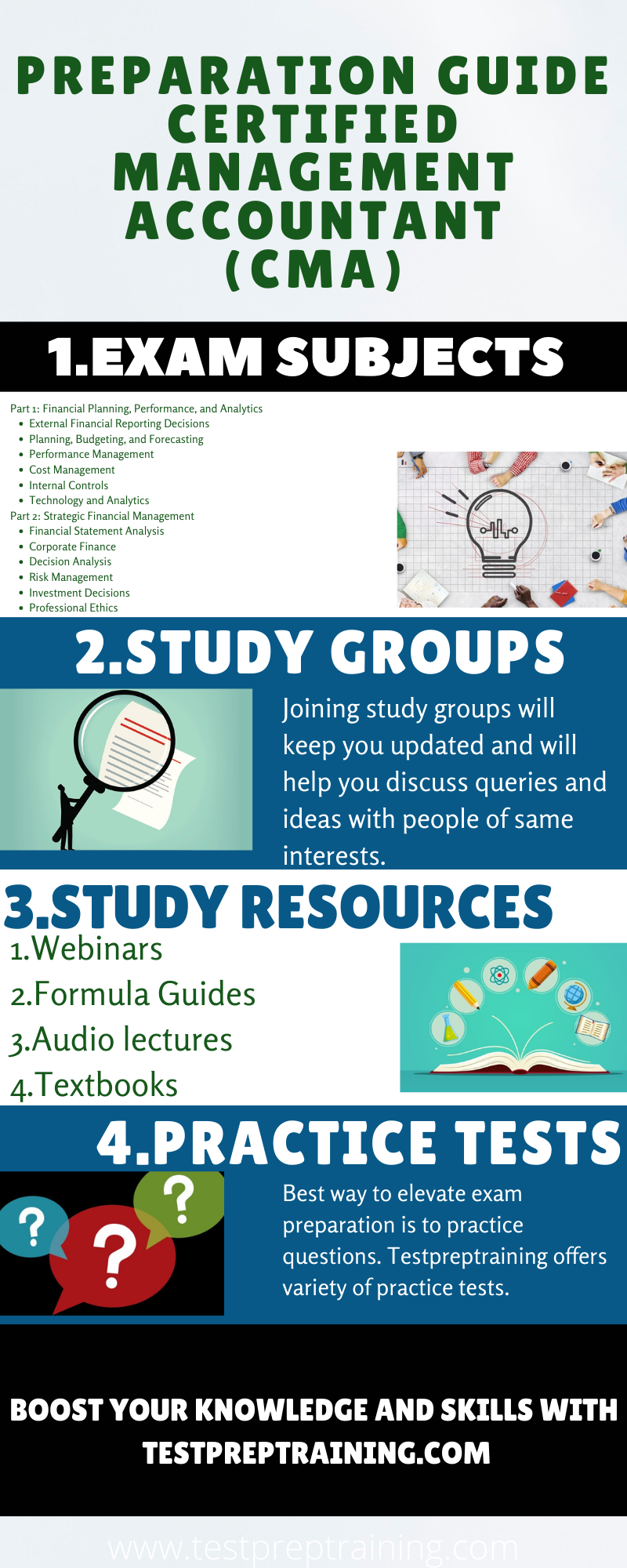 Explore the details of exam
However, an important aspect before starting with studying is to know all about the pattern of the exam including details about the type and number of questions and also the time allotted. So, this will help you strategize your learning technique and will also help you manage your time while doing the exam. Therefore, go through the details and also keep a check on the official website for any future updates.
Study resources
CMA and it's partners provide several resources for preparing for the exam. For your ease, we have mentioned some valuable resources for you as follows:
Join study groups
Well, joining study groups and communities can also prove to be of great help. It is a platform that connects professionals and beginners which in a way helps you get your queries solved and also allows you to have healthy discussions with peers. Therefore, joining these groups will help you stay updated about any changes that might come. You can check out myIMA Network study groups.
Practice tests
Lastly, the most important step of preparation is practicing questions. This helps you not only evaluate your level of preparation but also helps you boost your confidence by attempting challenging questions. So, you can find various sample papers on the internet, the practice tests that we offer are definitely reliable. Here, we provide unique sets of professionally designed questions that are of great help in polishing your knowledge. Alongside, Testpreptraining.com also allows you to create your own practice tests.
100% Exam Pass Guarantee
Want to ace the Certified Management Accountant (CMA) exam?
Learn More
Are you preparing for Certified Management Accountant (CMA) exam?
Take a Quiz