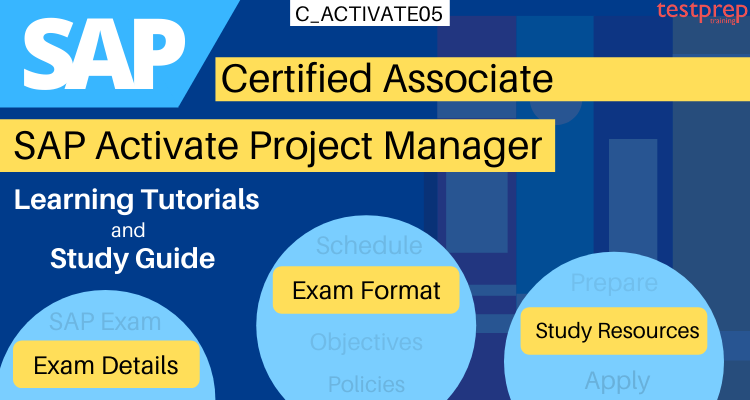 SAP Certified Associate – SAP Activate Project Manager (C_ACTIVATE05) certification exam validates that the candidate has the knowledge required in the area of SAP project management. This exam helps candidates in building on basic consultant skills and experience that is then refined by practical experience during several projects.
Skill Validation of a Project Manager
The SAP C_ACTIVATE05 exam validates the skills and abilities of SAP focused project managers to apply methodologies and tools.
The project manager must have skills for managing internal and external stakeholders with basic knowledge of change management processes, and communicating these processes to others.
Project Manager should know how to manage the end-to-end transition of the project from Sales to Realization. They have skills to develop roadmaps for project execution with understanding testing and quality management.

Learning Objectives
In SAP Activate Project Manager (C_ACTIVATE05) candidates will be able to demonstrate their skills and knowledge in:
Introducing SAP Activate innovation adoption framework
Discussing the key characteristics of SAP Activate methodology
Explaining how users access the SAP Activate content in SAP Jam, Roadmap Viewer tool and SAP Solution Manager
Describing the SAP Solution Manager and how it relates to SAP Activate.
Explaining how the SAP Activate methodology guides project teams:
Implementing cloud solutions
Exam Details
SAP Certified Associate – SAP Activate Project Manager (C_ACTIVATE05) exam will have 80 questions in the exam. To complete the exam, candidates will be given 180 minutes during the session. However, to pass the exam candidates must score a minimum of 68%. This exam is available in English language and the exam cost is $549 USD.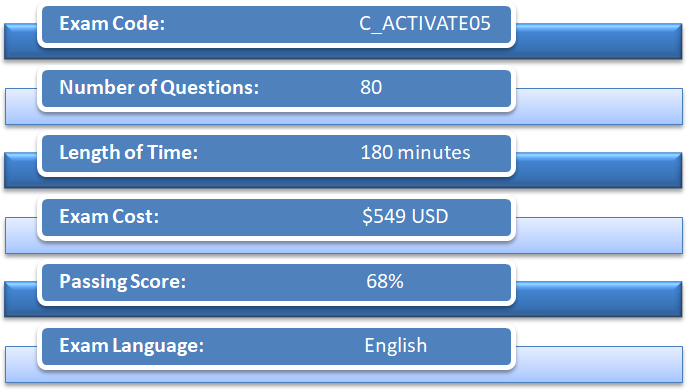 Scheduling for the Exam
Candidates can schedule the SAP Activate Project Manager (C_ACTIVATE05) exam on Certification Hub. There, the list of exams will be available on the Exam Dashboard menu. Further, this dashboard will track the exam results and the remaining attempts. There you can schedule a suitable exam appointment time and date.
Course Structure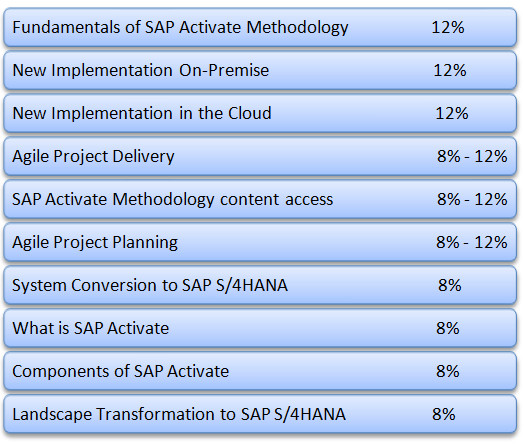 Topic 1: Fundamentals of SAP Activate Methodology
Describing key characteristics of the SAP Activate Methodology
Explaining the purpose and focus of each methodology phase
Describing methodology structure
Topic 2: New Implementation On-Premise
Describing the key steps and deliverables in each phase during the new implementation on premise.
Discussing the role and purpose of fit/gap analysis, iterative configuration, integration and extensibility of the on premise solution.
Topic 3: New Implementation in the Cloud
Describing the key steps and deliverables in each phase during the new implementation in the cloud.
Discussing the role and purpose of fit/gap analysis, configuration, integration and extensibility in the cloud environment.
Topic 4: Agile Project Delivery
Describing how the project team prepares release and sprint plans, and the structure and key activities in each sprint.
Discussing key techniques used in agile projects.
Topic 5: SAP Activate Methodology content access
Describing how users access the SAP Activate methodology, and how to navigate in the SAP Jam and in Roadmap Viewer tools.
Topic 6: Agile Project Planning
Describing the agile project roles and responsibilities and the preparation of the project including the planning, estimation, user story mapping and construction of backlog.
Topic 7: System Conversion to SAP S/4HANA
Describing the approach for System Conversion to SAP S/4HANA including the key deliverables in each phase of this journey.
Topic 8: What is SAP Activate
Defining the role of the SAP Activate framework, the role of each component in SAP Activate, and the benefits of SAP Activate.
Topic 9: Components of SAP Activate
Describing the role of SAP Best Practices and how they are used in a project.
Discussing the functionality of Guided Configuration.
Topic 10: Landscape Transformation to SAP S/4HANA
Describing the approach for Landscape Transformation to SAP S/4HANA including the key deliverables in each phase of this journey.
For Reference: SAP ACT100 SAP Activate Methodology
Exam Policies
SAP provides exam certifications policies for candidates to understand the various terms and procedures related to certifications. However, this will help candidates to get knowledge about the SAP certification methods and other details related to the exams. Some of the policy covers:
Reschedule Policy
SAP have exam reschedule policy in which candidates can reschedule an exam in Certification Hub by using the calendar icon in the "Exam Appointments/Upcoming Appointments" section. However, they must cancel or reschedule the exam at least 24 hours before the scheduled appointment date and time.
Retake Policy
Candidates can take the exam up to three times. For those candidates who do not pass an exam after three attempts, then they will need to re-register for the next release of the exam. And, if you do not pass the next release after three attempts then, you will not be able to retake the exam until the next edition is released, that is within 1 year.
Maintaining Certification
To maintain your SAP Global Certification for a specific SAP solution (SAP SuccessFactors, SAP Ariba, or SAP S/4HANA Cloud), you might be required to pass delta or stay current assessments when a newer version of a solution is released.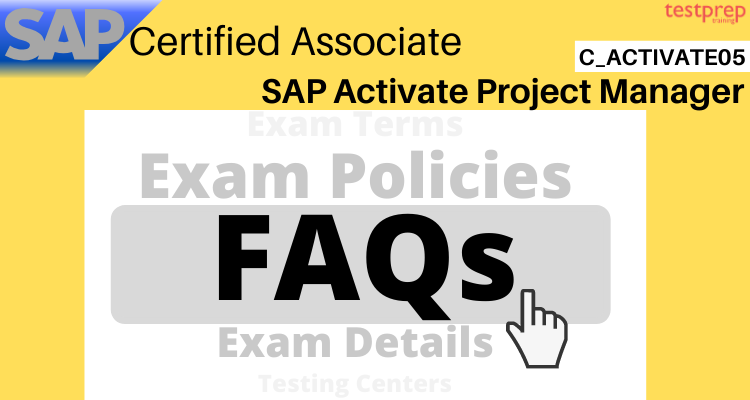 Preparation Guide for SAP Activate Project Manager (C_ACTIVATE05) Exam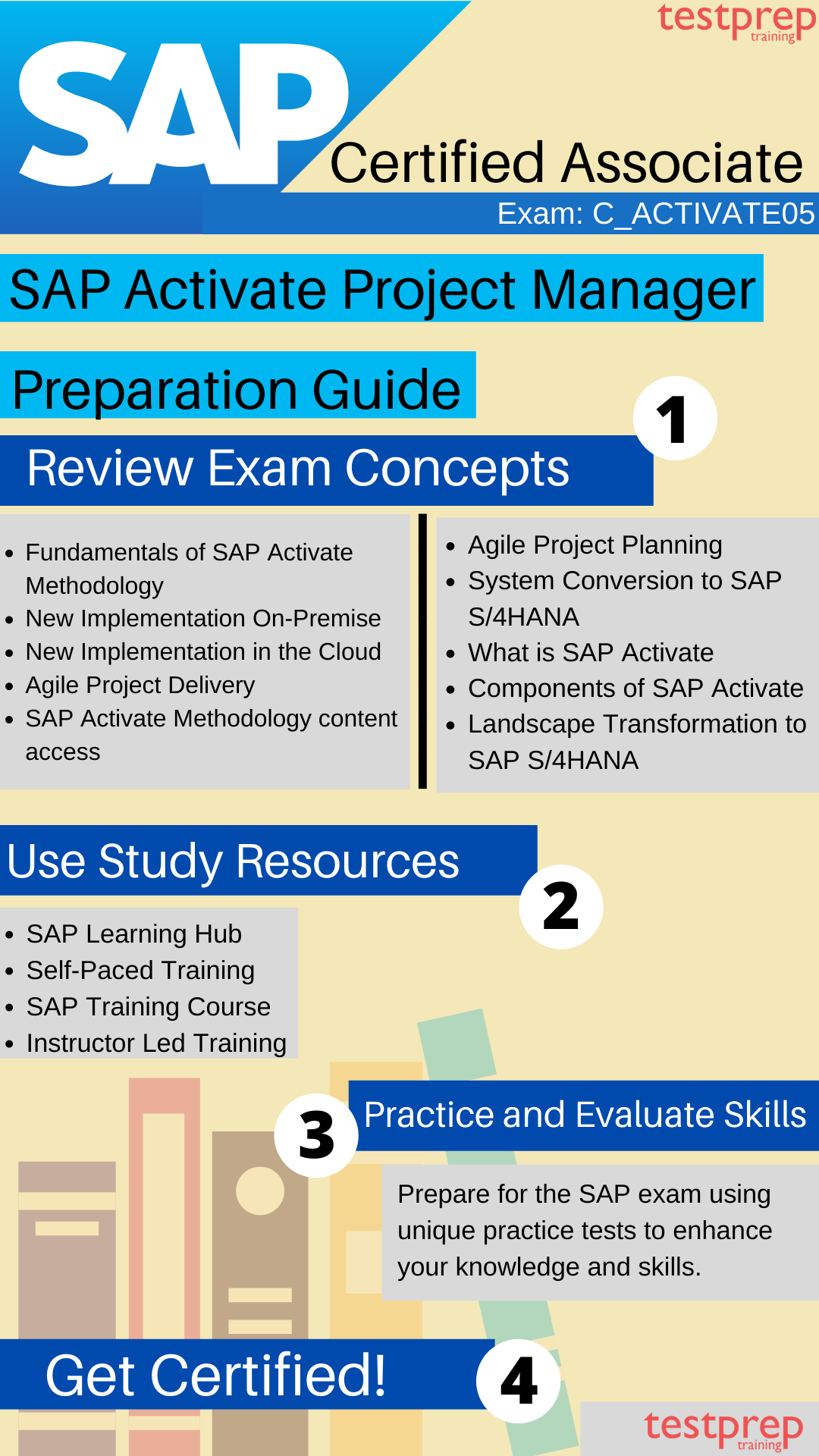 SAP Learning Hub
SAP gives candidates access to learning hubs to help them in building and maintaining their skills with:
self-paced digital learning content that includes e-books.
expert-led social learning forums.
access to preconfigured training systems for real-world practice.
Candidates will have access to a community of learners and self-paced e-learning courses with expert-led live sessions, and collaborative social learning rooms. Moreover, this will enhance your SAP skills as well as it will help you to connect with SAP experts. It provides access to SAP live that helps candidates to get hands-on system practice.
Self-paced Training
SAP provides self-paced training that offers candidates a wide range of learning styles and subject-matter requirements. This training helps project team members, support professionals, end-users, and power users to meet their needs that are accessible from anywhere. This covers two modes that are: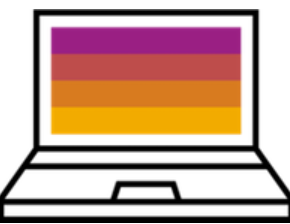 SAP E-Learning
SAP E-Learning is single course access that provides highly interactive, Web-based courses that enable candidates to take and deliver timely, focused training for organizations. The students at E-learning can decide when and where they will access their training and can repeat learning units as many times and as often as needed. Moreover, E-learning courses include highly effective instructional elements and simulations based on real-world business scenarios.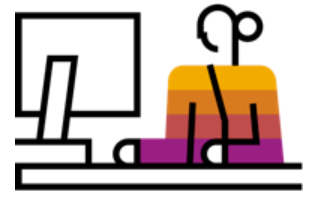 SAP E-Academy
SAP E-Academy refers to an e-learning solution-based course that helps students to achieve expertise in specific SAP solution areas or prepare for a certification exam. However, with SAP E-Academies, students are provided access to a self-paced learning environment enabling them to access:
Online Learning Content
In this the content is delivered to candidates in an e-learning format consisting of presentation slides with audio commentary, system demonstration/practice simulations, slide notes, and mentor tips.
SAP Training Systems
With this the student can use the live training systems hands-on to test their own business process scenarios, complete exercises from their student manual and view demonstrations.
Help Desk Support
Sap provides help desk support throughout the learning access period, with all queries being answered within 24 hours Monday-Friday. Students get technical support for their learning environment unique features.
Instructor Led Training
SAP provides Instructor-led training that provides candidates hands-on learning experience with a subject matter expert to guide. Secondly, it provides options to virtual live classroom (VLC) training that has the same comprehensive live training from SAP experts without the need to travel by using seamless over-the-Web connectivity. Then, it has customer-specific training in which the candidates receives the same comprehensive live training from SAP experts but for your company
SAP Training Course
ACT100- SAP Activate Methodology
SAP offers ACT100- SAP Activate Methodology course that gives candidates an introduction to the new innovation adoption framework SAP Activate. Moreover, this course provides knowledge about the Methodology component of SAP Activate in detail, including key deliverables in the context of different project journeys for New Implementation in the cloud and on-premise, System Conversion and Landscape Transformation.
However, the course will cover the content that includes:
Introduction to SAP Activate
SAP Activate Methodology Foundation
Accessing the SAP Activate methodology content
New Implementation (In Cloud)
New Implementation (On-Premise)
Introduction to system conversion for SAP S/4HANA
Landscape Transformation for SAP S/4HANA
Practice Tests
This can be a very essential part that can help you to prepare better for the exam. That is to say, practice tests are important as by assessing yourself with these tests you will know about your weak and strong areas. However, by practicing you will be able to improve your answering skills that will result in saving a lot of time. Moreover, the best way to start doing practice tests is after completing one full topic as this will work as a revision part for you. So, make sure to find the best practice sources.

Start preparing for SAP Activate Project Manager (C_ACTIVATE05) Exam.
100% Exam Pass Guarantee
Want to pass C_ACTIVATE05- SAP Activate Project Manager Exam?
Learn More
Are you preparing for C_ACTIVATE05- SAP Activate Project Manager Exam?
Take a Quiz