Apparently, an attractive certification can help you to find a decent job and climb up the corporate ladder. In the same vein, adding a Microsoft 365 Fundamentals MS-900 credential in your profile adds nothing but an advantage. However, earning an MS-900 certification is not an easy feat. In other words, it is quite difficult for candidates to prepare for the certification exam on their own. You may feel confused about some difficult knowledge. But, now, you are fortunate enough as our professional experts have successfully compiled and curated an MS-900 Cheat Sheet, comprising all the important products and services regarding MS-900.
This MS-900 cheat sheet will help you improve your performance and make you stand out from other people. This cheat sheet will be a concise set of notes which can be used for quick reference during MS-900 exam preparation. However, before we begin introducing you to the MS-900 cheat sheet, it is important for you to take a dwell on the MS-900 exam and its exam related details.
Microsoft MS-900 Exam: Overview
Before you begin your Microsoft journey, it is important for you to understand what the exam actually is. So, let's start with an exam overview before we jump the gun.
The MS-900 exam is the only needed exam to get the Microsoft 365 Fundamentals certification. Subsequently, it is an optional exam that leads you to the other Microsoft 365 Paths. This certification exam requires those potential candidates who aspire to exhibit their knowledge in general and the Software as a Service cloud model. The exam encompasses a wide knowledge of available options and benefits gained by implementing Microsoft 365 cloud service offerings.
Once you are exposed to the exam abstract or exam overview, let's move ahead and collect major important details of the exam.
What is MS-900 Exam?
If there is something you can't miss about your exam, then it's surely the exam details. In other words, details play a pivotal role be it exam details or any other details. Therefore, it is always good to have details beforehand in order to secure a safe spot in the exam. The details for Microsoft MS-900 are available below:
The Microsoft MS-900 exam questions will range between 46-60 of type multiple-choice and multi-responsive questions that need to be completed in a time frame of 85 minutes. The candidate has to score at least 700 or more points in order to pass the exam. Further, the exam costs $900 USD with additional taxes. Above all, the exam is available in two language i.e. English and Japanese.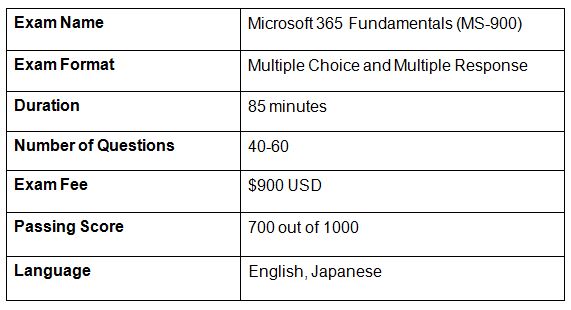 Exam Prerequisites
Eligibility requirement varies from exam to exam. In other words, each exam has its own eligibility requirement which needs proper consideration as well as fulfillment. Therefore, to ease your pathway to certification, we have provided all the relevant details below:
First things first, the capability to exhibit knowledge in general and the Software as a Service (SaaS) cloud model.
Secondly, knowledge of available options and benefits gained by implementing Microsoft 365 cloud service offerings.
Microsoft 365 Fundamentals MS-900 Exam Outline
The Microsoft MS-900 certification exam covers the following topics:
The Microsoft 365 Fundamentals Exam MS-900 has been updated on April 23, 2021.
MODULE 1 – Describe Cloud Concepts (10-15%)
Describe the different types of cloud services available
describe Microsoft's IaaS, and PaaS offerings Microsoft Documentation –
describe where Microsoft Azure and Dynamics 365 fit into the Microsoft ecosystem
cloud-based productivity solutions
Describe the benefits of and considerations for using a cloud service instead of on-premises services
MODULE 2 – Describe Core Microsoft 365 Services and Concepts (30-35%)
Identify core Microsoft 365 capabilities
Productivity and teamwork (IM and chat, online meetings, email and calendaring, Office productivity apps, file storage and sharing, intranet and team sites, enterprise social, accessibility)
Business management (simplified management, business process automation, extensibility, business voice and phone systems, forms and workflow management, business intelligence, work management, customer scheduling and booking, mileage tracking and reporting)
Security and compliance (identity and access management, information protection and governance, threat protection, security management, insider risk management, compliance management, discover and respond)
Describe the capabilities of the Microsoft 365 Admin center and Microsoft 365 user portal (Microsoft Documentation: Microsoft 365 admin center and About the Microsoft 365 admin center)
Describe options for deploying and supporting Windows and Office
Describe the deployment and release models for Windows-as-a-Service (WaaS) including deployment rings
describe the capabilities of Windows Virtual Desktop (WVD) and when it makes sense to implement WVD
identify deployment and servicing methods for Microsoft 365 Apps
Describe analytics capabilities in Microsoft 365
describe capabilities of Workplace Analytics and MyAnalytics
describe the reports available in the Microsoft 365 Admin center and other admin centers
Describe Microsoft 365 collaboration solutions
explain how collaboration solutions in Microsoft 365 can drive personal and organizational productivity
describe the capabilities for extending Office and Microsoft Teams with Power Platform and third-party apps and services
MODULE 3 – Explain Security, Compliance, Privacy, and Trust in Microsoft 365 (30-35%)
Explain zero-trust security principles for Microsoft 365
identify key components that need to be protected within an organization's cloud and on-premises infrastructure
describe key security pillars of protection, including identity, documents, network, and devices
Explain unified endpoint management concepts
explain device and application management
describe bring you own device (BYOD), and application and device management
Explain the value of the Microsoft Endpoint Manager (MEM) including Microsoft Intune and System Center
Explain identity and access management concepts
describe concepts of cloud identity, on-premises identity, and hybrid identity
describe the purpose and value of implementing multi-factor authentication (MFA) (How to implement Multi-Factor Authentication (MFA))
describe the purpose and value of conditional access (Microsoft Documentation: What is Conditional Access?)
Explain Threat Protection in Microsoft 365
identify how Microsoft 365 services address the most common current threats
describe the concepts of Cloud App Security
Describe the Service Trust portal, Microsoft 365 Security center, and Compliance Manager
identify differences between the Service Trust portal, Security center, and Compliance Manager
explain the trust relationship between Microsoft and service locations
describe data protection options including data segregation (Data protection options in the cloud)
describe how compliance scores are generated and how they can be used
Describe information protection and governance solutions
explain information protection and governance
identify the types of sensitivity labels and when to use each type
MODULE 4 – Describe Microsoft 365 Pricing and Support (20-25%)
Plan, predict, and compare pricing
describe the Cloud Solution Provider (CSP) pricing model for Windows and Microsoft cloud services
explain available billing and bill management options including billing frequency and methods of payment
optimize costs based on licensing options (Explain ways that Microsoft 365 helps optimize costs)
Identify licensing options available in Microsoft 365
describe the available licensing and management options for Microsoft 365
describe additional capabilities available when a customer purchases Azure Active Directory P1, Azure Active Directory P2, and Azure AD Free
Describe the service lifecycle in Microsoft 365
Describe support offerings for Microsoft 365 services
Microsoft MS-900 Study Guide: Cloud Computing Services
The objective of cloud computing is to make running a business easier and more efficient, irrespective of its size (small start-up or a large enterprise). Every business is unique in nature and has different needs to fulfill. Therefore, in order to meet those needs, cloud computing providers offer a wide range of services. Moreover, it is more important to understand MS-900 exam difficulty. So lets begin with the preparation guide and notes.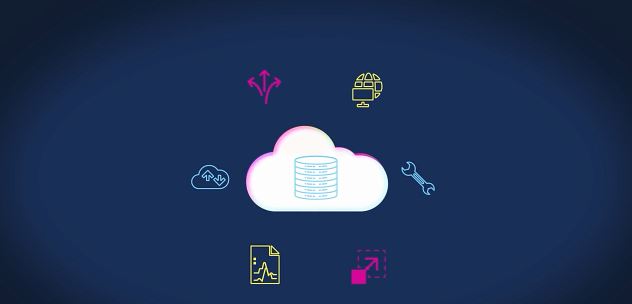 Whenever we talk about cloud computing, there are three major categories that break into the conversation. It is important to understand them because they are used in conversation, documentation, and training. So, let's start a brief introduction to cloud computing services.
Infrastructure as a service (IaaS)
Infrastructure as a Service (IaaS) is the most flexible category of cloud services. The aim of the service is to provide you the most control over the provided hardware that runs your application (IT infrastructure servers and virtual machines (VMs), storage, and operating systems). Furthermore, instead of buying hardware, with IaaS, you rent it. It is basically an instant computing infrastructure that is managed over a network, mainly the internet. IaaS is commonly used in the following scenarios:
Migrating workloads: Firstly, IaaS facilities are managed in a similar way as on-premises infrastructure. They provide an easy migration path for moving existing applications to the cloud.
Test and development: Subsequently, teams can quickly set up and dismantle test and development environments, bringing new applications to market faster. IaaS plays a crucial role in making scaling development and testing environments, fast and economical.
Storage, backup, and recovery: Further, organizations are often seen ignoring the capital outlay and complexity of storage management. The reason being, it requires skilled staff in order to manage data and meet legal and compliance requirements. IaaS is quite useful to manage unpredictable demand and steadily growing storage needs. Moreover, IaaS can also simplify the planning and management of backup and recovery systems.
Platform as a service (PaaS)
PaaS is appropriate to provide an environment for building, testing, and deploying software applications. The objective of PaaS is to act as a helping hand in creating an application quickly without managing the underlying infrastructure. For instance, if you deploy a web application using PaaS, then in such a situation, you don't have to install an operating system, web server, or even system updates.
PaaS is commonly used in the following scenarios:
Development framework: First things first, PaaS provides a layout that helps developers to rely upon in order to develop or customize cloud-based applications. Just like Microsoft Excel macro, PaaS lets developers create applications using built-in software components: Cloud features such as scalability, high-availability, and multi-tenant capability are included, reducing the amount of coding that developers must do.
Analytics or business intelligence: Additionally, tools that are provided as a service with PaaS allow organizations to analyze and mine their data. They can find insights and patterns, and predict outcomes to improve business decisions such as forecasting, product design, and investment returns.
Software as a service (SaaS)
SaaS is a type of software that is centrally hosted and managed for the end customer. Its foundation is an architecture where one version of the application is useful for all customers and licensed through a monthly or annual subscription. Some popular examples of SaaS software include Office 365, Skype, and Dynamics CRM Online.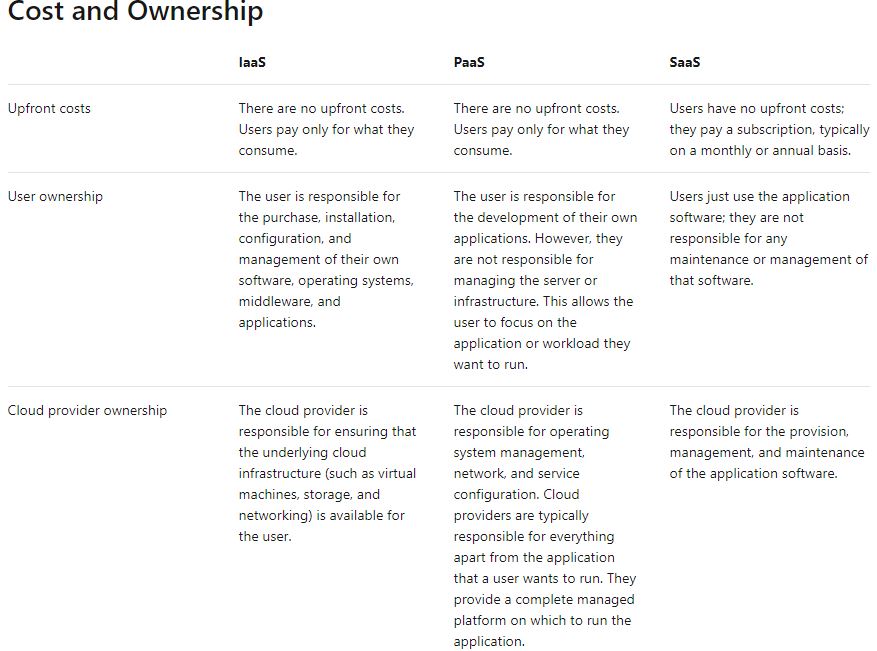 Management responsibilities
It is important to note here that these categories (IaaS, PaaS, and SaaS) are layers on top of each other. Let's understand this with an example- PaaS adds a layer on top of IaaS by providing a level of abstraction. This abstraction comes with the benefit of concealing the details, therefore accelerating the coding process. However, there is another aspect of the abstraction which takes the ultimate control vested over the underlying hardware.
The following illustration depicts the list of resources that you manage and that your service provider manages in each cloud service category.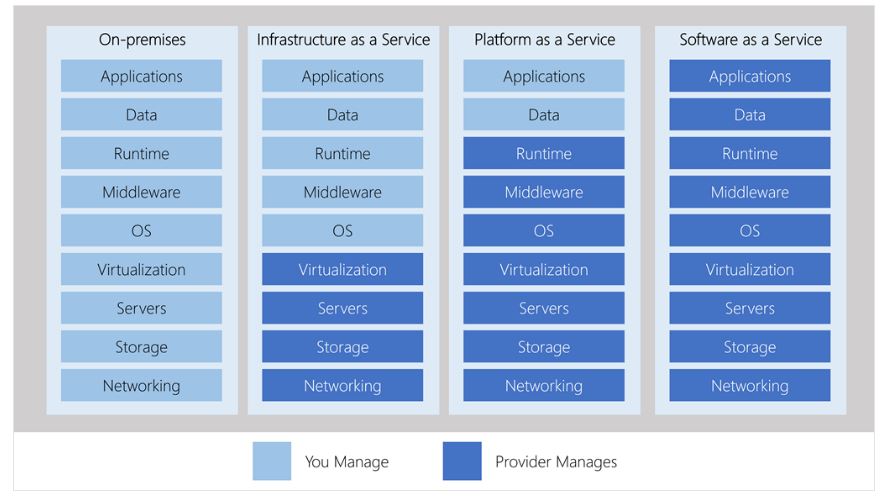 Expert's Corner
To conclude, MS-900 is a chance to generate a golden bowl for yourself which can help you achieve your dream goals. As we all know, the pace of life is quickly in modern society, therefore, we must squeeze time to learn and become better. After all, everybody strives to become a better version of themselves.
Our Microsoft MS-900 Cheat Sheet is designed in such a manner that it will not occupy your much time. In other words, whenever you have spare time, you can have a quick glance at our Microsoft MS-900 exam simulation. Also, gradually, you will acquire and learn much knowledge and become totally different from the past.
Our website offers customer service to assist you, in case you may get some problems in the MS-900 Cheat Sheet. Feel free to drop your questions. We are happy to help!
Grow your certification portfolio with advanced learning skills and expert tutorials on Microsoft 365 Fundamentals (MS-900) Exam. Prepare and become a Certified Now!