Certifications are a step forward in improving your career and showing your commitment to your work and development. But it is completely worthless if you gain a certification that is not according to the job you are aiming for or is not competitive enough. Certifications like Prince2 practitioner exam have been in great demand and many people are aiming to crack this exam. But, before you get into this line it is very important to ask yourself this question that – Is the Prince2 practitioner worth it?
Well, the most common way of deciding weather to go for the certification or not is to look at your career objective. After that, you need to figure out the benefits that your career would derive by earning this credential. Let us find the answer to this confusing yet interesting question which will shape your career in a prominent way. Firstly, let us look at some basic details of the exam. Let us get underway.
About Prince2 Practitioner Certification
PRINCE2 Practitioner certification is for anyone managing projects. This could be as part of a formal project management function or a role in which project management is an inherent part of day-to-day work. The Practitioner certification aims to confirm that you have sufficient knowledge and understanding in order to apply and tailor the method in a range of different project environments and scenarios.
Who should take the exam?
PRINCE2 Practitioner Exam is aimed at
Project managers, aspiring project managers and anyone who manages projects.
Above all, It is also relevant to other key staff involved in the design, development and delivery of projects, including:

Project Board members (e.g. Senior Responsible Owners),
Team Managers (e.g. Product Delivery Managers),
Project Assurance (e.g. Business Change Analysts),
Project Support (e.g. Project and Programme Office personnel) and operational line managers/staff.
PRINCE2 Practitioner Exam Prerequisites
There are following prerequisites for this exam –
Firstly, PRINCE2 2009 Foundation
Secondly, Project Management Professional (PMP)*
Thirdly, Certified Associate in Project Management (CAPM)*
Also, IPMA Level A® (Certified Projects Director)
Furthermore, IPMA Level B® (Certified Senior Project Manager)
Also, IPMA Level C® (Certified Project Manager)
Lastly, IPMA Level D® (Certified Project Management Associate)
Prince2 Practitioner Exam Format
The exam contains 68 questions which will be present in the form of multiple-choice and multiple-response questions. The candidate needs to get a minimum of 55% in order to pass the exam. Also, the candidate will be given 150 minutes to complete the exam. The PRINCE2 Practitioner Practice certificate will be valid for 3 years.
| | |
| --- | --- |
| 1. Exam Name PRINCE2 Practitioner | 2. Exam Type Practioner |
| 3. Exam Duration 150 minutes | 4. Exam Format Multiple Choice and Multi-Response Questions |
| 5. Passing Score 38/68 required to pass (55%) | 6. Number of Questions 68 Questions |
| 7. Eligibility/Pre-Requisite Prince2 Foundation ORCAPM OR IPMA Level A/B/C/D | 8. Exam Fee $300 (Bundle) |
| 9. Exam Language English | 10. Validity 3 years |
Now that we are fully equipped with all the basic details of the exam which are necessary for candidates to know, let us move on to the most important question of – Is it worth getting PRINCE2 practitioner?
Is it worth getting PRINCE2 practitioner?
Well, obviously it is very important to look at the pros and cons of the certifications before one jumps into race of getting the certification. The principles and themes that PRINCE2 promotes and uses are sound and relevant for project managers. These will give you a good grounding for delivering successful projects. Here are some benefits of the PRINCE2 practitioner which will help you know the worth of getting the certification –
The main benefit to PRINCE2 is to help you get a new job in a new company. In turn, this will allow you to quickly:
Firstly, In Understanding the challenges that are faced by businesses.
Secondly, In planning the timelines and benefits that the project will deliver.
Thirdly, Engaging and managing stakeholders.
Overcoming problems and risks along the way.
Lastly, Delivering real changes that result in real benefits for the business, it's shareholder and it's customers.
So, the above benefits shows that the certification is absolutely worth a try. And if you follow a proper strategy and have perfect resources, you will, indeed, crack the exam. Let us now have a quick glace at the parameters at which the exam will test a candidate.
Prince2 Practitioner Exam Outline
PRINCE2 Practitioner Exam covers the following topics –
Firstly, Apply the PRINCE2 principles in context
Secondly, Apply and tailor relevant aspects of PRINCE2 themes in context
Thirdly, Apply (and tailor) relevant aspects of PRINCE2 processes in context
To know more about the other details of the exam, you can visit the online tutorials on PRINCE2 practitioner by Testpreptraining.com! Let us now look at the some of preparation resources that will be beneficial in passing the exam with flying colors.
Prince2 Practitioner Study Guide
The PRINCE2 Practitioner Practice Exam needs complete learning, understanding and hard work. So, here we are suggesting some steps which the candidate can refer to and prepare for the exam.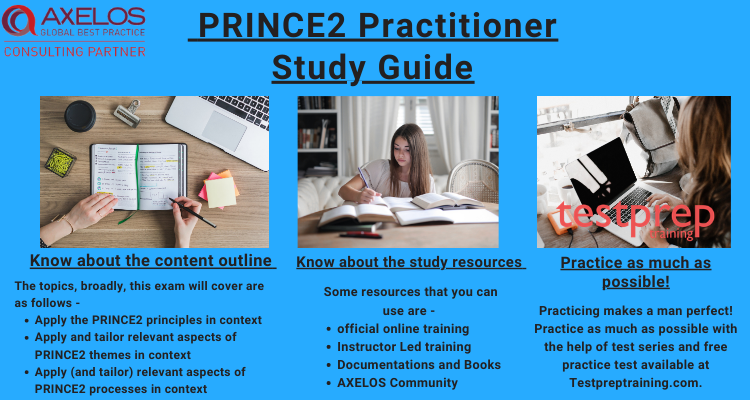 PRINCE2 Practitioner Training
Typically, classroom training for PRINCE2 Practitioner lasts one and a half days and the examination takes place at the end of the training (this will vary depending on the training provider). However, you can self-study for the Practitioner exam and you may also choose to take the training in another format such as distance learning. Training is delivered by AXELOS' Accredited Training Organizations who set their own rates, so prices will vary. Prince2 Practitioner Training Provider
Whitepapers and Blogs 
The AXELOS offers its official whitepapers, blogs, case studies, and webinars which are the most important and reliable resources while preparing for the PRINCE2 Practitioner Practice Exam. These resources will provide excellent knowledge and understanding of various topics related to the PRINCE2 Practitioner Practice Exam. So, the candidate should try these resources.

Prince2 Practitioner Books 
The next step should be gathering some books. The candidate should go for the books related to the PRINCE2 Practitioner Practice Exam. To make your work easy, we are recommending some books below which you can refer to:
Managing Successful Projects with PRINCE2 2017th Edition by The Stationery Office
PRINCE2 Study Guide: 2017 Update 2nd Edition by David Hinde
The PRINCE2 Practitioner: From Practitioner to Professional 3rd Edition, by Colin Bentley.
Prince2 Practitioner Practice Test 
Once the candidate believes that they are prepared enough then they can try their hands on the practice test. Practice tests are the most valuable resource in the preparation guide. The practice test will help the candidate to acknowledge their weak areas so that candidate can word upon them.

Give a boost to your career and skills by cracking the PRINCE2 practitioner Exam. Hurry up and start preparing now!