Just being proficient in Excel isn't enough. One needs to have an industry-standard certification to authenticate and claim and ease the recruitment process. The Microsoft Excel MO-200 Certification is approved globally and profits the candidate with better recognition and competitive edge over non-certified candidates.
Almost all of us are accustomed to Microsoft functions. We utilise MS Excel on day to day basis. But, it is majorly defined to typing letters, changing fonts and formats, creating a table and a few other basic purposes. However, Besides that, you might not know how different formulas can be applied for sorting a table or formatting one and so on. In order to improve our skills and qualify as skilled Microsoft expertise, there are different MS certification programs. These credentials validate our skills and expertise in using Microsoft tools and functions.
In all, one can conclude, Microsoft is not just managed by individuals but is also very important for companies as well. Therefore, most of the companies value Microsoft certification and consider certified professionals over the non-credential peers.
So, in this article, we're going to discuss all Exam MO-200: Microsoft Excel (Excel and Excel 2019) Certification. Everything about the certification, which implies each and every minor detail will be discussed in this article. Not to mention, we are also going to provide you with a preparatory guide for the same.
MO-200: A Brief View
The Exam MO-200: Microsoft Excel (Excel and Excel 2019) Certification certifies a professional's abilities to operate the MS Excel applications and tools. These include a spreadsheet application classified by Microsoft and the basis of all data entry jobs. This allows the candidate to be able to use easy spreadsheet functions like graphic tools, calculators, formulas, charts, macro programming language, and other pivotal tools.
The MO-200 exam tests the candidate's competency in the following domains-
First off, candidates must have an understanding of the fundamentals of creating and managing worksheets and workbooks,
Secondly, each candidate must be familiar with creating cells and ranges, creating tables, applying formulas and functions, and creating charts and objects.
Also, one must have a clear idea to create and edit a workbook with multiple sheets and use a graphic element to represent data visually.
Now that you have acquired the basic idea about the MO-200 examination. Now, let's view what's really in there for you if you qualify the certification. So, let's view some of the benefits of the certification.
Why go for MO-200?
Since Microsoft Certification is an industry-standard that is accepted worldwide. Hence, it holds various benefits for the candidates. In other words, after you earn your Microsoft Certification, you have access to a number of perks.
Fluency of MS Excel
Microsoft credential establishes your base on using MS Excel fluently in managing data. Not to mention, your extensive understanding of Microsoft programs is showcased with MS certification and you can build a strong grounding in IT for career prospects.
Ability to manage great data
If you are fluent with Microsoft Excel, you will certainly be an expert managing any type of data. Managing data is ideally considered to be a job for professionals and business individuals. However, all jobs at some point in time demand this skill. In order to sustain any sort of data and source. Therefore, one must be proficient with MS-Excel.
Ability to collate data together
Data in today's world really means something. In order to support the organisation's or candidate's view, one needs sufficient data to put forward. Therefore, in such situations, MS Excel is one of the most desirable programs to rely on. This application can be used for comprehensive formatting and data collation. Moreover, you can deliver different files together and sort data.
Flexibility of work
Microsoft programs are available online is a generation next big thing. Also, you can share your work with organisations and stakeholders through online from anywhere. This makes work more adaptable and your capability to function MS programs swiftly making you a star leader at work.
Better career prospects
Besides making your office work easy and effective, Microsoft certification also opens up more prominent career prospects for you. You can even guarantee for challenging leadership and analytical roles with your MS credential. Moreover, you can demand salary hike and better positions with your expertise to fluently use the Microsoft program towards better business and success. Also, in some of the instances, this certification is a must to get a job.
All MO-200 Exam Details
When it comes to the certification exams, every minute detail becomes important. So, in this section, we're going through each and every detail, for your convenience.
Now, make sure to note down this list of details. So, first thing first, there are no prerequisites for this examination. Next, the examination is only available in the English language. And, the registration fee for the same is USD 100.
Course Outline
The Course Outline forms the most important part of any certification exam. And, here too course outline is the most crucial aspect that a candidate should be familiar with. So, here is a quick view of the course outline before, we bring each and every part of the course outline.
Firstly, Manage worksheets and workbooks (10-15%)
Secondly, Manage data cells and ranges (20-25%)
Subsequently, Manage tables and table data (15-20%)
Also, Perform operations by using formulas and functions (20-25%)
Lastly, Manage charts (20-25%)
However, just viewing the course outline from the outside won't do it. Therefore, for you to have a better look at this, we are providing the list with a zoom-in view.
Manage worksheets and workbooks (10-15%)
Importing data into workbooks
Navigating within workbooks
Formating worksheets and workbooks
Customizing options and views
Configuring content for collaboration
Manage data cells and ranges (20-25%)
Manipulating data in worksheets
Formating cells and ranges
Defining and referencing named ranges
Summarizing data visually
Manage tables and table data (15-20%)
Creating and formatting tables
Modifying tables
Filtering and sorting table data
Perform operations by using formulas and functions (20-25%)
Inserting references
Calculating and transforming data
Formating and modifying the text
Manage charts (20-25%)
Creating charts
Modifying charts
Formating charts
This sums up the course outline. Well, this is not that long of a list to prepare for. But, even if you feel a little nervous regarding the preparation. Not to worry, we've got you covered. Next up we are providing you with the roadmap to your success. Yes! You heard it right. Now, its time for you to follow the roadmap to prepare for the examination. This roadmap will allow you to have a better look at the learning resources. Moreover, it will allow you to to work things better that will allow you to qualify the examination in the very first attempt. So, let's take you through the roadmap to success.
Road-map to Qualify: The Preparation Guide
Hopefully, till now you've have been able to gather information regarding the examination. And, you're all buckled up to qualify the examination with flying colours. So, the very first pit-stop in this road map is Reviewing all the exam objectives. So, let's begin.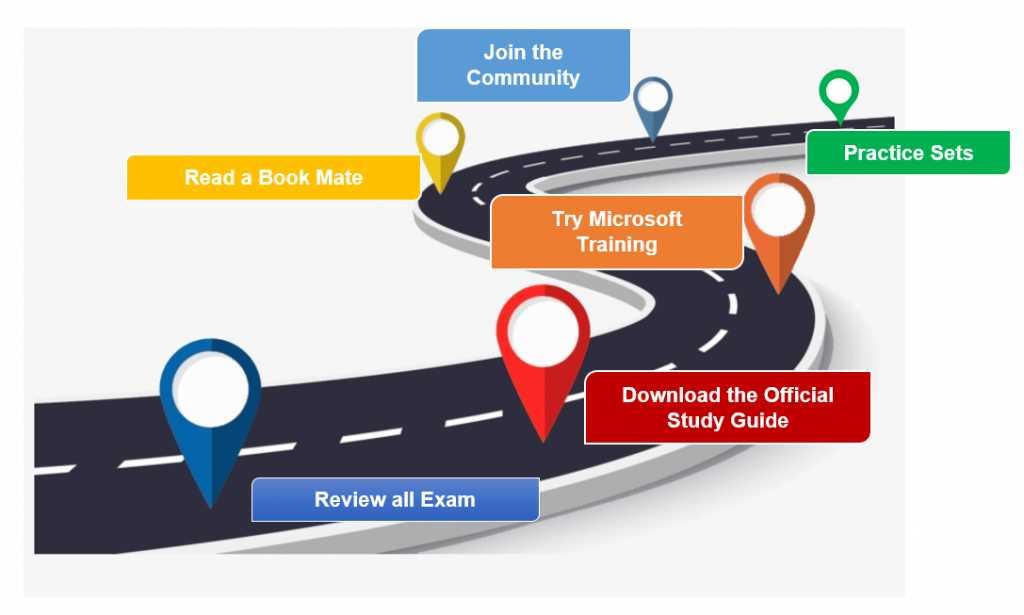 Reviewing the Exam Objectives
The moment you begin your preparation for the MO-200 exam, the first thing one must do is to visit the Microsoft official Website. In addition, make sure to review all the exam objectives. Reviewing all the exam objectives will help you configure more about the examination and will definitely make you confident. Since this step constitutes the whole foundation of the exam preparation. So, remember to go through with the most trusted the website first and then move on to other learning resources.
Download the Official Study Guide
Your next step in the preparatory guide is to go through the official Study Guide for MO-200 exam. You can download the official study guide from the Microsoft official website. The exam MO-200 study guide is the perfect tool to grasp the exam details beforehand. After all, it is always safer to acknowledge your adversary before facing them on the battlefield, isn't it? Not only will this provide you to schedule the exam in a productive manner but also, let you focus on the most important aspects.
Try Microsoft Training
Indeed, certification is incomplete without training. Even the MO-200 certification preparatory guide highlights the importance of the two official ways to obtain training for the MO-200 exam. To enrol in the training course, Microsoft offers two types of training courses. On one hand, you have free online training and on the other, paid instructor-led training. So, make your decision wisely.
Read a Book Mate
Books are always a good learning resource to gain knowledge. Moreover, Microsoft has their own press store. So, never try to limit your knowledge. Therefore, we suggest going through the following books-
MOS Study Guide for Microsoft Excel Exam MO-200 by Joan Lambert.
Join the Community
Online forums and study groups are a great way to prepare for the MO-200 exam. Therefore, feel free to get in touch with other candidates through study forums or online groups to ask a question related to the topic you're having difficulty with.
However, it's not something you have to join. It's just something very subjective. Not to mention, these online groups help you stay equated with the other people who are also walking through the same path as yours. Moreover, you can also ask a question related to the topic you're having difficulty with.
Practice Sets
And, finally, it's time for practice sessions. Take it from us, Self Evaluation is the only step you need in the end. The more you're going to practice, it's better for you.
Not only does it helps you understand the areas where you lack but also, ensure you're strengthening your skills as well. So, go through as many practice tests as much you can. FOR MORE PRACTICE TEST, CLICK HERE!
Expert's View
You may not view this certification as important, but remember the best placement options are just a test away. You must validate your skills. It's no longer satisfactory enough for IT professionals to just 'know computers'. Certification market value has skyrocketed in the last few years. The additional skills that certified professionals bring to the table are always welcomed by organizations. The advantage of certification seems so obvious now, but scepticism towards its value was rampant a few years ago. So don't hesitate and go get certified now.
GO GET CERTIFIED NOW!

Stand out from the crowd with advanced learning skills and expert tutorials on MO-200 exam. Prepare and become a Certified Microsoft Office Specialist: Excel Associate (Excel and Excel 2019)