Apparently, the worldwide healthcare sector is growing along with the risks and consequences. Therefore, to keep health information protected, a healthcare information security and privacy practitioner (HCISPP) exam comes into picture.
The HCISPP exam is a certification from the International Information Systems Security Certification Consortium [(ISC)2]. Further, the certification exhibits expertise in the chief areas of knowledge on privacy and security of healthcare information.
Let's scroll down to find other relevant issues you might have as an aspiring HCISPP candidate. So, let's Start!
YOUR PATHWAY TO CERTIFICATION
Who Earns the HCISPP?
Before we move on to other necessary exam details, let's clear the air about who earns the HCISPP. Thus, professionals who uphold HCISPP certification are instrumental in various job functions, such as:
HCSIPP Vs CSIP
Before we take you to the journey of HCSIPP, it becomes important to understand the difference between HCSIPP and CSIPP.
HCISPP is one of the recent (ISC)2 credentials introduced in 2013, whereas CISSP has been made available since 1994. Apart from basic exam details, there are two fundamental differences between these two certifications:
Firstly, CISSP covers more technical knowledge, with a focus on security controls and operations. However, the HCISPP exam puts more emphasis on healthcare regulatory issues, data governance and risk management
Secondly, most of the principles in the HCISPP exam are specific to healthcare. In other words, there is also a lot more emphasis placed on privacy rather than security.
Why Become an HCISPP?
HCISPP Certification is not just an ornament in your living room, however it also helps Health Information Security Professionals in Many Ways:
Firstly, it upholds the knowledge, experience, and commitment of a health information security professional.
Secondly, it exhibits qualifications to implement appropriate privacy and security measures for the healthcare organizations.
Moreover, the certification helps in the advancement of a security professional's career by certifying the knowledge and experience.
Further, it allows professionals to differentiate their marketability and credibility as health information security practitioners.
Lastly, it confirms the commitment of the health security professionals to sustain competence in the current health security practices.
Exam Overview
If you want to land in HCISPP Certification, it is highly important to know what HCISPP is. Therefore, we have provided a brief about the exam.
HCISPP is the ideal certification with the core knowledge to implement security and privacy controls of a healthcare organization.
In addition, HCISPP exam provides confirmation of a practitioner's knowledge of best practices and techniques.
HCISPP Exam Format
Details are important when you think of taking the exam. Therefore, it is always good to have exam details beforehand.
The HCISPP exam comprises 125 multiple choice and multi-responsive questions. You have to score 700 or more points in a time period of 3 hours. Further, the HCISPP Exam Questions are available in English language only. Above all, the HCISPP Exam Fee is 195 USD.
Exam Details for HCISPP Exam:
Prerequisites for the Exam
Not everyone is eligible for every exam, thus it is important to know about eligibility requirements beforehand. For your convenience, we have provided all the relevant details below:
Firstly, candidate must have a minimum of two years work experience in knowledge areas of the HCISPP.
Secondly, a candidate that doesn't have the required experience may become an Associate of (ISC)² by passing the HCISPP examination. After that, the Associate of (ISC)² will have three years to earn the two years of required experience.
HCISPP Exam Outline
HCISPP exam includes broad spectrum of topics which ensures its relevancy across all disciplines in the field of information security. Therefore, successful candidates are competent in the following seven domains: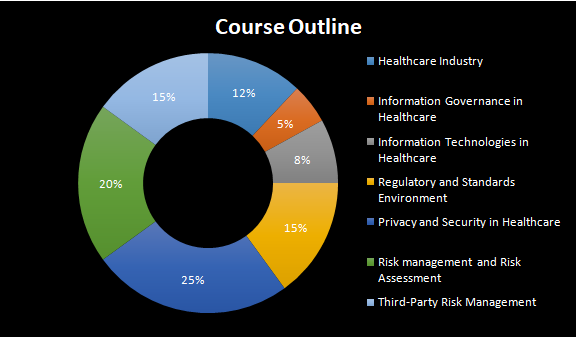 To dig deeper, you can visit HCISPP Course Outline
Book the Exam
Booking your (ISC)² exam is the first step in building a successful and long-term security career. Moreover, earning an (ISC)² certification validates your skills as a security professional in the eyes of hiring managers and your peers.
Registering for your (ISC)² exam is easy. Follow the steps below:
Firstly, create an account with Pearson VUE, the exclusive global administrator of all (ISC)² exams.
Secondly, select the (ISC)² certification exam you are pursuing.
Thirdly, schedule your exam and testing location with Pearson VUE.
Request for Special Accommodation
For instance, if you require special accommodations for the exam, you can request one through (ISC)².
Reasonable and appropriate accommodations for the exam are only provided to people who have demonstrated a need for test accommodations. Therefore, if you wish to request an accommodation, complete the accommodation form and return it to (ISC)² prior to registering for your exam. All you need is a list of following:
Firstly, an explanation of the accommodations you need
Secondly, documentation supporting the accommodation
Further, the exam you want to take
Lastly, the exam location
Note: The basis of test accommodations is to provide examinees with full access to the test. In other words, they don't offer a guarantee of improved performance or test completion.
Reschedule the Exam
You can reschedule your HCISPP exam if you failed to take it on the scheduled date and time. In order to reschedule or cancel your exam appointment, contact Pearson VUE:
Online at least 48 hours before the exam
By phone at least 24 hours before the exam
Above all, Pearson VUE charges a reschedule fee of USD$50 and a cancellation fee of USD$100.
Can you retake the exam?
The last thing on this earth would be to retake the exam. Nobody ever wishes to get flunk in the exam. However, failure can happen to anyone. Similarly, if you fail HCISPP exam in your first attempt, you can retake it. Yes, you heard it right.
Pearson VUE grants a chance to retake your failed exam. Moreover, you can sit the exam up to three times in a year. The following are the rules in order to retake the exam:
If you don't pass the exam the first time, you can retest after 90 days of the actual exam
Similarly, if you don't pass a second time, you can retest after an additional 90 days
Further, if you don't pass a third time, you can retest after 180 days
Note: Every exam take is full price, despite whether it's a retake or a first-time take.
Recertification of the Exam
HCISPP certification like every other certification requires maintenance. To clarify, HCISPP certification requires to be recertified in order to maintain its status.
You can recertify the exam if you've become decertified due to:
Firstly, not meeting your required number of continuing professional education credits.
Secondly, having the time limit on your endorsement expire.
How To Pass HCISPP Exam
Making HCISPP Exam Preparation is an important part of academic life. It is all about studying smart as well as hard. Therefore, we bring you some tips that might help you in preparing for the exam.
Book a date for the exam at least 3 months before and start studying immediately
Moreover, it is pivotal to draw a timetable and stick to it diligently
It is necessary to take into account the different personal and official responsibilities and thus, adjust the timetable and work hours accordingly
Since the exam comprises 125 questions to be answered in 4 hrs time, the candidate needs to be totally thorough with all the topics of the exam.
Above all, patience, persistence, and consistency are the factors that might help you to crack the exam
Apart from the aforesaid statements, the candidate is expected to study the following resources to go thoroughly in order to pass the exam with ease.
Official (ISC)² Guide to the HCISPP
The Official (ISC)² Guide to the HCISPP supplies an authoritative review of the key concepts and requirements of the HCISPP.
In addition, it encompasses of all the knowledge elements to demonstrate competency in healthcare security and privacy.
Lastly, the HCISPP Exam Guide covers all the six domains starting from Healthcare Industry to Third Party Risk Management.
Official HCISPP Flash Cards
With Official CCSP Flash Cards, CCSP aspirants can study anytime and anywhere for their exam. Likewise, HCISPPI Flash Cards allows the candidates to study anytime and anywhere.
Secondly, HCISPP Flash Cards while performing gives you immediate feedback about whether your answer is correct or not.
Moreover, it has the ability to flag individual cards for a separate study. Remember, these cards are sectioned for each domain to make learning easier.
HCISPP Practice Tests
In the age of the Internet, practice tests have gone digital. In other words, pen and paper have left behind and you can perform practice tests sitting in your living room. Tests have more value than you can ever imagine Therefore, you are recommended to perform HCISPP Practice Exams and evaluate yourself.
Students who see their practice tests as learning opportunities make the biggest scoring leaps. Therefore, Testprep Training is your one stop destination. In other words, Testprep Training provides exclusive practice tests which help you clear the exam with proper preparation and training.
START PRACTICING HCISPP EXAM NOW!
Exam Day
Exam day is not only about taking the exam and getting your results. Rather, it is more than that. In other words, there are few other factors you need to consider on your exam day.
Check-In Process
Try to reach at your test center at least 30 minutes before your exam. To check in, you'll need to:
Firstly, show two acceptable forms of ID
Secondly, provide your signature
Thirdly, submit to a palm vein scan
There are few things you cannot take in the test room.
Firstly, you can't wear hats, scarf etc in the test room.
Secondly, you have to leave your personal belongings outside the testing room. You will have access to secure storage. However, storage space is small, so plan accordingly.
The Test Administrator (TA) gives you a short orientation. After that, the TA will escort you to a computer terminal.
Exam Assistance and Breaks
You should remain in your seat during the exam, unless you are asked to get up. In other words, you cannot change your computer terminal unless a TA directs you to do so.
Raise your hand to notify the TA if you:
Have a problem with your computer.
Want to change note boards.
Need a break.
Require the administrator for some reason.
Your total exam time includes any unscheduled breaks you may take. You can leave the testing room during your break. However, you cannot leave the building or access any personal belongings unless absolutely necessary.
When you take a break, you are required to submit to a palm vein scan before and after your break.
Testing Environment
The noise of turning pages in a paper-and-pencil testing environment is very normal. Likewise, typing noise is a normal part of a computerized testing environment. The test centres have no control over the sounds of people typing on keyboards next to you.
Note: Earplugs are available on request.
When You Finish Your Exam
After you finish, raise your hand to call in the TA. The TA will let you go once you've met all the requirements. On rare occasions, the test center may have technical problems and you may need to reschedule your exam.
For instance, if technical issues cause you to wait more than 30 minutes after your scheduled exam start time, you have the choice to wait or reschedule the exam with no additional fee:
Firstly, if you choose not to reschedule and take the test after your delay, your test results will count. You'll have no further recourse.
Secondly, if you choose to wait but change your mind before starting (or restarting) your exam, you can take the exam at a later date at no extra cost.
Thirdly, if you choose to reschedule or the technical problem can't be fixed, you'll be allowed to test at a later date at no extra charge.
Above all, if test centre identifies technical problems before your exam, they'll make every attempt to contact you.
From the Expert's Desk
Nothing comes easy in life, which means you have to strive hard for it. Similarly, HCISPP certification requires moxie of determination and hard work. You need to prepare yourself and slave away at this exam. Remember you are the one who is responsible for your success, hence make sure it counts. Further, we hope that you will follow up all the relevant details provided in the blog.
Above all, we highly recommend you to study well to lead a better future. To ease your way, Testprep Training provides HCISPP Practice Test.
Hence, clear the exam with proper preparation and training with Testprep Training.
Good luck with your exam!
GET CERTIFIED NOW