What is PMI-ACP?
ACP stands for Agile Certified Practitioner, a prestigious certification provided by the Project Management Institute (PMI). The PMI-ACP certification holds significant professional esteem as it amalgamates agile training and hands-on experience in Agile projects with a comprehensive evaluation of Agile fundamentals and tools. Universally acknowledged, the PMI-ACP Exam equips individuals to meet organizational demands by proficiently executing projects through their diverse skill set.
What is Agile?
Agile is recognized as a dynamic approach that fosters iterative software delivery, gradually building the product from project commencement rather than presenting the entire project upon completion. This technique is predominantly employed in project management. Hence, when dealing with a conventional project, the Agile Project management methodology proves to be the most suitable approach. The agile methodology is structured to furnish the customer with incremental deliverables, dividing the project into manageable sprints. Consequently, this enables the customer to assess individual project modules, ensuring the maintenance of desired quality standards.
PMI-ACP Exam
PMI-ACP is a pivotal subject within the realm of project management, addressing a critical aspect. The primary aim of the PMI Agile Certified Practitioner (PMI-ACP)® exam is to ascertain an individual's adeptness in implementing agile practices within projects and showcasing enhanced professional adaptability through agile tools and methodologies. Furthermore, the PMI-ACP certification commands a heightened level of professional prestige, as it entails a fusion of agile training, hands-on experience in agile projects, and an evaluation of agile principles, practices, tools, and techniques. This certification equips project practitioners to fulfill the requisites of organizations that depend on project experts to deploy a diverse array of methods in their project management endeavors.
Timeline of the PMI Agile Certified Practitioner (PMI-ACP)® Certification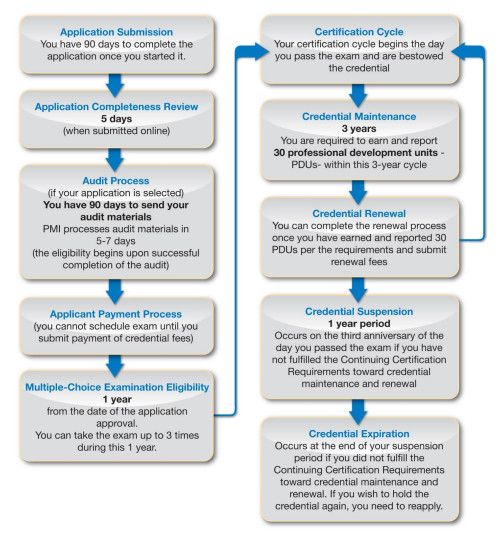 Eligibility for PMI-ACP Certification Exam
The prerequisites for PMI Agile Certified Practitioner (PMI-ACP)® Certification Exam are as follows: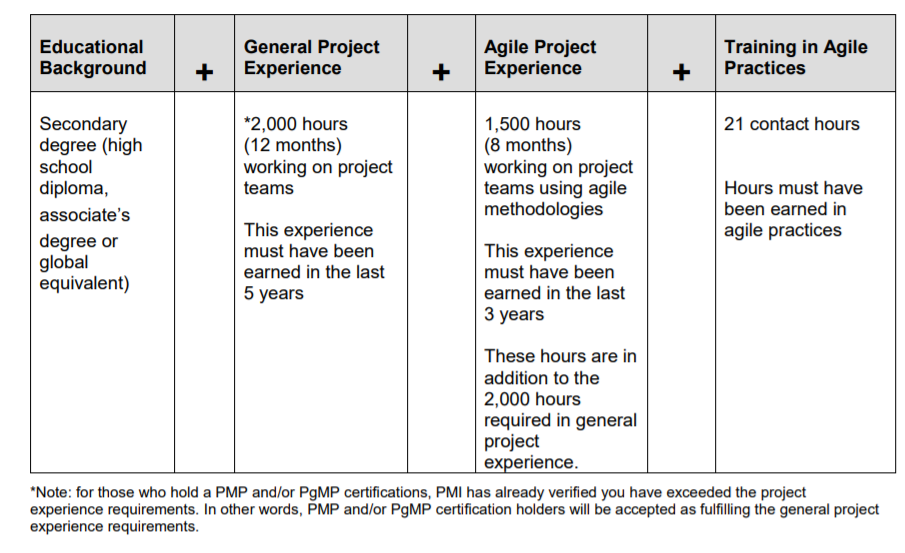 Process to Record Experience on the Application
For General Project Experience
Applicants should utilize the General Project Experience Worksheet provided in the application to document their general project experience, encompassing periods spent collaborating in project teams irrespective of the methodology employed. It's important to note that the experience doesn't necessarily have to be remunerated; however, it should be within a professional context. Each project worked on should be individually recorded by candidates. Given the stipulation of accumulating a minimum of 2,000 hours (equivalent to 12 months) of distinct and non-overlapping experience within the past five years, this recording process should be approached diligently.

The process to record Training on the Application
Candidates must document a minimum of 21 contact hours of training related to agile practices. Generally, this training covers areas such as the agile philosophy, methodologies, principles, and practices. It is advisable to keep a record of all training hours, regardless of when they were acquired. It is essential for the coursework to be completed before taking the exam. To fulfill the training requirements for the PMI Agile Certified Practitioner (PMI-ACP) certification, applicants can demonstrate their successful completion of courses, workshops, and educational sessions offered by one or more of the following types of providers:
PMI Registered Education Providers (R.E.P.s)*
PMI chapters*
Employer/company-sponsored programs
Training companies or consultants (e.g., training schools)
Distance-learning companies, including an end-of-course assessment
University/college academic and continuing education programs
PMI-ACP Exam Policies and Procedures
PMI-ACP Exam is comprised of 120 multiple-choice questions. Among these, 20 questions are designated as pretest questions, which do not impact the final score. These pretest questions are used to assess the validity of future exam questions. The questions are distributed randomly across the exam. Test-takers have a total of 3 hours to complete the exam.
PMI-ACP Exam Blue Print
PMP-ACP Test Prep-Strategies
Applicants must approach exam preparation with determination and a focused mindset, which is likely the most effective approach. While preparing for the exam, it is crucial to be acquainted with the various question types that are presented. The exam primarily includes the following types of questions:
Short and direct from exam content outline
These are direct and uncomplicated questions that can be answered easily if you have a strong grasp of fundamental agile concepts. It's essential to consult the latest PMI Agile Certified Practitioner (PMI-ACP)® Handbook to fully understand these questions. Keep in mind that while these questions are a small portion, you should be ready for the upcoming set.
One of the most commonly encountered and frequently posed questions involves scenario-based inquiries. These questions can be quite challenging, and intriguingly, many of the provided options might appear to be valid. They present you with a real-world situation, prompting you to explain how you would manage such scenarios. When responding, it's essential to draw upon the PMI-ACP principles. Since you are preparing for the PMI-ACP Exam, it's crucial to adhere to the prescribed exam formats, which highlight the recommended approaches.
This category of questions often presents a substantial amount of information, some of which may not be pertinent. Your task is to identify a key sentence and relevant keywords that address the core issue. While these questions may be extensive, they are intentionally designed to test your logical reasoning by attempting to divert your attention away from the main point. To effectively navigate these questions, concentrate on extracting the key sentence for progression.
Conclusion
PMI-ACP certification exam focus on assessing applicants' theoretical as well as practical expertise. It is therefore suggested to refer to the study guide as well as relevant sources for PMI-ACP Certification Preparation.