Every exam appears to be difficult to pass before we even begin studying for it. This delusion has the potential to weaken our self-assurance. However, we must keep in mind that if we possess the necessary abilities and information, I do not believe any exam is difficult. It's also important to have the correct resources to go along with this. The Professional Scrum Master (PSM 1) exam is the same way.
The PSM Professional Scrum Master I Exam is a challenging exam, but preparation, using the Scrum Guide, and doing the Open Assessments can help you pass it. Candidates will also earn the industry-recognized "PSM I" certification, as well as a PSM I logo, if they pass this test.
So, without wasting any time let's understand and learn more about PSM Professional Scrum Master I Exam in order to provide a clear path to pass this exam. But, before that take a quick look at a brief about Scrum Master.
Scrum Master Exam Overview

:
The Scrum Master is responsible for establishing Scrum and the Scrum Team's effectiveness. Further, they serves the Scrum Team in several ways, including:
Firstly, coaching the team members in self-management and cross-functionality
Secondly, helping the Scrum Team to focus on developing high-value Increments that meet the Definition of Done
Thirdly, they serve the organization by,

leading, training, and coaching the organization in its Scrum adoption
planning and suggesting Scrum implementations within the organization
removing barriers between stakeholders and Scrum Teams
PSM Professional Scrum Master I: Exam Overview
Being a professional-level exam, the PSM Professional Scrum Master I Exam is open for anyone who wants to validate their knowledge of the PictureScrum framework and its application. Passing this exam will earn you the industry-recognized PSM I Certification for demonstrating a fundamental level of Scrum mastery.
However, for PSM Professional Scrum Master I Exam:
You should have Scrum knowledge, an understanding of the Scrum Guide, and the process for applying Scrum within Scrum Teams.
It is recommended to go through the recommended course for this exam which is Professional Scrum Foundations or Professional Scrum Master course.
Moving onto the next section in which we will talk about the basic exam details for the PSM Professional Scrum Master I Exam. This will help in understanding the exam pattern.
PSM Professional Scrum Master I Exam Details
PSM I is an intermediate-level exam in which there are 80 questions that will of type multiple choice, multiple answers, and true/false.
To complete this exam, there will be a time duration of 60 minutes. And, next to pass, it is necessary to score 85%.
However, the cost of the PSM Professional Scrum Master I Exam is $150 USD per attempt and can be given only in the English language.
Lastly, you must know that when purchasing a password, it gets set up in the system and emailed to you within one business day.

And, the passwords have no expiration date but are valid for one attempt only.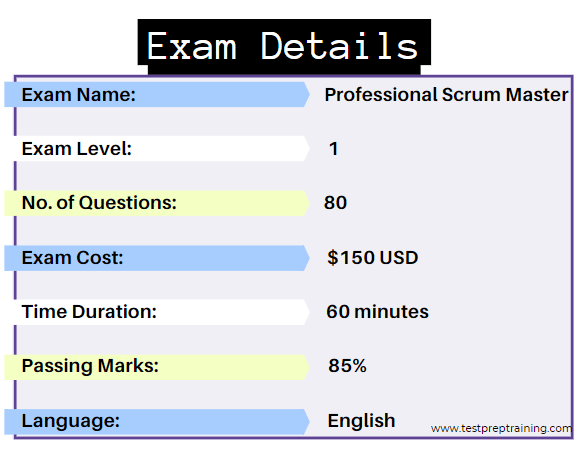 To better understand the difficulty level, it is best to go through the exam skills and concepts provided in the study guide. Exploring these will help you to know about the knowledge you have and what else you need to crack the exam. Related to this, in the next section we will talk about the important learning areas for the PSM Professional Scrum Master I Exam.
PSM I: Exam Learning Areas
Scrum.org offers professional Scrum competencies for helping candidates to develop familiarity with Scrum concepts and Scrum Framework. However, the learning areas apply to the Scrum Team and to other roles in the organization such as Agile Leaders. For PSM Professional Scrum Master I Exam the important learning areas include: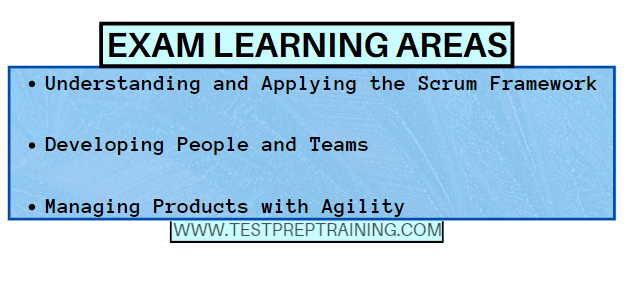 1. Understanding and Applying the Scrum Framework
Understanding and Applying the Scrum Framework allows teams and organizations for delivering completed valuable products with working releasable software in 30 days or less. However, successfully using the Scrum framework needs an understanding and application of the Scrum Values. The Scrum framework is a combination of Scrum Teams and their associated Roles, Events, and Artifacts.
Key Focus Areas
There are focus areas provided to a more detailed view of the knowledge and skills for mastering competency.
Empiricism
In this, a practitioner will learn to apply the concepts of the empirical process to the encountered problems.
This will be done only if they can explain problems in terms of learning, break problems down into the smallest increments.
Secondly, by learning and practicing the skills in this focus Area, a practitioner will become an expert in the application of scientific methods for complex problems. Thus, understanding why and how to apply an empirical process.
Scrum Values
Here, a practitioner will be able to understand both the Scrum Values (Focus, Respect, Openness, Commitment, and Courage).
Moreover, they can demonstrate that they can apply them in the reality of organizations whose values do not match those of Scrum.
So, by living the Scrum Values and helping others to apply them, learners will develop an environment where empirical process, self-organization, and continual improvement will be more successful.
Scrum Team
The Scrum Team contains one Product Owner, one Scrum Master, and Developers. The skilled practitioner in this focus area will learn how accountability is shared amongst team members and the process of taking on work in the context of their Product Goal.
Events
The Scrum framework explains five events. They are The Sprint, Sprint Planning, Daily Scrum, Sprint Review, and the Sprint Retrospective.
Here, the practitioner will understand the events and be able to practice each event. Moreover, they will be able to apply these events in complex situations and at scale. The events are used for upholding empirical process control, through the three pillars of Scrum: transparency, inspection, and adaptation.
Artifacts
The Scrum framework explains three artifacts. The Product Backlog, Sprint Backlog, and Increment. These artifacts offer the team a minimal set of materials for planning, executing, and reviewing the Sprint.
In this, the Practitioner will understand the concept of artifacts and the process of implementing it in complex and real-world situations. Moreover, they will also learn and understand the relationship of these artifacts relative to other practices and techniques.
Done
The objective of each Sprint is to deliver an Increment. However, the Definition of Done (DoD) provides a way for the team in order to make what done means transparent.
In this, the practitioner will be able to explain what a DoD is. Then, apply it to their particular context, and understand how the DoD enables the benefits of agile. Further, they will also explain the implications of the necessary trade-offs and compromises required to deliver Increments within their organization.
2. Developing People and Teams
All Scrum Team roles must use Scrum and improve their Scrum implementation for increasing the benefits. However, adopting these challenges by continuously Developing People and Teams will result in high-performing teams capable of effectively collaborating together.
And, also across an organization, to creatively and productively solve complex problems in product delivery.
Key Focus Areas
In this competency, the focus areas include:
Self-Managing Teams
In this, the practitioners need to understand what self-management is and how to apply it to their context.
They should also learn how to incrementally introduce self-management, the practices for helping measures that help one determine if a team is able to be empowered for self-management.
Facilitation
Facilitation refers to a set of practices for supporting the collaboration, communication, and creativity of teams and individuals.
Here, the practitioner should understand the value of facilitation, and have a collection of techniques they can apply.
Secondly, they should also have experience applying them in different situations with varying levels of complexity.
Coaching and Mentoring
The goal of coaching and mentoring is to help individuals in getting better at their work, deliver more value, or resolve a conflict or problem.
In this, the practitioner should be able to coach as well as a mentor. Moreover, they should understand different formal techniques and be able to apply those techniques in different complex situations.

Coming on the last one.
3. Managing Products with Agility
Managing Products with Agility results in products offering valuable business outcomes and increased flexibility for responding to change. However, an understandable Product Vision helps in aligning product development with the organization's Business Strategy including strategic goals and business vision. Further, the Product Value includes considerations like greater transparency in value-based decisions and organization-wide, value-driven approaches.
Key Focus Areas
In this competency the key focused area include:
Forecasting and Release Planning
This states that the complex problems and the application of an empirical process require a specific way of planning, estimating, and forecasting. However, in this, the practitioners should be able to apply agile forecasting and release planning techniques.
They will understand which approaches work better in different situations. And, learn and understand the process of releases while dealing with complexity, dependencies, and value creation.
Product Value
In this, the goal is to deliver value to the customer and stakeholders. But the value here is complex, which is made up of long-term and short-term impact, internal and external value as well as the indirect and direct value.
Here, the practitioner will understand about defining value for context, and applying it to the work. They will learn to manage others' understanding of the value and applying different techniques and practices for defining, communicating, and measuring value.
Lastly, they will understand the connection between value and empirical process.
Product Backlog Management
The Product Backlog refers to a key artifact within Scrum. This provides transparency into what is happening to the product for the team, organization, and stakeholders.
In this, the practitioner will learn to explain what a Product Backlog is. And, then, apply a variety of techniques for managing the backlog. They will understand the process of making the Product Backlog transparent and how to manage stakeholder expectations associated with the backlog.
Stakeholders and Customers
In this focus area, the practitioner will understand the implication moving to an Agile approach will have to their stakeholders and become familiar with practices and stances that will help them work and unite in a more agile way.
For more information the Professional Scrum Competencies, Click here.
In the above sections, we have talked about the exam details and the learning areas that could help you to create a good study map. Next, we will cover the essential resources related to the PSM Professional Scrum Master I Exam that will help in making your exam pathway easy and passing the exam.
Take a look at the short roadmap for PSM Professional Scrum Master I Exam.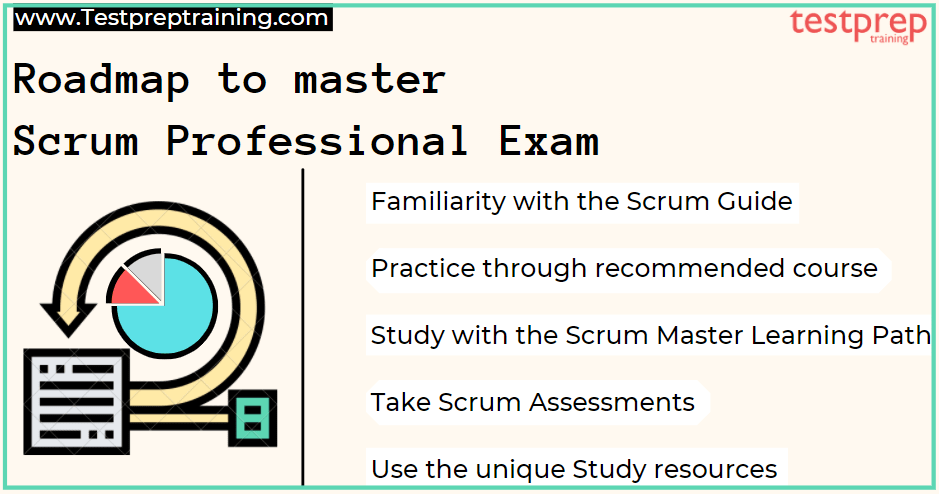 PSM Professional Scrum Master I Exam: Essential Study Resources
Purpose of using study resources is to better understand concepts and get clarity for the exam we are preparing for. Related to the PSM Professional Scrum Master I Exam, we will talk about important methods and ways that will decrease the level of difficulty and increase the confidence to pass the exam. Let's get started with the scrum guide.
1. Scrum Guide
The basic purpose of the Scrum Guide is to help people understand Scrum globally. As time passed, the Scrum guide has evolved with adding small and functional updates. This now provides the definition of Scrum in which every element of the framework follows a specific purpose crucial to the overall value and results realized with Scrum. With this guide, you can learn about the core of Scrum and its different areas.
2. Scrum Master Learning Path
Scrum Master simply promotes and supports Scrum by assisting candidates in comprehending Scrum theory, practises, rules, and values. Likewise, this Scrum Master learning path provides a structured guide for helping you to understand the role of the Scrum Master with a way to continue learning on your journey as a Scrum Master.  
3.Taking Assessment using Practice Tests
The best way for validating your basic knowledge of the Scrum framework is by starting taking the Scrum exam practice tests. This will help you in creating a baseline of your current Scrum knowledge. Moreover, this will also improve your time management and answer skills. But, before starting the assessments, review the Scrum Guide which is the official Scrum body of knowledge.
4. Taking Recommended Courses
Scrum.org provides recommended courses for the PSM Professional Scrum Master I Exam. This include:
Applying Professional Scrum Training
This is a Scrum training course that teaches the fundamentals of the Scrum framework. This course combines classroom instruction with team-based activities. This training course will teach you about:
Firstly, knowledge and experience in agile ways of working enable teams to deliver more value, satisfy stakeholders and work better together.
Secondly, building a product, facing the same problems they face outside of class, and learning how to use Scrum to address them. However, the events, roles, artifacts, and principles of Scrum are leveraged during the exercises.
Thirdly, this will help in developing an awareness of the associated symptoms and how to correct them.
Lastly, this course provides the foundational Scrum knowledge and provides the ability and direction to start using Scrum immediately.
Professional Scrum Master Training
This is a two-day training course that helps in learning about the principles and process theory of the Scrum framework, and the role importance of the Scrum Master. This course, on the other hand, teaches about Scrum and the Agile movement through a blend of instruction and team-based exercises. Candidates will learn why PSM is the cutting-edge course for competent Scrum Masters in this course.
Final Words
We know that the PSM Professional Scrum Master I Exam is difficult. But, we are hearing this for the last time. That is to say, in this article we have almost coveted every important resource necessary for having better preparation. However, to pass the exam theoretical part is crucial but in order to get perfection, it is equally important to have practical knowledge and to take the assessment. So, start applying Scrum in your and take all the advantages that the Scrum framework offers with its resources. At last, prepare and pass the exam.