Are you ambitious enough to become a successful project manager? Do you wish to hone your skills and advance your career? Then get ready to prepare for the PRINCE2 Practitioner Exam as it is just the right certification for you. Given today's highly competitive world you need to set yourself apart from your competition. Professional certification provide you this leverage and bridge the gap towards you dream job.
The PRINCE2 Practitioner exam validates your technical skills and expertise in this project management methodology. But clearing the exam on your first attempt is no cakewalk. You really need to put in all your efforts to crack the exam. But before everything else, lets first start with some exam details and understand every bit and piece to earn the PRINCE2 Practitioner Certificate.
PRINCE2 Practitioner: Exam Overview
PRINCE2 Practitioner is the world's most practised project management methodology and a standard developed and used extensively by project managers around the world. Established and proven best practice in project management, PRINCE2 is a manageable method that guides you through the essentials for managing a successful project, regardless of type or scale. It can be tailored to meet an organization or industry-specific requirement. Also, attaining the Practitioner qualification is only one part of becoming a successful and effective project manager.
Who should take Prince2 Practitioner Exam?
PRINCE2 Practitioner certification is suitable for anyone managing projects. This could be a portion of a formal project management function or a role which includes project management as part of day-to-day work. The Practitioner certification tries to confirm that you have the sufficient knowledge and understanding to implement and tailor the method in a range of different project environments and scenarios. The target audeince for this exam is as follows-
To begin with, this certification is aimed at project managers, aspiring project managers and anyone who manages projects.
Further, Project Board members (e.g. Senior Responsible Owners)
Also, Team Managers (e.g. Product Delivery Managers)
Moreover, Project Assurance (e.g. Business Change Analysts)
Additionally, Project Support (e.g. Project and Programme Office personnel)
Prince2 Practitioner Exam Format
Before you jump in to pursue the certification you might want to take a look at the exam format, length, and the type of questions you are going to see on the exam day. This will indeed familiarise you with the exam and also aid your preparations. The PRINCE2 Practitioner Exam Questions are in the form of multiple-choice and multiple-response questions. You get only 150 minutes to complete the exam. Further you must score a minimum of 55% in order to pass the exam. Also, this certification will be valid for a period of 3 years. Moreover, PRINCE2 Practitioner certification cost is $300 USD
PRINCE2 Practitioner Prerequisites
In order to sit the PRINCE2 Practitioner exam, the candidate must be able to provide proof of passing any one of the following exams:
Firstly, PRINCE2 Foundation
Secondly, Project Management Professional (PMP)
Thirdly, Certified Associate in Project Management (CAPM)
Also, IPMA Level A (Certified Projects Director)
Further, IPMA Level B (Certified Senior Project Manager)
Moreover, IPMA Level C (Certified Project Manager)
Finally, IPMA Level D (Certified Project Management Associate)
PRINCE2 Practitioner Course Outline
The Course Outline covers descriptive details about what this exam covers. It offers you the chance to identify specific content within each topic that may be tested and widen your knowledge. The PRINCE2 Practitioner Syllabus covers the following 3 domains. Moreover, you should tailor your study plan around these exam topics to achieve this certification.
Domain 1: Apply the PRINCE2 principles in context
1.1 Analyze the application of PRINCE2 principles in context
Domain 2 :Apply and tailor relevant aspects of PRINCE2 themes in context
2.1 Apply the PRINCE2 requirements for the business case theme
2.2 Apply the PRINCE2 requirements for the organization theme
2.3 Apply the PRINCE2 requirements for the quality theme
2.4 Apply the PRINCE2 requirements for applying the plans theme
2.5 Apply the PRINCE2 requirements for applying the risk theme
2.6 Apply the PRINCE2 requirements for applying the change theme
2.7 Apply the PRINCE2 requirements for controlling progress
Domain 3: Apply (and tailor) relevant aspects of PRINCE2 processes in context
3.1 Carry out the starting up a project process activities
3.2 Carry out directing a project process activities
3.3 Carry out the initiating a project process activities
3.4 Carry out the controlling a stage process activities
3.5 Carry out the managing product delivery process activities
3.6 Carry out managing a stage boundary process activities
3.7 Carry out closing of a project process activities
Is the PRINCE2 Practitioner Exam really difficult?
The PRINCE2 Practitioner certification facilitates the development of your professional career. But now its time to address the most important questions: How hard is the PRINCE2 Practitioner Exam? The exam covers various scenario based questions that make it really difficult to clear. Moreover, it is necessary to ensure that you supplement your studying with real-life experience working on projects, in addition to investing in personal professional development and wider training.
The PRINCE2 Practitioner Difficulty is indeed high but it is not unachievable. Therefore, all this boils down to the right preparation strategy and genuine Prince2 Practioner learning resources to clear the exam. Remember consistency and determination are two essential keys to unlock this exam. However, it is quite difficult for candidates to prepare for the certification exam on their own. Access to the right preparation resources will help you stay on the right track.
Are you struggling to find the right Prince2 Practitioner Study Guide? Don't be as worried as we bring to you the goldmine that will help you prepare better!
Preparatory Resources for PRINCE2 Practitioner Exam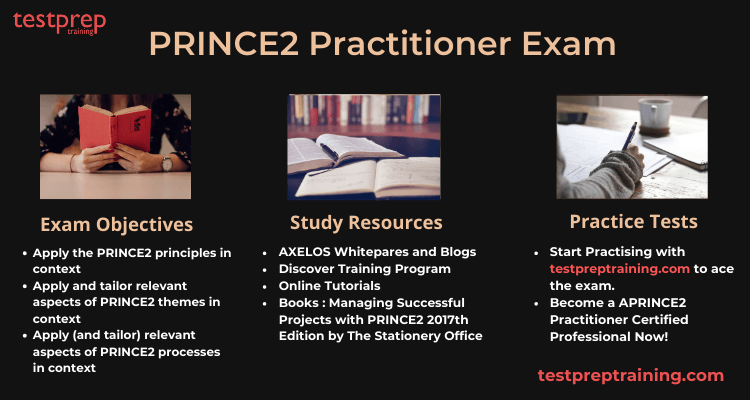 There are a various learning resources available in the market place to aid your preparation journey for the exam. But, you need to be wise enough to choose the ones that suit your preparation strategy. Also, remember to refer from the authentic sources only. Here are some recommended study resources you must explore while preparing-
AXELOS Whitepapers and Blogs
The AXELOS offers its official whitepapers, blogs, case studies, and webinars. These are the most important and reliable resources while preparing for the PRINCE2 Practitioner Practice Exam. These resources will provide excellent knowledge and understanding of various topics related to the PRINCE2 Practitioner Practice Exam. Therefore, you should definitely refer them.
Prince2 Practioner Whitepapers
Discover Training Program
AXELOS itself offers its official training program on each and every exam. You can register yourself with AXELOS and can take advantage of the training program. The training programs will provide the understanding, knowledge and skills of the particular exam. Real life experience and hands on practice is essential for this exam, hence dive deep into training courses.
PRINCE2 Practitioner Tutorial
Online Tutorials enhance your knowledge and provide in depth understanding about the exam concepts. They will be your support throughout your journey towards the exam.

Grab Some Books
The next step should be gathering some books. You should refer the books related to the exam concepts. To make your work easy, we are recommending some PRINCE2 Practitioner Exam Book below for reference –
Managing Successful Projects with PRINCE2 2017th Edition by The Stationery Office
PRINCE2 Study Guide: 2017 Update 2nd Edition by David Hinde
The PRINCE2 Practitioner: From Practitioner to Professional 3rd Edition, by Colin Bentley.
Self Evaluate with Practice Tests
PRINCE2 Practitioner Practice Exams are the most valuable resource in the preparation guide. These practice tests will help you acknowledge your strengths and identify your weaker areas. Working on your loopholes will improve your preparations. Also, these practice tests offer a real time experience of the exam and time management skills. Moreover, attempting multiple tests will boost your confidence. They play a detrimental role in improving your accuracy which is very important for this exam. Let's start practising to stay ahead of the competition.

Advance your knowledge and upgrade your skills with PRINCE2 Practitioner. Start your Preparations Now!