The MS-100 exam is a certification exam offered by Microsoft that measures the candidate's ability to manage Microsoft 365 services. This exam is designed for individuals who are responsible for managing and deploying Microsoft 365 services in their organization.
Many IT professionals who are preparing for the MS-100 exam often wonder how hard the exam is and what it takes to pass. In this blog post, we will explore the difficulty level of the MS-100 exam and provide some tips and resources to help you prepare for and pass the exam.
Whether you are a seasoned IT professional or a newcomer to Microsoft 365 services, this blog post will provide valuable insights into the MS-100 exam and help you navigate the certification process with confidence. So, let's dive in and explore the world of the MS-100 exam!
What is Microsoft MS-100 Exam?
Microsoft 365 Identity and Services (MS-100) exam is for candidates who are Microsoft 365 Enterprise Administrators with abilities to evaluate, plan, migrate, deploy, and manage Microsoft 365 services. They are responsible for performing various Microsoft 365 tenant management tasks for an enterprise, including its identities, security, compliance, and supporting technologies.
Moreover, for every exam, there is some knowledge requirement as covered below
Microsoft MS-100 Glossary
Here is a glossary of terms related to Microsoft MS-100:
Azure Active Directory (Azure AD): Microsoft's cloud-based identity and access management service, used to manage user identities and access to resources.
Conditional access: A policy-based access control feature in Azure AD that allows administrators to set conditions for accessing specific resources.
Device Management: A feature of Microsoft Endpoint Manager that enables administrators to manage and monitor Windows 10, iOS, and Android devices.
Directory Synchronization: The process of synchronizing on-premises Active Directory objects with Azure AD.
Exchange Online: Microsoft's cloud-based email and calendaring service, part of the Microsoft 365 suite.
Federation: A mechanism used to establish trust between two different identity providers, allowing users to authenticate across different systems.
Hybrid Identity: The combination of on-premises Active Directory and cloud-based Azure AD, providing users with a single identity across both environments.
Identity Management: The process of managing user identities and their associated permissions across an organization.
Intune: A cloud-based service that allows organizations to manage and secure their devices, apps, and data.
Microsoft 365: A suite of cloud-based productivity and collaboration applications, including Office 365, Windows 10, and Enterprise Mobility + Security.
Exam preparation resources for Microsoft MS-100
Microsoft MS-100 is an exam that certifies a candidate's skills in managing Microsoft 365 identities and services. Here are some exam preparation resources and links for MS-100:
These resources will help you prepare for the MS-100 exam. Good luck with your studies!
MS-100 Exam Prerequisites
Firstly, you must have a working knowledge of Microsoft 365 workloads.
Secondly, you must have been an administrator for at least one Microsoft 365 workload (Exchange, SharePoint, Skype for Business, or Windows as a Service).
Thirdly, working knowledge of networking, server administration, and IT fundamentals such as DNS, Active Directory, and PowerShell.
Microsoft MS-100 Exam Format
Before we set our foot right, it's important to rain-check for all exam-related details to move forward. Therefore, you must have an overview of the exam format to see what you'll face on the exam day. The Microsoft MS-100 exam questions will range between 40-60 questions. To complete the exam, candidates will get 180 minutes. The types of questions that candidates can face in the exam include scenario-based single answer questions, multiple-choice questions, arrange in the correct sequence type questions, drag & drop questions, mark review, drag, and drop, etc. However, to pass the exam, a candidate has to score a minimum of 700 or more. To apply for the exam, the examination fee is $165 USD including taxes. And, candidates can give the exam in English and the Japanese language.
MS-100 Exam Outline
Understanding the course outline of Microsoft MS-100 exam is the next important step. It familiarises you with the exam framework. The exam course includes 4 domains. The Percentage against each domain represents its weightage in the exam. Also, these domains are divided into subtopics to provide further insights about the exam course. You should tailor your study plan around these exam topics to achieve this certification. Moreover, the Course Outline has been updated for 2023.
The course Outline for the Microsoft MS-100 exam was updated on February 3, 2023
1. Deploy and manage a Microsoft 365 tenant (15—20%)
Plan and implement a Microsoft 365 tenant
Monitor Microsoft 365 tenant health
2. Plan and manage user identity and roles (30—35%)
Plan identity synchronization
design synchronization solutions for multitenant and multi-forest scenarios (Microsoft Documentation: Topologies for Azure AD Connect)
evaluate whether objects should be synchronized, not synchronized, or created as cloud-only (Microsoft Documentation: One or more objects don't sync, End-to-end troubleshooting of Azure AD)
identify which Azure AD Connect features to enable, such as writeback and device synchronization (Microsoft Documentation: Custom installation of Azure Active Directory Connect)
identify synchronization pre-requisites, including connectivity method, permissions, and server requirements (Microsoft Documentation: Set up directory synchronization for Microsoft 365)
choose between Azure AD Connect and Azure AD Connect cloud sync
plan user sign-in for Azure AD hybrid identities, including pass-through authentication, seamless, and SSO (Microsoft Documentation: Choose the right authentication method, Azure Active Directory Seamless Single Sign-On)
Implement and manage identity synchronization with Azure AD
Plan and manage Azure AD identities
Plan and manage roles in Microsoft 365
3. Manage access and authentication (20—25%)
Plan and implement authentication
Plan and implement secure access
Plan and implement application access
4. Plan Microsoft 365 workloads and applications (20—25%)
Plan and implement Microsoft 365 Apps deployment
Plan and implement Exchange Online deployments
Plan and implement Microsoft SharePoint Online, OneDrive, and Microsoft Teams
How hard is the Microsoft MS-100 exam?
The Microsoft MS-100 exam is an intermediate-level exam. It helps you bridge the gap for your dream job and reach new heights in your career. Now is the time to address the most important question- How hard is the Microsoft MS-100 exam? This questions literally translates to how hard you need to prepare to pass the exam.
It is well known that Microsoft Certifications are highly valued and therefore passing the exam is not very easy. Your preparations require a lot of extra effort, hard work, and dedication. The course is quite vast and you need to be thorough with the exam concepts. As not all topics are easy to learn you should firstly focus on your weaker areas. This will strengthen your preparations and boost your confidence. You just need the right resources to set you on the path for your exam.
We look forward to helping you achieve your certification and make it easier by providing you access to the best preparatory resources in the next section.
Microsoft MS-100 Study Guide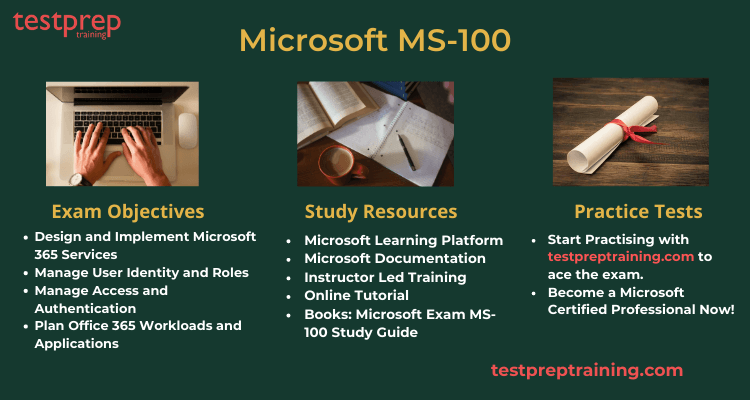 The resources you choose define your preparations. As a matter of fact, there are various resources to choose from. This makes it difficult to select authentic and genuine ones. But don't worry as we have the list of the right resources you must refer to ace the exam.
Microsoft Learning Platform
The learning resource that will be beneficial during the exam preparation is the Microsoft learning platform. However, make sure to go through the official website of Microsoft. For the MS-100 exam, it would be best to first go through the Microsoft official website to get authentic information about the exam.
Microsoft Documentations
After that, you can move on to Microsoft documentation where you can easily understand the concepts. Moreover, you also get to know the different scales of different Microsoft services. Microsoft Docs consists of modules that will help you gain a lot of knowledge about Microsoft 365 and its services.
Instructor-led Training
Microsoft provides Instructor-led training that covers central elements of Microsoft 365 enterprise administration. here, you will be able to understand the key components that must be planned for when designing your Microsoft 365 tenant. Moreover, you will learn to manage tenants that include the configuration of tenant roles and managing your tenant health and services. However, this MS-100 training course will help you in your preparation includes:
MS-100 Online Tutorials
Online Tutorials are easy to digest and really helpful in your preparations. They provide in-depth information about the exam and help you in mastering the exam concepts.

Reference MS-100 Books
Those who are dedicated to passing the exam know the importance of books during the time of preparation. However, while studying for the exam books can be really helpful to understand the core of the topics. You can take the books available in the market that will help in studying for the MS-100 exam. The Microsoft Exam MS-100 Study Guide will help you to demonstrate the skills and knowledge needed to effectively design, deploy, manage, and secure Microsoft 365 services.
Evaluate yourself with MS-100 Practice Exam
Reviewing your preparations is an important step in your journey towards the exam. Through mock tests, you can gain real time experience of the exam. These timed tests help you assess your weaker areas. Moreover, they help you identify your loopholes and reduce the chances of your mistakes on the day of the exam. It is suggested that you take practice tests once you have completed the syllabus. Start practising now to boost your preparations!

Validate your skills and advance your career with the Microsoft MS-100 Exam. Start your preparations now!