Are you looking for opportunities to advance in your career in the field of cybersecurity? Well, the Certified Information Systems Security Professional (CISSP) exam is all needed to unlock new possibilities. This certification gives you the option to explore real-world mastery in the IT domain. Moreover, it will make your resume shine!
But are you wondering how to become a Certified Information Systems Security Professional? Don't worry as we provide the study guide that will help you ace the exam. So before we set our foot right, it's important to rain-check for all CISSP exam details and prerequisites to move forward.
Certified Information Systems Security Professional Exam Overview
The Certified Information Systems Security Professional (CISSP) is amongst the globally recognized certification in the information security market. The CISSP certifies an information security professional's strong technical and management knowledge and expertise in designing, engineering, and managing an organization's comprehensive security posture. The CISSP Common Body of Knowledge (CBK®) covers a wide range of subjects, ensuring that it is applicable to all disciplines in the field of information security.
Target Audience

:
The CISSP is ideal for experienced security practitioners, managers, and executives, including those in positions such as Chief Information Security Officer, Chief Information Officer, Director of Security, and IT Director/Manager, who want to demonstrate their knowledge across a wide range of security practises and principles. Security Systems Engineer, Network Architect, Security Analyst, and Security Manager are among the other positions available.
Why become a Certified Information Systems Security Professional?
The need for Certified Information Systems Security Professionals is continually expanding. As a result, obtaining certification to demonstrate your knowledge is critical in advancing your professional career. Furthermore, this qualification can help you command greater pay and qualify for additional possibilities and responsibilities than the market norm. In addition, Cybersecurity Ventures estimates that 3.5 million Cyber Security positions would be available by 2021. By 2024, the worldwide cyber security market is estimated to reach USD $282.3 billion, with an annual growth rate of 11.1 percent.
Therefore, to prove your skills, advance your career, and bridge the gap to your dream job you must take the Certified Information Systems Security Professional certification exam.
CISSP Exam Format

:
The Certified Information Systems Security Professional test has 100-150 questions and takes 3 hours to complete. Furthermore, all CISSP test questions are presented in a multiple-choice and sophisticated creative item style. In addition, to earn this certificate, you must score 700 out of 1000 points. The CISSP exam is also a computer-based examination (CBT) given by Pearson VUE Testing. Only the English language version of this test is accessible. In addition, the CISSP test costs $699 USD.
CISSP Exam Prerequisite

:
Candidates who wish to appear for the exam must comply with the following CISSP exam requirements:
A minimum of 5 years cumulative paid work experience in 2 or more of the 8 domains of the CISSP CBK.
A candidate that doesn't have the required experience to become a CISSP may become an Associate of (ISC)² by successfully passing the CISSP examination. The Associate of (ISC)² will then have 6 years to earn the 5 years required experience.
Scheduling the CISSP Exam
For CISSP exam registration follow these steps:
Firstly, Create an account with Pearson VUE, the exclusive global administrator of all (ISC)² exams.
Secondly, Select the (ISC)² certification exam you are pursuing.
Thirdly, Schedule your exam and testing location with Pearson VUE
Certified Information Systems Security Professional Exam Outline
The CISSP exam outline covers all the concepts and domains. These domains form the syllabus for the exam. This is to help candidates prepare for the exam by identifying specific content within each topic that may be tested. So you must focus and put your whole heart while learning and understanding the following domains:
Domain 1: Security and Risk Management
1.1 Understand, adhere to and promote professional ethics
1.2 Understand and apply security concepts
1.3 Evaluate and apply security governance principles
1.4 Determine compliance and other requirements
1.5 Understand legal and regulatory issues that pertain to information security in a holistic context
1.6 Understand requirements for investigation types (i.e., administrative, criminal, civil, regulatory, industry standards)
1.7 Develop, document, and implement security policy, standards, procedures, and guidelines
1.8 Identify, analyze, and prioritize Business Continuity (BC) requirements
1.9 Contribute to and enforce personnel security policies and procedures
1.10 Understand and apply risk management concepts
1.11 Understand and apply threat modeling concepts and methodologies
1.12 Apply Supply Chain Risk Management (SCRM) concepts
1.13 Establish and maintain a security awareness, education, and training program
Domain 2: Asset Security
2.1 Identify and classify information and assets
2.2 Establish information and asset handling requirements
2.3 Provision resources securely
2.4 Manage data lifecycle
2.5 Ensure appropriate asset retention (e.g., End-of-Life (EOL), End-of-Support (EOS))
2.6 Determine data security controls and compliance requirements
Domain 3: Security Architecture and Engineering
3.1 Research, implement and manage engineering processes using secure design principles
3.2 Understand the fundamental concepts of security models (e.g., Biba, Star Model, Bell-LaPadula)
3.3 Select controls based upon systems security requirements
3.4 Understand security capabilities of Information Systems (IS) (e.g., memory protection, Trusted Platform Module (TPM), encryption/decryption)
3.5 Assess and mitigate the vulnerabilities of security architectures, designs, and solution elements
3.6 Select and determine cryptographic solutions
3.7 Understand methods of cryptanalytic attacks
3.8 Apply security principles to site and facility design
3.9 Design site and facility security controls
Domain 4: Communication and Network Security
4.1 Assess and implement secure design principles in network architectures
4.2 Secure network components
4.3 Implement secure communication channels according to design
Domain 5: Identity and Access Management (IAM)
5.1 Control physical and logical access to assets
5.2 Manage identification and authentication of people, devices, and services
5.3 Federated identity with a third-party service
5.4 Implement and manage authorization mechanisms
5.5 Manage the identity and access provisioning lifecycle
5.6 Implement authentication systems
Domain 6: Security Assessment and Testing
6.1 Design and validate assessment, test, and audit strategies
6.2 Conduct security control testing
6.3 Collect security process data (e.g., technical and administrative)
6.4 Analyze test output and generate report
6.5 Conduct or facilitate security audits
Domain 7: Security Operations
7.1 Understand and comply with investigations
7.2 Conduct logging and monitoring activities
7.3 Perform Configuration Management (CM) (e.g., provisioning, baselining, automation)
7.4 Apply foundational security operations concepts
7.5 Apply resource protection
7.6 Conduct incident management
7.7 Operate and maintain detective and preventative measures
7.8 Implement and support patch and vulnerability management
7.9 Understand and participate in change management processes
7.10 Implement recovery strategies
7.11 Implement Disaster Recovery (DR) processes
7.12 Test Disaster Recovery Plans (DRP)
7.13 Participate in Business Continuity (BC) planning and exercises
7.14 Implement and manage physical security
7.15 Address personnel safety and security concerns
Domain 8: Software Development Security
8.1 Understand and integrate security in the Software Development Life Cycle (SDLC)
8.2 Identify and apply security controls in software development ecosystems
8.3 Assess the effectiveness of software security
8.4 Assess security impact of acquired software
8.5 Define and apply secure coding guidelines and standards
Are you feeling perplexed after this huge syllabus? Well we have the perfect solution in our next section!
Certified Information Systems Security Professional CISSP Exam Preparation Guide
Preparing for an exam is quite a difficult task. It becomes easier when you have access to the best preparatory resources. The resources you choose define your success rate. Therefore, select the ones that are suited to your type and your level of understanding. However, to help you with this difficult choice we have curated a special list of all the resources that will enrich your learning experience. Follow our CISSP exam study guide to pass the exam with flying colours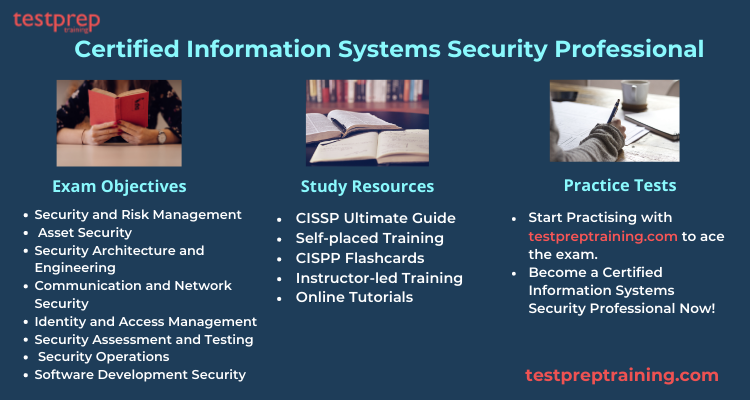 1. Ultimate CISSP Study Guide
The CISSP Ultimate Guide is your one-stop destination to all the doubts related to the CISSP exam. There is nothing wrong to say that the CISSP exam guide serves as complete coverage of the CISSP exam and its related domains. Moreover, candidates who are looking for a comprehensive review of information must visit and bookmark this guide so that they can get access to it anywhere and anytime they want.
2. Online Training
(ISC)² Online Training is an alternative to traditional training classrooms. Candidates may learn at their own pace with interactive study materials in these sophisticated and unique training courses. Remember that after you've paid for the course, you'll have access to the materials for 120 days. Additionally, these online courses come in the following formats:
3. CISPP Flashcards
Candidates preparing for the CISSP exam can now study anytime and anywhere for the certification exam. This is possible with CISSP Flashcards provided by (ISC)² helps candidates get immediate feedback relating to their queries. Also, these flashcards provide the ability to flag individual cards for a separate study. The cards are sectioned for each domain to make learning easier and more efficient.
4. Online Tutorials
Online Tutorials enrich your preparations and set you on the right track. They are easy to digest and provide in-depth information about the exam. Moreover, they provide clarity about the exam concepts and strengthen your learning.
5. Evaluate yourself with CISSP Practice Tests
Reviewing your preparations is an important step in your journey towards the exam. Practice tests play a pivotal role das they not only help you find out your strengths but also direct you to master your possible weak areas. They are considered as one of the most efficient sources to study for the exam as they offer live CISSP exam experience. Taking a practice test is a great way to diversify your study strategy and ensure the best possible results for the real thing. So, solving Practice tests can provide you with the confidence you need to be stress-free. Start Practising Now!