The HealthCare Information Security and Privacy Practitioner (HCISPP) is the most suitable certification for candidates with core understanding and experience required to implement, maintain the relevant security and privacy controls of a healthcare establishment. HCISPP provides validation of a practitioner's experience of best practices and methods to guard organizations and sensitive data against emerging warnings and breaches.
The HCISPP exam is a certification from the International Information Systems Security Certification Consortium. Further, the certification exhibits expertise in the chief areas of knowledge on privacy and security of healthcare information. HCISPP is one of the recent (ISC)2 credentials introduced in 2013. Moreover, the HCISPP exam puts higher emphasis on healthcare regulatory issues, data governance and risk management. Most of the principles in the HCISPP exam are specific to healthcare. In other words, there is also a lot more emphasis placed on privacy rather than security.
Target Audience : HCISPP exam
The HCISPP is excellent for information security professionals entrusted with guarding protected health information (PHI), including those in the following positions:
Firstly, Compliance Officer
Secondly, Information Security Manager
Thirdly, Privacy Officer
Then, Compliance Auditor
Subsequently, Risk Analyst
Moreover, Medical Records Supervisor
Additionally, Information Technology Manager
Not to mention, Privacy and Security Consultant
Then, Health Information Manager
Also, Practice Manager
Prerequisites for HCISPP exam
Prerequisites are an important part of any exam. Therefore, make sure that you go through the following:
Firstly, the candidate must have a minimum of two years of work experience in knowledge areas of the HCISPP.
Secondly, a candidate that doesn't have the required experience may become an Associate of (ISC)² bypassing the HCISPP examination. After that, the Associate of (ISC)² will have three years to earn the two years of the required experience.
HCISSP Exam Study Guide
To succeed in your journey, and achieve your desired goal, preparation resources always come in handy. All the resources mentioned here will allow you to build a stronger foundation for the exam. This way there are more chances to qualify with the desired result. If you yearn for the perfect score, below mentioned HCISPP Exam Preparation resources is all you need to qualify the HCISPP exam. Lets get started with the HCISPP Exam Guide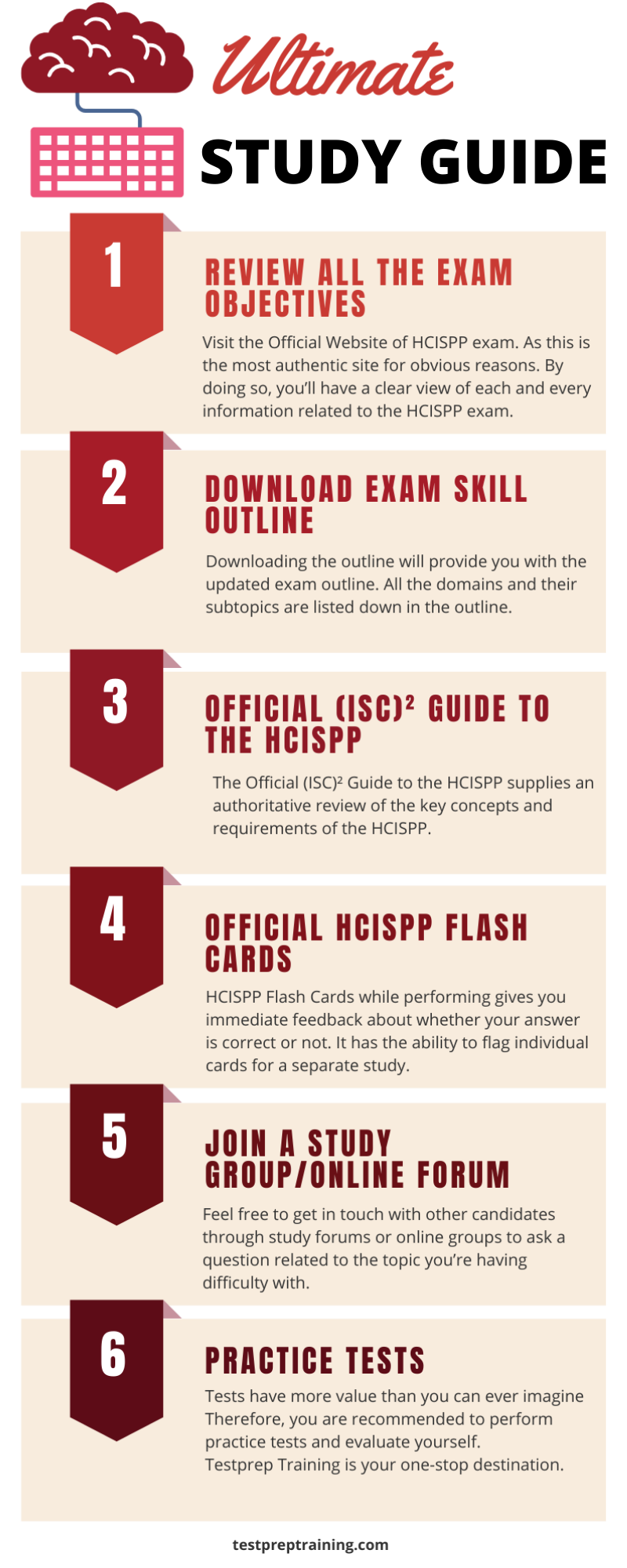 Step 1 – Review all the HCISPP Exam Objectives
Your first step in the study guide is to review all the exam objectives. And, to do so, make sure to visit the Official Website of HCISPP exam. As this is the most authentic site for obvious reasons. By doing so, you'll have a clear view of each and every information related to the HCISPP exam. So, make sure, you understand all about the exam policies before commencing on with your preparations.
Step 2- Download HCISPP Exam skill Outline
Secondly, you must download the exam skill outline available on the official website itself. Downloading the HCISPP Exam Outline will provide you with the updated exam outline. All the domains and their subtopics are listed down in the outline. Keep in mind not to rely on any other website except the official website itself. Since the exam is updated after every few years hence the official website is your door to reliable information. Familiarising yourself with the exam course is indeed important to have clarity about the concepts. This exam covers the following 7 domains:
Domain 1. Healthcare Industry
This domain covers the topics like Understand the Healthcare Environment Components, Understand Third-Party Relationships and Understand Foundational Health Data Management Concepts.
Domain 2. Information Governance in Healthcare
This domain aims at equipping you with the skills to understand Information Governance Frameworks and Identify Information Governance Roles and Responsibilities. Also, Align Information Security and Privacy Policies, Standards and Procedures. Further, understand and comply with Code of Conduct/Ethics in a Healthcare Information Environment
Domain 3. Information Technologies in Healthcare
Further this domain includes understanding the Impact of Healthcare Information Technologies on Privacy and Security. Also, understand Data Life Cycle Management and Third-Party Connectivity.
Domain 4. Regulatory and Standards Environment
This domain aims at the concepts to identify Regulatory Requirements, Recognize Regulations and Controls of Various Countries. Moreover, understand Compliance Frameworks
Domain 5. Privacy and Security in Healthcare
Subsequently, in this domain topics covered are understand Security Objectives/Attributes Understand General Security Definitions and Concepts. Also, understand General Privacy Definitions and Concepts. Further, understand the Relationship Between Privacy and Security Understand Sensitive Data and Handling.
Domain 6. Risk Management and Risk Assessment
This domain focuses on understanding Enterprise Risk Management and Information Risk Management Framework (RMF). Also, understand Risk Management Process, identify Control Assessment Procedures and Utilizing Organization Risk Frameworks. Further, participate in Risk Assessment Consistent with the Role in Organization and understand Risk Response. Not to mention, Utilize Controls to Remediate Risk Participate in Continuous Monitoring.
Domain 7. Third-Party Risk Management
Lastly, this domain covers concepts to understand the Definition of Third-Parties in Healthcare Context, maintain a List of Third-Party Organizations, apply Management Standards and Practices for Engaging Third-Parties. Also, determine when a Third-Party Assessment is required, support Third-Party Assessments and Audits, Participate in Third-Party Remediation Efforts. Also,respond to Notifications of Security/Privacy Events, respond to Third-Party Requests Regarding Privacy/Security Events and promote awareness of Third-Party Requirements.

Step 3- Refer Official (ISC)² Guide to the HCISPP
The Official (ISC)² Guide to the HCISPP supplies an authoritative review of the key concepts and requirements of the HCISPP. This guide encompasses all the knowledge elements to demonstrate competency in healthcare security and privacy. Also, covers all the seven domains starting from Healthcare Industry to Third Party Risk Management.
Step 4- Explore Learning Resources
Official HCISPP Flash Cards
With Official CCSP Flash Cards, CCSP aspirants can study anytime and anywhere for their exam. Likewise, HCISPPI Flash Cards allows the candidates to study anytime and anywhere. HCISPP Flash Cards while performing gives you immediate feedback about whether your answer is correct or not. It has the ability to flag individual cards for a separate study. Remember, these cards are sectioned for each domain to make learning easier.
Books to consider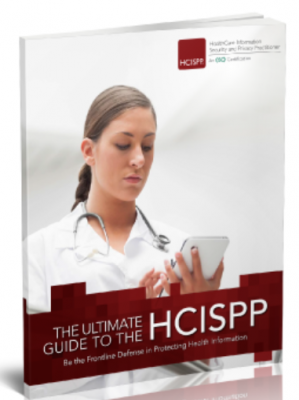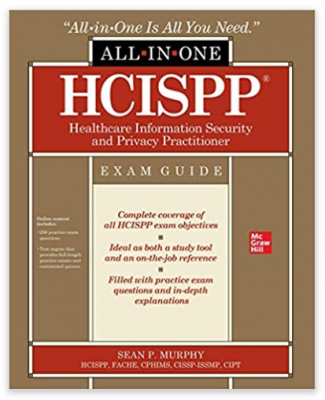 Books are always a good learning resource to gain knowledge. Moreover, Microsoft has their own press store. So, never try to limit your knowledge. Therefore, we highly recommend the following-
HCISPP HealthCare Information Security and Privacy Practitioner All-in-One Exam Guide by Sean Murphy
Official (ISC)2 Guide to the HCISPP CBK by Steven Hernandez.
Step 5 – Join a Study Group/Online Forum
Online forums and study groups are a great way to prepare for the HCISPP exam. Therefore, feel free to get in touch with other candidates through study forums or online groups to ask a question related to the topic you're having difficulty with.
However, it's not something you have to join. It's just something very subjective. Not to mention, these online groups help you stay equated with the other people who are also walking through the same path as yours. Moreover, you can also ask a question related to the topic you're having difficulty with.
Step 6 – Attempt HCISPP Practice Tests
In the age of the Internet, practice tests have gone digital. In other words, pen and paper have left behind and you can perform practice tests sitting in your living room. Tests have more value than you can ever imagine Therefore, you are recommended to perform HCISPP Practice Exams and evaluate yourself. Moreover, these practice tests are a great learning opportunity to make the biggest scoring leaps. Hence, attempt multiple tests to boost your confidence. Lets Start Practising Now!

Advance your skills by qualifying the HCISPP : HealthCare Information Security and Privacy exam. Start your Preparations Now!