There are various kinds of courses and certifications available in the market. Particularly, the most trending and beneficial course is docker. Furthermore, The application of Docker in enterprises has become the main driver of rising demand. Above all, Docker container as a notion of modernization has changed the aspect of software conveyance. When you are planning to learn about cloud computing you need to keep in mind the topics and important things that are covered in the course. In addition, one such popular and reliable certification is of Docker, formerly known as Docker Certified Associate. Furthermore, in terms of job prospects and earning, a certification leads to a rampant increment in both. Moreover, almost 70% of people agree that certification has improved their earning, and 84% of people have seen better job prospects after getting certified. Let's start learning more about the exam.
About Docker Certified Associate
The Docker Certified Associate examination is really in demand in the IT sector. Also, Docker facilities are highly sought after, and the Docker Certified Associate (DCA) exam is designed to prove that skillset with real-world questions created by experienced Docker practitioners. Further, the skills and knowledge this exam measures are obtained from an understanding of the jobs of current Docker users.
Docker Certification implies qualifying the Docker Certified Associate (DCA) exam and acquiring a reputation for your Docker skills. Additionally, Docker container as innovation has changed the aspect of software conveyance. This certification will help you in various features offered by Docker. In addition, this would also help in improving the candidate's technology skills for installation and configuration of Docker. Therefore, you need to be proficient in skills such as orchestration, imaging, networking, and security.
Skills Required
Moving on further, there are some basic skills and knowledge requirement for the examination,these are mentioned below:
Firstly, months of experience with Docker
Secondly, Exposure to Docker Enterprise Edition
Also, Experience with container security
Further, Experience with at least 1 cloud provider
Moreover, Understanding of Docker Best Practices
Additionally, Experience with configuration management tools
Finally, Experience with Linux and/or Windows Server
Exam Format
The Docker Certified Associate exam comprises 55 questions that need to be completed within a time span of 90 minutes. You need to manage your time accordingly. Furthermore, it advised that since there are 60 questions in total, then, you should not spend more than 1 minute 30 seconds on each question. On average, if you finish your examination in 60 minutes, you will still have 30 minutes to revise and recheck your answers.
Furthermore, there are different types of questions present during the exam including case studies, short answers, multiple-choice, mark review, etc. Since there are different types of questions, you can complete the case study questions first. Subsequently, they are the most time-consuming ones. Next, you can go for short answers, followed by the multiple-choice. Additionally, this examination will cost you USD $195 or Euro €175 purchased online. The best part is you can immediately view the result of the examination.
Course Outline
It is very important to know the possible domains and topics which the exam covers. Further, these are the objectives one must cover and learn in order to successfully pass the exam.
Domain 1: Orchestration: 25%
Domain 2: Image Creation, Management, and Registry: 20%
Domain 3: Installation and Configuration: 15%
Domain 4: Networking: 15%
Domain 5: Security: 15%
Domain 6: Storage and Volumes: 10%
How to schedule the exam?
Since you have already scrolled down here. The next important step post knowing about the examination is to register for it. Let's learn the simple ways to get you registered:
Go to the official website of the Docker Certified Associate examination.
Click on Schedule now
Furthermore, create an account and follow the prompt.
Last but not the least, complete the registeration by making the payment.
Preparation resources for Docker Certified Associate
Following this preparation guide will help you learn and understand every exam's objectives. Here we are providing you with the best learning resources to qualify for the exam. Moreover, here we are going to illustrate a detailed description to help you prepare for the exam. Let's start: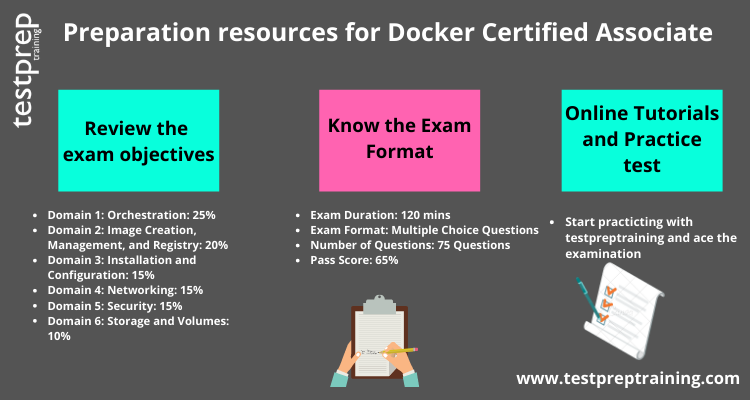 Online Tutorials
Online Tutorials enhance your knowledge and provide a depth understanding of the exam concepts. Additionally, they also cover exam details and policies. Nonetheless, these online tutorials provide and in-depth information related to the examination. Furthermore, they also contain new tips and tricks that will help you excel in the examination. This in turn will help you prepare well for the examination. Therefore, learning with Online Tutorials will result in strengthening your preparation.

Expert Corner
When you begin your preparation journey, it becomes essential to review all exam objectives. Furthermore, by doing so it will provide you with a clear idea about all the different topics and skills that you need to be proficient in. Additionally, exam objectives can help you strengthen the modules and the respective subtopics.
Furthermore, there are various books and you should also join the community which will help you connect with like-minded people. To add on, you can also opt for the Docker training programs. The Docker offers training programs on every exam. The training programs for a particular exam contain all information of the exam such as description, intended audience, delivery method, duration, etc.
The final step to success is to practice what you have learned. Additionally, taking a practice test is a great way to diversify your study strategy and ensure the best possible results for the real thing. Furthermore, analyzing the practice test is very important so as to ensure complete preparation. We provide you with free sample papers to help you excel in the examination. Moreover, these free practice exam papers will give you a real-time examination feel. Therefore, start preparing now!