Looking for a quick revision for the Microsoft AZ-304 exam? Then you are just at the the right place! This Microsoft Azure Architect Design Cheat Sheet is your ideal instrument to have an overview of the exam before venturing. It will keep you loaded with the right resources and bridge the gap for your dream job. Furthermore, we will be adding a few quick links to ease your preparation process. We suggest you to a quick glance at this cheat sheet before you appear for the exam.
Microsoft AZ-304 : Overview
The Microsoft AZ-304 Microsoft Azure Architect Design exam certifies you to become a Microsoft Azure Architect. An Azure Solution Architect partners with cloud administrators, cloud DBAs, and clients to implement solutions. Responsibilities for an Azure Solution Architect include advising stakeholders and translating business requirements into secure, scalable, and reliable cloud solutions. Candidates appearing for this exam should have subject matter expertise in designing and implementing solutions that run on Microsoft Azure, including aspects like compute, network, storage, and security.
Recommended Knowledge
A candidate for this exam should have advanced experience and knowledge of IT operations, including networking, virtualization, identity, security, business continuity, disaster recovery, data platform, budgeting, and governance–this role should manage how decisions in each area affect an overall solution. In addition, candidates in this role should have expert-level skills in Azure administration and have experience with Azure development and DevOps processes.
Cheat Sheet | Microsoft AZ-304 Azure Architect Design Exam
The Microsoft AZ-304 certification exam Cheat Sheet is designed to help you get ready for the exams. It will walk you through all the learning resources and help you gain a competitive edge. Without any further delay lets begin on your revision journey.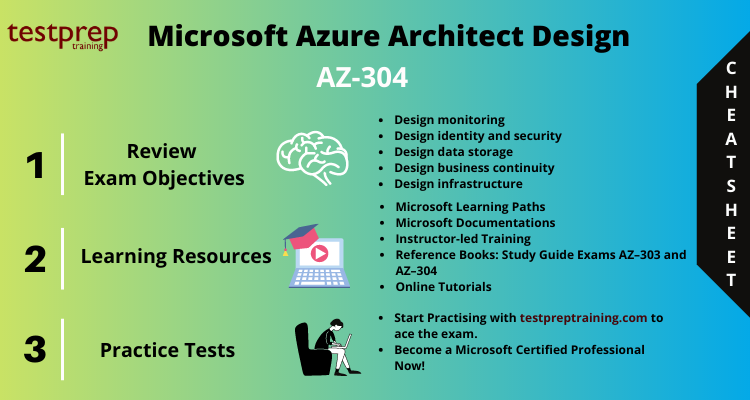 Deeply Analyse the Microsoft AZ-304 Exam Topics
First and foremost thing, when you begin revising for the exam is to deeply analyse the exam objectives. These objectives form the blueprint of the exam. Moreover, the course outline provides detailed description of all the exam concepts.
Microsoft AZ-304 Exam has updates in the course outline as on January 27, 2021.
The updated Microsoft AZ-304 exam topics include:
Design Monitoring (10-15%)
Design for cost optimization
Design a solution for logging and monitoring
Design Identity and Security (25-30%)
Design authentication
Design authorization
Design governance
Design security for applications
Design Data Storage (15-20%)
Design a solution for databases
Design data integration
recommend a data flow to meet business requirements
recommend a solution for data integration, including Azure Data Factory, Azure Data Bricks, Azure Data Lake, Azure Synapse Analytics (Microsoft Documentation: Copy and transform data in Azure Synapse Analytics)
Select an appropriate storage account
Design Business Continuity (10-15%)
Design a solution for backup and recovery
Design for high availability
Design Infrastructure (25-30%)
Design a compute solution
recommend a solution for compute provisioning (Microsoft Documentation: Choose an Azure compute service for your application)
determine appropriate compute technologies, including virtual machines, App Services, Service Fabric, Azure Functions, Windows Virtual Desktop, and containers
recommend a solution for containers
recommend a solution for automating compute management
Design a network solution
Design an application architecture
Design migrations
Quick Links to your Study Guide
Your resources define the level of your revisions. Here area few quick links that will definitely benefit your revisions and help you ace the exam:
Microsoft learning paths
The Microsoft Azure AZ-304 exam learning paths are the official resources mainly the online classes which are made available by Microsoft for the candidates of Exam AZ-304. These are made available absolutely free of cost and can help in preparing by developing crystal clear concepts for the exam topics. You can access them on the official site or through the links mentioned below –
Instructor led training
The instructor-led training can be the right choice for you if you are an inquisitive person and encounter so many doubts. The Course AZ-304T00-A: Microsoft Azure Architect Design teaches Solutions Architects how to translate business requirements into secure, scalable, and reliable solutions. Lessons include design considerations related to logging, cost analysis, authentication and authorization, governance, security, storage, high availability, and migration. 
AZ-304 Exam Reference Books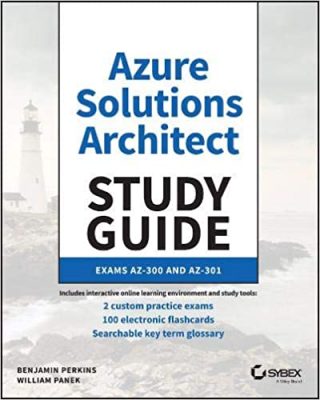 Books are indeed the best-valued resource for preparation. You can refer to multiple books of your choice and can also pick the books from libraries or book stores. The AZ-304 book you can refer to:
Microsoft Azure Architect Technologies and Design Complete Study Guide Exams AZ–303 and AZ–304 Paperback
Online Tutorials
The best way to enhance your knowledge is by referring to Online Tutorials. These AZ-304 Exam tutorials provide in depth understanding about the exam and its concepts. Additionally, it also covers exam details and policies. Therefore learning with Online Tutorials will result in strengthening your preparation.

Evaluate yourself with Practice Test
The practice is what decides your future. Practicing will help you determine where do you lack in performing best and will also help you in getting more confident on the day of the exam by eradicating your silly mistakes. Therefore try attempting multiple AZ-304 exam practice tests before the final race. They will let you identify the loopholes in your revisions and will help you in reaching the next level. Such practice tests boost your confidence and improve your skills. Start Practising Now!
Validate your skills and get ready to qualify Microsoft Azure Architect Design. Start preparing AZ-304 now!