The AWS Certified SysOps Administrator Associate (SOA-C02) exam is designed for system administrators in a cloud operations role. For this they must have knowledge and experience of at least one year in deployment, management, networking, and security on AWS.
Getting certified is quite a task and it requires a lot of effort. However, once you are certified, it will boost your career and professional profile quite like never before. Apart from that, the pay is also two times more than others in this field. Enroll in this AWS certification course to grasp all the concepts and attain better scores effortlessly.
AWS Certified SysOps Administrator: Exam Overview
Since the technology sector is growing more and more powerful every day and so does the competition. There are several ways for the candidates to stand out from others. AWS certification is surely the most effective way to define and prove your expertise. No doubt, this certification is worth learning and a great addition to a good resume.
The AWS SysOps Administrator Associate certification course designed to help candidates understand the principles of Amazon Web Services (AWS) and gain the practical hands-on experience required to successfully administer an AWS infrastructure. This infrastructure includes learning how to use over 80 different services that will put you on the path to becoming an AWS Certified SysOps Administrator Associate.
AWS SysOps Administrator Associate Course Outline (SAO-C02)
Below mentioned is the detailed information regarding the domains covered in the AWS Certified SysOps Administrator Associate exam and also the weightage of each domain.
Domain 1: Monitoring, Logging, and Remediation
1.1 Implementing metrics, alarms, and filters by using AWS monitoring and logging services
1.2 Remediating issues based on monitoring and availability metrics
Domain 2: Reliability and Business Continuity
2.1 Implementing scalability and elasticity
2.2 Implement high availability and resilient environments
2.3 Implementing backup and restore strategies
Domain 3: Deployment, Provisioning, and Automation
3.1 Provisioning and maintaining cloud resources
3.2 Automating manual or repeatable processes
Using AWS services (for example, OpsWorks, Systems Manager, CloudFormation) to automate deployment processes (AWS Documentation: AWS OpsWorks, Use AWS CloudFormation to configure a service role for Automation, AWS CodeDeploy)
Implementing automated patch management (AWS Documentation: AWS Systems Manager Patch Manager, Patch management overview)
Scheduling automated tasks by using AWS services (for example, EventBridge, AWS Config) (AWS Documentation: EventBridge Event Examples from Supported AWS Services, Build a scheduler as a service, AWS Config)
Domain 4: Security and Compliance
4.1 Implementing and managing security and compliance policies
4.2 Implementing data and infrastructure protection strategies
Domain 5: Networking and Content Delivery
5.1 Implementing networking features and connectivity
Configuring a VPC (for example, subnets, route tables, network ACLs, security groups, NAT gateway, internet gateway ) (AWS Documentation: VPC with public and private subnets (NAT), NAT gateways, Internet gateways, Network ACLs)
Configuring private connectivity (for example, Systems Manager Session Manager, VPC endpoints, VPC peering, VPN) (AWS Documentation: Create a Virtual Private Cloud endpoint, AWS Systems Manager Session Manager, AWS PrivateLink and VPC endpoints, VPC peering)
Checking AWS network protection services (for example, AWS WAF, AWS Shield) (AWS Documentation: How AWS Shield works, What are AWS WAF, AWS Shield, and AWS Firewall Manager?)
5.2 Configuring domains, DNS services, and content delivery
5.3 Troubleshooting network connectivity issues
Domain 6: Cost and Performance Optimization
6.1 Implement cost optimization strategies
6.2 Implement performance optimization strategies
Learning Resources for AWS Certified SysOps Administrator Exam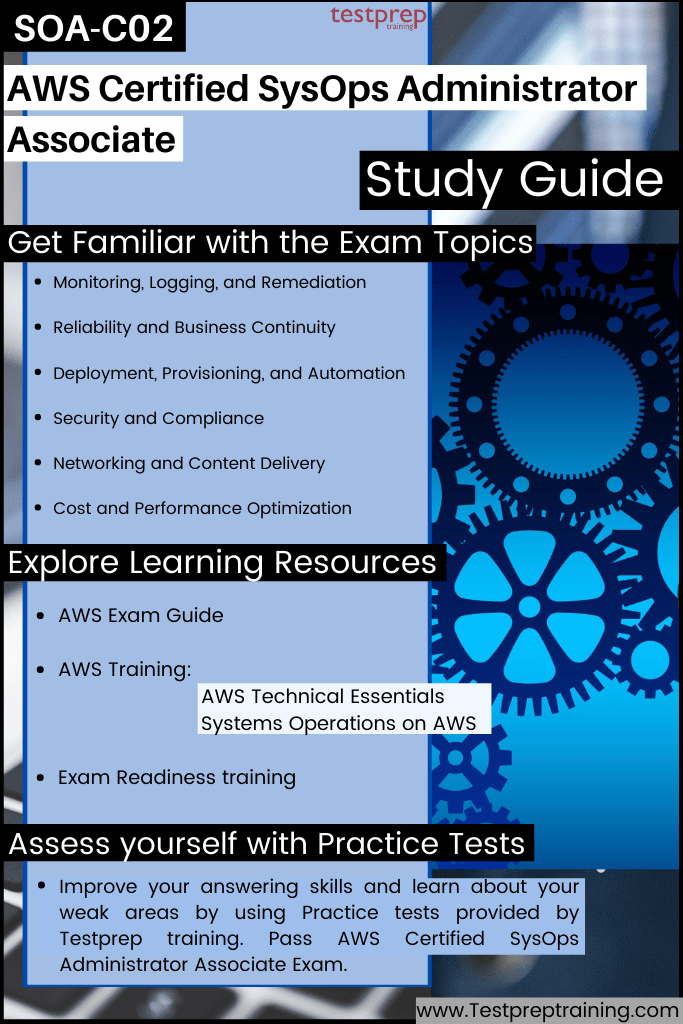 You need to start preparing for your exam by first selecting the best study material. You can find numerous learning resources but have to choose the most suitable one. Your rate of success in the exam totally depends upon the study material you refer to. Firstly, go through your course outline very carefully, it will be very beneficial for you. Also, it will provide you a clear idea about the exam. Most importantly, you can create a very strong mind set regarding how to prepare the exam with the help of the syllabus.
Also, you can opt for instructor led trainings, it is very beneficial as you can study in detail all the topics by the subject expert. Instructor led trainings are definitely highly preferable as there you get personalized learning and nothing can really beat it. Also, highly collaborative and complex topics can be covered very easily with the help of experts.
You can also prepare yourself by joining the AWS online community. It is basically an additional venue for learning. It is an ideal way to connect with people of your age who have the same aim as yours. Moreover, you can swap your ideas and can learn many new things. Additionally, do appear for as many practice tests as you can, it acts as a trial run before the actual exam, and will help you revise your whole syllabus.
For a well-strategized preparation guide, candidates can refer to the AWS Certified SysOps Administrator Associate Tutorial, which is designed for aspiring candidates to help them with collecting suitable learning resources and online training to strengthen their grasp on machine learning and hence achieve excellence.

Expert's Corner
Cloud computing is virtually present in almost various industries, and half of the global cloud infrastructure market belongs to AWS. Hence, understanding the AWS platform is very crucial. So, the AWS Certified SysOps Administrator Associate certification will give your career a high boast. You can clear this exam easily with the right sort of preparation. Practice tests are the key factor in deciding your rate of success in the exam. So, do appear for as many practice tests as possible. Getting the experience of an exam before even giving the actual exam will surely inculcate self-analytical capacity and will increase your confidence as well.

Build your skills and enhance them to qualify AWS Certified SysOps Administrator Exam with numerous practice tests. Start Preparing Now!