The AWS Certified Solutions Architect – Associate certification exam is for people who work as solutions architects. The certification test also verifies a candidate's ability to successfully show knowledge of how to develop and deploy safe and resilient applications using AWS technology. Doesn't this seem intriguing? There is also a great deal to learn about AWS Certified Solutions Architect Associate. Let's get started:
Prerequisite for AWS Certified Solutions Architect Associate Exam:
You must have at least one year of expertise creating scalable and available distributed systems on AWS. It will assist you in gaining a thorough understanding of AWS.
Having hands-on expertise with AWS services such as computers and databases, as well as AWS deployment and maintenance.
You must be able to determine which AWS services are appropriate for a particular technological demand.
Lastly, you must understand AWS' security features and tools, as well as how they connect to traditional services.
Furthermore, it's also crucial to understand what abilities and information you'll earn as a result of this certification. In a cloud context, the AWS exam will help you install, manage, and monitor identity, governance, storage, compute, and virtual networks, as well as provide, scale, monitor, and change resources as needed. This study route is constructed in such a way that it evaluates your knowledge across five distinct topic areas.
AWS Exam Format

:
The AWS Certified Solutions Architect Associate exam is made up of 40-60 questions that must be answered in 130 minutes. You must schedule your time well. Furthermore, because there are 40-60 questions in total, it is recommended that you spend no more than 1 minute 30 seconds on each one. You'll get 30 minutes to revise and verify your answers if you finish the test in 130 minutes on average.
In addition, the test contains a variety of question styles, such as case studies, short answers, multiple-choice, and mark review. Because there are several sorts of questions, you might start with the case study questions. As a result, they are the most time-consuming. Short responses are next, followed by multiple-choice questions. Keep in mind that passing the exam requires a score of 720 or above. In addition, the exam will set you back $150 USD. The test is accessible in English, Japanese, Korean, and Simplified Chinese, among other languages.
How to schedule the exam?
Since you have already scrolled down here. The next important step post knowing about the examination is to register for it. Let's learn the simple ways to get you registered:
You have to sign in to aws.training.
After that click on Certification on the top.
Then click on the AWS Certification account, Schedule a new exam.
Furthermore, check for the exam you want to take and click schedule at the Pearson VUI button or PSI.
For Non-Students interested in Technology
For Students or Instructors
AWS Certified Solutions Architect Associate Course Structure
Topics and sections assist you in grasping the scope of the test. Without a doubt, we will study and comprehend the main topics that will be beneficial during the preparation for the AWS Certified Solutions Architect Associate certification.
Design Resilient Architectures: 30%
Firstly, Design a multi-tier architecture solution
Secondly, highly available and/or fault-tolerant architectures
Design decoupling mechanisms using AWS services
Choose appropriate resilient storage
Design High-Performing Architectures: 28%
Identify elastic and scalable compute solutions for a workload
Select high-performing and scalable storage solutions for a workload
Select high-performing networking solutions for a workload
Choose high-performing database solutions for a workload
Design Secure Applications and Architectures: 24%
secure access to AWS resources
Design secure application tiers
Select appropriate data security options
Design Cost-Optimized Architectures: 18%
Identify cost-effective storage solutions
Identify cost-effective compute and database services
Design cost-optimized network architectures
Preparation resources for AWS Certified Solutions Architect Associate
We are here to provide you with the greatest studying tools so that you can pass the exam. Furthermore, we will provide a full description to assist you in preparing for the test. Let's get started: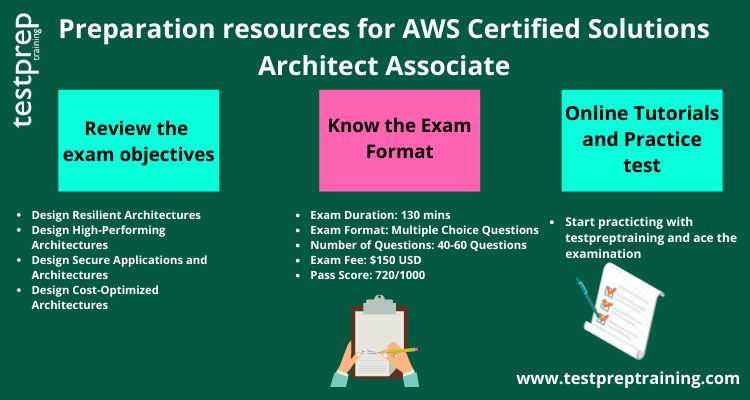 – Online Tutorials
Online Tutorials can help you improve your knowledge and have a better comprehension of test concepts. They also go through test information and policies. These online courses, on the other hand, give in-depth information about the test. As a result, you will be more prepared for the exam. As a consequence, learning using Online Tutorials will help you improve your preparedness.
Expert Corner
When you first start studying, it's critical to go over all of the exam objectives. Furthermore, doing so will provide you a clear picture of all the distinct topics and abilities that you will need to master. Furthermore, examining the exam objectives can eliminate any misunderstanding in your mind, allowing you to concentrate on your preparation. Exam objectives can aid in the reinforcement of modules and subtopics. There are other publications available, and you should join the Microsoft community to engage with others who share your interests.
The final stage to success is to put what you've learnt into practise. Taking a practise exam is also a terrific method to mix up your study technique and guarantee that you get the greatest scores on the real thing. Furthermore, in order to ensure comprehensive preparation, it is critical to analyse the practise exam. We give free sample papers to assist you in succeeding in the test. Furthermore, these free sample exam papers will give you a feel for a real-life exam. Therefore, start preparing now!