The Amazon Web Services AWS certified developer associate exam is a professional test. Its major goal is to assess an individual's ability to successfully demonstrate AWS platform creation and maintenance. This test will assist students to improve their DevOps using AWS understanding. This accreditation also improves your earning potential. The annual salary for an AWS Certified Developer Associate is roughly Rs. 7,25,000. Candidates will also learn about critical services, strategies, and processes for designing, implementing, and supporting efficient and resilient systems at scale, including CI/CD, Serverless, and architectural decoupling.
AWS DVA-C01: Exam Overview
You will master your professional abilities as a software developer who creates cloud apps on AWS with the aid of this test. The AWS Certified Developer Associate program is a wonderful approach to expand your knowledge and improve your best practices. Furthermore, passing this test will demonstrate your ability to use AWS to design, deploy, and troubleshoot cloud-based applications. This test will also assist professionals to showcase in-demand talents and companies develop successful, inventive teams for cloud projects utilizing AWS by validating your cloud competence. The test will consist of two types of questions: multiple choice and multiple responses.
AWS Certified Developer Associate Exam Format

:
The exam format will help you plan a strategy to prepare and attempt the test in the most effective way.
The AWS Certified Developer Associate Exam has a maximum time limit of 130 minutes.
Secondly, there are 65 questions altogether in the exam.
In addition, the test has multiple-choice and multiple-select questions. As a result, for each question, you'll have a few possibilities to choose from, and you may utilise the elimination approach to get the proper answer (s).
In addition, there are no penalties for incorrect responses. So, you can use guessing whenever you choose.
To pass the exam and get certified, you must also achieve a score of at least 720/1000.
Lastly, the Exam will set you back $150. Taxes must be paid in accordance with local regulations.
AWS Certified Developer Associate Exam Course Outline
Going over your exam outline is a great approach to start your preparation. It serves as a teaching tool that establishes the norm for what you may expect to happen during the course. It also allows you to perform all of the lengthy training in several sets. If you've gone through your course plan thoroughly, you'll be able to arrange everything effectively.
We've included all of the exam topics along with their weighting in the exam's overall score. This will assist you in efficiently splitting your focus among the numerous topics. The following is the schedule for the AWS Certified Developer Associate Course:
1. Deployment – 22%
This section covers the topics like deployment of written codes in AWS using CI/CD pipelines, processes, and patterns. Further, the deployment of applications using Elastic Beanstalk and serverless applications. Lastly, you have to learn about preparing the application deployment package.
2. Security – 26%
The next section is about security. This will incorporate topics like making authenticated calls to AWS services. Also, the implementation of encryption using AWS Services. Lastly, authentication and authorization of applications.
3. Development with AWS Services – 30%
Further comes the section of the development with AWS services. This will include domains like writing codes for serverless applications, translation of functional requirements into application design. Also, you'll learn about Implementing application design into application code. Lastly, write code that interacts with AWS services by using APIs, SDKs, and AWS CLI.
4. Refactoring – 10%
This domain includes the following topics – Optimize application to best use AWS services and Migrate existing application code to run on AWS.
5. Monitoring and Troubleshooting – 12%
Monitoring and Troubleshooting includes these topics – Write code that can be monitored and Perform root cause analysis on faults found in testing or production
Preparing for the AWS Certified Developer Associate Exam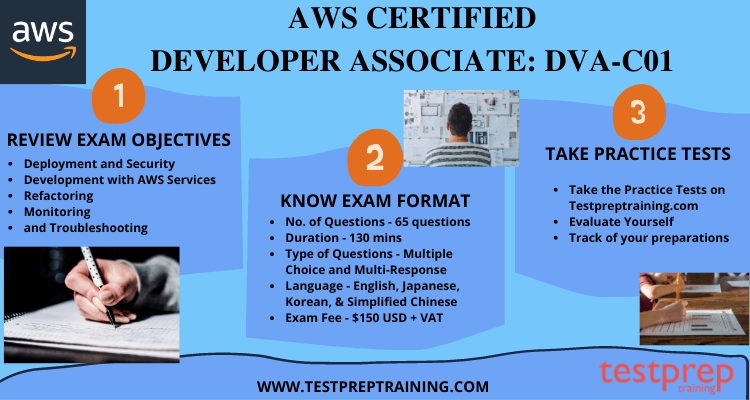 Choosing the right study material is the most important stage in preparing for any exam. Only your choice of AWS Certified Developer Associate Study Material will determine your test success. Furthermore, the syllabus is highly important for any professional tests; having a thorough grasp of the AWS Certified Developer Associate Exam Syllabus is quite helpful since it offers a clear picture of the exam. The official site of the exam is the best place to gather preparation materials.
You can choose instructor-led training, which is still the finest method of learning since you can ask questions and get rapid answers. It will also assist you in receiving individualised instruction and practical experience. Candidates in the AWS Certified Developer Associate Training might also be very engaged with the lecturers in order to understand the entire course. It's also highly recommended because it's quite adaptable. You may study at your own pace. Instructor-led training is great for highly collaborative or difficult subjects since it provides you with a direct immersion experience.
You may also join an online community to study because it is regarded as an extra learning venue where you can learn from your peers. Sharing ideas is the best way to prepare for any exam since you may learn so much from others. It will also help to keep you focused on the exam. It also helps to form a supportive community and enables networking.
Taking Practice Tests
Additionally, take AWS Certified Developer Associate Practice Exams practice tests to see what you've learned. It will help you understand your endurance better and will also assist you in improving your speed. It will also assist you in deepening your comprehension of the exam. This will assist you in revising your whole curriculum through the use of an actual test. Check out our tutorial for more information and advice, as well as our free practice tests!
Experts Corner
Having an AWS certificate might be advantageous since it opens up a lot of doors for you. You may acquire a number of employment responsibilities in the Cloud Computing industry that need you to be AWS certified. As the market has grown more competitive, having an AWS certificate will help you stand out. Giving practice tests is vital to success, therefore show up for practice tests. It is the most effective method for ensuring optimum comfort and the least worry before the exam. The more practice tests you take, the more natural you will feel on the day of the actual exam.
Practice exams will provide you with a benchmark for determining where you stand. This may be utilized as a starting point for the rest of your planning. It will only increase your self-assurance and help you stay calm on exam day. It will assist you in reducing your tension by assisting you in comprehending what you will confront on exam day. Moreover, it will be advantageous for you if you can simulate your test day as much as possible.